Hauling your boat is an exciting adventure that can go wrong if you don't have the best boat trailer tires with you. Just imagine – it's a sunny summer day, you are bringing your vessel out to have a great day on the water and suddenly, your trailer tire can't take the load anymore. Oh the horror!
Luckily, that can be easily avoided when you pick a great set of boat trailer tires. Here, you can find a bunch of useful info about trailer tires, factors that matter when you are choosing between products, tire readings, and the most frequently asked questions. Without further ado, let's get onto tires that can provide a smooth and safe ride for you and your vessel.
See The Quick Comparison Chart
Types and Uses Of Boat Trailer Tires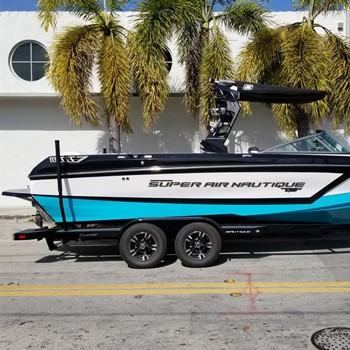 When choosing between products, you can notice there are two types of trailer tires – bias ply and radial. What's the difference between these two? The cord inside each type of tire is positioned differently. Here's more about each type.
1. Radial Tires
These tires seem to be most common with boat trailer owners. Radial tires come with durable tread, usually more durable than with their bias-ply counterparts.
Also, they run cooler and come with steel belts that make them appear more robust. This belt is positioned at a 90-degree position from the centerline so you can recognize them easily.
A larger footprint makes radial tires more compatible with larger trailers and hauling larger vessels. Yet, don't let this confuse you – radial tires are more fuel-efficient and better rated when it comes to fuel economy as they provide less rolling resistance.
2. Bias Ply Tires
The inner layer of a bias-ply tire that's made of steel cords and cross-hatched nylon is positioned at 30 to 45-degree from the tread centerline. Comparing this type of radial tires, bias-ply tires come with sturdier sidewalls, which is, at the same time, their greatest advantage.
Bias-ply tires run straighter and cost less than radial tires, but you may find them slightly less suitable when it comes to fuel economy.
Best Boat Trailer Tires Comparison Chart
PRODUCT
DETAILS

Wheel Express 15″ Trailer Wheel with Bias ST205/75D15

Price:

$$

Customer Rating:

4.7

Type:

Ply-bias

Tire Weight Rating:

1820 lbs.

Tire Size:

205/75D15

View On Amazon

Carlisle Sport Trail LH Bias Trailer Tire – 4.80-12 LRC

Price:

$

Customer Rating:

4.5

Type:

Ply-bias

Tire Weight Rating:

990 lbs.

Tire Size:

4.80-12

View On Amazon

Grand Ride New Premium Free Country Trailer Tires ST 205/75R15

Price:

$$$

Customer Rating:

4.8

Type:

Radial

Tire Weight Rating:

2150 lbs.

Tire Size:

205/75R15

View On Amazon

Carlisle Radial Trail HD Trailer Tire-ST205/75R15 107M 8-ply

Price:

$

Customer Rating:

4.7

Type:

Radial

Tire Weight Rating:

1360-3960 lbs.

Tire Size:

205/75R15

View On Amazon

Wheel Express 15″ Silver Mod Trailer Wheel with Radial ST205/75R15

Price:

$$

Customer Rating:

4.6

Type:

Radial

Tire Weight Rating:

1820 lbs.

Tire Size:

205/75R15

View On Amazon

Freestar M-108+ Trailer Radial Tire-ST225/75R15 117L

Price:

$

Customer Rating:

4.6

Type:

Radial

Tire Weight Rating:

2540 lbs.

Tire Size:

225/75R15

View On Amazon

eCustomRim Trailer Tire On Rim ST205/75D15

Price:

$$

Customer Rating:

4.7

Type:

Ply-bias

Tire Weight Rating:

1820 lbs.

Tire Size:

205/75D15

View On Amazon
Best Boat Trailer Tires Reviews
1. Wheel Express 15″ Trailer Wheel with Bias ST205/75D15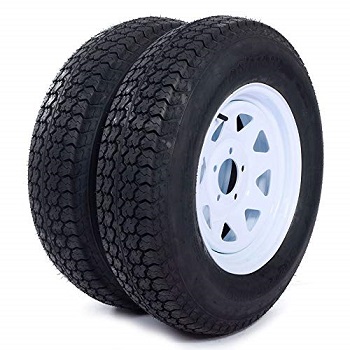 A perfect mix of high-quality, high load capacity, and fancy looking product, the Wheel Express deserves to be featured on our list. This tire provides quite amazing performance thanks to its build quality that ensures a smooth and safe ride.
The best thing about the Wheel Express tire is that it comes as a set – both rubber and rim are included, which is not the case with most trailer tires on the market. Also, this unit comes pre-balanced and pre-filled so you don't have to adjust the pressure right away.
That means you get a ready-made product you can install easily and start your journey almost immediately. All this ensures a good fuel economy, even with longer trips. With 1820lbs load capacity per tire, the Wheel Express trailer tire falls into the category of heavy-duty units you can use for hauling boats, other vehicles, sand, etc.
Pros
Easy to install,
Compatible with a bunch of boat trailer brands,
2-year warranty.
Cons
Some customers don't like the type of tread pattern.
2. Carlisle Sport Trail LH Bias Trailer Tire – 4.80-12 LRC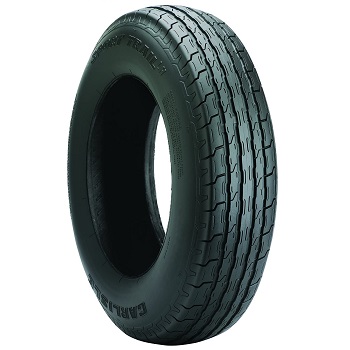 Probably the best thing about the Carlisle Sport trailer tire is that you can use them for a bunch of different purposes such as cargo hauling, light-duty traveling, and boat, etc. This product is compatible with numerous trends as well – Striper, Ranger, Alumacraft, Yamaha, Triumph, and many more.
Speaking of other advantages of these tires, there's low rolling resistance that makes them easy-peasy to move. On the other hand, the premium contour of the Carlisle trailer tire and wide shoulders contribute to having an even better experience. These features ensure the stability and smoothness of the ride.
This unit boasts 990 pounds of maximum capacity, which is pretty solid, but we must mention – not the highest one among other products on our list.
The Carlisle Sport trailer tire is made of innovative and reinforced rubber that makes it very durable and resistant to wear and tear and debris damage. If you are looking for a tire that handles traction smoothly and lasts for a good couple of years, keep this unit in mind.
Pros
Deep groove design,
Suitable for off-road surfaces,
Contribute to better fuel mileage.
Cons
It takes a couple of hours to mount,
The tread is kinda thin,
Not designed for heavy-duty hauling.
3. Grand Ride New Premium Free Country Trailer Tires ST 205/75R15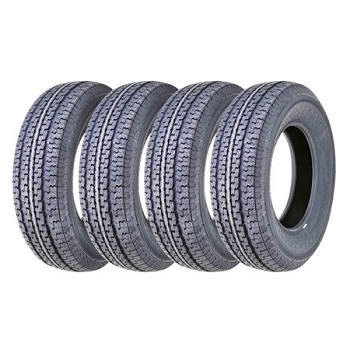 If you are looking for a specialty product, a tire for your boat trailer, Grande Ride might have something for you. Actually, you don't get one but 4 tires, as this is a set of professionally made tires for trailer drivers. No doubt, this set is precise and offers everything you need when hauling your boat, but you can't use it for anything else.
The entire tread area is slab-sided with a durable nylon overlay, which is something you rarely find in this section. Having in mind you are going to haul your boat, you need a set of tires that can withstand a lot of weight. The Grand Ride set features an amazing road range of 2150lbs per tire.
Full cap ply overlay and scuff guard make these tires provide a higher level of protection that contributes to the durability of this product but also ensures your safety on paved and off-road trips.
Pros
D load range,
Ply rating – 8,
Easy to install.
Cons
Single-use only,
A sidewall could have been sturdier.
4. Carlisle Radial Trail HD Trailer Tire-ST205/75R15 107M 8-ply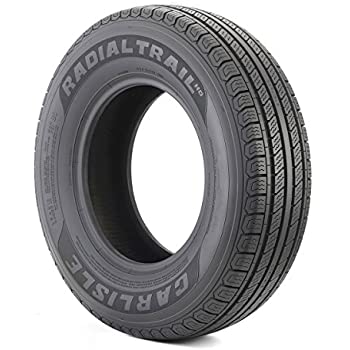 A type of trailer tire that works best with boat trailers, but is suitable for various other uses, the Carlisle Radial Trail is a top-performance type of product. It is resistant to regular wear, road debris, and heat so you can rest assured this one will provide at least a couple of years of towing life.
The Carlisle Radial Trail comes with the improved treadwear as well, which ensures you can move your trailer and your boat with less effort. Once you start driving with these tires, you will notice there is no major difference than riding without them. Carlisle designed tires that brake well, slide down any type of road – wet, dry, rocky, and handle almost any type of road condition easily.
You might notice slight vibrations, but this is nothing in comparison to the overall quality Carlisle provides. This tire is available in 15 different sizes that feature a weight capacity of 1360 to 3960 lbs, which means these have the best capacity on the market currently.
Pros
D-load range,
Good threat pattern,
High-speed rating.
Cons
Seating this tire on a rim is slightly tricky and time-consuming.
5. Wheel Express 15″ Silver Mod Trailer Wheel with Radial ST205/75R15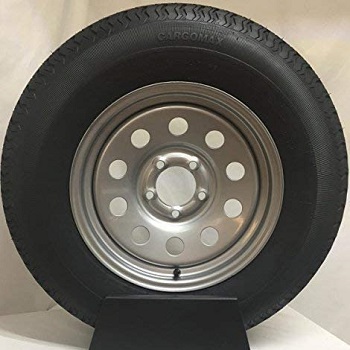 What can we expect from a top of line manufacturer such as Wheel Express? This brand designed a 15-inch mod trailer wheel that is packed with useful features and ensures high quality and durability.
Versatile, you can use it for your camper, boat trailer, stick trailer, and a myriad of other vehicles and applications. The steel belts and polyester cords construction gives you that peace of mind you can use this tire when towing basically anything and be fully confident it will withstand the weight.
When it comes to load capacity, 1820lbs per tire is a golden standard in this section so you can definitely use the Wheel Express silver mod trailer wheel for heavy-duty application.
A modular designed and steel wheel ensure durability of this unit, as well as smooth as a safe ride on highways. Yet, it does quite well even with off-road trips.
Pros
Corrosion-resistant,
Wheel included,
Solid speed rating.
Cons
Might not be the best choice for heavy use.
6. Freestar M-108+ Trailer Radial Tire-ST225/75R15 117L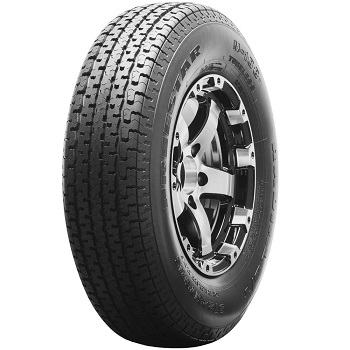 Looking for a great deal that offers quality similar to Michelin's? The Freestar M-108+ trailer radial tire might be the unit for you. This tire has an amazing weight rating of 2540lbs, which is, you must admit – a lot for a single tire (almost 3 times higher in comparison with some other, similar tires on the market).
Most suitable for utility trailers, the Freestar M-108+ is versatile and you can use it for hauling your boat, car, and other loads. It moves smoothly on almost any type of surface and ensures a safe ride experience, even on highways.
Considering the durability of radial tires, the Freestar unit offers a long lifespan. Some customers even claim they have been using this tire for more than 15 years. This tire can take rough conditions on the road and it is relatively easy to mount.
Pros
C, D, and E load range,
Compatible with a wide range of boat, cargo, and utility trailers,
Provide excellent traction and stability.
Cons
Just like with most radial tires, this one would use a more robust sidewall.
7. eCustomRim Trailer Tire On Rim ST205/75D15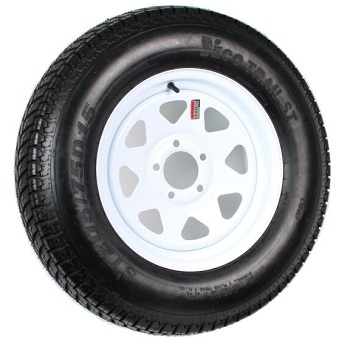 Another ready-made boat trailer tire (rim included) made by eCustomRim might be a great choice for professional trailer tire customers. The first thing we notice about this unit is the steel construction of a rim that makes it quite sleek but also exceptionally durable. Not only the eCustomRim will provide tip-top performance for a long time but it offers a couple more desirable features.
The 5-lug pattern is something most customers appreciate as it makes mounting the unit super-easy in comparison to other, similar products. This tire is also available at different sizes, which makes it even more attractive for various types of users.
eCustomRim is a reliable manufacturer that designed a trailer tire that provides smooth and safe rides in almost all conditions – road and weather. You don't have to worry about whether it would get bouncy or wobbly.
A great choice for long hauls, the eCustomRim trailer tire is compatible with numerous boat trailers, cargo, and utility trailer brands.
Pros
Load range C,
Weight capacity 1820lbs,
2-year warranty.
Cons
8. WANDA Hightway Boat Motorcycle Trailer Tires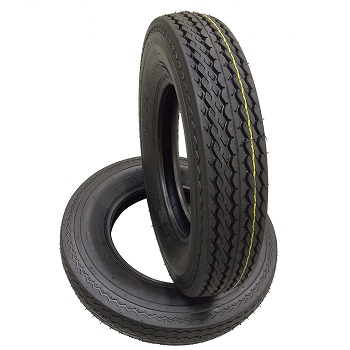 WANDA packs 2 amazing trailer tires in their set numerous customers find suitable for their boat trailers. Yet, you can use these tires for your motorcycle trailers as well, and they will perform equally well.
If you need a set that does great for highway use, you should know the WANDA trailer tires boat M speed rating that makes it suitable for these types of rides. These tires feature 990 of max load per tire, which should be just enough for transporting most sailboats.
The WANDA tires are resistant to damage and road debris. They provide a pleasant and smooth ride as well, although the mounting might not be so pleasant if you don't have a tire machine. Yet, the overall quality and value this set of tires provide outweighs minor drawbacks you can encounter with any other tire brand.
Pros
C load range,
High-speed rating,
1-year warranty.
Cons
Tires seem to be too stiff and hard to break.
9. SuperCargo ST Radial Trailer Radial Tire – 175/80R13 91L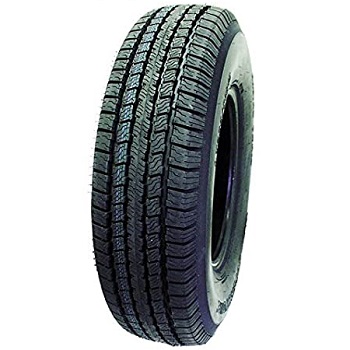 Featuring a C load rating and 1360lbs of weight rating per tire, the SuperCargo ST trailer tire is a good option for hauling your boat on a trailer. In other words – this radial tire is a heavy-duty type that can handle a lot of weight and you can use it for your boat, utility, and cargo trailers as it is compatible with most brands in these niches.
Not only you can expect the top-notch performance of the SuperCargo radial tire when carrying heavy loads but it slides down the road smoothly and doesn't put too much pressure on your vehicle. It is resistant to general wear tires are faced with and can last for a couple of years.
As a cherry to the top, the SuperCargo trailer tire is a no-brainer when it comes to mounting and comes with one of the longest warranties in the boat trailer tires section.
Pros
L speed rating,
Performs well in both dry and wet conditions,
5-year warranty.
Cons
The sidewalls should be sturdier.
10. Power King Low Boy Trailer Bias Tire – 7-14.5LT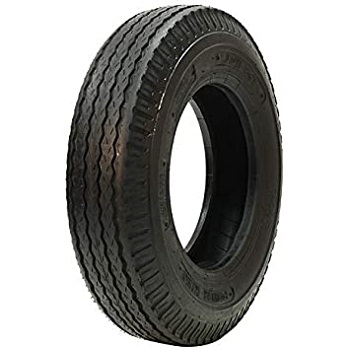 Some people think they can't have a smooth rider when using heavy-ply tires. The Power King Low Boy tire can prove this claim wrong. This tire is just great for hauling boats, but you can use it to transport pavers, sand, and other loads.
Featuring the F load range, the Low Boy tire can handle 2300lbs, which is a lot for a single tire. Designed for heavy-duty use, this 12-ply tire is robust and durable. The sturdy nylon cord is one of the characteristics that prove the quality you get and makes this unit stand out from similar products on the market.
Speaking of unique characteristics, the Low Boy tire is also tubeless. It ensures smooth and easy rolling, straight tracking, and durability so, overall, it is a great tire for people looking to get the most value for their money.
Pros
Rugged design,
Suitable for all road types,
2-year warranty.
Cons
It takes a bit longer to mount.
11. Rainier ST Radial Trailer Tire on 13″ 5 Lug Galvanized Spoke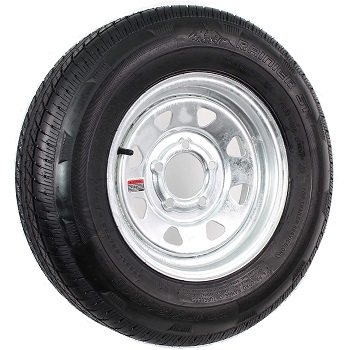 Any boat owner needs roadside assistance (read boat trailer tires) that can provide them with a peace of mind when hauling their vessel. Designed to provide durability, this tire comes with strong sidewalls that ensure wear and accidental cuts don't spoil the performance or look of the unit.
High load capacity – 1360lbs per tire enables you to tow heavy-duty applications and still enjoy a smooth ride. You can also roll this unit effortlessly as it provides less resistance and also ensures proper traction, even in wet conditions.
One of the coolest things about the Rainer ST tire is that it comes with varied thread pitch that absorbs road noise and makes long hauling more pleasant. Another great feature is that this tire is equipped with unique tread blocks that reduce maintenance and cleaning of the unit.
All-weather suitable, durable, and heavy-duty Rainer ST tire is compatible with most trailer brands so no doubt it would be a great fit with your trailer as well.
Pros
Dissipates heat and extend tread life,
Good load and speed ratings,
6-year warranty.
Cons
Some customers claimed their tires weren't fully inflated when received.
12. Grand Ride Premium WINDA Trailer Tires ST 205/75R14 8PR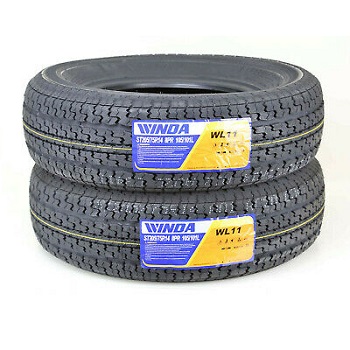 Here comes another great trailer tires set that provides great load capacity and craftsmanship. Nylon ply cap is one of the features you know ensures the durability of these types of units. This kind of upgrade gives you more confidence about your safety on the road as well.
Each tire in this set boasts 2040lbs of load range, which means that you can use them for hauling heavy-duty applications and vehicles. Scuff Guard ring is there to ensure additional support when towing weighty units such as your boat.
These tires perform well in various weather conditions and you can use them when on the highway as they have a speed rating of 75mph. The Grand Ride premium WINDA trailer has a unique type of tread that can take a lot of heavy use and still not go bold for many years to come.
Pros
D load range,
Packed with critical safety features,
Specifically designed for trailer use.
Cons
Rims not included, although this is a thing with most trailer tires.
13. Maxxis M8008 ST Radial Trailer Tire – 225/75R15 BSW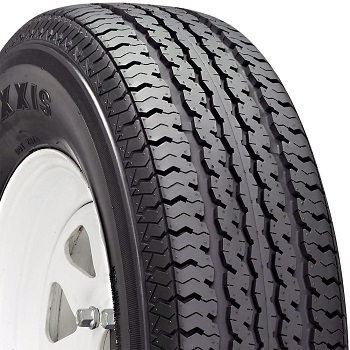 Do you want to be fully confident about your safety on the road while hauling your boat? Then the Maxxis M8008 trailer tire might be the one. This durable type features a tread compound that increases the longevity of the unit but also ensures stability when you are driving, no matter the road type.
This makes the Maxxis M8008 tire suitable for long haul distances and you don't have to worry whether it would deflate in the meantime. The tread improves fuel economy and decreases rolling resistance so you can move your trailer easier. It also looks quite fancy and justifies the quality Maxxis provides.
You can choose between a couple of tire sizes in order to find the best fit for your boat trailer. This is the most important part of the process as, if you find the right size, the Maxxis tire will absorb shocks on the road and serve you for a good couple of years.
Pros
R speed rating,
Double steel-belted construction,
Simple to mount.
Cons
 A couple of customers received tires that were manufactured 10 months prior.
What Exactly Is a Boat Trailer Tire?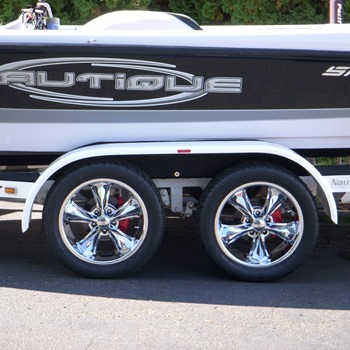 A boat trailer tire is a unit specially designed for towing and hauling heavy weights with it. Some of the most common uses of trailer tires include hauling boats, sand, motorcycles, etc.
This special type of tire provides better steering and traction, which contributes to having more comfortable rides. When hauling heavy loads, such as your boat, you need a pair of tires that can absorb bumps on the road, and this type of tires offers second-to-none performance.
Although you won't use your trailer tires to start or stop your vehicle, these should still be well-built. Sidewalls are of great importance here, so make sure your tires come with plies, belts, or other reinforcing layers that ensure carrying heavy loads effortlessly.
Car Tires vs. Boat Trailer Tires
Car and boat trailer tires are built differently and for different purposes. That also means these two types perform differently on the road as well.
The most important difference is that you use car tires on a lead vehicle. These tires can withstand high speeds, sharp turns, and slippery roads. On the other hand, you use trailer tires on the following vehicle.
Trailer tires boast thicker sidewalls, but they can't handle traction and speeds the way car tires can. That's why it is highly recommendable not to drive above 80 miles when hauling loads. Also, trailer tires are designed to withstand a lot of weight, while car tires would be at risk of explosion if you would put that much weight on them.
Don't ever share your car and trailer tires, even when they are of the same size. Safety on the road should be your priority so use each tire for its intended purpose.
How To Read a Tire Sidewall
When reading sidewalls, you will notice a couple of letters and numbers that can confuse you. Here's what you should know if you are doing this the first time:
Letters LT, ST, and P define the tire type. P is for passenger cars, and this is the type to avoid if you need tires for hauling your boat.
The first number following any of these letters defines tire width.
A slash is always following the tire width, and the first number after the slash stands for tire height.
Next, you will see a number that describes whether the tire is bias-ply or radial.
The number following the letter describes wheel diameter in inches.
The last number indicates the speed rating your tire can handle.
The load rating indicates how much weight your tire can handle.
The load range specifies the amount of pressure your tire needs to carry a certain weight.
Maximum pressure is how much pressure your tires can take to handle their maximum weight capacity.
We will talk all these numbers and measurements through an example in the following section.
Boat Trailer Tires Buying Guide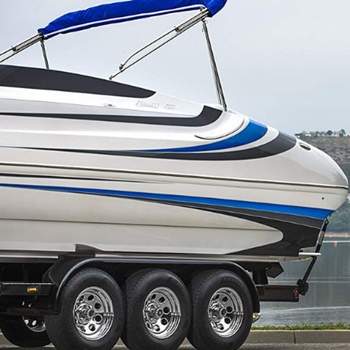 When looking for a good boat trailer tire, make sure to pay attention to the following features:
1. Load Capacity
This is the most important feature in the boat trailer tires section as it displays how much load different tires can carry. It is easy to spot it as it is marked with letters between B and F. Tires rated with B load capacity are the ones with the lightest hauling range, while the ones rated with F can withstand the heavy-duty load, including large boats and yachts.
Yet, you should have the size of your trailer in mind when opting for a certain rating. If you have a light boat and a medium trailer, you won't need F-rated tires. In fact, these can mess up with your performance on the road.
2. Durability
You don't buy boat trailer tires every day. That's why you should find a unit that is durable, safe, and worth your investment. It is always good to check manufacturer's descriptions when buying these tires, but you can't rely on this info only.
We highly recommend you to check the specs with a mechanic as they can give you a piece of good advice on which tire would be most durable with your type of trailer. Consider the road conditions you are going to using the tire on.
3. Compatibility
All this takes us to another important feature – compatibility with your trailer. When choosing between products, have your boat trailer manual near at hand. Compare its size with the size of the tires. You have a lot of freedom here but that doesn't mean you shouldn't be careful about the size. Some trailers can fit only one tire size so be careful.
4. Design
Although this seems like a classic feature, the design is not about the appearance of the tires but about the tread wear. Just as we already explained, radial tires are more resistant to wear and tear while bias-ply tires seem to provide more sidewall protection. It's up to you to decide which one of these two features is more important.
5. Tire Type
There are a lot of letters to pay attention to when buying trailer tires. Besides load rating letters, there are letters that define the tire type as well. These include LT, ST, and P tires. The latter stands for tires for passenger cars, ST for special trailers, and LT for light trucks.
6. Tire Width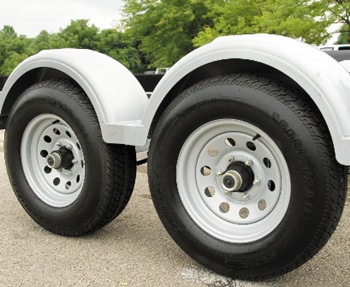 Here, we are talking about numbers. When you see a tire let's say ST 225/75R15, ST stands for special trailer tire while 225 stands for tire width. Numbers that are related to tire width are measured in millimeters.
7. Tire Height
We'll move along with the same example, ST 225/75R15. The first numbers after the slash symbolize tire height. Actually, these are not expressed in millimeters but indicate percentages. In this case, 75 stands for 75% of the tire's width.
8. Wheel Diameter
The only number left unexplained is – 15. It indicates the wheel diameter measurement and follows tire height measurement. Wheel diameter is always measured in inches.
9. Speed Rating
It all depends on whether you are going to run your tires down the highway or off-road. With highways, you need a set of tires that features a higher speed rating. We are going back to the letters here.
Each tire comes with a letter on the sidewall. If you see J, that means your tire boasts 62mph of speed rating, L is for 75 mph, and M for 81 mph.
10. Performance In Different Conditions
If you expect to get the most value for your money, you should look for a set of boat trailer tires that perform exceptionally in various conditions. All-season tires are a great choice if you have plans on getting a multi-use type of product. These tires don't mind slippery roads, ice, and snow, and provide you safety even in the toughest conditions.
11. Traction
Traction has a lot to do with the weather conditions but also road conditions. Are you going to haul your boat trailer on highways only or off-road as well? The type of material you tires are made of, grooves, and the wheel determine the level of traction. You need tires that will provide good traction even when you are towing heavy weights such as your boat.
12. Inflation Pressure
Properly inflated tires provide safety when you are towing weighs. Tires that tend to soften after a couple of miles are definitely not a good choice. Always check the condition of tires you receive, as improperly inflated tires can pose a threat to your safety.
How To Change a Boat Trailer Tire?
The first thing you need is the jack. Place it underneath the trailer and secure it with a jack stand. Then, set it so the tire is a couple of inches above the ground.
Use the lug nut wrench to take off the nuts from use tire and set them aside.
Once the nuts are off, you can remove the tire as well.
Remove the valve core from the tire to release all the air from the tire and take it off the wheel.
Install a new tire on top of the wheel.
Fill the tire with an air compressor.
Install a new tire onto the trailer.
Maintenance & Safety Tips For Boat Trailer Tires
Maintenance Tips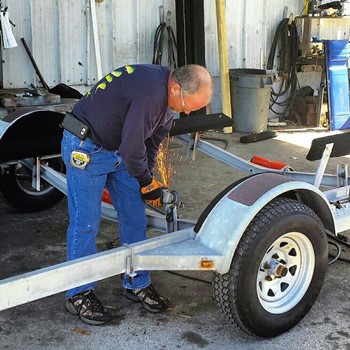 Boat owners and lovers care about maintaining their vessels and equipment. That's why we have boat wax, boat polish, boat seat cleaner and other products that ensure the durability of marine equipment.
If you want to ensure the long life and safe performance of your boat trailer tires, we highly recommend you to apply the following tips.
1. Air Pressure
Tires that are not properly inflated pose a massive threat to your safety on the road. The most common issues that can come up are the ones with braking and steering, which also affects your fuel efficiency. Before embarking on your trip, double-check on all the tires and see how inflated they are.
2. Tread Wear
Another thing you should check on your tires regularly is tread wear. It's quite simple to see whether your tires went bald or no. Take a coin and put it between the treads. If the tread covers the coin, that means your tires are good to go. Yet, if it seems the coin isn't covered fully – your tires are going bald and you should change them by and by.
3. Storage
Although this is a no-brainer, we still have to mention you should store your tires so you protect them from harmful elements such as UV rays, wind, extreme temperatures, and moisture. If possible, get plastic cases to store your tires in these.
Yet, even if you don't want to spend those extra bucks, just put your tires away in your attic, garage, or basement – whenever, just don't leave them outside, especially during winter.
Safety Tips
We are constantly stressing the fact you should take care of your boat trailer tires if you want to ensure you are safe when going on a trip. This applies to all parts of marine equipment, but tires truly can affect your safety on the road. Make sure to follow these tips to prevent unwanted outcomes when hauling your boat:
It would be best not to use your tires for trips longer than 7,500 miles.
When taking longer hauls, check whether your tires are properly inflated regularly.
Change your old set of tires as soon as the tread starts turning shallow.
Apply grease to all the iron parts behind the wheels to extend their lifespan.
Double-check light signals and whether they are properly connected to your trailer before going for a trip.
The lug nuts should be tight and you should monitor their condition frequently.
Never overload your trailer on a single side, as this will put too much pressure on one tire only and might also endanger your vehicle's performance and your safety.
FAQ About Boat Trailer Tires
1. Should Boat Trailer Tires Be Balanced?
It depends. You usually balance your car tires to reduce vibrations and ensure more comfortable rides but to also reduce tire wear. With boat trailer tires, doing this is not necessary. Yet, in case you notice your boat trailer tires have started wearing more than they used before, you should try to balance them and see whether it helps.
2. How Often Should You Replace Boat Trailer Tires?
As a rule of thumb, a boat trailer tire can last for 5 to 6 years maximum. Yet, we would recommend replacing them as soon as your tire reach year 5.
3. What Is The Difference Between Load Ranges C, D, and E?
Load ranges C, D, and E gradually describe the maximum amount of load your tire can take. Tires with load range C have 1820lbs of capacity, D is for 1220lbs capacity, and E 1520lbs per tire.
4. What PSI Should My Boat Trailer Tires Be?
In general, 50 to 65 PSI is just enough with most boat trailer tires. Yet, if the manufacturer's recommendations go up (you can find some models on our list that require 80 PSI), then it would be best to stick to their advice. Make sure to maintain the proper PSI as this is one of the factors that can affect your towing safety.
Wrap Up
We did all the substantial research for you and created this guide to help you find the best boat trailer tires for your vessel. As you could see yourself, choosing the right product includes having a number of elements in mind.
Yet, we are quite sure you got a clear image of everything boat trailer tire-related through our boat trailer tire reviews and buyer's guide. Learning is fun! If you liked this guide, make sure to discover other guides on marine equipment we've prepared just for you! See you there!
See also: transom saver reviews – boat trailer dolly reviews