Towing a boat is only safe when you can distribute the weight of the vessel between your transom and the best transom saver. With this simple, little piece of gear, you can prevent a lot of damage to your boat while towing. Hitting into a bump can spoil the ride but also cause damage to your boat, transom, or a trailer. In the worst-case scenario, this can lead to an accident if you are on an open road.
Down below, you will find a list of first-class units, a buyer's guide, and answers to the most important questions boat owners usually ask when looking for a transom saver.
See The Quick Comparison Chart
What Are Transom Savers?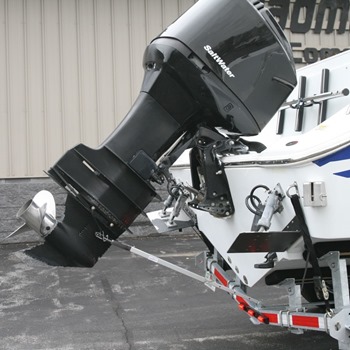 Transom savers are, as you can already guess by their nomenclature, gadgets that protect your transom from pressure/weight put on it when you are towing your vehicle on a trailer.
You wouldn't believe how much weight a transom saver can take on. When not using a transom saver, you are under a risk of breaking your transom and causing damage to your boat.
Speaking of a transom saver's construction, this piece of either stainless steel or aluminum frame can dissipate the weight from the front and bottom to the sides. The bottom of your boat is its spine. If you put too much weight on it, you can cause it to break.
When using a transom saver, you can secure the engine, vessel, and yourself. Driving at speeds higher than 60miles/hour can harm the transom or break it and cause an accident. With a transom saver, you are reducing this risk at almost 0% chances.
Benefits Of Transom Savers
1. Secure The Motor
When towing a boat with a detachable engine, it can be a lot harder to save your top-rated small outboard motor from vibrations, turbulence, and other kinds of shakes. Yet, a transom saver can stabilize and secure your motor.
Yet, even if you have a large vessel and the transom is built inside the boat, a transom saver can help with transporting it securely. With small vessels, where the engine is detachable, it will hold the motor and prevent shakes that can damage it or the transom.
2. Protect Your Investments
The weight your boat puts on a trailer and a saver is, most of the time, very hard to bear. Breaking a transom would, highly likely, cause some type of damage to your boat. It can lose stability and vibrations can cause more damage, especially when you are on uneven terrains. This is why you should take a transom saver into account and protect your investments and peace of mind when towing your boat.
3. Ensure Your Safety
As you could already conclude, the breakage of a transom can trigger numerous sets of unfortunate events. It can even endanger your life. Just imagine going down a hill. If your transom breaks and vibrations move your boat, the weight of the vessel can make you lose control and hit into something or someone. Whenever you are towing your boat, you just have to be careful about numerous factors and hinder risky situations as much as possible.
4. Low Maintenance
Besides a transom saver is a reliable and cost-effective piece of equipment that can make towing your boat easier, this unit requires no to little maintenance. As long as you check it before each use and wash it with soap and water, you can expect your transom saver to last long.
Types Of Transom Savers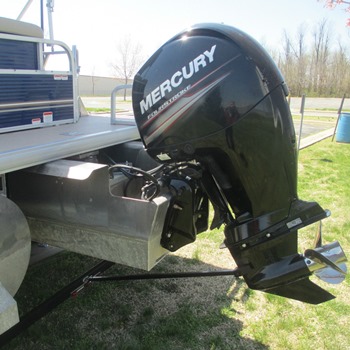 We have reviewed both types of transom savers – angled and straight. Choosing between these two models is a matter of preference and requirements. Here is what you should know about each.
1. Straight Transom Savers
When mounted properly, right over your trailer's rear roller, a straight transom saver will stabilize your motor and reduce rattling on uneven terrains. This is a single-piece construction and can hold up to 150 HP. you can set it to the desired length, it might be trickier to find the best angle of mounting. Still, straight units are stronger and more reliable as well.
2. Angled Transom Savers
Obviously, angled transom savers give you more freedom when mounting the unit so that you can find the best position to protect your boat. Most units are adjustable from 0 to 36 degrees on top of the fact you can adjust the length. On the other hand, bent or angled transom savers can break at a certain point. Go for it if you have a boat of an out-of-ordinary size.
Best Transom Savers Comparison Chart
PRODUCT
DETAILS

Extreme Max Adjustable Heavy-Duty Universal Transom Saver

Price: $
Customer Rating: 4.2
Size: 28-59 inches
Material: Aluminum
Type: Angled

View On Amazon

Attwood Corporation Composite Head Transom Saver with Roller

Price: $$$
Customer Rating: 4.4
Size: 23-35 inches
Material: Steel
Type: Straight

View On Amazon

SeaSense Adjustable Motor Support Bracket (34 to 46-Inch)

Price: $$$$
Customer Rating: 3.9
Size: 34-46 inches
Material: 16.4 x 12.8 x 12.6 inches
Type: Straight

View On Amazon

Attwood SP-424-ADJ-RB Heavy Duty Transom Saver (32/44-Inch)

Price: $$
Customer Rating: 4.1
Size: 32-44 inches
Material: Steel
Type: Straight

View On Amazon

Extreme Max 21″ to 31″ 3005.3852 Straight Transom Saver-21

Price: $
Customer Rating: 4.5
Size: 21-31 inches
Material: Steel
Type: Straight

View On Amazon

Five Oceans Adjustable Motor Support Bracket Transom Saver

Price: $$
Customer Rating: 4.1
Size: 20-1/2-31 inches
Material: Steel
Type: Straight

View On Amazon

Attwood Corporation Clear Anodized Tube Heavy Transom Saver

Price: $$
Customer Rating: 4.4
Size: 24-36 inches
Material: Aluminum
Type: Straight

View On Amazon
Best Transom Savers Reviews
1. Extreme Max Adjustable Heavy-Duty Universal Transom Saver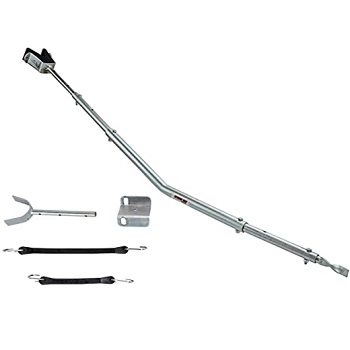 The Extreme Max adjustable transom saver can take on a great deal of your boat's weight that would, otherwise, threaten your transom. There is a lot of additional factors besides weight that can cause damage to this unit, such as bumps, high-speeding, etc.
Extreme Max designed a transom saver you can adjust between 28 and 59 inches so it distributes weight in the best way possible. It takes very little time to install or remove it, which might be of great help during the winter months.
In order to be capable of protecting your investment, a transom saver should be of the right fit. Don't worry about the size – this unit is universal and you will be able to mount it in a couple of minutes.
Made of durable and impact-resistant materials, the Extreme Max transom saver is a reliable unit that will serve you for a while. You will a U-attachment in the package as well.
Pros
Plated finish provides protection against corrosion,
Suits most 150 HP-rated outboards,
2-year replacement warranty.
Cons
Not suitable for larger vessels,
It rattles loudly when you hit into a pothole.
2. Attwood Corporation Composite Head Transom Saver with Roller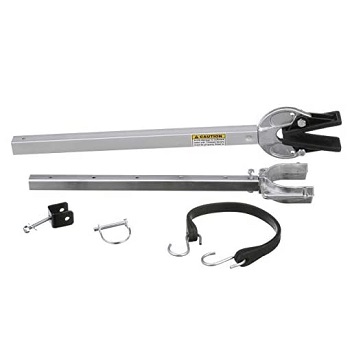 The Attwood Corporation composite head transom saver can reduce the stress your transom is exposed to each time you are transporting your boat on a trailer. It is equipped with numerous mount options for the end so you can easily find a size that fits your trailer best.
This transom saver provides reliable support and holds the weight almost effortlessly. The key to this is in the robust and sturdy construction – adjustable toggles and composite head in the first place. Designed to provide the utmost protection, this unit can hold your boat in place and stabilize it so it doesn't move during transport.
You can adjust it between 23 to 35 inches and it is easy to mount. Made of high-quality marine-grade materials, you can count on its durability and resistance to different factors.
Pros
Resistant to rust and corrosion,
Stabilizes the motor,
All parts are included.
Cons
Not suitable for long shaft outboard motors.
3. SeaSense Adjustable Motor Support Bracket (34 to 46-Inch)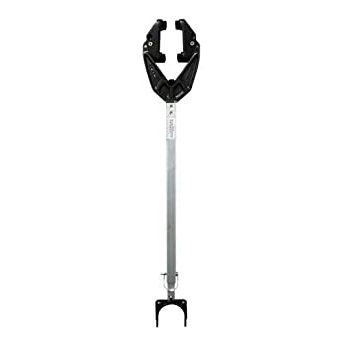 SeaSense has been delivering topgallant marine products for years now. This transom saver is another example of the reliability and durability of this brand. SeaSense designed their transom saver with 2 pieces installed within the head, which makes it adjustable and easy to operate.
Each piece comes with rubbers that prevent direct contact or damage to either your transom saver or the transom. Rubber also contributes to reducing vibrations and shock, especially when you come into a bump on the road. With no major shakes, your boat will stay unharmed during transport. SeaSense even gives you rubber straps to wrap around the transom and make the bond more secure.
Just like with all transom savers, you can adjust its length. In this case, the adjustment goes between 34 and 46 inches. The SeaSense transom saver makes the best choice for small outboards.
It is made of durable aluminum that resists rust and corrosion so you can tow your vessel at any weather condition. Overall, the SeaSense transom saver might be a great buy if you have more confidence with the already established brands like this one that proved their quality and provide second-to-none performance.
Pros
Straight transom design,
Tough to break,
It comes with accessories needed for mounting via a bracket.
Cons
The bungee cord might not be long enough for some outboards,
Although most of the construction is made of aluminum, a couple of plastic parts spoil the impression.
4. Attwood SP-424-ADJ-RB Heavy Duty Transom Saver (32/44-Inch)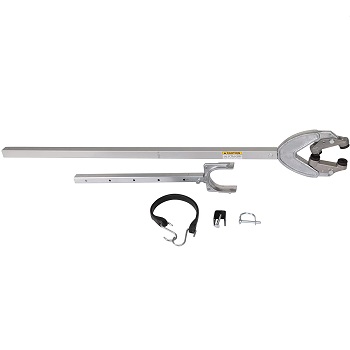 No doubt Attwood is an industry leader when it comes to marine equipment and transom savers. Their SP-424-ADJ-RB heavy-duty transom saver is designed to lessen stress (weight) put on your transom when you are trailing an outboard motor.
It works great with the cantilevered engines and comes with roller or trailer mount brackets. This unit can reduce rattling or vibrations that can move the motor or damage it by keeping it securely and in place. Attwood integrated a heady duty head to this transom saver to ensure the stability of your motor.
Packed with a couple of mounting options, you won't have any difficulties when installing it. You can adjust it from 32 to 44 inches
Pros
Replaceable rubber pads,
Well-built and sturdy,
Works with motors up to 250 HP.
Cons
Pads could have been of better quality.
5. Extreme Max 21″ to 31″ 3005.3852 Straight Transom Saver-21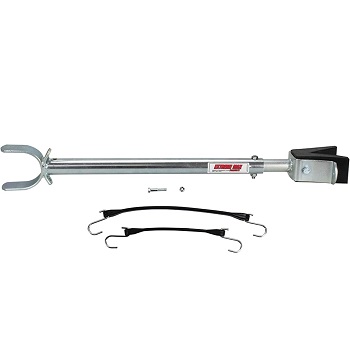 If you have never used a straight boat transom saver before, this might be the right time to consider this type of unit. Extreme Max designed an innovative transom saver you should mount over your trailer's rear roller.
This straight transom will prevent vibrations and rattling while you are towing your boat and make the transport more pleasant for you. Still, the best thing is that it reduces strain/pressure applied to the transom. Sturdy and durable, the Extreme Max straight transom saver distributes the weight and protects your boat and your transom.
You can extend it from 21 or 31 or 29 to 53 inches (depends on which model you are interested in), which makes this unit one of the most user-friendly ones in this section. There is almost no chance not to make it fit your towing needs. Having a couple of mounting length adjustments is a big thing when transferring a vessel.
Extreme Max made this transom saver out of stainless steel so that you can be carefree about its lifespan, endurance, and resistance to weather conditions.
Pros
Comes with a rubber V block,
Works great with larger motors,
2-year warranty.
Cons
You might need to buy a short rubber cord to ensure the best use of this transom saver.
6. Five Oceans Adjustable Motor Support Bracket Transom Saver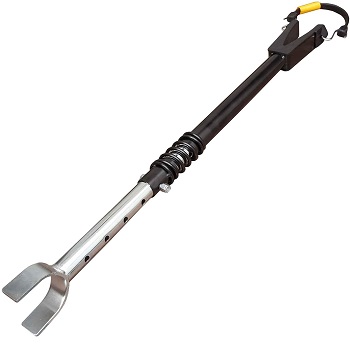 When taking into account the most renowned brands in the transom saver category, Five Oceans is one of those you'll get to see often. This transom saver is compatible with most outboards and you can adjust it at 20 to 31 inches so it performs right as it should.
The key mechanism that ensures less stress is placed upon the transom is the fact you attach it to the foot of the motor. This way, you make it possible for the unit to rest on the rear beam and transfer a great deal of weight.
One of the things that sets the Five Ocean transom saver from the rest is that you can use it with motors with manual trim. Although not the only one that gives you this option, the seller includes a bungee cord into the package.
Made of heavy-duty steel, the Five Oceans is great for use in different weather conditions and it won't get rusty if a few salty drops from your motor fall on it as it is resistant to corrosion.
Pros
Suits motors up to 150 HP,
Comes with a rubber strap,
Protects the motor against shock.
Cons
A few customers found this transom saver too short.
7. Attwood Corporation Clear Anodized Tube Heavy Transom Saver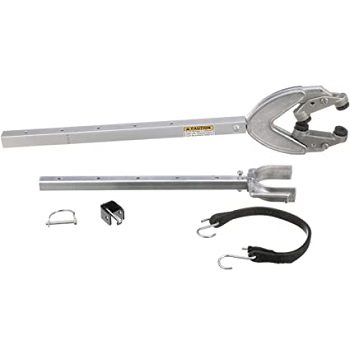 The Attwood Corporation heavy transom saver might be a lifesaver if you are hauling your vessel with an outboard motor. You can adjust it between 24 and 36 inches to ensure the best fit for your transom and the most protection to your valuables.
The heavy-duty head makes it sturdier and more reliable to tow weights, although this unit is not that much suitable for bulky motors. This unit can support the cantilevered weight of your vessel and stabilize its steering mechanism as well as the engine, which prevents damages during transfer.
Equipped with replaceable rubber pads and pro-adjustable head, the Attwood Corporation clear anodized transom saver is durable and well-made but that's something most customers expect of a reliable brand like Attwood.
This transom saver works with just any motor as it is universal and you won't have a hard time mounting it.
Pros
Comes with a bungee cord you can use to secure the motor,
Made of high-quality aluminum,
It can be mounted in different positions.
Cons
Transom Saver Buying Guide
Now that you are more familiar with different transom savers and understand its importance, we want to sum everything you should look for in this unit.
1. Length
Transom savers are designed to be adjustable in length. You can find models 20 to 60 inches. When choosing between products, take into account the optimal length you are looking for and make sure you don't pick a transom saver that is too long.
It would be best to find a unit that meets the shortest length you need as, this way, you will ensure minimum turbulence when towing your vessel. If you go for a too long transom saver, there is a chance it would twist and move as you go, which can cause opposite effects.
2. Type of A Transom Saver
We have listed two types of transom savers above. If you are confident about mounting the unit, you can go for a straight model. On the other hand, angled transom savers give you more room to fit it and mount it in a position that provides maximum protection to your motor.
3. Installation
The installation has a lot to do with the type of a transom saver and its design. However, the installation of this unit is rather straightforward and simple. However, if you don't install it properly, you can't be able t limit movements of your boat/outboard motor. Check on the buyer's manual to get clear instructions.
4. Material Of Construction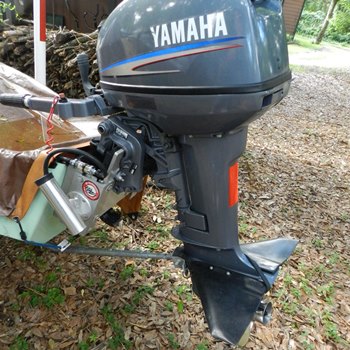 A transom saver's durability and performance also depend on the materials for its construction. In order to be strong enough, you need a unit made of solid materials such as steel or aluminum.
Steel is already known as one of the sturdiest and strongest materials. However, if it is not coated with chemicals that can make it resistant to rust and corrosion, it won't last as long as you would expect.
On the other hand, aluminum appears more elegant and it is resistant to numerous elements such as salt water and rain. Although lightweight, this material can still hold onto a lot of pressure but not as much as steel can.
It all depends on the weight of your boat. A steel transom saver might be a better choice for bigger and heavier vessels and aluminum for recreational vehicles and lighter boats.
5. Type of Head
Transom savers come with either adjustable or non-adjustable heads. With adjustable heads, you get two pieces and two rubbers that come within. With non-adjustable ones, rubber pieces are much larger.
This offers more resistance to shocks and bumps. The rubbers of simple or non-adjustable heads are placed in the V-blocks. If you have a transom that can accommodate this type of block, it might be a better option. If not, there are great models with adjustable heads as well.
6. Shock-Absorption Mechanism
When a transom saver breaks down, the inadequate suspension is the one to blame. Without the right shock-absorption mechanism, even a small bump can cause damage to your transom saver or even break it.
That is exactly why we mentioned V-blocks in the previous section. Rubber absorbs impacts and unwanted vibrations naturally. If you are towing your boat on clear roads most of the time, a V-block will do.
Still, if you are moving at uneven terrains, we highly recommend units that come with a spring in the center. This type of mechanism reduces shocks and protects your transom saver from damages on rough roads.
7. Accessories
Make sure to check whether all of the needed accessories such as nuts, bolts, and other hardware are included in the package or you would have to buy them separately. Not all units come with all the needed hardware so take into account this might be an extra cost.
How To Install a Transom Saver?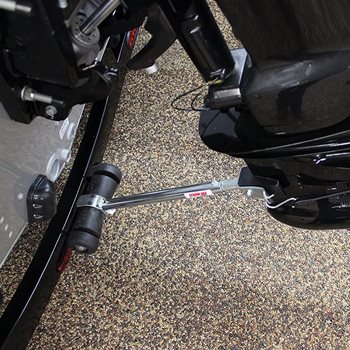 When installing a transom saver, you want to connect it to the back roller of your trailer. This unit will redirect the weight to the trailer instead of the transom. When installing a transom saver, it would be best to have a manual provided by the seller. Yet, some of the steps we saw work best when installing a transom saver are:
Position your motor upwards at a 20 to 30-degree angle. Still, manuals usually suggest positioning it downward. By our experience, this may scrape the motor so we prop it up when mounting to prevent damages.
The rounded end of your transom saver should go onto the roller.
Lower the motor so that you can operate the shaft easier. On the opposite end of your transom saver, you will spot the V-notch. Guide the shaft towards it while you contract or extend the transom saver alongside.
In case you don't have a rear roller, you will have to drill holes into the trailer crossbeam. The bracket should be positioned on the rear crossbeam.
Use screws to tighten the connection and then attach the transom saver to the bracket. You should lock it in place by using the corkscrew device.
Guide the shaft towards the V-notch and secure the connection with a rubber bungee strap. Then, take the rest of the strap and wrap it around the motor.
Lower the motor gradually all until you notice the weight is not on the transom anymore but on the transom saver.
Maintenance & Safety Tips For Transom Savers
1. Maintenance
Although you will have to put some effort into installing a transom saver, that is not the case with the maintenance part. Some other pieces of boat equipment, such as your top-rated boat fuel tank require more maintenance. Still, take care of your transom saver as much as you can, and here is how:
Clean it with water and mild soap only. If possible, after each use.
Once you spot a single crack, replace the unit.
Never leave the dock before checking the transom saver.
2. Safety Tips
Double-check whether a transom saver you intend to buy fits your outboard engine. If it doesn't, you wouldn't be as safe on the road while using it.
Don't lower the boat too much, otherwise, it will put additional weight on the arm and cause it to break.
Find water and rust-resistant transom saver. Corrosion and rust can reduce the lifespan of this unit and pose a safety threat.
FAQ About Transom Savers
1. What Is Transom?
A transom is a flat termination typical for square-ended vessels. It is placed above the waterline while reversed transoms point forwards the waterline. Boat owners use transoms to support their outboard motors or rudders, while some use a transom as an access platform.
2. How Do You Use a Transom Saver?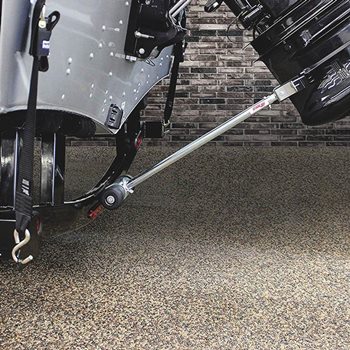 You should connect a transom saver to your trailer and the motor. All of the transom savers on the market are adjustable so that you can set it to the optimal length while securing the connection. Guide your transom saver towards the motor, insert screws, and wrap it all with a bungee cord.
3. How Do You Transom an Outboard Bolt?
If you have an engine over 15HP, make sure to bolt it through the transom. Use SS bolts and bolt them through the transom, then weld nuts to the bolts. Do not use clamps as these wouldn't be able to hold the engine securely. This will hinder thieves from stealing your outboard.
4. Are Transom Savers Necessary?
No, transom savers are not necessary but you can't have your peace of mind without one. You would have to be extra careful, especially when towing your boat at long distances. A transom saver is a highly recommended unit if you want to save your boat from damage.
Summary
It's all fun and games when you are enjoying your days on the water. Yet, transporting your boat is not fun at all. This rather grueling task carries a risk of damage within, which is why you should get the best transom saver.
This unit can help you protect some of the most important yet most sensitive parts of your boat and protect both your boat and transom. Some people believe a transom saver is an additional cost, but this unit is actually a major assurance of your safety and protection to your boat. We guess you could tell it while reading our transom saver reviews.
If you enjoyed this guide, take a look at other guides on marine equipment we've prepared just for you!