Unlike bigger models that come with a fuel tank, small boats need the best portable marine fuel tanks if they want to remain safe and care-free throughout the trip.
You can choose between a myriad of models that boast different capacities, build materials, venting, etc. Yet, how do you know which fuel tanks are worth your time and money? We got you covered! You can scroll down to our portable marine gas tank reviews and find the right unit for your boat easily.
See The Quick Comparison Chart
What Is a Portable Marine Gas Tank?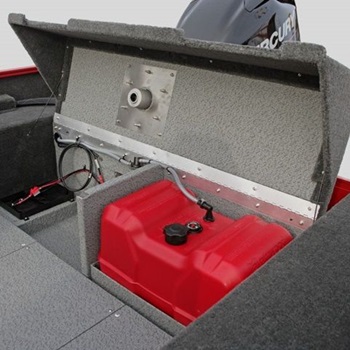 Out of all secondary parts (besides the best transom savers, best underwater boat lights, etc) for any marine owner, a portable marine fuel tank is a must-have unit if you have a vessel with an outboard motor. Large watercrafts come with integrated gas tanks, while smaller vessels require a separate, smaller tank. Don't worry – you can easily detach the tank from your boat and prevent someone from stealing it.
As you should store fuel in your tank, various units come with different capacities. You can find tanks of 3, 6, 16, 20, and 35 gallons. Yet, the bigger the capacity – the more weight the tank will add to your boat. That is why it is important to take into account the size of your boat and where you will install the tank.
Nowadays, most high-quality tanks are made of multi-layered plastic that is durable and resistant to wear and tear. Unlike older models, these fuel tanks come with adjustable vent settings so that you can control eventual fuel spilling.
Benefits Of Portable Gas Tanks
1. Versatile
You can get one fuel tank and use it for storing fuel for your boat, car, truck, or SUV. Fuel tanks are everywhere where vehicles are as they enable convenient fuel refilling.
2. Portable
Most people like the fact they can store their fuel in a tank and carry it around. On the other hand, you don't have to leave it on your boat as detaching a tank is quite easy but take it with you and leave in a garage. This way, you can protect your investment better.
To make it easier to carry your tanks, manufacturers design easy-to-carry handles and make them lightweight so you can transport with no hassle.
3. Different Features To Choose From
We have a wide assortment of fuel tanks to choose from. Whether you need more or less capacity, space-saving or bulkier, self-venting, or manual-venting fuel tank – you will be able to find the one that meets your needs best.
4. Safety
Fuel leakages are quite often with vessels. Having a dependable fuel tank can provide better fuel use and ensure you never stay out of fuel when in an open sea.
Types Of Portable Marine Fuel Tanks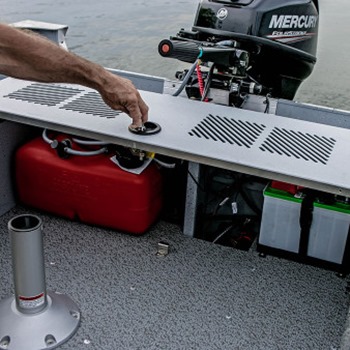 In general, most fuel tanks are made of plastic, but there are a couple of exceptions. You need a tank that is made of durable materials and the one that is certified for use. Two main types of portable marine fuel tanks are plastic and aluminum.
1. Plastic Fuel Tanks
Although plastic is not as eco-friendly as we would want to, plastic tank fuels are doubtless very economic. When made out of durable plastic, a fuel tank can last for a couple of years. Ethanol doesn't affect the durability of polyurethane fuel tanks, which is a major pro when comparing them to aluminum tanks.
2. Aluminum Fuel Tanks
Portable aluminum fuel tanks feature better resistance to impacts and punctures. These are also more elegant in comparison to plastic. Yet, you might have small difficulties with storing an aluminum tank while you can store more fuel in this unit.
Which one to pick? Plastic is more affordable than aluminum and many marine parts are made of polyurethane. It is relatively resistant to continuous use but tends to get swollen due to pressure buildup. Most plastic tanks are equipped with molded feet than ensure stability.
Aluminum fuel tanks are even more durable than plastic, more lightweight, and can take more fuel when going for a sail. Still, these are more rigid and tend to scratch easily.
Best Boat Fuel Tanks Comparison Chart
PRODUCT
DETAILS

Attwood EPA CARB Certified 3-Gallon Portable Marine Boat Fuel Tank

Price: $
Customer Rating: 4.0
Capacity: 3 gallons
Safety Rating: EPA and CARB
Material: Plastic

View On Amazon

Moeller Portable Fuel Tanks Sight Gauge Seamless EPA Compliant

Price: $
Customer Rating: 4.1
Capacity: 6 gallons
Safety Rating: ABYC/NMMA/EPA/CARB
Material: Plastic

View On Amazon

Arksen 35 Gallon Portable Gas Caddy Fuel Storage Tank

Price: $$$$
Customer Rating: 3.8
Capacity: 35 gallons
Safety Rating: N/A
Material: Aluminum

View On Amazon

Scepter 08669 Rectangular Fuel Tank 12 Gallon Low Profile Red

Price: $$
Customer Rating: 4.3
Capacity: 12 gallons
Safety Rating: EPA
Material: Plastic

View On Amazon

Moeller Marine Topside Fuel Tanks Direct Sight Gauge UV Inhibitors

Price: $$$
Customer Rating: 4.5
Capacity: 15 gallons
Safety Rating: ABYC, NMMA, USCG
Material: Plastic

View On Amazon

STKUSA Stark Universal 20-Gallon Aluminum Fuel Cell Tank

Price: $$
Customer Rating: 3.3
Capacity: 20 gallons
Safety Rating: N/A
Material: Aluminum

View On Amazon

Scepter Marine EPA Portable Fuel Tank

Price: $
Customer Rating: 3.8
Capacity: 3 gallons
Safety Rating: EPA
Material: Plastic

View On Amazon

Attwood Portable 12-Gallon Marine Fuel Tank EPA CARB Certified

Price: $$
Customer Rating: 4.5
Capacity: 12 gallons
Safety Rating: EPA and CARB
Material: Plastic

View On Amazon
Best Portable Marine Fuel Tanks Reviews
1. Attwood EPA CARB Certified 3-Gallon Portable Marine Boat Fuel Tank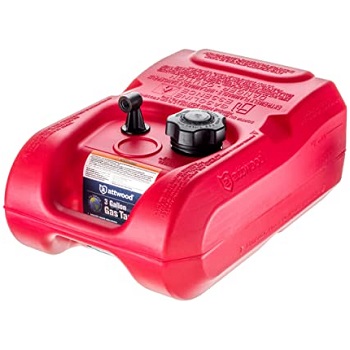 Attwood designed this marine boat fuel tank so it features multiple layers that can withstand the pressure gathered within the fuel system. Equipped with a vacuum valve, you won't have to think about venting it manually, which means – less maintenance.
If you have a small boat, there is no need to look further – 3 gallons is more than enough and it weighs 6 pounds, which won't add too much weight to your vessel. Still, you can use it as an emergency backup even with larger vessels.
This fuel tank complies with the highest regulations and standards – CARB and EPA. It is best to use it with ¼-inch NPT fuel fittings. If you ask us, this fuel tank by Attwood would work best as an auxiliary unit for portable RV generators.
Pros
Auto-vent,
Made of flexible but thick plastic,
Easy to install and plumb.
Cons
Not suitable for remote filling,
Making any modifications to this unit can be dangerous,
Can't be stored upright.
2. Moeller Portable Fuel Tanks Sight Gauge Seamless EPA Compliant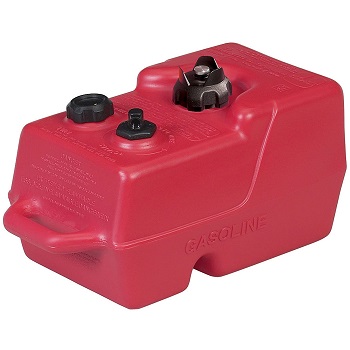 With Moeller, there is no doubt about the quality and durability of their fuel tanks. This unit made of thick plastic has sturdy walls that make it tougher by 30% than similar products on the market.
If you need a portable tank that doesn't require you to install it permanently, make sure to have Moeller in mind. This fuel tank is meant to direct fuel directly to the engine.
Moeller made a tank compatible with CARB, NMMA, and ABCY regulations that approve of the safety of use. Also, the Moeller portable fuel tank is EPA-compliant, which means it prevents the escape of Hydrocarbon (a mixture of Carbon and Hydrogen that can be dangerous to breathe in).
It features 6 gallons of capacity so you can use it with medium-sized vessels. This fuel tank is packed with a self-venting 2-way vented cap so that you can release the pressure from the system easily and safely.
You can rotate the fuel fitting so that you can adjust the hose easier while it is originally set at 90 degrees. Speaking of bonus features, this Mueller fuel tank features its own sigh fuel gauge which, once more, approves its exceptional performance.
Pros
Convenient carrying,
Non-corrosive,
2-year warranty.
Cons
The gas cap seems to be a bit of an issue for some customers as it is not venting properly.
3. Arksen 35 Gallon Portable Gas Caddy Fuel Storage Tank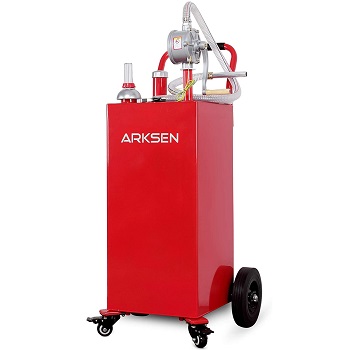 Here, we have a one-of-a-kind fuel storage tank made by Arksen. Although it is not what we are typically drawn to, it features multiple superb features that might be worth your time. With 35 gallons of fuel capacity, the Arksen fuel tank can store significantly more liquid than its counterparts.
The stainless steel, rugged construction ensures the unit's durability and resistance to various elements. If you are not a fan of PET plastic, the Arksen tank would meet your expectations.
It comes with a 2-way pump that makes transferring fuel convenient and fairly quick. You can fill or drain small units within just a couple of minutes. Yup, this tank boasts a great reversing cranking action as well.
Arksen proved they care about the safety of their customers one more by integrating a ground clamp to hinder static discharge. If you didn't know, static discharge can do harm to electrical components and devices on your boat.
Pros
Comes with an 8-feet, kink-free hose,
10-inch diameter makes it easy to fill,
Convenient carrying handle.
Cons
It is heavy when full,
Dangerous to use when not on a stable and flat surface.
4. Scepter 08669 Rectangular Fuel Tank 12 Gallon Low Profile Red
If you want a versatile, multipurpose unit, the Scepter 08669 combines sight gauge and fuel pick-up. Unlike some other tanks from our list, this one is very stable and comes with a molded base so that you can place it on almost any surface.
Made of high-density polyurethane, you can rest assured it features a sturdy and durable construction while the gauge is covered with plexiglass (high-quality plastic). Thanks to the one-way vent system, the air can get into the tank easily but it can't escape.
It accommodates 12 gallons of fuel, which might be the optimal amount if you have a medium-size boat. Low-profile, it is suitable for standard marine tank fitting – EPA compliant ¼ NPT.
Eco-Checked, approved for use worldwide, the Scepter fuel tank is safe for the environment but for the user as well. It also meets CSA and ISO standards.
Pros
Easy to read indicator,
No leaks,
Convenient installation.
Cons
Not resistant to UV rays and blows up when exposed to the sun,
Too short ties.
5. Moeller Marine Topside Fuel Tanks Direct Sight Gauge UV Inhibitors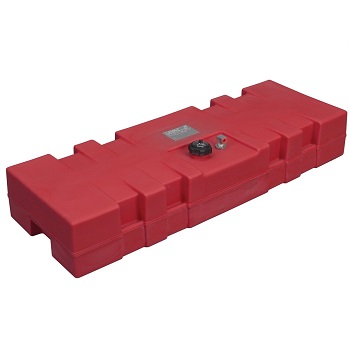 This Moeller topside fuel tank is designed with narrow spaces in mind. You can store it easily anywhere on your boat, especially under the rear area, but don't let this trick you. Just because it's more compact, it doesn't mean it has low capacity. In fact, you can fill it up with up to 15 gallons of fuel.
The manufacturer added a fuel gauge to this unit and made an aluminum fitting, which ensures durability and resistance to rust. On the other hand, this tank is made of durable polyurethane and it is covered in UV-resistant coating that protects it from sun rays.
The Moeller marine topside fuel tank meets all of the required regulations – NMMA, ABYC, and USCG. It works best with ethanol fuels that are well-known as very corrosive and can resist the pressure within the system. Avoid mounting it on the side to prevent leakages.
Pros
Mold resistance,
Suitable for any type of fitting,
The slight curve at the bottom makes it easy to slide across the deck.
Cons
Although the seller claims it has 15 gallons capacity, it seems like it's more like 12 or 13,
Comes without straps.
6. STKUSA Stark Universal 20-Gallon Aluminum Fuel Cell Tank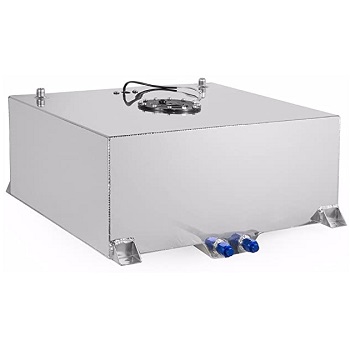 Stark Universal designed a fuel tank that's quite versatile. It is suited for boats, cars, and trucks, so if you are looking for a product that can do all of these, you should get familiar with this 20-gallon fuel tank.
One of the features you can't find in other units on the market is the open-cell foam core. This property prevents explosions and makes the tank safe to use.
This anti-slosh foam is replaceable and the seller provides it in the package. On the other hand, it minimizes sloshing or leakages when the sea is rough and your boat is exposed to shock waves.
The Start Universal fuel tank is quite different when it comes to design as well. It is made of high-quality polished aluminum that looks elegant but also protects the content within. Aluminum is lightweight, which can be a pro if you have a smaller vessel and you don't want to add too much weight to it.
This fuel tank is super-convenient to install and it is low-maintenance as well.
Pros
Rustproof construction,
Oil level sensor included,
Prevents fuel starvation.
Cons
The filler cap is low-quality,
Some customers think this tank features a lower capacity of 15-18 gallons instead of 20.
7. Scepter Marine EPA Portable Fuel Tank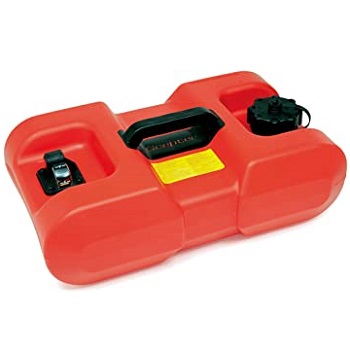 This Scepter portable fuel tank might be a good option for boat owners looking for a spare fuel tank or those with smaller vessels. You can choose between 3 and 6 gallons of capacity, and having options is always a good thing.
When knowing EPA approved it, you can be more confident about a purchase as this means this fuel tank is safe for use. If you notice the tank swells once in a while, don't fret. Scepter integrated a new cap that stays sealed even when exposed to pressure or when the swelling is obvious.
Built of durable and sturdy plastic, the Scepter fuel tank won't deteriorate over time. It uses a standard (1/4-inch) NPT fitting ad that comes with a fuel gauge that ensures more convenient handling.
Just in case strong currents start shaking your boat, you can be rest assured the Scepter tank with molded feet won't let you down. This enhanced stability is another feature that gives you peace of mind when using the Scepter fuel tank.
Pros
2-way vented cap,
Crush-resistant design,
Eco-Checked.
Cons
No self-venting results in pressure build-up.
8. Attwood Portable 12-Gallon Marine Fuel Tank EPA CARB Certified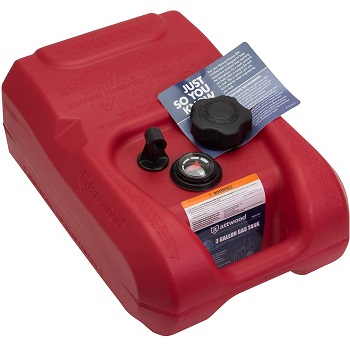 Most boat owners have trust in Attwood as this brand delivers constant quality, which applies to this fuel tank as well. As it features a capacity of 12 gallons, you might find it useful for storing fuel for your medium-size boat but also for a fishing boat or a dinghy.
Made of sturdy plastic, this fuel tank is resistant to impacts and corrosion so that you can rest assured it will serve you for a couple of years at the latest. When it comes to safety, this tank is certified by CARB and EPA and there is no doubt it is completely safe to use.
Just as all fuel tanks, this one can get a bit swollen. Yet, Attwood integrated a vacuum valve to it so that it vents by itself and withstands the pressure really well.
Most Attwood fuel tanks, including this one, are compatible with standard fuel fittings and you will find it easy to use and maintain.
Pros
You can store it upright,
Meets the highest safety regulations,
Convenient to store.
Cons
Portable Marine Fuel Tank Buying Guide
How do you know which tank is the best for your vessel? We listed the most important features to look for in a fuel tank so stick to these when making a choice.
1. Capacity
Fuel tanks boast various capacities – 3 to 35 gallons. It all depends on whether you want a tank that accommodates more or less fuel. It is important to take your destination when sailing into account as well.
The more capacity – the heavier the tank. If you have a lightweight RV, going for a 35-gallon fuel tank would be absurd. Opt for the middle ground whenever it is possible. This way, you will ensure your safety on the water as the tank won't pull your boat down.
2. Size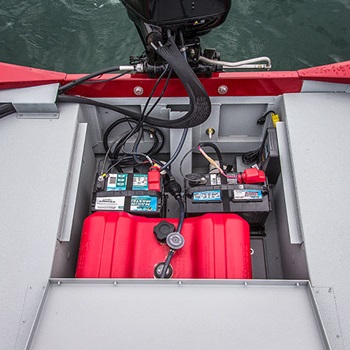 This, again, has to do a lot with the capacity. If you need a compact fuel tank, go for small to medium size. A low-profile tank with up to 6-gallon capacity would be the best choice for lightweight RV. Also, it would be great if you can store it under the seat.
On the other hand, if you have plans on getting a fuel tank just to ensure your safety on a bigger boat, you can go for the one with 15 to 35 gallons of capacity.
3. Material
We already spoke about different materials used to build fuel tanks. This is a matter of preference but you should still be careful. If you own a lightweight vessel, an aluminum tank would add to much weight to it. In this case, go for a plastic tank.
4. Safety Ratings
You could notice numerous abbreviations we used in the previous reviews section. Some of these include NMMA (National Marine Manufacturers' Association), ABYC (American Boat and Yacht Council), CARB (California Air Resources Board), and EPA (Environmental Protection Agency).
When looking for a fuel tank, always go for the one that meets some of these safety requirements. All of the products we reviewed hold at least one rating out of these 4.
5. Venting
Marine fuel tanks come with either self-venting or manual venting features. If you ask us, it would be best to go find one that releases pressure automatically (self-venting) instead of a manual unit that requires your full attention when you are on an open sea, especially if the temperatures are high.
6. Gauge Indicator
How do you know how many fuel you have left? A gauge indicator indicates the amount of fuel left in a tank. The best units come with built-in indicators as these manufacturers know how important it is to be aware of the amount left so that you can know when is the best time to get back on land.
Safety Tips For Portable Gas Tanks
Keep your tank away from flammable devices no matter whether it is on your boat or stored in a garage.
Clean the hoses of your fuel tank regularly to prevent clogging and inconsistent fuel inflow. Cleaning the filter is as important, too.
When cleaning the tank, empty the content, pour some cleaner inside, and shake. Rinse the tank a couple of times and let it sit for a couple of hours on air to dry completely.
Always store your tank in a cool, dark, and dry place. You can cover it with a good boat cover if you can't store it properly right after use.
Inspect the tank before use. Even small damage can cause an issue. Put it away and get a new tank.
Close the hatch each time you are filling your tank in the dock.
Turn the engine and motor off when filling the tank.
Don't smoke cigarettes while filling it.
Let the fuel sit for a couple of minutes within the tank before starting the motor.
It would be great to have a spare tank each time you are heading out.
Don't leave your tank full for longer periods, especially if there is ethanol in the fuel. If you do leave it to sit, ethanol will sink to the bottom and this weird mix of ethanol and moisture can damage your tank.
FAQ About Portable Marine Fuel Tanks
1. Is It Safe To Have a Full Fuel Tank On a Boat?
Absolutely. After all, it would be best to have a full fuel tank when going on a longer trip. Still, we highly recommend not to overfill it. Going up to 90% is the best choice as there is a chance of gas expanding. When a 100% tank gets swollen, there is a chance of an explosion.
Thus, you should get a fuel tank that is suitable for the size of your boat. A 3-gallon tank won't put too much pressure on your boat even if it full. On the other hand, this capacity wouldn't be enough for bigger vessels. Try to find a middle ground between the size of your boat and fuel tank capacity.
Luckily, most fuel tanks come with built-in vents that are in charge of releasing the pressure from the tank. Whether it be auto or manual venting, both are great as this feature keeps you safe on the water.
2. Where & How To Store a Portable Fuel Tank?
Most manufacturers will provide you with the safety instructions, among which you will find the ones about storing your tank. When sailing, you can store a plastic fuel tank on the deck, under the seat, etc. If you have an aluminum tank, it would be best to store it under the deck. When not using your tank, keep it in a garage or another, cool and dry place, away from the sun.
3. How To Properly Fill a Boat With a Fuel Tank?
When at the dock, check on engine fittings, hose lines, tank, and strainers for leaks. Turn off the engine, batteries, generators – all of the electrical equipment. Shut the doors, windows, and hatches to ensure no gas fumes get inside.
Start willing your boat. Meanwhile, hold the gas nozzle wrapped in a towel. This will prevent sparks and backsplashes. Clean any spilled gas. Start the engine, ventilate the boat, and you are good to go.
Wrap Up
All of the best portable marine fuel tanks we listed above can last for at least a couple of years. You need a reliable and durable product as otherwise, fuel leakages can cause traumatic outcomes.
We hope you could find all the needed info in our portable marine gas tank reviews. The right unit is just a click away! If you liked this guide and would like to get to know more about marine equipment, check our other, comprehensive guides!
See also: bilge pump reviews