The best bilge pump can be your lifesaver and the secret hero under your seat while sailing the sea. If you have a reliable, well-built, and quiet unit at hand, this unit will provide great value if water ever breaks into your vessel.
There are numerous models to choose from – automatic, manual, lightweight, heavy-duty, etc. Currents are unpredictable so it's better to have one pump in operation and another, spare one. You can find both in our reviews. We also created a buying guide to make you more familiar with the bilge pump operation, installation, and most important features of this unit so you can ensure you are fully safe when on water.
See The Quick Comparison Chart
Benefits Of Bilge Pumps
If you have a high-quality, reliable bilge pump, this unit can provide you with a couple of benefits, including the following ones:
1. Portability
You can store your bilge pump anywhere you want. You can move it around your vessel or store it somewhere else in your home, garage, or car when you are not using it. Most units in this category are lightweight but you will come across heavy-duty ones as well. Although categorized as heavy-duty, these units are relatively easy to move as well.
2. Security
A functional bilge pump can get you out of a dangerous situation if water ever gets into the bottom of your vessel. If you have a recreational vehicle such as a kayak or canoe, water can get inside quite easily but if you have a small yacht – you already know you are in trouble when there is water in the underwater part of your boat.
Either way, a bilge pump provides a higher level of safety and makes you feel more confident about being far away from the coast.
3. Space-Saving
Bilge pumps are very practical, helpful, and space-saving units. Storing one on your boat won't take up much space as most bilge pumps are convenient and rather small so you can tuck your away at the bottom of your boat, just like you would do with your boat anchor and anchor rope.
4. Budget-Friendly
If you are thinking about raw upfront costs of getting a bilge pump, do not fret. These units are affordable, especially when taking into account the value they provide. You can find a good unit for a relatively low price but don't be afraid to spend a little bit of extra on a bilge pump if you have a larger boat.
Best Bilge Pumps Comparison Chart
PRODUCT
DETAILS

SEAFLO Automatic Submersible Boat Bilge Water Pump 12v

Price:

$

Customer Rating:

3.8

Weight:

1 lb

Flow Rate:

750 GPH

Power:

Electric

View On Amazon

Shoreline Marine Bilge Pump

Price:

$

Customer Rating:

4.4

Weight:

0.92 lb

Flow Rate:

600 GPH

Power:

Electric

View On Amazon

SeaSense Hand Bilge Pump Hose

Price:

$

Customer Rating:

4.4

Weight:

1 lb

Flow Rate:

1/4gallon/stroke

Power:

Manual

View On Amazon

Seattle Sports Paddler's Bilge Hand Pump for Kayaks and Boats

Price:

$

Customer Rating:

4.6

Weight:

0.75 lb

Flow Rate:

5 feet/stroke

Power:

Manual

View On Amazon

Rule Marine Bilge Pump

Price:

$$$$

Customer Rating:

4.7

Weight:

0.8 lb

Flow Rate:

2000 GPH

Power:

Electric

View On Amazon

Attwood Tsunami Manual Bilge Pump

Price:

$$

Customer Rating:

4.6

Weight:

0.6 lb

Flow Rate:

500 GPH

Power:

Manual

View On Amazon
Best Bilge Pumps Reviews
1. SEAFLO Automatic Submersible Boat Bilge Water Pump 12v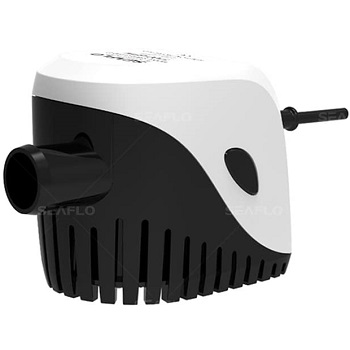 If you are looking for a bilge pump you can rely on in basically any emergency situation, check out this powerful unit by Seaflo. Their boat bilge water pump features 750 gallons per hour of flow rate and you can submerge it completely without worrying it will let you down halfway through.
Speaking of its build quality, the Seaflo bilge pump is made of high-quality materials – durable plastic (housing) and stainless steel (shaft), which ensures its durability. Corrosion-resistant and rust-proof, this unit can be used in both fresh and saltwater.
Seaflo integrated numerous amazing features into their bilge pump – float-switch test button, ignition protection, and reed sensor system (controlled by electronic). This unit uses no power all until the internal float switch comes in contact with water.
The Seaflo bilge pump is versatile and you can use it for manual override as well. Watertight-sealed, it is almost indestructible, which, again, proves a 4-year warranty Seaflo provides.
Pros
Silent operations,
Doesn't produce vibrations,
Easy maintenance and servicing.
Cons
Switches off automatically when it detects the level of water dropped significantly, but not fully.
2. Shoreline Marine Bilge Pump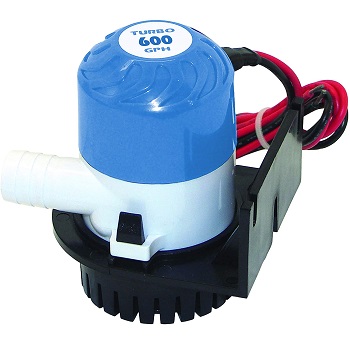 The Shoreline bilge pump is one of the most compact units on our list. If you don't have much space on your boat on disposal, you might find it suitable to fit onto your small boat. With 600 gallons per hour, the Shoreline bilge pump provides a quite impressive capacity considering its size. Like most units in this category, it is submersible in water.
A must-have safety accessory on your boat, this bilge pump is super-easy to install and requires very little maintenance. Built of stainless steel hardware, it is suitable for use in saltwater. It comes with a long marine-grade wire that helps you move the pump around your vessel.
Quiet, the Shoreline bilge pump won't annoy you while operating. Although it requires manual operation, this unit still provides good value for the money while you can install a float switch and turn it to an automatic boat bilge pump.
Pros
Universal mounting,
Lightweight,
Easy to install.
Cons
Not as durable as some other bilge pumps on the list.
3. SeaSense Hand Bilge Pump Hose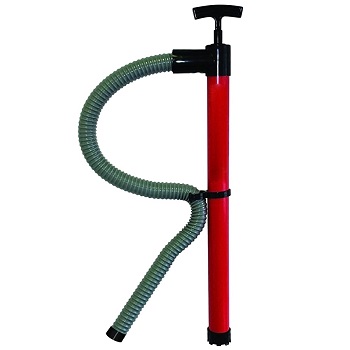 If you have a canoe or kayak, you already know how easy it is to let a lot of water inside by just tipping over or when it is raining heavily. The SeaSense bilge pump features a 6-stroke capacity/gallon as it is manual, but chances are – you won't need a pump of larger capacity for small boats or recreational vehicles.
Yet, you might find this unit useful for bigger boats as well, especially if you can't access all the areas easily. The SeaSense bilge pump weighs 1 pound and comes with a removable hose so it doesn't add weight to your boat and it is convenient to store.
Also, the hose is 36 inches long, which ensures there are no blockages and makes the suction more efficient. You can adjust the hose length to the situation you find yourself in.
Corrosion-resistant, the SeaSense bilge pump is durable and suitable for use in freshwater and saltwater. Overall, this unit provides great value for small recreational vehicles despite the fact it is not automatic.
Pros
Ergonomic handle,
Easy to assemble,
Long-stroke provides quick water suction.
Cons
A couple of customers claim the hose tends to leak sometime.
4. Seattle Sports Paddler's Bilge Hand Pump for Kayaks and Boats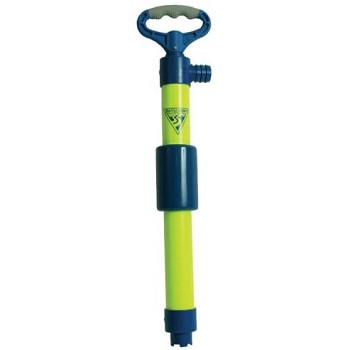 The Seattle Sports Paddler's bilge pump might be a good pick for fishing kayak owners or other smaller recreational vehicle owners. This brightly-colored and attractive unit is compact and lightweight – so it doesn't take space on your vessel or add too much weight to an already lightweight vessel.
Yet, the Seattle bilge pump features a quick operation although it is a hand-operated unit. Although its draining power also depends on how quickly you can operate it, this pump comes with a hose that ensures a relatively smooth draining but you should be careful about larger particles as it might be prone to clogging.
Equipped with a rubber handle, it prevents slipping and is comfortable to hold. You can disassemble this pump easily when it needs cleaning. Keep in mind the Seattle Sports Paddler bilge pump is designed for intermittent use and with moderate currents only.
Pros
Neon yellow color can make you more visible when in trouble,
The long hose provides a higher draining power,
Ideal for small RV.
Cons
Although this pump works great with topwater, mud and similar particles can cause a stoppage in the hose.
5. Rule Marine Bilge Pump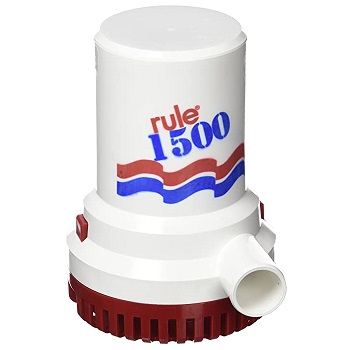 The Rule marine bilge pump is available in 3 voltage models – 12, 24, and 32-Volt, which makes it suitable for most boat owners. Although it might not be the best option for vessels longer than 28 feet, the Rule bilge pump covers a great deal of small to medium vessels.
The strength this unit boasts is quite impressive for a non-automatic pump. It allows you to pump water both vertically and horizontally – up to 20 feet. Designed to last, this product comes with a stainless steel shaft and it is corrosion and rust-resistant.
The 1-1/8-inch discharge hose gives provides rapid operation considering the overall size of this pump. A float/panel switch activates the pump, which can seem a bit old-fashioned, but this traditional way of operation ensures a higher level of security and protection when you are on the water.
Efficient, silent, and compact – the Rule marine bilge pump might be a good buy for a fisherman or yachtsman.
Pros
Completely submersible,
Easy-clean,
3-year warranty.
Cons
There is no drain back valve.
6. Attwood Tsunami Manual Bilge Pump
You must admit the name of this bilge pump – Tsunami grabs attention in seconds. No doubt, there are a couple of good reasons why Attwood named their pump this way. First off, it is very compact and takes very little space on your boat so you can use it on smaller vessels but big boats as well.
Tsunami performs quite efficiently for its size and it is rated at 500 gallons per hour. You would have to operate it manually but Attwood designed a unit that is straightforward and easy to use, which helps a lot, especially when you are in an emergency situation.
If needed, you can replace the Tsunami's motor core effortlessly. Eventually, a certain amount of debris will get into the discharge hose but don't worry – you will take out everything your bilge pump sucked up within just a couple of minutes.
A pump that features the high volume output, innovative, and reliable – the Tsunami bilge pump is completely submergible and leak-free, which is a win-win situation for any boat owner.
Pros
Patented shaft seal,
Corrosion-resistant,
Made of topgallant magnets, alloys, brushes, and bearings.
Cons
Although it features solid capacity, it's not recommended to use it with major leaks on the open sea.
7. Amarine Made 1100gph 12v Marine Plumbing Electric Bilge Pump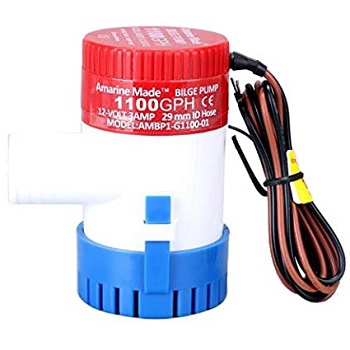 Low-profile, submersible, the Amarine electric bilge pump is one of the most reliable units in this category. It features an amazing flow rate of 1100 gallons per hour, which ensures its efficiency in emergency situations.
Not only this pump can make you feel safer but it has a long lifespan. The thermoplastic body, stainless steel shafts, resistant ABS housing, and heavy-duty motor ensure durability and resistance to outer impacts. Moisture-tight and anti-airlock seal reassure of the quality this pump provides.
There are no vibrations with the Amarine bilge pump and it operates quietly. It draws 3Amps when in operative mode and you can use it either manually or automatically. The almost 5-feet long wiring makes it easy to install the pump while the snap-lock strainer ensures very little maintenance.
Amarine designed a bilge pump that meets all safety standards and it won't burn out if dry.
Pros
The cooling water system,
Ignition-protected,
Automatic discharge function.
Cons
Switch not included,
It would be a bit hard to find a suitable hose diameter.
8. Rule 25S-Marine 500 Automatic Marine Bilge Pump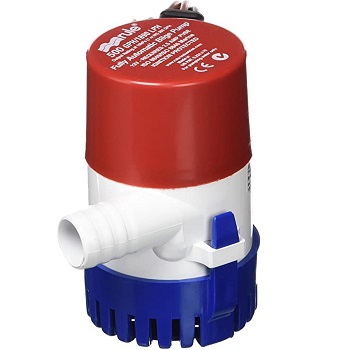 The longer the warranty, the longer the lifespan of a bilge pump. If you agree, the Rule marine bilge pump that comes with a 3-year warranty might be that unit you are looking for. It has a solid pumping capacity of 500 gallons per hour, which makes this pump most suitable for small and recreational boats – canoes and kayaks in the first place.
Yet, although you can find units that pump more than 500 gallons per hour, the Rule bilge pump comes with a wide discharge port hose that makes it super-fast to drain water from your boat. In other words – this pump can stand shoulder to shoulder with pumps that drain let's say – 750 GPH.
The Rule pump turns on automatically once it senses the water and you don't need an external switch. Speaking of the size, the Rule marine bilge pump is convenient to store and features a low profile. Needless to say, this is what we would expect from a bilge pump for small vessels).
Pros
Detachable hose,
Long motor-life,
3-year warranty.
Cons
This unit doesn't support standard hose size so you would have to invest some time in finding a suitable hose.
9. Seaflo 2000 GPH 12v Boat Marine Plumbing Electric Bilge Pumps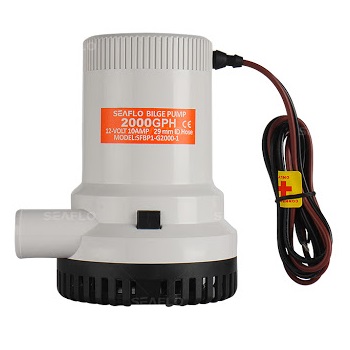 Here comes a bilge pump with the largest capacity of 2000 gallons per hour. If you have a larger boat or a yacht, this powerful pump might be the best pick for you.
Tough thermoplastic body and stainless steel shafts are a standard in this category but still give you slightly more confident about this unit.
It comes with a heavy-duty motor that supports the above-listed capacity and provides longevity to the Seaflo bilge pump. Yet, even though heavy-duty, this bilge pump won't take much space in your vessel. It is compact and easy to store.
Just in case this draining capacity is causing you doubt, it's good to know the Seaflo pump meets all the existing safety standards and it is approved by ROHS, CE, and ISO.
Pros
Anti-lock protection,
Easy-clean snap lock,
2-year warranty.
Cons
Small outlet,
The manufacturer uses the plural in their description but you get one pump only.
10. Amarine Made 1100gph 12v Boat Plumbing Electric Bilge Pumps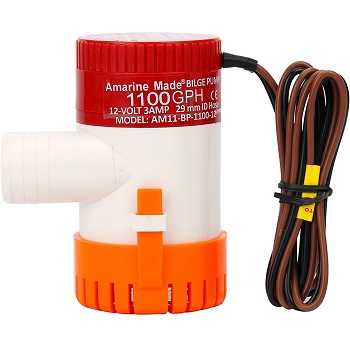 The Amarine Made electric bilge pump ticks all of the boxes when it comes to quality, safety, and capacity. It also lasts quite long so no wonder it is considered the upper-market type of unit.
If you manage to prevent large objects from being sucked into this pump, you can be 100% sure and confident it will get your out of a risky situation when you are on the water.
It is not automatic but you can make it if you get and install a float switch to it. Once you install it properly, and the installation if straightforward and simple, the Amarine Made bilge pump will drain 1100 gallons per hour and it will operate continuously – all until there is no water left in your boat.
This model might be a good pick for larger vessels as it can work for longer intervals. Yet, it is still pretty small in comparison to the quality and draining power it provides. A bang for the buck, the Amarine Mode bilge pump is one of the most wanted models on the market for a while now.
Pros
Can stand heavy use,
Comes with high-quality ABS housing,
Meets all safety standards.
Cons
Just as most powerful models, this pump draws slightly more power.
11. Attwood 4511-7 Sahara S1100 Automatic Bilge Pump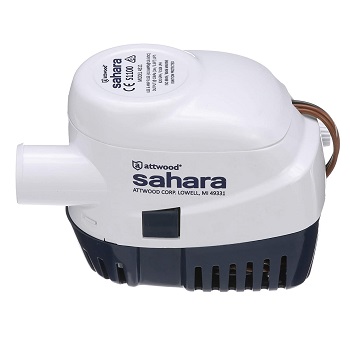 Attwood Sahara is another great bilge pump with draining power of 1100 gallons per hour. Made of high-quality materials, this unit is sturdy, durable, and resistant to impacts. Attwood sealed this model to prevent water leakages and ensure your safety in case of an emergency.
It comes with 29-inch wiring that enables you to move the pump around your boat. Equipped with an air-filled float, this pump is turned on automatically as soon as the mechanism detects water in your boat. The mechanism continues with operating all until there is no more water in your boat.
Sahara is quite lightweight and weighs 1.33 pounds only so you can use it with smaller vessels as well. You will need a 3/4-inch wide hose for operating this pump, which is good to know, as the standard hose is easier to find that 11/8-inch one. You can choose between 2 mounting holes and install this pump almost effortlessly.
Pros
Comes with a testing knob,
Most suitable for boats 20 feet and longer,
Mercury-free switch included in the package.
Cons
You can't adjust the float level,
You can mount it horizontally only.
12. Johnson Pumps Of America PROLINE Bilge Pump 750 GPH 3A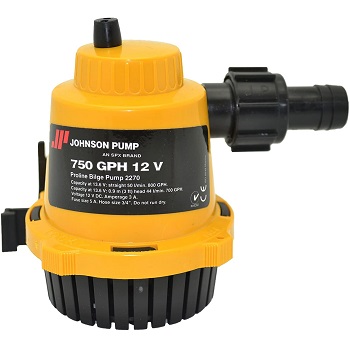 Proline bilge pump by Johnson Pumps of America designed a high-quality, fully submersible pump that boats 750 gallons per hour of draining capacity. This efficient unit provides ultimate durability as it comes with ignition protection that protects it against high and strong currents.
Resistant to corrosion, you can use this model when sailing both fresh and salt waters. Designed to provide second to none performance, the Proline bilge pump features the anti-airlock protection as well.
You can operate it manually but, if you want to ensure an even higher level of safety on your boat, you can also install a flow switch and turn it to automatic operation. The Proline pump comes with a standard-size hose so finding one that suits won't be a problem.
Tested in a factory, the Johnson Pumps of America bilge pump is 100% safe to use and easy to maintain, which comes as a bonus to its overall great performance.
Pros
Super-easy to install,
Low-profile.
3-year warranty.
Cons
Although somehow durable, this pump comes with an average motor that can't handle frequent use.
What Are Bilge Pumps and How Do They Work?
One of the most important elements on your boat, a bilge pump, is a piece of marine equipment that removes water coming into your ship. It is usually located in the underwater part of a vessel. This pump can handle fuel, mud, and other particles found in the water. Most importantly – a bilge pump can save your life if you have a reliable unit.
Bilge pumps are activated by either electricity or hand movements to collect water. It sucks water in an then releases it from your vessel through a discharge point.
If you want to stay afloat, no matter the water you are on (salt or freshwater, sea or a lake), a bilge pump is an essential unit. However, we highly recommend having a spare pump near at hand in case anything goes wrong.
Types Of Bilge Pumps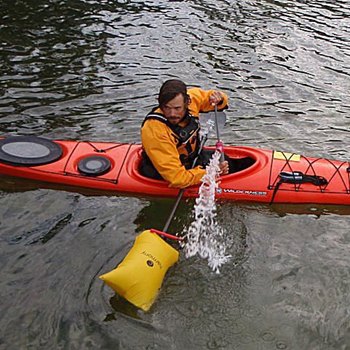 Not all bilge pumps are the same. It all depends on the size and draining capacity, as these two factors are taken into account when choosing between one of the following two types.
1. Diaphragm Electrical Pump
This is a typical, standard type of a bilge pump and it sucks water out. It acts like a vacuum and it pushes the water up towards the discharge point. Self-priming, this type is not so portable and requires more maintenance but causes low to no damage.
2. Centrifugal Electrical Pump
This type of bilge pump operates as a turbine. It uses kinetic energy and features a high draining capacity. More affordable, easier to maintain, and store – the centrifugal electrical pump is a slightly more popular model that the diaphragm electrical pump, although both types have its cons as well.
Bilge Pump Buying Guide
Here, you will find the most important features of any bilge pump. To ensure the best return of value on this purchase, make sure to find a unit that ticks all of the following characteristics.
1. Capacity
Probably the most significant feature of a bilge pump – its draining capacity is expressed in gallons per hour (GPH). It is essential to check on this output beforehand making a final decision. You can find pumps with 500, 750, 1100, or 2000 GPH.
A bilge pump with lower output capacity won't be able to deal with tough currents and fast water inflow. Choosing the best pump will depend on the size and type of your vehicle. You need to find a unit that will pump water out fast enough so your boat doesn't sink.
2. Size
The size of a bilge pump is a quite important feature into account as well. If you have a small vessel, a bulky unit will take a lot of space and you won't have any room left for other important pieces of marine equipment.
On the other hand, the size of a pump sometimes defines its output. If you have a yacht or a bigger boat, it would be best to find a pump of appropriate size and the one that has a solid draining capacity. This will ensure your safety in case water gets into your boat's underwater part.
3. Type
We have already discussed 2 types of bilge pumps. If you have a larger boat, we would highly recommend a centrifugal pump and diaphragm pump for boats where you need to push the water upwards to the discharge point.
4. Ease Of Installation
If you want to ensure the long life of a bilge pump, you should clean it at least a couple of times during one season. Dirt and large particles can clog your pump and hinder its operation. No matter how large your pump or the pump's hose is, you should maintain it frequently. For the reason you will have to assemble and disassemble the pump numerous times, it is important to have one that's easy to mount as well.
5. Material
The build of a bilge pump affects its lifespan too. If it is strong and well-made, the unit will be resistant to weather, fast-moving water, sizeable leaks, and other impacts.
The best material used for making bilge pumps is ABS plastic. It can stand heavy use and won't break under the influence of strong currents. However, other parts such as gears and shafts should be well-made as well. Stainless steel is a top-quality material that ensures the longevity of a bilge pump but it is resistant to corrosion too, which might be important if you spend most of your days on the sea.
6. Noise Level
Not all bilge pump descriptions involve noise level rating in decibels, but it would be great if you could find the unit that does. A bilge pump should operate in a silent manner and, if possible, without vibrations. The quieter the pump – the better, as it won't annoy you or drive fish away.
Some models come with built-in equipped water sensors that activate the pump only when there is some water in your boat. This way, you can save u some energy and ensure the long life of your pump.
7. Boat Type and Size
In order to find a pump that is most suitable for the type of your boat and its size, make sure to pay attention to this section. We are going to categorize different boat types and sizes and suggest the most important features of the most suitable unit.
If you have a smaller boat, such as an outboard-powered skiff or a daysailer, then you have a narrow and more compact bilge. This means you should find an appropriate – smaller bilge pump. It would be best to find a versatile unit that can be installed vertically and horizontally.
Next, if you are a ski boat or runabout owner, that means your vessel is capable of handling more water itself. A boat pump will come suitable in emergency situations but still – make sure to find a heavy-duty one that boasts a higher capacity.
With racing sailboats, you also need a pump with a higher draining capacity but a lightweight unit. A heavy-duty pump would hinder your speed and make you fall behind other boats.
Yet, as not all racing sailboats are the same, if you have an offshore racing sailboat, a powerful and sturdy pump is a must. You need a unit that can be installed at almost any angle and pump enough water to the discharge point to keep you afloat.
If you spend most of your time on your offshore or coastal boat, you need a reliable pump that is not too bulky but the one that features a high draining rating. This will ensure you some extra time to call for help through your VHF marine radio.
8. Power
You can choose between electric and manual bilge pumps. We can't claim one type is better than another as both can provide more safety on the water. Yet, electric bilge pumps are slightly more efficient and can pump more water in a shorter time.
On the other hand, you might not need an electric pump for smaller vessels such as kayaks. In this case, a manual bilge pump will do the job without much effort. It will help you get water, mud, and other particles from your vessel.
Still, beware of the fact electric pump will drain power from your motor while manual-operated pumps require more effort than electric units.
9. Pump Switches
Some pump switches are designed to turn bilge pumps into operation automatically. One of these switches is the integral automatic switch built-in more high-end bilge pumps. Once the switch detects water in your boat, it will power the pump to start draining water out.
However, most units on the market come without a built-in float switch so you would have to buy and install one separately. This way, you can transform your bilge pump into an electric unit.
Again, this might be a better option for large boats and yachts where you can't keep an eye on the water level. With kayaks and canoes, you can have a clear insight into the upcoming water level and turn the pump manually.
10. Storage
Although it would be best for you to throw out some other unnecessary objects from your boat for the sake of a bilge pump, we guess some of you still care about the free space on your vessels. In our reviews, you can find a couple of easy-to-store units that can give you that extra room for other things you might want to have near at hand when sailing.
How To Install Bilge Pumps?
If you have never installed a bilge pump on your boat, the owner's manual might be the best thing to have near at hand when mounting the unit. Here, we will provide a couple more installation tips that will make this process easier for you.
Check on the electrical connection. Improperly attached bilge pump will be useless if water enters your boat. Using a crumpled hose will, highly likely, cause you headaches and endanger your safety. Use a smooth hose through which water can flow easily.
In case you are unsure about the process, call a technician and the guy will install everything the right way.
Here is a step-by-step guide on how to install a bilge pump.
Make sure your discharge hole is above the waterline.
Find a skin fitting that's appropriate for the size of your discharge hose.
Your bilge pump should be running straight and short so place it in a suitable position.
Drill a hole through which the skin fitting will go. Make the hole fit and snug.
Connect the skin fitting and the hose to your bilge pump and tighten connections with hose clamps.
You will need wire – two runs for manual pumps to connect the pump to the bilge.
If your pump comes with a float switch, find an appropriate size cable and use connectors and heat shrink connect positive and negative wiring.
Use a ring connector for the negative and a blade cable for the positive cable to complete the circuit.
Double-check whether the wiring, connections, attachment and the circuit are secure.
Maintenance & Safety Tips For Bilge Pumps
Maintaining your bilge pump is essential for your safety in critical situations. If you want to prepare yourself as much as it is possible, make sure to follow the listed steps before setting sail.
Take into account the essential features of a bilge pump – mostly the ones that have to do with the size and type of your boat.
In case your pump breaks down in the middle of the sea, always have a spare one to help you out.
Place the pump in a place from which it can pump water out of your boat most efficiently.
If you are not sure about your pump's operation, call a technician.
Clean your bilge pump after each sail. Large particles stuck in the discharge hose can cause a clog and prevent the pump from operating efficiently.
FAQ About Bilge Pumps
1. How High Can a Bilge Pump Lift Water?
A bilge with rated at 500, 750, and 1100 GPH can pump water up to 10 feet, and those rated at 2000 GPH can push water to 18 feet.
2. Do I Need More Than One Bilge Pumps?
As listed, different bilge pumps are rated at different power outputs. A bilge pump can save you from an emergency but – what if it fails you when on the water? Even if it doesn't, rough seas and torrential rains might put too much pressure on your pump.
In case your pump doesn't boast a high draining capacity, it will be quite troublesome to get out of a dangerous situation. To ensure your peace of mind on the water, we highly recommend having at least one spare pump. Even a smaller-capacity pump can be of great help in case of an emergency.
Also, if you have an electric pump, it would be smart to have a manual one as well.
3. Why Can a Bilge Pump Fail and What Happens Next?
Any pump can fail, including a bilge pump. Anything putting restrictions on your pump can make it stop working – mostly large particles, dirt, and debris stuck in the discharge hose. Any particles found in the water can hinder the operation of a pump.
Sometimes, the water can get back into the unit if siphoning is bad. If wiring is not installed properly, this can be another reason for pump failure. Salt is one of the major irritants to wiring, while the same applies to fuel.
If a bilge pump fails, it can cause collecting more water in the underwater part of your boat. If the water is not coming out of the vessel, you wouldn't be able to stay afloat. That's exactly why you should have two bilge pumps on your boat – to prevent your boat from sinking.
Wrap Up
Now you know the best bilge pump can protect you if you ever get involved in a dangerous situation on the water – whether it be heavy rain or strong currents. If you want to prevent sinking of your boat, a bilge pump can help you stay afloat or give you some extra time to call for help.
Our bilge pump reviews should give you a clear insight into the best units on the market. Options are endless, but when it comes to safety – you want to play safe as well. We have covered many more pieces of marine equipment in other guides you should check if you want to ensure the utmost safety and pleasure while sailing.
Bonus guide: boat fuel tank reviews