If your vessel is above 20 feet, you're highly advised to use the best VHF marine radio. This piece of marine equipment can save lives as it transmits signals and enables you to communicate with other boaters and rescuers.
Choosing between multiple options can be daunting when you are buying a marine VHF radio for the first time. Knowing how important this device is, we decided to put together a useful guide that will help you find the best model for your needs.
See The Quick Comparison Chart
Benefits of VHF Marine Radios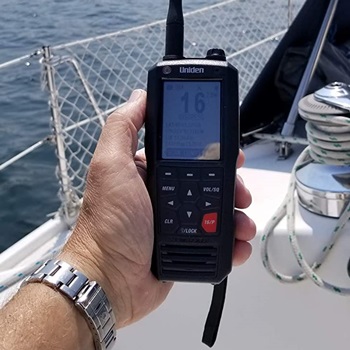 People use their mobile phones to send off signals when on land and marine radios when on water. Although it is already clear the main benefit of this device relates to safety, here are all the advantages of using a marine radio.
1. Receiving Weather Alerts
Most high-quality devices are equipped with NOAA weather alarm systems. Instead of checking the weather conditions on the water via your phone, the already built-in warning system of your marine radio will provide you with the necessary information.
It updates new data frequently so you can rely on the accuracy of the data you receive. This feature can signalize you to change the course or look for the nearest port and get away from the storm.
2. Fewer Limitations Than With Mobile Phone
Mobile phones don't function the same when on land and the sea. If you have already tried to obtain a solid signal with your phone when you are a couple of miles from the coast, you know this chance is minimalistic.
With marine radios, you don't have as many limitations as with a phone. You can communicate with faraway boats and emergency responders in case you find yourself in a tricky situation.
3. Backup in Emergency Situations
No doubt a marine radio is the most reliable device you can have when you need to transmit a call when far away from shore. No other device can help you get in contact with rescuers, and this is the biggest advantage of a marine radio.
What is more, this unit transfers an immediate signal so you can be confident your call for help will reach the right person in time. Marine radios are waterproof as well so you can send a signal to rescuers even in case you find yourself in water.
4. Digital Selective Calling
DSC or digital selective calling is another safety feature of marine radios. Thanks to it, you will be able to alert shore stations and sailboats in the area, which means – help will be on its way sooner than you might expect. DSC works with devices that have built-in GPS.
5. Strong Transmissions
Marine radios boast different transmissions – 1, 2.5, 6, and 25. The stronger the transmission – the better the range your device can seize. When having a wide-range marine radio, your signal can interfere with a larger number of boats.
6. Portability
You can either put your radio on the deck or carry it as you move around (if it is handheld). Portable devices are the best option for any sailor as they don't lose power when you need them the most.
7. Multiple Charging Options
Most marine radios can be charged via standard chargers, others come with rapid chargers, and some even can be charged via computer. This gives you a couple of reliable options you can choose between when you need your unit and stay updated when on the water.
Best VHF Marine Radios Comparison Chart
PRODUCT
DETAILS

Cobra Marine Radio MRHH150FLT Floating Handheld VHF Radio

Price:

$

Customer Rating:

4.2

Type:

Handheld

Waterproof Rating:

JIS7

Wattage:

3

View On Amazon

Uniden UM385 25 Watt Fixed Mount Marine Vhf Radio

Price:

$

Customer Rating:

4.5

Type:

Fixed Mount

Waterproof Rating:

IPX4

Wattage:

25

View On Amazon

STANDARD HORIZON HX870 Floating 6W Handheld Marine VHF

Price:

$$$

Customer Rating:

4.4

Type:

Handheld

Waterproof Rating:

IPX8

Wattage:

6

View On Amazon

Cobra MRHH350FLT Floating VHF Long Range Marine Radio

Price:

$$

Customer Rating:

4.2

Type:

Handheld

Waterproof Rating:

IPX7

Wattage:

6

View On Amazon

Uniden Floating Handheld VHF Marine Radio with Bluetooth

Price:

$$$

Customer Rating:

4.1

Type:

Handheld

Waterproof Rating:

IPX8

Wattage:

6

View On Amazon

Standard Horizon Eclipse Gx1300 Fixed-Mount Class D VHF Radio

Price:

$$

Customer Rating:

4.4

Type:

Fixed Mount

Waterproof Rating:

IPX8

Wattage:

25

View On Amazon
Best Marine VHF Radios Reviews
1. STANDARD HORIZON HX870 Floating 6W Handheld Marine VHF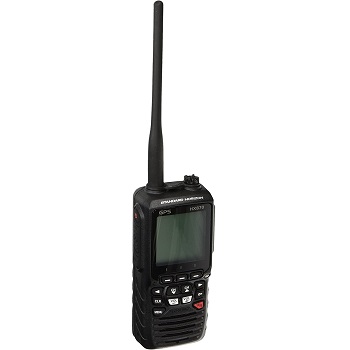 If you are looking for a powerful, features-packed marine VHF that provides a second-to-none type of performance, the Standard Horizon HX870 might be the one. This handheld device is lightweight, compact, and comes with a large display that makes it easy to read.
Overall, it includes simple and straightforward buttons you might find useful if you never used a marine radio before. This one boasts 6-Watt of power and uses the 1800mAh lithium-ion battery, which contributes to having an extended reach when on the water.
A durable and rugged chassis is submergible into the water to 4.92 feet for about 30 minutes without having any interruptions with the communication. Once submerged, this device activates an emergency light automatically you can further program so it gives you the best visibility.
Other useful features the HX870 model is packed with include programmable memory, integrated 66-channel WAAS GPS receiver, noise-canceling microphone, priority scan, etc.
It's already clear – the Standard Horizon HX870 is a type of device that would meet even the most demanding boater's expectations and provide the utmost safety when on the water. Also, an extra battery and a quick charger are included in the package.
Pros
Group Monitoring function,
Connectible to a computer via the USB port,
3-year waterproof warranty.
Cons
Although it is lightweight, it is still thick,
No LED indicator on the battery status.
2. Uniden UM385 25 Watt Fixed Mount Marine Vhf Radio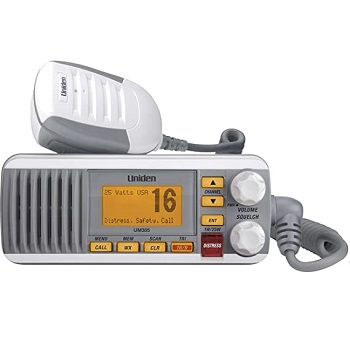 The Uniden UM385 is one of the marine radios that will help you out of risky situations on the water by signalizing when there is an upcoming storm and transmitting your location in case you need some help. It supports a wide selection of local and international channels as well.
Lightweight and easy to hold, the UM385 is waterproof and meets the highest IPX4 safety standards. You can submerge it for up to 30 minutes to a depth of 4.92-feet. Don't worry water would obstruct sound transmission – you will be able to call for help at any time during these 30 minutes or after you get out of the water.
Equipped with the essential buttons – distress, position send, and request, thee UM385 is a no-brainer to use. This model features solid craftsmanship and it is made of premium materials that make it durable and reliable.
Pros
Rugged microphone,
Emergency strobe light,
1/25-Watt transmit power.
Cons
A few customers complained about the low speaker volume.
3. Cobra MRHH350FLT Floating VHF Long Range Marine Radio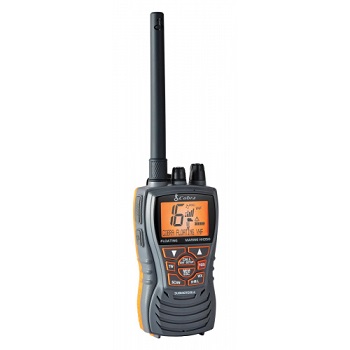 The Cobra MRHH350FLT marine radio is one of the most user-friendly designed products in this category. It is compact and ergonomic, thus – easy to handle so you probably would take it with yourself all around.
It works great in any weather condition and is equipped with a backlit display that makes it extremely useful during the foggy, overcast days or nights. This marine radio won't take away much power as it comes with 3 output options and allows you to choose the one that would provide the best functionality and longer battery life when you need it.
Having a marine radio is a matter of safety, while the Cobra MRHH350FLT covers both local and international channels. In case you get into trouble, this feature will enable you to establish communication with multiple operators and get to the land safe and sound.
What is more, you can even submerge it into water. If it ever happens you have to jump off your boat and swim to the shore, this little buddy will back you up along the way. Although this would affect the durability of the Cobra marine radio in the long run, you can be confident about using it as it will never let you down when you need it the most.
Pros
Equipped with weather channels and alerts,
Coast guard waterproof,
Able to monitor 3 channels simultaneously.
Cons
Slightly shorter lifespan than with some other radios from the list.
4. Cobra Marine Radio MRHH150FLT Floating Handheld VHF Radio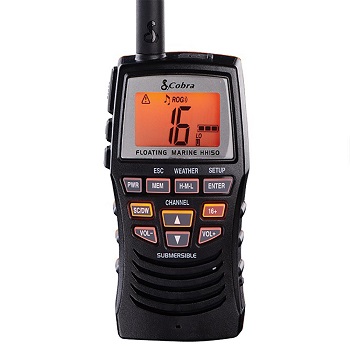 Whatever distress situation you find yourself in when on the water, the Cobra MRHH150FLT marine radio can provide needed help. This long/short-range device is floatable and waterproof and you can easily spot and retrieve it in case it goes overboard.
Overall, the MRHH150FLT is a user-friendly and simple device to use. It comes with a large display and illuminated display keys so you can read it even when the visibility is low or during the night. You can use AAA or standard batteries when taking longer trips and ensure you never go powerless when on the water.
The MRHH150FLT is capable of providing accurate and live information on the weather hazards. It scans a wide range of channels and operates in local and international destinations. Designed to withstand common elements in marine environments, this radio is submergible for about 30 minutes on the depth of 3 feet.
Ergonomic, intuitive, multi-channel, the MRHH150FLT is one of the marine radios that offers you a number of useful features to choose from and allows you to adjust its operation to different conditions and situations on the water.
Pros
Battery status indicator,
Great battery life,
Produces crisp sounds.
Cons
Would use better speaker volume
Some parts tend to corrode after being submerged in salt water.
5. Uniden Floating Handheld VHF Marine Radio with Bluetooth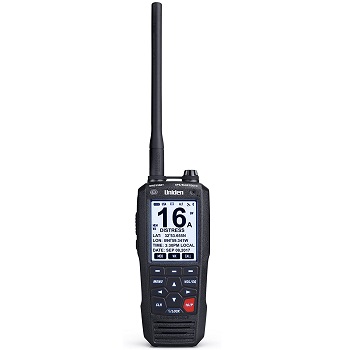 The Uniden floating handheld marine radio meets the highest waterproof standards and provides a crisp sound even when submerged. This device uses 6-Watt of power and is equipped with Bluetooth wireless, which makes it stand out from the competitors.
Equipped with a flashlight, the Uniden marine radio will ensure visibility even during the foggiest days and during the night as well. NOAA weather channels make a standard feature of marine radios, but still a necessary one if you want to avoid storms while on the water.
A fail-proof, easy to communicate with device is a must whenever you are sailing, while the Uniden marine radio ensures your signal reaches multiple channels, including international ones. It is submersible but boasts a water-activated MOB that helps if shake off the water and ensures clear sounds.
Another unique property of this device is the waypoint navigation that helps you reach previously-stored locations through the compass screen so you can escape strong currents and dangerous waves.
Pros
It comes with one of the largest screens on the market,
Noise-reduction feature,
Water-activated emergency strobe light.
Cons
On the heavy side,
It doesn't boast the longest battery life, especially if submerged frequently.
6. Standard Horizon Eclipse Gx1300 Fixed-Mount Class D VHF Radio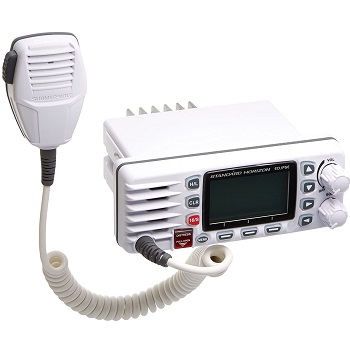 Don't worry if you are a bit tight on the space – the Standard Horizon Eclipse Gx1300 features a compact footprint and is easy to mount in the narrowest areas. The oversized display makes it easy to read on and you can see the information clearly from almost any point of your vessel.
The Eclipse Gx1300 is an upgraded version of Standard Horizon's previous model and it meets the highest waterproof rating – Ipx8. It transmits the power of 25/1-Watt.
This device supports USA, Canadian, and some bonus international channels so you can be rest assured your signal will be transmitted to multiple locations. This ensures your safety and gives you more confidence about the use of this marine radio.
Speaking of additional features that bring even more value to the Gx1300, it comes with programmable memory, priority scan, NOAA weather alert, noise reduction microphone, and many more. If you are space-conscious of your boat but still need a reliable device that transmits signals to a wide area, even internationally – make sure to have the Eclipse Gx1300 in mind.
Pros
Programmable soft keys,
Packed with numerous DCS features,
3-year waterproof warranty.
Cons
The display could have been brighter.
7. Standard Horizon GX1600B Standard Explorer VHF Marine Radio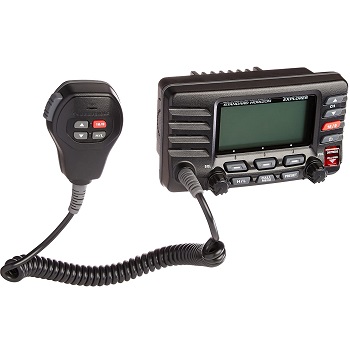 Every sailor needs a reliable marine communication device, while everything else is just a bonus. Well, the Standard Horizon GX1600B is packed with all crucial functionalities but also comes with some extra properties you can find useful when on the open sea.
It comes with a large display, thin body (that makes it easy to mount in different positions), weighs 5lbs only, and is equipped with programmable scan and dual watch. You can easily switch from 1 to 25-Watt of transmission power and extend its battery life.
The GX1600B features the noise-reduction feature that enables receiving clear signals and allows you to scan the channels almost effortlessly. What is more, you can name the channels yourself.
This device meets the highest safety standards, including JIS8 standards that approve you can submerge it to 4.92-feet, worry-free.
Pros
NOAA weather channel selection,
Detects 4 ships in an area of 15-20 feet,
3-year waterproof warranty.
Cons
Takes some time to learn how to program and use it.
8. ICOM M25 21 Handheld VHF Radio IC-M25 BLUE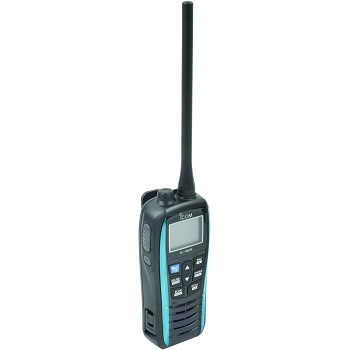 The ICOM M25 is a portable, lightweight, and superior-performance type of marine radio. This device is floatable and waterproof so you don't have to worry about waves splashing onto your vessel. It even flashes when it comes in contact with water so you can retrieve it easily.
Equipped with a long-life lithium-ion battery that will back you up for up to 11 hours, this marine radio is one of the most reliable products – the best friend to sailors who take longer trips. You can also charge it via USB port.
The M25 produces crisp and loud sounds. It comes with mute and loud functions so that you can adjust the volume with a single button press. Other buttons on this marine speaker are easy to use and rather simple, too.
In the end, the ICOM M25 does exactly what you would expect of a marine radio – ensures your safety when on the water, it's user-friendly made of high-precision materials and has great battery life.
Pros
4-step battery indicator,
Flexible charging options,
3-year warranty.
Cons
The manufacturer didn't put this device's highest range.
9. Retevis RT55 Floating Handheld Marine Radio VHF Waterproof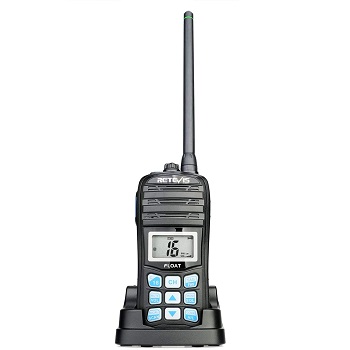 The Retevis RT55 is a 100% floatable, wide-frequency, and reliable marine radio you need whenever being on your boat. It is packed with a self-drainage function that eliminates all the water from the microphone and ensures you receive crystal-clear sounds, not the muffled ones.
The range of the RT55 covers the USA, Canadian, and other international channels so you can be confident about its performance whenever you find yourself at. This high-power marine radio will probably even exceed your expectations as it never loses signal.
Meeting the highest safety standards, the RT55 comes with a built-in NOAA weather alarm that will warn you in case of an upcoming storm. Easy to use and read on, this marine radio comes with a large LCD screen that features an automatic backlit function that allows it to adapt the screen clarity to low or high.
Designed to last for a good couple of years, this device meets the military standards and can withstand rough conditions.
Pros
IPS6 waterproof,
Ergonomic design,
Lock and scan functions.
Cons
It takes about 10 hours to charge.
10. Standard Horizon HX210 HX210 6W Floating Marine Handheld Vhf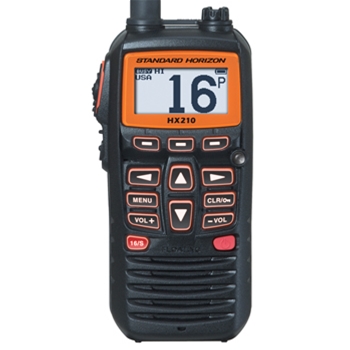 The Standard Horizon HX210 is compact marine radio that comes with an oversized display that increases visibility. User-friendly, it is a no-brainer to use and operate.
This device meets IPX7 waterproof ratings, which means you can submerge it to 3.3 feet for 30 minutes. It floats when dropped into the water and activates an emergency strobe light itself, which is one of the safety features this radio is packed with.
You can choose between 1, 2.5, and 6-Watt output power and ensure a longer battery life when it is needed. It comes with an 1850 mAh lithium-ion battery, and this high capacity is already giving you a hint about the overall quality it provides.
The Standard Horizon HX210 gives you a couple of charging options and comes with a rapid charger so it is almost always fully ready when you need it.
Pros
High-resolution display,
Flash SOS,
3-year warranty.
Cons
The manufacturer hasn't specified whether this marine radio is equipped with the NOAA weather alarm.
11. Uniden Atlantis 275 Handheld Two-Way VHF Marine Radio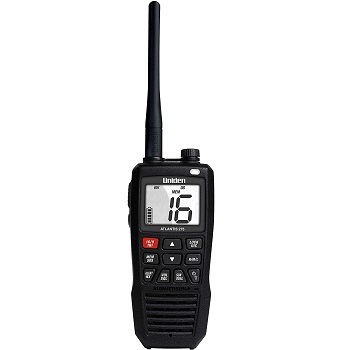 Designed to provide you with all the necessary information and communication when you are sailing, the Uniden Atlantis 275 is one of the most powerful marine radios on the market. This submersible floating device will be your lifeline. Equipped with a flashlight and emergency strobe, it adds another level of safety when you are on the water.
This radio comes with one of the largest LCDs that boasts 2 different backlight displays, one for day and the second for the nighttime. Compact and relatively lightweight, the Atlantis 275 can fit on any deck while you can carry it with you as well.
You can choose between 3 power output options and ensure you have a full backup during your trip. This device receives multiple radio channels from the states, international, and Canadian ones. NOAA weather channel alerts will update you on the upcoming weather conditions and, possibly, save you from trouble.
All in one, the Atlantis 275 might be a good fit for any marine enthusiast that wants to ensure their safety on the water.
Pros
Meets IPX8 waterproof standards,
The battery lasts for about 10 hours,
3-year warranty.
Cons
Takes too long to charge – up to 13 hours.
What Are VHF Marine Radios?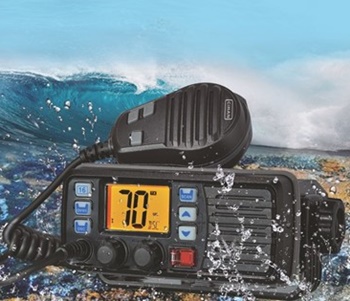 Marine radios are one of the essential pieces of equipment sailors need on their boats. If you want to stay connected to other boaters but also receive useful weather information and distress signals, then you will need one of these devices for sure – at least if you don't want to take any risks.
VHF is an abbreviation for very high frequencies, which means marine radios boasts 156 to 174 MHZ. This device is designed with marine enthusiasts who spend their time on the sea, no matter if they are small vessels or large boats. You should also know different regulations are applied to river and lake water traffic and you would need another piece of equipment to ensure your safety when sailing.
You can't compare signals your, let's say, mobile phone gives off and receives to the ones VHF marine radios do. The best devices on the market give you an almost 100% coverage and backup. The only exceptions to the rule are large objects such as mountains and hills that can block the signal to a certain extent.
To conclude – a VHF marine radio is a type of device that can help you avoid or get out of the sea storm or another tricky situation on the water that threatens your safety.
How Do VHF Marine Radios Work?
Marine radios send and receive transmissions. To do so, these devices convey signals via radio wavelengths. Yet, as we already mentioned, large obstructions can hinder the signal. It's logical – the signal gets further when the line of sight is clear.
When the path is unobstructed, a marine radio can communicate with another radio or multiple radios at a time. When sending a distress call, your device will convey the signal to anyone in the range it supports. The better the range – the more chances you have to get out of trouble.
Types of VHF Marine Radios
1. Fixed Mount VHF Marine Radios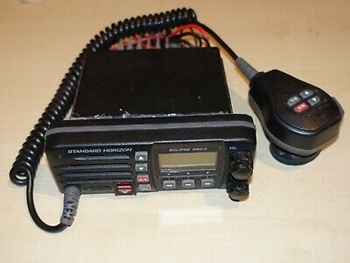 If you are a small yacht or large boat owners, the fixed mount marine radio would provide the highest level of safety. It uses electrical power so we would recommend connecting it to a top-rated deep cycle marine battery.
Its biggest flaw is that it is not portable, but this type provides a higher range and more output power – up to 25-Watt.
2. Handheld VHF Marine Radios
Not-handheld devices would lose power in case of a storm or if your boat loses power. That's why a handheld device would be a better choice – it won't fail you in the middle of distress.
Although fixed mount units make a better choice for heavy boaters, this type is slightly a better option. The range of this device is relatively good, but not as good as with the fixed type. Also, you can expect no more than 7-Watt of output power with handheld radios.
VHF Marine Radio Buying Guide
1. Number of Channels
Some radios are dual, other triple-watch. These refer to a number of channels you can follow at once. The more channels, the better, as you would be able to reach more people when in a disaster situation.
2. Automatic Identification System
AIS allows you to determine numerous information on the other vessels in your area. For instance, you can find out their name, watercraft's ID, their cargo type, the speed at there are moving, departure point and destination.
When you know who you might interfere with, you can prepare your vessel for this. If you an experienced boater, you already know some boats have an advantage and if you are just a casual sailor, there is a chance you will come across a boat that has the right of way.
3. GPS
Another life-saving feature, GPS enables you to notify more people about your situation. Rescuers and other boaters would be able to come to your boat much quicker when they know your precise location.
4. Water-Resistance
When being on the water, you know you are going to encounter numerous wave splashes, even rain, and storms. When having a waterproof marine radio, you can be confident no water can damage it.
Yet, it is very important to find a device that meets the highest waterproof ratings – IPX8 is possible. That means your marine radio can even be submerged into water for about 30 minutes at a depth of 4.92 feet without being damaged. It would send off signals even when under the surface of the water, which can be a lifesaver in certain situations.
5. Noise Cancellation
There is a lot of static noise when you are in the marine environment. This noise can mess up the quality of sound your marine radio provides. However, noise cancellation will reduce/absorb unpleasant noises such as water sounds, the engine working, etc.
6. Emergency Light
Most devices are equipped with an emergency light that gets activated when in contact with water. If you have a handheld marine radio, you should find the one with an emergency light. It will send an SOS signal in case you fell off your boat into the water and can't find a way to get back on it.
7. Ease of Use
The main purpose of a marine radio is to save your life if you get in trouble. That means you should be able to use it without much thinking. A marine radio should be functional, equipped with large LCD and programmable buttons that make the use of it simple and quick.
8. Material
A high-quality marine radio should be well-made, sturdy, and durable. Make sure the device you plan on getting is rust-proof, as it would definitely come in contact with salt water. It would be great to find a radio that is dust and heat-proof as well, as this will ensure an even longer lifespan of your unit.
How To Use a VHF Marine Radio?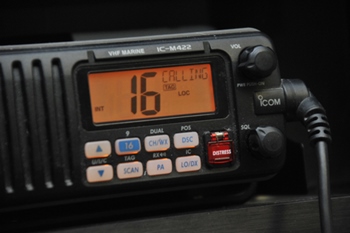 Here's how to use your marine radio in general:
Turn on your device, turn the knob, and wait until the static stops.
The US Coast Guard is monitoring channel 16 and we highly recommend you to tune to this channel right away.
Check if your marine radio is working properly by performing a radio check but use another channel for this, not channel 16. For instance, channels 68, 69, and 71 are open channels supposed intended for performance checks. Repeat "Radio check" 3 times.
Power the device to 1-Watt and check if the mic is working properly.
Provide your boat's name and current location to the radio check. Repeat 3 times.
A person on the other side will confirm when they hear your transmission.
If you want to ask general questions, please use channel 16.
How To Use a Marine VHF Radio In An Emergency?
Switch your device to full power, whether it be 6, 7, or 25-Watt and tune it to channel 16.
If you think you are in a life-threatening situation transmit "Mayday" 3 times and provide your boat name. If you are in trouble, but not the touch-and-go situation, use "pan-pan"l.
Define your latitude and longitude if your marine radio supports GPS and inform the US Coast Guard about this info once they respond.
Safety Tips
DSC has a major life-saving influence but it is completely useless when your marine radio is not connected to GPS. Always make sure to connect these two.
Don't use the antenna of your radio as a handle. This might mess up the reception and transmission.
Overloading the battery can seriously damage the lifespan of a marine radio.
FAQ About VHF Marine Radios
1. How Far Will a Marine VHF Radio Transmit?
Marine radios transmit signals as long as their antenna is above the water. If you would be in the cockpit of your vessel, your radio would be transmitting a signal to about 12 miles. Yet, this also depends on the power output and range specified by manufacturers.
Keep in mind handheld marine radios transmit signals up to 9 miles, while a fixed mounted device has a wider range.
2. Do I Need a License For a VHF Marine Radio?
If you have plans on sailing the US waters only, you don't need a license. Yet, you will need one if to install and use a marine VHF radio in international waters.
3. What Are MMSI and DSC?
MMI is an abbreviation for Maritime Mobile Service Security, while DSC is an abbreviation for Digital Selective Calling. DSC enables marine radios to send predefined digital messages instead of voice calling. Each of these senders come with MMSI that uses GPS to send a distress signal more quickly.
4. How To Maintain a VHF Marine Radio?
When knowing how valuable a marine radio is, you should take good care of it, which will also ensure a long life of your device. Manufacturers usually provide instructions on how to maintain a VHF radio, while these are the most common and the most important ones.
Your marine radio should be turned off when you are charging the battery. The same applies for when you want to store it or when the unit is inactive.
Use soft fabrics such as microfiber cloths to clean your marine radio. Wipe off any dirt and dust away and, if you spot any stains or marks, use a little bit of water and a damp cloth.
Use batteries and chargers designed and specified for marine use. Using non-device-compatible parts can cause a failure of the device.
When not in use, keep your marine radio dry and fully-charged.
Store it in a cool place where no cold, heat, or other harsh conditions can damage the unit.
Always double-check the electric cables before turning the device on. All pieces of marine audio equipment, such as top-rated marine speakers and good marine subwoofers require you to check the cables regularly.
Wrap Up
No matter if you sail frequently or not, whether you are a small or large boat owners, the best VHF marine radio will give you peace of mind when you are on the water. You can't know when you would be needing it, but it's better to be safe than sorry.
As soon as the upcoming storm threatens your safety, you will see yourself why a marine radio is one of the essentials you should have near at hand when sailing. Now that you've read out our marine VHF radio reviews, we suggest taking a look at our other marine equipment guides and get more useful info on how to stay safe and well-equipped when sailing.