If you want to ensure top performance of your vessel, then you certainly need the best deep cycle marine battery. If you are just starting your boating career, then you should know this unit is more significant than it seems. On the other hand, finding a high-quality deep cycle battery requires experience and technical knowledge.
Thus, we've prepared deep cycle marine battery reviews to help you with the choice. Not only you will learn a lot from the review section, but you can scroll down and find more important and useful information about this important device.
See The Quick Comparison Chart
Advantages and Drawbacks Of Deep Cycle Batteries
1. Advantages
Deep cycle batteries boast numerous useful features, and some of the most important ones are listed below.
You can discharge your deep cycle marine battery up to 80% without even causing damage to the unit. This is the reason why this device is named a deep cycle.
Most of these batteries are dual-purpose so you can use your unit to run your boat's engine, golf cart, phone, laptop, and other appliances.
Although there is a risk of overheating, it is still minor in comparison to regular marine batteries.
Solid lead plates make most deep cycle batteries durable and reliable.
Generally, deep cycle batteries have a long lifespan. Some models can take more than 1,000 charges.
2. Drawbacks
Everything has its own weak side, which applies to deep cycle batteries too.
Depending on the type of battery you prefer, you may have to maintain your unit if you want it to perform well. Flooded batteries required adding distilled water from time to time. You have to keep the lead plates submerged into the water so the battery can work properly. Yet, there are some awesome maintenance-free alternatives we've already listed.
If you damage your deep cycle battery by overcharging it, there is a great chance the unit will become faulty.
Deep cycle batteries are more massive in comparison to starting marine batteries so be careful about the maximum load your boat can take.
Best Deep Cycle Marine Batteries Comparison Chart
PRODUCT
DETAILS

Optima Batteries 8016-103 D34M Deep Cycle Marine Battery

Price: $$$
Customer Rating: 4.0
Weight: 43.5 lbs
Dimesions: 10 x 6.9 x 7.8 inches
Ah: 55

View On Amazon

VMAXTANKS VMAX V35-857 AGM Deep Cycle Marine Battery

Price: $
Customer Rating: 4.4
Weight: 25 lbs
Dimesions: 5 x 6.6 x 7.7 inches
Ah: 35

View On Amazon

Mighty Max Battery 12V 55Ah Deep Cycle Marine Battery

Price: $
Customer Rating: 4.3
Weight: 40 lbs
Dimesions: 9.02 x 5.43 x 9.13 inches
Ah: 55

View On Amazon

Renogy Deep Cycle AGM Battery 12 Volt 100Ah

Price: $$
Customer Rating: 4.1
Weight: 66 lbs
Dimesions: 13 x 6.8 x 9 inches
Ah: 100

View On Amazon

Interstate Batteries 12V 35AH SLA AGM Deep Cycle Battery

Price: $
Customer Rating: 4.1
Weight: 22.9 lbs
Dimesions: 7.7 x 5.2 x 6.3 inches
Ah: 35

View On Amazon

VMAX MR127 12 Volt 100Ah AGM Deep Cycle Battery

Price: $$$
Customer Rating: 4.5
Weight: 65 lbs
Dimesions: 12.1 x 6.7 x 8.2 inches
Ah: 100

View On Amazon

Renogy 6 Volt 260Ah Deep Cycle Pure Gel Battery

Price: $$$$
Customer Rating: 5.0
Weight: 78.7 lbs
Dimesions: 10.2 x 10.7 x 7.1 inches
Ah: 260

View On Amazon
Deep Cycle Marine Batteries Reviews
1. Optima Batteries 8016-103 D34M Deep Cycle Marine Battery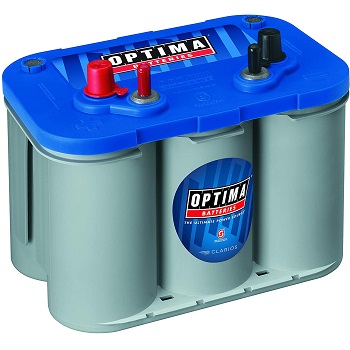 If you are looking for a high-quality deep cycle marine battery for your recreational vehicle or a boat, Optima is a brand you should have in mind. This 12-Volt unit boasts 750 CCA (Cold Cranking Amperes), which makes the device more powerful than most of its regular counterparts.
For instance, you get 3 times better performance and numerous extra recharges than you do with any other marine battery. The fact you can use the Optima deep cycle marine battery for both starting and deep cycle applications doubles its value.
Speaking of performance, this device is made by using spiral-cell technology. This innovative feature makes powering efficient and ensures a long run time. Extra-durable, the Optima deep cycle marine battery is highly resistant to impacts.
The Optima 8016-103 is spill-proof and it mounts easily in any position (anglers appreciate this). It requires no maintenance and works impeccably no matter the weather. If you manage to avoid overcharging, you can prolong the lifespan of this unit.
Pros
15 times more resistant to shocks and vibration than other batteries,
120-minute reserve capacity,
99% pure lead plates provide better energy-efficiency.
Cons
2. VMAXTANKS VMAX V35-857 AGM Deep Cycle Marine Battery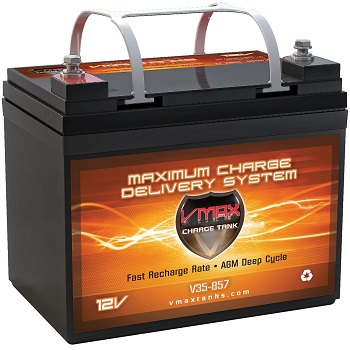 If you are looking for a perfect combination of high-quality construction and low-maintenance battery, the VMAXTANKS deep cycle marine battery is a product that might tick the boxes for you.
The secret to the durability of this unit is that it is equipped with unique battery plates that make using it safe and reliable. The tank itself is tough and resistant to impacts, including vibrations and shocks.
This 35Am-hour battery is spill and leakage-free and charges quickly. You can leave it to charge overnight, although it wouldn't even take that long to reach the full charge.
This unit is lightweight so you can carry it easily, but most importantly – it won't add a lot of weight to your boat. The average run time of this deep cycle battery is 4 to 9 hours, depending on the type of your boat, size, and load.
Make sure not to discharge under 60% and you will extend the battery life for up to 8 years.
Pros
Recovers quickly after full discharge,
You can use a solar charger with it,
1-year warranty.
Cons
Screws could have been made better.
3. Mighty Max Battery 12V 55Ah Deep Cycle Marine Battery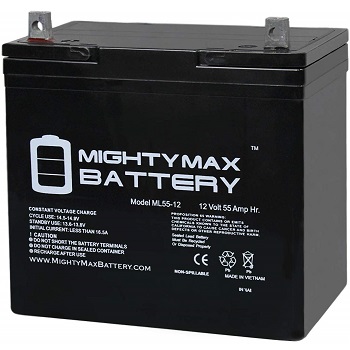 Mighty Max has an indeed mighty unit in their store – the 12-Volt 55aH deep cycle battery. This sealed lead-acid (SLA)/AMG unit is compact, weighs 38 pounds, and it is relatively easy to store in your vessel.
You can power either small or medium boats with this device. Yet, as it is multi-use, you can use it occasionally for charging other electronic devices such as your phone, laptop, etc.
Also, the Mighty Max AGM battery requires very little maintenance and you can mount it anywhere that seems suitable on your vessel. Sealed deep cycle marine batteries like this one are not prone to leakages and can withstand vibrations and shocks.
If you would be using the unit periodically during the day, it would be running for about 4 to 5 hours. Even if it discharges completely, this won't spoil the performance of the battery and you can use it as if before the discharge but beware it will take time.
Pros
Performs well is high and low temperatures,
The compact design makes it a great choice for boats,
1-year warranty.
Cons
Some customers complained about the longevity of the unit.
4. Renogy Deep Cycle AGM Battery 12 Volt 100Ah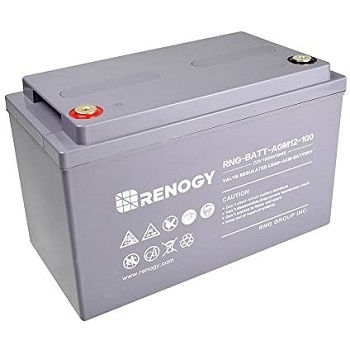 If you like innovative products, the Renogy deep cycle battery that stores solar energy might be worth your attention. This unique device falls into the category of AGM batteries so you can count on it when you need some backup power during your stay on the water.
Some of the typical features of AGM batteries include being resistant to vibrations and shocks and being spill and leak-proof. This also means you can easily install the battery on your vessel and not worry about leakages, maintenance, and top-ups.
Yet, the Renogy battery performs well in daily use with other appliances in your boat or your home. It features 100Amp-hours, which is pretty solid and ensures a good couple of hours of use. If you manage to avoid discharging under 50%, you will extend the lifespan of this already durable deep cycle marine battery.
Pros
Corrosion-resistant,
ABS container,
2-year warranty.
Cons
Requires a special charger,
You might find it difficult to mount on your own as it is heavy.
5. Interstate Batteries 12V 35AH SLA AGM Deep Cycle Battery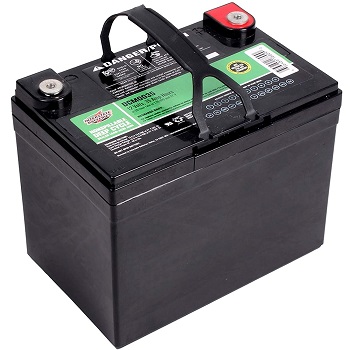 A 12-Volt, 35Amp-hours device such as the Interstate Batteries deep cycle battery is a type of product that boasts versatility. You can use it with electric vehicles, garden tools, power sports, consumer electronics, and a bunch of other appliances, although its use is mostly related to boats.
Compact and lightweight, this device is easy to store and it won't load your vessel too much. Small boat owners appreciate these features.
This sealed lead acid and AGM deep cycle marine battery give you numerous options when it comes to mounting. Install it directly to the boat in a position that seems appropriate and worry no more about leakages, spills, and vibrations.
Most deep cycle batteries boast long-running life, but this one stands out from the average products on the market by offering up to 8 hours of performance. If you drain it completely, it might take about 12 hours to fully recharge but that's nothing in comparison to the overall value the Interstate Batteries device offers.
Pros
Comes with removable handles that make it easy to carry,
Recyclable,
1-year warranty.
Cons
Not suitable for large vessels.
6. VMAX MR127 12 Volt 100Ah AGM Deep Cycle Battery
VMAX is one of these brands that are worthy of anyone's trust. They've built a high-quality deep cycle battery that features some unmatched properties we're going to talk about in-depth. Also, they offer top-notch, supportive customer service if that means something to you.
The MR127 is built using AGM technology and it is equipped with an electrolyte suspension system. The combination of these two makes the unit durable and reliable. Sealed and contained, the VMAX MR127 won't spill acid, which is great as it gives you complete freedom when it comes to mounting positions.
As there are no silica gels inside, you can be carefree about harmful fumes – there will be none. You can use it for 5 hours straight trolling, without even having to make a pause. No wonder, as the 12-Volt MR127 boasts 100Amp-hours.
VMAX blended all of their best features in this model – powerful chemical structure, sturdy construction, and amazing performance.
Pros
Comes with carrying handles,
Heavy-duty grids,
Resistant to vibrations.
Cons
7. Renogy 6 Volt 260Ah Deep Cycle Pure Gel Battery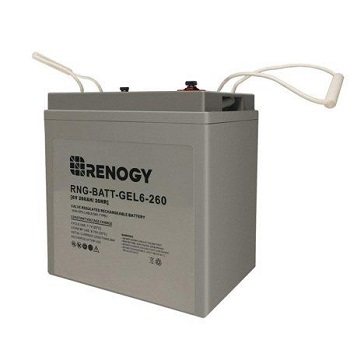 The Renogy 6 is a bit old-fashioned at first glance, but it provides as great performance as some other, more fancy-looking models do. If you are dealing with high currents when on the water, make sure to have this unit in mind when selecting between products.
This device is leak-proof as it boasts a triplex sealed constructions so you don't have to maintain it overly. Yet, it still has a long service life and you can use it for a couple of years at least.
Although not completely resistant to corrosion, the heavy-duty lead-calcium grids will prevent rust and corrosion from damaging your deep cycle battery. On the other hand, Renogy stands out from the competition thanks to this model that is explosion-proof. The Renogy 6 is equipped with safety valves that prevent harmful gases from causing negative outcomes.
This unit has a low self-discharge and you can use it for your vessel primarily, but also for other applications such as UPS battery checkup, solar energy systems, etc.
Pros
You can mount it in any direction,
Comes with carrying handles,
Resistant to vibration.
Cons
Gel batteries were popular in the past century, although their quality is unquestionable.
What Is a Deep Cycle Marine Battery?
All batteries are designed to store electrical power within, not to produce electricity. The chemicals inside the battery make the electrical energy power a certain unit. In this case, it is your boat.
Yet, unlike other types of batteries, deep cycle batteries can store more backup power. You can discharge it deeply and use it over and over again, without having a fear the battery would fail you when you need it the most.
So, a deep cycle marine battery gives you an option to get the most out of its capacity, which can be of essential importance if you are on the water when the currents are tough or if you are traveling far away from the land, as you will need more power to get back home.
Starting vs. Deep Cycle vs. Dual Purpose Batteries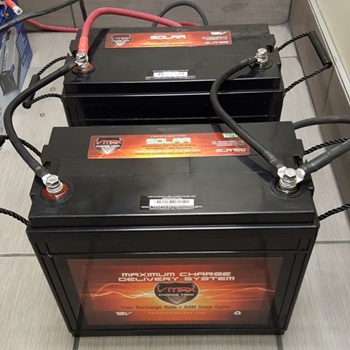 There are 3 basic types of marine batteries, and here are the most important characteristics of each:
1. Starting Batteries
It's easy to guess why starting or cranking marine batteries are named this way. These batteries can't provide a consistent stream of power but you can use your unit to get your engine running. A starting battery boosts power discharge for a brief period and turns over after it skyrockets the engine.
The main reason you can't use a cranking battery constantly or for powering appliances is that this device is vulnerable to overheating. Its primary purpose is to make your boat's engine running so that you can navigate further safely, but don't expect it to back you up if you find yourself stuck on the water.
2. Deep Cycle Batteries
The fundamental purpose of a deep cycle marine battery is to be charged gradually and provide a constant inflow of electric power. That's why we will name this type a marathon runner.
These batteries are made by using different chemicals nowadays, but the lead-acid is the most commonly used one. One of the most important things to spot regarding this type is that factors such as the DOD (depth of discharge), charge cycles, and the number of discharges are inversely proportional.
Yet, if you want to ensure the unit performing well for many years to come, make sure not to go below 50% when it comes to the depth of discharge. Deep cycle batteries are not prone to overcharging thanks to the special built-in cells. Thus, you can use this one to power numerous appliances on the boat and in your home.
Besides the cells, another feature of a deep cycle battery that's worth your attention is the lead battery plates. These are not typical for cranking batteries. There are built-in separators between the plates and these are made of alloys.
Again, alloys boast more antimony than starting batteries do. Deep cycle batteries are resistant to corrosion despite heavy use and numerous charge cycles while cranking batteries aren't.
You can find lithium-ion deep cycle batteries besides lead-acids one. Lithium-ion enhances all of these features we mentioned above, but you would have to spend a little bit extra if you want extra conveniences.
3. Dual Purpose Batteries
Dual-purpose batteries stand in-between cranking and deep cycle models. The nomenclature already announces you can use them to start your engine but these also provide a steady stream of power that will ensure your safe stay on the water – but to a certain extent.
This hybrid is, as we said, a little bit of both other models, but you can't completely rely on it. They can do well, but not exceptionally well, neither for powering appliances or your boat. Also, they don't have such a long lifespan like deep cycle batteries do.
Types Of Deep Cycle Marine Batteries
In this section, we are talking about battery construction. Generally, we can divide deep-cycle marine batteries to VRLA and FLA – valve-regulated and flooded batteries. Yet, we can further divide the VRLA batteries to gel and absorbed glass mat batteries. Here's what you should know about each type.
1. Valve Regulated Lead Acid (VRLA)
Just as mentioned, we can divide VRLA batteries to AGM and gel batteries.
1.1 Absorbed Glass Mat (AGM)
AGM deep cycle batteries create a lot of buzz, for a couple of reasons. These units are highly innovative due to electrolyte absorbed mats that make it easy for hydrogen and oxygen to produce water from the within. In other words – these batteries boast self-maintenance.
You can place this unit basically anywhere on your boat, at any angle, and still be confident about its performance. AGM batteries are also resistant to vibrations. Yet, beware of your boat's weight restrictions. As a rule of thumb, AGM batteries are massive and will add significant weight to your vessel.
Although these batteries require no maintenance, their self-discharge rate is 3%/month so you can't expect your unit to perform well after you leave it discharged for months. Overcharging can damage these batteries, even though this happens rarely.
Despite these few disadvantages of the AGM deep cycle batteries, we can say these are still the most popular and most reliable type out there.
1.2 Gel Batteries
Gel batteries boast amazing resistance to shocks and vibrations. This makes them exceptionally durable, but you still have to pay attention when choosing between models. You need one that is composed properly and well sealed. These models require low to none maintenance.
When you have a gel battery, you can store it when discharged, not charge for a while, and still be able to charge it relatively fast once you want to use it. Either way, gel batteries feature a self-discharge rate of about 1%/month so make sure not to leave your unit completely drained.
As nobody's perfect, the same applies to gel batteries. The fact this unit is sealed is mostly on the "pro" side. Yet, that means you can't open it up and investigate its conditions nor the liquids. Low-quality gel batteries can be a potential hazard due to this, so make sure to opt for high-quality models.
Secondly, you will need a special charger for your gel battery. That means your old marine battery charger can do nothing about your gel battery and you would have to spend a little bit extra on the charger.
Also, keep in mind you can't charge a gel battery with high voltage – this can damage the unit. To conclude – gel batteries are reliable and durable, maintenance-free, but you still have to be careful about charging and the condition of the battery although you can't open or inspect it.
2. Flooded (FLA)
Does the very first word here – "flooded" gives you a clue about this type of deep cycle battery? The thing is – the plates of this type are fully submerged into the electrolyte fluid. The fluid covers the tops of the plates, which is you we call them flooded.
Yet, this type of battery requires regular top-ups. You should be careful about maintaining the battery and add water from time to time in order to ensure the plates are fully covered.
If you maintain your flooded battery properly, you can get more than 1,000 deep cycles with it, which is a great return of investment. This also gives you more confidence, as you can be sure this type of battery won't let you down when you are on the water.
Some people mind having to maintain the battery but they prefer this type of battery due to low initial up-front costs. Also, beware that this type is a little sensitive to vibrations. If the vibration damages it, there is a chance you will spot leakages and the unit will emit harmful gases.
All in one, flooded batteries are durable and reliable when you pay attention to the outer impacts and maintain them regularly. As a bonus tip – always use distilled water when topping your battery up.
Deep Cycle Marine Battery Buying Guide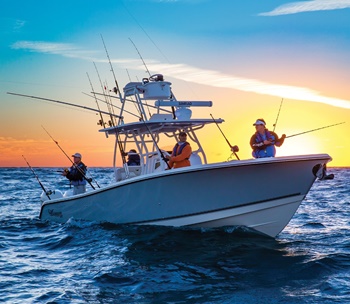 If you have never used a deep cycle battery before or if you are unsure about the features that make a high-quality battery, these are the most important factors to consider beforehand making a final decision.
1. Size
Deep cycle batteries come in a variety of sizes – 24, 27, 31, etc. When looking for the available options, you want to make sure you will be able to fit your new battery into your vessel without taking too much space.
However, the size of this unit also matters when it comes to the power holding capacity and output, which we will elaborate down low.
2. Weight
Lightweight batteries will make your boat more efficient and able to develop greater speeds. However, you can't always find lightweight models, as some larger vessels can't go without massive batteries. If you have a smaller boat, avoid AGM batteries, as these will load your watercraft and reduce its speed dramatically.
3. Ampere Hours
Each battery has a different capacity to store electricity and to release it. Ampere hours measure the amount of chemical energy and display the ability of a single unit to store and release power.
In other words, the length of the run time of your battery until it discharges is expressed in Amp-hours. Here's a simple formula – take the number of Amp-hours and divide with 20. If your battery is 35Ah, that means it can generate 1.75 Amperes per hour.
Yet, keep in mind your deep cycle battery will rarely discharge its amperage each time. Usually, these units store a little bit of energy for eventual delays in discharge.
4. Voltage
Your battery is supplied with electromotive power. When choosing between units, pay attention to numbers 12, 18, and 24. For instance, 12-Volt batteries are lightweight and suit smaller vessels better.
For larger boats, there are 18 and 24-Volt batteries. These take plenty of space but offer better performance.
5. Marine Cranking Amps
Your boat's engine requires a certain amount of amperage to start. This metric is expressed in marine cranking Amps. It's always better to opt for batteries that feature higher MCA ratings. Some extra amperage won't damage the engine but help it crank easier.
Yet, don't use too strong units with small engines if you want to prevent damage.
6. Cold Cranking Amps
The climate you live in or in which you are planning to run your vessel is an important factor. CCA doesn't matter that much with people living in tropical environments where the temperatures get cold rarely.
Yet, if you are located somewhere in the North where the temperatures are freezing, you'll need a CCA rating of at least 500 to be able to run the engine properly.
At a temperature of 0 degrees, you will need a battery that can provide 7.2-Volts per 30 seconds if you want to be safe on the water. Also, the CCA rating of 500 provides 10-Volts per 30 seconds.
7. Reserve Capacity
Reserve capacity displays the time at which your unit discharges 10.5-Volts/25Amps. The longer this rating is, the more time you will have to charge your battery, electronics, and appliances.
A solid RC rating varies between 60 and 120 minutes, while the most reliable batteries have 180+ ratings.
8. Date of Manufacture
When getting yourself a new deep cycle battery, make sure it has just been delivered from the factory. If you would get one that is 1-year old, it wouldn't be able to maintain the same charge as the completely new and fresh unit would.
In the worst case, a 6-month old battery is still acceptable. These offer reliable performance and produce no power loss.
9. Maintenance
Although this is a matter of personal preference, people prefer low-maintenance batteries than the ones that require maintenance. Old lead-acid batteries and flooded batteries are as useful and durable as AGM batteries but still need some care.
10. Extra Features
Different battery models come with some extra features. For instance, you can mount them in any position and even invert them upside down. You can also find waterproof models, models with thicker and more durable plates, etc.
How To Charge a Deep Cycle Marine Battery?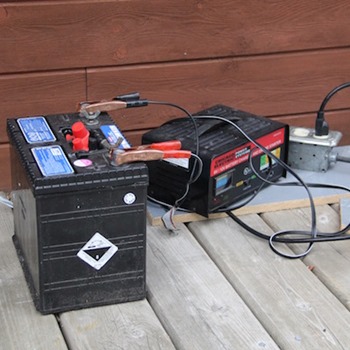 It would be best if you have the owner's manual near at hand, but even if you don't, our instructions will help you charge your battery properly. Follow these steps:
Disconnect the unit from your vessel.
Some models release gas when charged, so make sure to place the battery in a well-vented area when charging it. If possible, charge it in an open garage.
Clean the terminals if needed. Protect your eyes and hands during the cleaning task as sometimes, sulfides get released during the charging process.
If have a new battery and a new charger, make sure the charger can handle the type of battery you have. Sometimes, you should pre-select the type of battery you are about to charge.
Clip the red clamp to the positive terminal and the black clamp to the negative terminal.
Find a 110-120-Volt AC power outlet and connect the charger to it.
Let the charging process begin. Modern chargers come with auto-stop features. Once the battery reaches the limit, the charger turns off itself. This is the best way to prevent overheating.
When the charger turns off or when you see the battery is charged, turn the charger off and disconnect it from the outlet. Then, reinstall the battery to your boat.
Safety Tips For Using Deep Cycle Batteries
To ensure you are fully safe when handling your deep cycle battery, follow these safety tips.
Don't:
Add tap but distilled water.
Let your battery sit for months without charging it.
Detach any cables while your boat's engine is running.
Add electrolyte.
Use a high put battery charger with small engines.
Overcharge the battery.
Ignore the battery overheating while you are charging it.
Do:
Inspect the battery regularly when it is hot outside, even with low-maintenance units.
Recharge the battery after each use as soon as possible.
In case you decide to buy a used vessel, make sure to get a new battery either way.
FAQ About Deep Cycle Marine Batteries
1. Are All Marine Batteries Deep Cycle?
No. We listed 3 types of batteries – starting, deep cycle, and dual-purpose. A starting battery can't perform as a deep cycle battery, a dual-purpose unit has solid, but not sufficient capacities. There is a reason why deep cycle batteries fall into the special category, as you can't discharge any other type to 80% as you can do with these units.
2. How Long Should a Deep Cycle Marine Battery Last?
Most AGM batteries have a lifespan of 8 years. Flooded batteries can last for up to 10 years, while cell batteries usually last no more than 8 years.
3. How To Maintain a Deep Cycle Marine Battery?
The most important thing is to recharge the battery after each use. If you leave it discharged for too long, you can cause its performance to worsen. Use distilled or deionized water with types of batteries that require maintenance to ensure the sufficient electrolyte level.
Clean the cable connectors and terminals as soon as you notice any deposits around this area. When storing your battery, make sure the moisture doesn't reach the upper surface of your unit. Protect your battery the same way you would protect your boat with a boat cover.
Wrap Up
Now that you have finished the whole guide, we guess you are able to spot the best deep cycle marine battery easily. You already know the features that matter and how to maintain and charge your battery, which will ensure a long service life of your unit.
No doubt our deep cycle marine battery reviews can help you get more familiar with this piece of marine equipment. Yet, did you know we have a bunch of other guides about marine gear, audio systems, maintenance, and security product? We'll see you again in some of these!