Great music makes any experience so much more pleasant, and you only need the best marine speakers to turn your boating adventures up a notch!
However, finding the right ones can be a bit tricky. Wind noise and water splashing can affect the sounds coming out of your speakers. That's why you should pay attention to crucial features that contribute to better performance and better sound quality, especially if you would want to throw a boat party. Our marine speaker reviews can help you find a reliable and durable unit. More useful information awaits you in the buyer's guide, installation tips, and frequently asked questions.
See The Quick Comparison Chart
What To Consider When Choosing Marine Speakers?
1. Types Of Marine Speakers
1.1 Component Marine Speakers
The main benefit of component marine speakers is that you can place the woofer, tweeter, and midrange driver individually around your boat. This contributes to better acoustics so speakers in this category deliver crystal clear sounds.
Normally, you will find them in various shapes and designs, but always attractive ones. If you are up for a dynamic experience when on the water, these won't let you down. Still, beware of this type of quality requires greater investments. You will also need some skill to mount component marine speakers.
1.2 Coaxial Marine Speakers
Compact and super-easy to install, coaxial marine speakers tick all the boxes for most boat owners. Coaxial marine speakers have integrated a single axis while different drivers are mounted to it. Con woofers are typical for this category of speakers, while the tweeter also serves as an obstruction.
In general, coaxial marine speakers deliver solid sound quality but component speakers still beat them at a couple of levels. Thus, coaxial speakers fall into the category of budget-friendly alternatives with a couple of exceptions.
1.3 Tower Speakers
Towers speakers are available as conical and box-shaped speakers. As these are more powerful than the two previous types, you would have to mount this type of device to the wake tower of your vessel.
If you like having fun with your friends on the water, for example – if you are skiing behind the boat, or if your friends love skiing behind, the conical speakers are capable of blasting music into your direction. Yet, if you still like being more on the boat, but move from one side to another, box-shaped tower speakers that can be mounted in various positions can be a better fit.
1.4 Recessed Speakers
Although recessed speakers offer decent sound quality, you are required to make some changes on your boat if you want to install one of these. In other words – you would have to make a cutout on your dashboard, in a wall, ceiling, or in a panel and fit the speakers in it.
2. How To Measure Marine Speaker Size?
You don't have to measure the speaker size on your own. Instead, look up for the sizing charts each manufacturer provides. Yet, it's good to know most marine speakers measure 6.5 inches, with a few exceptions.
3. How Much Volume Do You Need?
It all depends on the water conditions. If you spend most of your time on the lake, you can go with speakers that feature 80Db. Yet, this is the bare minimum you should go for.
Speaking in general, as you can't predict wind and water moving, we would recommend going for 90Db. This type of speakers can deliver clear sound even when the conditions and the weather are trying to spoil your day on the water.
4. Sound Quality
Decibels are of crucial importance when you are on the water, but a couple more factors contribute to the overall sound quality of your speakers. For instance, you have 2 and 3-way speakers. Is there any need to mention 3-way speakers provide better sound quality?
Yet, if you enjoy listening to pop music, news, and radio, a 2-way speaker might be just enough. On the other side, we would recommend 3-way speakers for party maniacs who prefer the bass thumping.
The type of materials used for making speakers also make the sound more or less clear, but we'll talk about this more in the following sections.
Best Marine Speakers Comparison Chart
PRODUCT
DETAILS

Rockford Fosgate R165X3 Prime 6.5″ 3-Way Coaxial Speakers

Price:

$$

Customer Rating:

4.4

Weight:

3.5 pounds

Size:

16 x 8.3 x 4 inches

Maximum Power:

90 watts

View On Amazon

Polk Audio Atrium 4 Outdoor Speakers with Powerful Bass

Price:

$$$$$

Customer Rating:

4.6

Weight:

3.6 pounds

Size:

7.5 x 6.3 x 9.5 inches

Maximum Power:

80 watts

View On Amazon

BOSS Audio Systems MR6B Weatherproof Marine Speakers

Price:

$

Customer Rating:

4.4

Weight:

3.45 pounds

Size:

8 x 8 x 3.05 inches

Maximum Power:

180 watts

View On Amazon

Pyle PLMR60W 2 Way Waterproof Dual Marine Speakers

Price:

$

Customer Rating:

4.3

Weight:

3 pounds

Size:

7.6 x 7.4 x 7.1 inches

Maximum Power:

150 watts

View On Amazon

Kicker KB6 2-Way Full Range Indoor Outdoor Speakers

Price:

$$$$$

Customer Rating:

4.5

Weight:

14.33 pounds

Size:

17 x 10 x 16 inches

Maximum Power:

150 watts

View On Amazon
Best Marine Speakers Reviews
1. Rockford Fosgate R165X3 Prime 6.5″ 3-Way Coaxial Speakers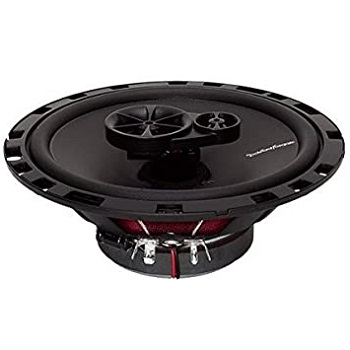 The summer is getting nearer and you should bring the party mode on! The Rockford Fosgate R165X3 coaxial speakers will make your boat swing to the sounds of your favorite songs. This 6.75-inch marine speaker boasts 45-Watt power can deliver crisp sound and make the time on the water even more enjoyable.
This unit is made of durable and high-quality materials. Rubber surrounds the vacuum propylene cone which ensures a great lifespan of the speakers. Also, an integrated and well-secured crossover is the key to the easiness of use of this device. It makes it effortless to install the speakers but also contributes to the attractive side of the Rockford Fosgate coaxial speakers.
It's a fact these are stylish, but let's go back to the performance. This device delivers 91Db and supports 52Hz to 20kHz frequencies. The best thing of all? You can use it for your boat and your car. In other words – this is a bang for the buck when we have in mind versatility the Rockford Fosgate R165X2 offers.
Pros
3-way full-range,
Trim ring included.
1-year warranty.
Cons
The manufacturer claims these speakers are 6.5-inch, but the truth is they measure 6.75-inches so keep this in mind if you have a small vessel,
It doesn't perform bass as well as it should.
2. Polk Audio Atrium 4 Outdoor Speakers with Powerful Bass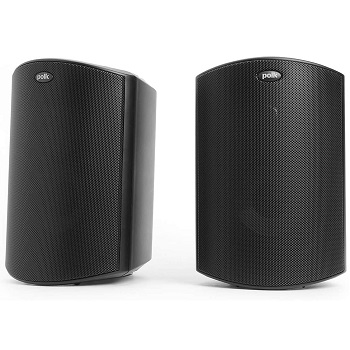 Some people prefer mini-box, heavy-duty design of speakers. If you are in this category as well, the Polk Audio Atrium speakers might be worth a look. This manufacturer raised the bar when it comes to open-space coverage in this industry, while others just followed their lead.
Thus, this set of powerful speakers can withstand hard environmental conditions. If you asked us to compare them to something similar, we would say these remind of military speakers when it comes to their performance abilities.
With a great frequency response and easy handling, rubber protection against shocks and vibrations, and anodized aluminum tweeter domes, these speakers truly offer amazing quality.
If you like being on the open sea, you probably already know the struggle with sound definition and clarity, right? Well, the Polk Audio Atrium speakers take away this hassle work effectively even you are in a large area, delivering crisp sound.
The installation won't take much of your time and, once you mount the speakers – you can be confident these will stay in place no matter the conditions.
Pros
Speed-lock system makes the installation easy-peasy,
Resistant to extreme weather,
Multiple-use.
Cons
Some customers think these speakers are too small.
3. BOSS Audio Systems MR6B Weatherproof Marine Speakers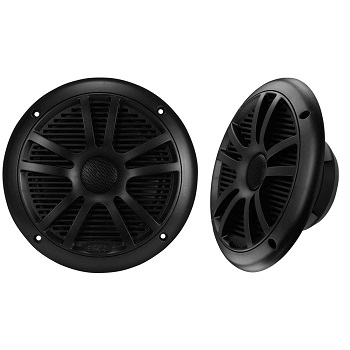 One of the most durable products in the marine speakers section is definitely the BOOS MR6B weatherproof device. These speakers are very sleek and durable, so make sure to have them in mind if you are looking for a unit that will make your investment worth it.
BOSS used aluminum that's well-known for its corrosion-resistant properties to make the voice coil of their speakers. They also used treated cloth to protect the unit nicely. Although the basket itself is plastic, the rest of the construction is well-made, especially when having a magnet and grill covers in mind.
These speakers feature 89Db of sensitivity and support frequency response of 80Hz to 20kHz. If you are looking for a pair of speakers designed for boat use especially, the BOSS MR6B will probably meet your criteria.
Pros
Low distortion,
Easy to install,
3-year warranty.
Cons
Some customers didn't like the bass feature.
4. Pyle PLMR60W 2 Way Waterproof Dual Marine Speakers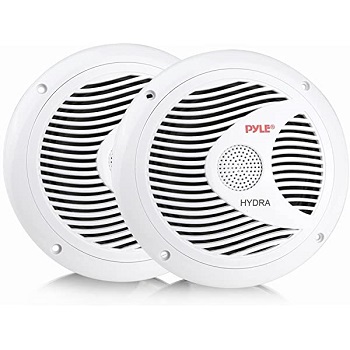 Some of you may get tricked by the size of these Pyle PLMR60W marine speakers. Yet, don't judge the book by its covers. These little guys can actually surprise you as they deliver great sound and perform great overall.
If you are going to spend a lot of time on the water, you will appreciate the fact these speakers are waterproof. So, even if some water reaches your party-starter, it will continue on delivering crisp sounds.
The Pyle PLMR60W marine speakers are specially designed for use in various types of vessels. Thus, you will probably find these underperform if you would want to use them in your car.
They boast an 80Hz to 18kHz frequency response and measure 6.5 inches. The classic design makes them easy to combine with your boat style. Low-profile, lightweight, yet durable – the Pyle PLMR60W speakers make a solid choice for any boat owner.
Pros
Easy to install,
Outdoor conditions and water splashes can't damage the speakers,
Rugged and durable design.
Cons
Screws that come with the speakers are not corrosion-resistant,
These are not overly loud.
5. Kicker KB6 2-Way Full Range Indoor Outdoor Speakers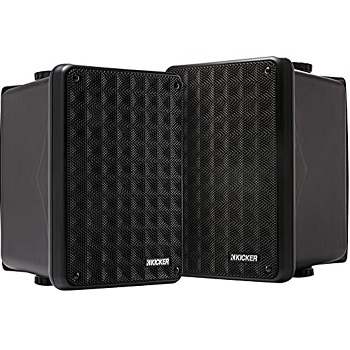 Kicker is a well-known brand on the market that brings in innovation and exceptional quality to their customers. That's exactly why they decided to improve one of their last models to the KB6 speakers. These speakers are designed to be suitable for multiple uses, so you can use them on your boat or in your yard.
Resistant to UV rays, these speakers are durable and have a long lifespan. They are also high-efficiency so there is no doubt the sound quality will impress you. If you have a smaller boat, keep in mind these speakers drive 75 Watts or 150 Watts at peak power, which can reduce the run time of your battery.
A standard measure of 6.5-inches will easily fit into most boats. The Kicker KB6 speakers are made of propylene while the surrounding is made of rugged santoprene. Install them wherever you find it suitable. The 180-degree mounting angle makes it really easy to find the right position for your new set of speakers.
Resistant to weather, these Kicker KB6 outdoor speakers make a great addition to your RV, but you can use them in any other environment you want – they can take it.
Pros
Excellent bass,
Withstand extreme temperatures,
1-year warranty.
Cons
Some customers think these speakers are too boxy,
These can drain your battery fast.
6. Kenwood KFC-1653MRW 6.5″ 2-Way Marine Speakers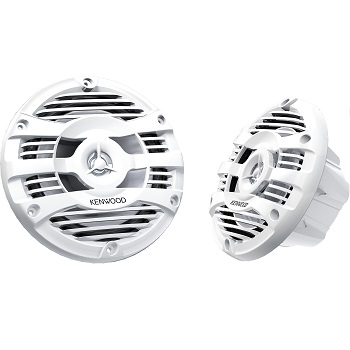 If you are looking for an attractive set of marine speakers that will make a good atmosphere while you are on the water, make sure to check these out. Not only the Kenwood KFC-1653MRW marine speakers are sleek but you can expect them to deliver superior sounds.
With 4ohms' impedance and amazing frequency response of 60 to 20,000Hz, you can truly count on these beauties. These are resistant to splashes and perform well in almost any weather conditions.
The Kenwood marine speakers are pretty loud and wind noise and waves won't muffle your favorite beats. Rugged and durable, these speakers offer great value to most boat owners who expect good sound quality and nice design but still, nothing overly performing.
Pros
Water-resistant PP cone,
Lightweight,
Compact.
Cons
It takes some time to install these speakers,
The tweeters are not of the best quality, so don't get surprised if you see these falling off after a while,
Bass feature could have been better.
7. Sony XSMP1611 6.5-Inch Dual Cone Marine Speakers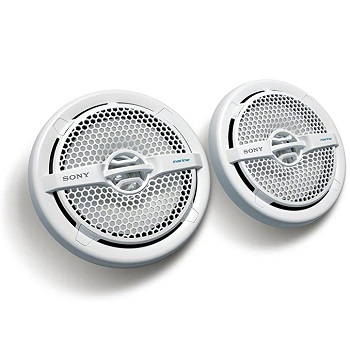 Is there any need to speak about the quality one of the most renowned tech manufacturers provide? Sony has a pair of amazing marine, cone-shaped speakers that are very versatile.
Both speakers come with 16-pin wiring harnesses, protection collars, brackets, and release keys, which ensures their long lifespan. Mild splashes of water, including saltwater, as well as UV rays, won't harm your device.
These speakers provide one of the best power ratings in the industry of 160W. Thus, you can expect clarity and full tonal range that will make you stay on the water pleasurable.
Even though the bass feature seems to be a problem for most marine speakers, this Sony set can give you a better experience than most of its counterparts.
Overall, these attractive marine speakers feature decent impedance, refine and excellent sound.
Pros
There are no sound distortions,
Stainless steel mounting hardware,
Plastic screw covers included so you can prevent screws from corrosion.
Cons
The set comes with no aux jacks,
Although water-resistant, big splashes of water can damage the speakers.
8. Magnadyne WR40W Waterproof Marine Speaker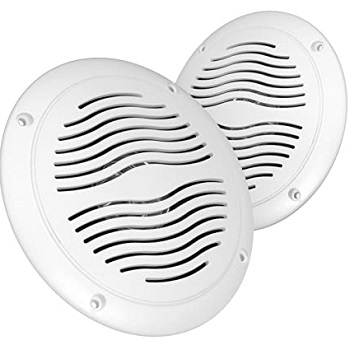 This good-looking marine speaker by Magnadyne might be a product worth your attention. Although you can use it for various outdoor activities, this unit is still preferably designed for marine applications.
The dual cone design makes it easy for the Magnadyne speaker to reach wide frequencies. Compact in size, small boat owners will probably find this device useful – it saves space and delivers clear sounds.
Another major benefit is that this speaker requires no more than 25 Watts to perform. If you want to save some battery life of your vessel, this can be an advantage. Some of you might think 25 Watts is too low to deliver an impressive punch, but we can assure you of a more than the solid quality of the Magnadyne speaker.
Integrated grills, resistance to heat, cold, moisture and vibrations, level up the overall value of this unit. It is a piece of cake to install so you get the whole package with the Magnadyne speaker.
Pros
Very resistant to impacts,
Lightweight,
Great for smaller vessels.
Cons
Wind noise can spoil the sound volume,
It contains a couple of plastic components.
9. Fusion Garmin MS-FR6022 6″ Marine 2 Way Loudspeaker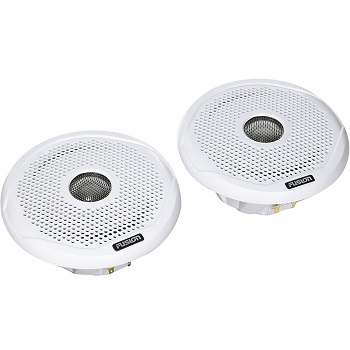 If you are looking for a device that is equipped with numerous features, stop for a second and take a look at the Fusion Garmin MS-FR6022 speaker. Let's start with waterproof cones, fully sealed tweeter housing, magnets, and cross-over. These are some of the features we know ensure durability and quality workmanship.
This loudspeaker is resistant to fog, water splashes, salt, and UV rays, which makes them almost indestructible. The manufacturer wanted their product to comply with international standards regarding the listed conditions, so you can be confident about using this device on your boat.
Slightly smaller than standard speakers, the Fusion Garmin MS-FR6022 measures 6 inches in diameter. This can be a good option if you own a small vessel, but with a powerful battery.
Surprisingly, this loudspeaker is rated for – wait, wait – 200 Watts of peak power, which is why you would have to give up some power if you want to listen to your favorite beats.
You can even choose between 3 grill options and find the one that matches your boat's interior best.
Pros
Lightweight,
Excellent bass,
Very resistant to the marine environment,
Cons
We wouldn't recommend this product for boats with weak engines or batteries.
Marine Speakers Buying Guide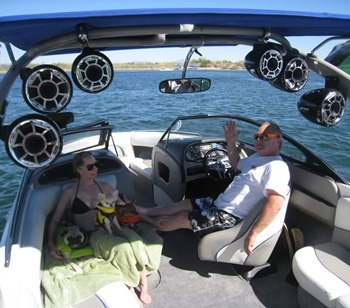 It's tricky to find a good set of marine speakers when you don't know what to search for. In this section, we will guide you through the most important factors you should pay attention to when choosing between products.
1. Durability
If you like spending days on your boat, you need marine speakers that can withstand heavy use. UV rays and water splashes pose the biggest threat to the durability of these products. However, as these are impossible to avoid, you have to be careful about the durability of the products you are getting.
It would be best to find a set that is resistant to UV rays, as these can be detrimental to electrical equipment. Due to splashes, some units tend to corrode. Saltwater causes corrosion and rust so you should be careful about the extra layers of protection that can repel these harmful factors.
2. Style
Although the performance of marine speakers is utterly important, some people care about style a lot. A nice, sleek pair of speakers will fit your boat décor and make your stay on the water more elegant and fancy, especially if you have some guests or making a boat party. This will give off the impression you pay attention to each detail on your boat.
3. Amplifier Use
A quality set of speakers is supposed to provide you with nice and crystal- clear sounds. Yet, some stereo systems can't overpower the sound of wind and waves, which is quite irritating when you want to get some time to enjoy and relax on your boat.
Also, some people simply like it a bit louder than the others, which is when top-rated marine amplifiers come to the rescue. This unit can amplify/increase the sound with boat owners who have already bought low-quality speakers or the ones who want to level up their already good pair.
Yet, you should test your speakers beforehand. Although you will probably be in an open area where there are no people nearby, you should still be thoughtful about the volume your speakers combined with an amplifier produce. At a certain point, you will find yourself in a crowded area, where some people might mind you playing too loud music.
4. Power Handling Compatibility
Each sound system comes with certain limitations, which is one of the most important factors to have in mind before making a buying decision. Limitations of each product can be easily found in power handling specifications.
For instance, some speakers feature higher power handling capacity that makes people think they are louder, more durable, and that they provide maximum sound swag. The truth is – although these are durable and loud, not all units fulfill the criteria of maximum swag.
If you have an amplifier, it is always good to check the specs and whether these are compatible with your stereo or the amplifier's output. Impedance levels should be compatible as well. Otherwise, you might be facing underpowering or overpowering your marine speakers, which can reduce their lifespan.
5. Activities
Where are you going to use your speakers? Of course – you need them to listen to music, but your activities on the water can make a major difference between units.
If you plan to go fishing, a too-loud set of speakers will drive the fish away. On the other hand, if you prefer waterskiing and boat parties, you need speakers you can hear even if you are a couple of miles away. In this case, go for higher wattage speakers.
6. Installation
It doesn't matter if this is our first set of marine speakers or you've already used them before, the installation process should be simple and straightforward either way. If you don't think you are skilled enough to do this on your own, you can always call a professional.
Some types of speakers require you to cut holes in your boat, which can be a tricky task for someone who hasn't done this before. The same applies to install multiple speakers around your vessel.
7. Placement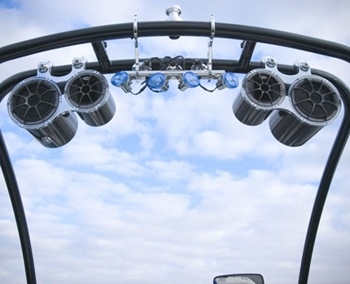 Another feature that can be very useful when installing new speakers is the mounting angle this device offers. In order to be able to hear the music from any point on your boat, you want to cover spots that are the most suitable for placement.
Finding a device that makes it easy to choose between multiple angels when installing will help you and your passengers hear the sounds clearer. This way, the music will reach everyone on your vessel and everyone will have a great time.
When placing your speakers, make them aim as directly as possible at you and your buddies. It's always good to pay attention to eventual obstacles, as you should try to avoid these.
8. Directionality
This has a lot to do with the placement, but we wanted to explain directionality in an individual section. Most speakers on the market distribute the sound straight, which enhances the sound, especially if you are in a closed room.
Yet, if you are, let's say – below deck, the quality of the sound will worsen. If you have a large boat, we would recommend pointing into space. You might notice the same speakers installed at different places on your boat distribute the sound differently. Try directing one of them differently or check whether either of them is broken.
9. Magnetic Shielding
Did you know each set of speakers come with magnets? What is more, magnets contribute to the quality of sounds. Yet, these can interfere with some parts of your boat. For instance, magnets can profoundly affect your compass. That's why you should have magnetic shielding in mind when buying speakers.
Yet, you can also try installing this unit somewhere on your boat that's far away from compass as well. Either way, we highly recommend you to have in mind your navigation equipment is of crucial importance and you shouldn't mess with that.
10. Extra Features
Features such as remote control can make using your marine speakers in a more convenient way. Walking to the console every 5 minutes is irritating. Speakers that support remote operation will make it easy to change the song or the station at your top-rated VHF marine radio from the other side of your vessel.
How To Install Marine Speakers?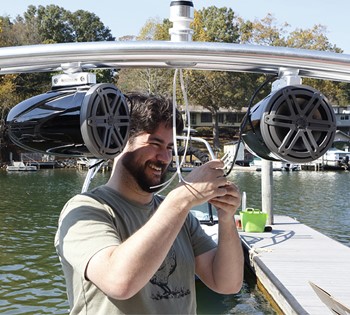 Follow these instructions that work for most boats if you want to install marine speakers on your own.
1. Select The Installation Spots
The first thing you should do is to install placement spots for your new speakers. The area where you are going to mount them should be neat and clean, and the wiring should be dry. Once you ensure the wiring is good, pull it through split looms.
2. Connect The Wires
You will spot different wiring colors – purple, gray, green, and white. These are speaker wires. Next, connect them to speaker wires. If you have one set of speakers, you'll spot white and white-black wires with the front-left speaker and gray and gray-black wires for the front right speaker.
However, things can get more complicated if you have two sets of speakers. If so, you will have purple and purple-black wires for the driver's side and green and green-black wires for the passenger's side speakers.
Strip each wire and connect them to the wiring harness by using a buck connector.
3. Cut Holes
Once the wires are hooked up, mark the holes on both sides – the passenger's and the driver's side to cut through evenly. We recommend not going over a 5-inch hole with 6.5-inch speakers.
4. Mount the Speakers
Make sure the negative and positive sides are set properly and hook the wires in the back to your new speakers. Check if everything is set tightly so the speakers don't fall out. Turn the radio on – the task is completed.
FAQ About Marine Speakers
1. Can You Use Marine Speakers In a Car?
Yes, you can, but not all of them. Some speaker models are designed as multi-purpose and you can use them on your boat, in your car, etc.
2. Can Marine Speakers Be Submerged?
In a nutshell – no. Although some models of marine speakers are water and weather-resistant, that doesn't mean these can be submerged. It's normal that waves can splash some water on your boat, but this is a negligible amount your speakers can take. Submerging them in water would cause permanent damage and failure.
3. Can Marine Speakers Get Wet?
Yes, some models can get wet. Make sure to check in the specs whether your model is water-resistant and if so – that means they can withstand some moisture.
Wrap Up
Do you have a clearer image of the most important qualities to look for in a set of marine speakers? Our marine speakers reviews and buyer's guide include all of the important information you should have in mind before making a final decision.
We truly hope we've helped you find the best marine speakers for your vessel. Yet, when searching for units like this, you might want to take a look at other pieces of boat equipment we have reviewed for you – whether it be security equipment, cleaning and maintenance products, or batteries and motors.