If you are planning an amazing boat party, you will definitely need an essential piece of equipment – the best marine amplifier. What even is an amplifier? Most people know that it is a piece of audio gear that is used to make music louder. But did you know that amplifiers are used in hearing aids to make the voices sound louder, or that they are also found in radios to boost signals that are far away?
Do not worry if you are not that knowledgeable when it comes to these gadgets. We've prepared all the relevant information about these devices, and once you are done reading, you will know exactly what to look for. Also, if you want to know what is trending on the market right now, take a look at our favorite picks in the marine amplifier reviews section.
See The Quick Comparison Chart
Benefits of Having a Good Marine Amplifier
In case you already have a top-rated marine stereo, you should know that most of these devices already feature a built-in amplifier. However, if you really love music, you will definitely benefit from adding a dedicated marine amplifier. We will also give you a few reasons why.
1. Increased Volume in an Open Environment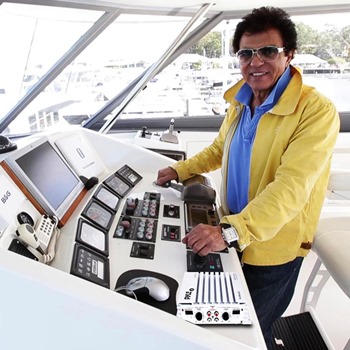 Boats, especially open-cockpit ones such as deck boats, center consoles, runabouts, or ski-wake boats are certainly a challenge for the audio system's output. This happens particularly when traveling at high speed. Amplifiers, just as the name suggests, increase the sound of the output in accordance with the working environment.
2. Enhanced Sound Quality
An amplifier is not just about volume. You may hear music very loud, but what about the quality of the music and the ability to distinguish between the various musical instruments? Amplifiers, also improve the quality of the sound.
You see, the wind, the water hitting the boat, and the engine noise drown out some of the sounds and notes intended by the artist. A good marine amplifier will not only cover all that noise, but it will also provide clearer sounds.
3. Possibility to Add More Speakers
Your average stereo head device will safely power up to four speakers. If you want to install more or set up individual listening areas, you will need an amplifier. These gadgets can support two speakers for each channel. This means that a 4 Channel amplifier allows you to power a total of eight marine speakers.
4. Is an Amp Really Needed if You Already Have a Stereo?
If you are not really keen on having a loud and clear sound, you may be good with just your stereo. If you are picky about the sound quality of your music, you will definitely need an amplifier. For instance, if you like throwing big boat parties, a stereo will not be enough. Maybe you did not know this, but human bodies can damped sound.
Furthermore, if you plan on using a marine subwoofer, you will certainly need an amplifier because such a device requires a lot of power. Otherwise, it will the sound will be the same whether you have a subwoofer or not. We have already mentioned that if you want to install more speakers, you will not be able to do so with a stereo.
Best Marine Amplifiers Comparison Chart
PRODUCT
DETAILS

Pyle Hydra Marine Amplifier Upgraded Elite Series 4 Channel

Price:

$

Customer Rating:

3.9

Power:

400 watts

Style:

4 Channel

Features:

Waterproof, Dual Mosfet Power Supply, Gain Level Controls, RCA Stereo Input & LED Indicator

View On Amazon

Kenwood 2156568 KAC-M1804 Compact 4-Channel Amplifier

Price:

$$

Customer Rating:

4.1

Power:

400 watts

Style:

4 Channel

Features:

Conformal coated circuit board suitable for marine applications, Extruded aluminum heat sink design, Specifications Signal to Noise Ratio – 90dB

View On Amazon

Rockville Marine/Boat 2600 Watt 6 Channel Amplifier

Price:

$$

Customer Rating:

4.3

Power:

2600 watts

Style:

6 Channel

Features:

Fully Adjustable 12dB / Octave Crossover with Differential Circuitry, Full IC-Controlled Protection Circuitry, Fully Adjustable Bass Equalization Control, Status Mode LED Indicator

View On Amazon

JBL MA6004 4-Channel Full-Range Marine Amplifier

Price:

$$

Customer Rating:

3.9

Power:

320 watts

Style:

4 Channel

Features:

Marinized circuit board, Stainless-steel hardware, Variable bass boost, 12dB built-in variable electronic crossover

View On Amazon

BOSS Audio Systems Marine Weatherproof Amplifier and Speaker

Price:

$$

Customer Rating:

4.0

Power:

500 watts

Style:

4 Channel

Features:

Weatherproof Amplifier and Speaker Package – Full Range 500 Watt Amplifier With Bluetooth Remote, 6.5 Inch 180 Watt Full Range Speakers, No Receiver Needed

View On Amazon
Best Marine Amplifier Reviews
1. Pyle Hydra Marine Amplifier Upgraded Elite Series 4 Channel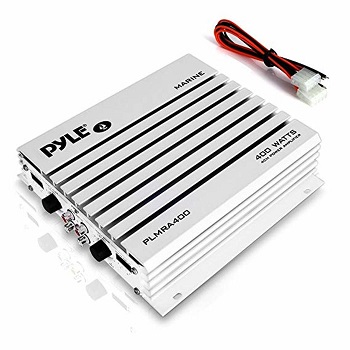 Compared to many other products in this category, this one is for people who want quality but do not want to spend too much on a marine amplifier. Despite its price, this 4 channel marine amp provides enough power to drive your speakers.
The Pyle Hydra Marine Amplifier Upgraded Elite Series 4 Channel can put out 50 watts RMS per channel at 4 ohms. With such power, this marine amplifier can make a notable difference. This unit is an excellent choice for a little more volume. However, you should not expect it to be as powerful as other high-end, pricey amplifiers.
What is more, this device is equipped with speaker level inputs, remote turn on and off switch, as well as variable input gain controls. You should also know that this unit has an IXP1 certification which means that it is splash-proof but not waterproof, so be careful where you place it on your boat.
Pros
This model is universally compatible with a wide variety of head units
The amplifier comes with premium RCA inputs, for easier use of the device
This unit has a strong built with heavy-duty aluminum alloy heat sink and thermal overload speaker short protection
Cons
If you are in a very noisy environment, this amp will probably not cover it
2. Kenwood 2156568 KAC-M1804 Compact 4-Channel Amplifier
It may seem small, but this marine amplifier is certainly worth your attention. Despite its small and lightweight size, it delivers great sound and enough power. Thanks to its compact design, it is an excellent choice for any spot, in your boat or even in your car.
Even though it comes with clear instructions, you might not even need to use them, because the Kenwood 2156568 KAC-M1804 Compact 4-Channel Amplifier is very easy to install. Besides all the above-mentioned features and capabilities, this model will allow you to change its position to suit your needs accordingly.
Similarly to larger amplifiers, it runs 4 channels. However, you need to know that it only peaks 400 watts. If you need something stronger, you will have to look for another device. Still, given its size, it provides a fairly good sound. However, if you lack space and need something compact with decent power, this is your amp!
Pros
This unit is extremely versatile because it can be used in multiple types of vehicles.
The coated circuit board makes it suitable for marine applications
This model features an extruded aluminum heat sink design
Cons
You cannot adjust the volume which is a major disadvantage.
3. Rockville Marine/Boat 2600 Watt 6 Channel Amplifier
The thing that makes this model really stand out is its versatility. The amplifier can run different numbers of channels, six in total, through a number of speakers. For example, you can select various options such as 4 channels to full range, and 2 of them to a subwoofer or a wake board.
What is more, you can also transfer a single channel to two speakers at the same time. This means that four channels can be run through eight speakers, and two channels through a subwoofer. Moreover, the Rockville Marine/Boat 2600 Watt 6 Channel Amplifier is capable of connecting to 12 full-range speakers.
Since the amplifier comes with a microphone, you will be able to use this system not only to listen to music but also for efficient communication. You will certainly also be impressed by the sleek and clean design, but also by the power that this marine amplifier offers.
Pros
This unit has a coating against dust, chemical, moisture, and extreme temperatures
Due to the stainless steel exterior screws, this device is almost indestructible in the marine environment
The price of this marine amplifier is fairly reasonable
Cons
The microphone does not perform as well as expected
4. JBL MA6004 4-Channel Full-Range Marine Amplifier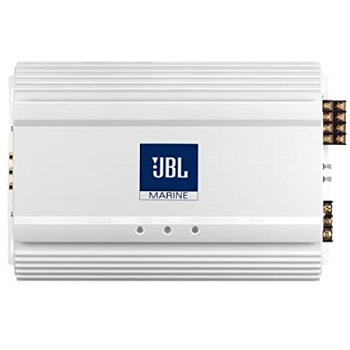 Besides being a very performant marine amplifier, it is also a very reasonably priced product. This 4 Channel unit is rated at 160 watts when bridged, 80 watts RMS at 2 ohms, and 60 watts RMS at 4 ohms. It is not the most powerful amplifier on the market but it offers great value for the money.
The JBL MA6004 4-Channel Full-Range Marine Amplifier has a special circuit board, stainless steel hardware, as well as waterproof ability. Thanks to this well-thought construction, the unit is designed to withstand severe marine conditions. These include water, humidity, corrosion, and other associated risks.
This device is equipped with a separate variable bass boost as well as a separate 12 dB electronic crossover. You should also know that the unit tends to heat up fast when it is playing at high volume. As a result, the audio will cut out, and you will have to let it cool down.
Pros
This amplifier is extremely easy to wire
The stylish light indicators complete the sleek look of this device.
The sound of your motor will be well-covered by the amp.
Cons
This is only a 4 Channel amplifier
The unit does not work with a subwoofer
5. BOSS Audio Systems Marine Weatherproof Amplifier and Speaker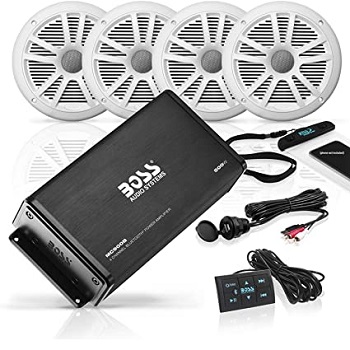 There is a number of items in the BOSS Audio Systems Marine Weatherproof Amplifier and Speaker set that will certainly impress you. Besides the 4 Channel amplifier, you will also get two pairs of speakers. Thanks to their depth, you will be able to mount them in small boxes. As a result, they will emit a much better sound.
Due to the poly carbon cone and rubber surround of the speakers, they will be protected from any dangers generated by water getting to them. If you are a serious audiophile, you will not select this product because it is not extremely powerful. Still, it does offer excellent value for the money.
The amplifier includes a standard auxiliary interface for external MP3 devices, as well as a USB port. You can also listen to music through Pandora or Spotify thanks to the amp's Bluetooth capabilities. Moreover, the unit is fully marinized.
Pros
The unit is compact and extremely lightweight
The Pre-Amp outputs allow the system's expansion by adding one amplifier
This unit is protected if it gets too hot by the automatic shut-off
Cons
In time, the sound starts cutting off
The face plates of the speakers are not removable
6. Kenwood 1177524 Compact Automotive/Marine Amplifier Class D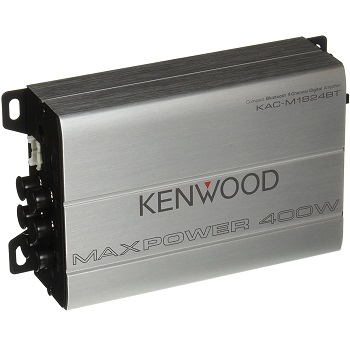 The Kenwood 1177524 Compact Automotive/Marine Amplifier Class D is a multi-application marine amplifier. The great thing about this unit is that it can be used in a variety of vehicles for land or water, such as boats, cars, motorcycles, or ATVs. Thanks to the conformal coated circuit board, the device is perfectly capable of withstanding the harsh outdoor conditions.
Moisture, salt, damping air, or other elements have no chance against the sturdy construction of the amplifier. Moreover, there are plastic plugs included that are meant to protect the speaker and power connections. If you do not have enough room to install a receiver, you should know that this amplifier has Bluetooth connection which eliminates this issue.
What is more, since it is IPX-5 certificated, this device is protected against low-pressure water stream from all directions. A USB port is also included which means that you can charge your smartphone while listening to your favorite tunes.
Pros
The amplifier has a very compact and lightweight design
Despite its size, the unit provides a good amount of power
You will also get a water-resistant remote control
Cons
This amp does not have equalizer nor bass boost options
It is not a good choice  for constant, long-term use
7. Pyle 2-Channel Bluetooth Audio Marine Amplifier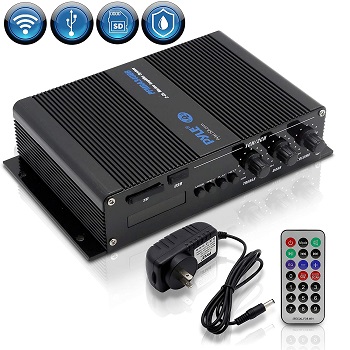 We will tell you from the start: this is not an extremely powerful amplifier as it only ranges up to 200 Watts. So, if that is what you are looking for, you should look for a different option. However, if you want a reliable control center, you should definitely take a look at this product.
The Pyle 2-Channel Bluetooth Audio Marine Amplifier has a very strong construction that is specifically designed to prevent any type of water damage, whether we are talking about splashes or moisture. Due to its rectangular, as well as bulky, form, the device is extremely easy to control.  Moreover, the unit has audio outputs and also an additional subwoofer output.
The bass is adjustable and you can also control the volume. This way, you can improve the quality of your stereo according to your preferences. You can select from a variety of music sources, as it comes with Bluetooth connectivity as well.
Pros
The amp works with multiple audio files, including MP3, WAV, WMA
You can also connect your music through the USB/SD card reader. It supports up to 32 GB
The unit also features the Smart Auto Connect pairing capability
Cons
This unit is small and less powerful than many of its competitors
8. Rockville Black New 8 Channel Marine/Boat Amplifier w/Bluetooth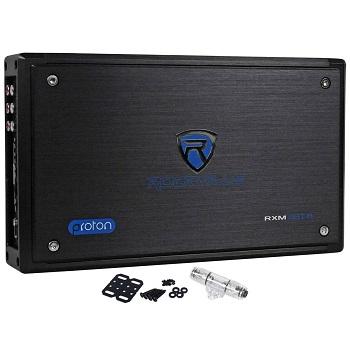 In case you are looking for an amplifier that can do everything, you should take a look at the Rockville Black New 8 Channel Marine/Boat Amplifier w/Bluetooth. Since it is an 8 Channel amp that peaks at 1500 watts, you can certainly rely on it to offer great sound. Even though it is a high-tech unit, the price is extremely affordable.
Furthermore, the device has built-in Bluetooth capabilities. This allows you to stream your favorite music wirelessly. It also features zero-noise RCA plugs that offer a lossless listening experience. Even if this Class D amplifier is very compact, it provides a lot of power.
The amplifier can be configured to run 4, 6, or 8 channels but it can also be set up for 4.2 or 6.1 systems. At this price, the level of flexibility is fantastic! If you are planning a boat party, this little amplifier is certainly up to the task.
Pros
The audio features of this amp are following the CEA compliant ratings
If the circuits get too hot, the power is reduced to a third until they cool down
This unit has a heat sink enclosure, silkscreen, and UV and saltwater resistant paint
Cons
This model is harder to find than many other known brands
9. Kicker 4×100-Watt Four-Channel Full-Range Class D Amplifier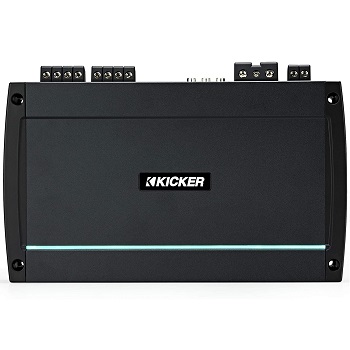 If you do not care how much you need to spend in order to be able to enjoy high-quality sound, the Kicker 4×100-Watt Four-Channel Full-Range Class D Amplifier might be exactly what you are looking for. This model features outstanding built-quality as well as advanced features.
The main channels have 100 watts of power and400 watts to power your subwoofer. Kicker also provides a tuning mobile application to better adjust the lighted gain knob for a perfect sound. Besides incredible audio capabilities, the construction of this amp includes conformal coated circuit boards as well as a gasket-sealed control door.
Moreover, the UV-resistant coating on the aluminum chassis will keep your device looking like new for years. This model meets all the rigorous standards set by the American Boat and Yacht Council and the National Marine Manufacturers Association. The unit does not only provide amazing sound but it will also withstand the harsh marine conditions.
Pros
The unit is equipped with a SHOCwave bass restoration processor
It also features a variable 24dB subsonic filter
You will also get the KXARC wireless remote control
Cons
The power output of the amp is not as high as that of other similarly-priced products in this line
What Are Marine Amplifiers?
1. What is an amplifier?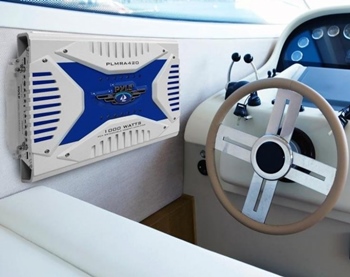 An amplifier also called an amp is basically an electromagnetic or electronic component that boosts an electric current. A hearing aid, for example, uses a microphone in order to pick up sounds from around you. Then, it converts them into a signal which is a fluctuating electric current that continually changes its strength.
A transistor-based amplifier takes this signal, or input, and boosts it several times prior to feeding it into a loudspeaker that is placed inside your ear canal. The reason for this is for you to hear a magnified version of the output, or the original sounds.
The difference an amplifier makes is calculated through a measurement that is called the gain, gain factor, or amplification factor. For instance, an amplifier that doubles the size of the input has a gain of two.
2. What are audio amplifiers?
For audio amplifiers, the gain is expressed in decibels. Basically, your amplifier takes the signals that are represented by the music you play or stream, and amplifies the sound which allows you to hear it much louder.
Moreover, it intakes the electrical energy that comes for a source and controls how much energy is transmitted to your speakers. Large amounts of energy can cause your speakers to blow out. Therefore, the amplifier does not only generate loud music but it will also limit massive electrical energy so that it does not destroy your speakers.
A marine amplifier does the same, but its construction differs. Since such a unit is often exposed to harsh elements, a marine amp will have conformal coated circuit boards, UV-resistant, and water-resistant capabilities, as well as other features that protect it from the outdoor conditions.
Marine Amplifier Buying Guide
If you really love your music, you should not forget to include a reliable marine amplifier in your boating gear. It will improve the sound quality of your favorite tunes, and play them loud enough to cover the marine environment.
However, the market is full of options, and if you want to get a device that will meet your specific needs, you have to do your homework, as there are a few things you need to consider.
1. Number of Channels
Amplifiers are categorized by the number of channels they have. Basically, each channel is a separate power output.
As a general rule of the thumb, the amplifier you select should have a channel for each speaker you are planning on using. You should also include the subwoofer in this number. You should also know that it is possible to connect as many speakers as you like, not considering the number of channels.
Still, specialists recommend each speaker to have its channel. If you want to enjoy the best sound quality and volume from your audio system, you should keep this recommendation in mind.
1.1 1 Channel Marine Amplifiers
A single channel amp is also called a monoblock. This is a good option to power one subwoofer.
1.2 2 Channel Marine Amplifiers
These are great multipurpose devices. They feature right and left channels which are good choices for simple stereo setups. In the aftermarket car audio systems, these are very common.
1.3 3 Channel Marine Amplifiers
This type of amplifier is not very common. However, it is a good option if you want to power a subwoofer and a pair of speakers. Basically, it is a monoblock combined with a 2 Channel amp.
1.4 4 Channel Marine Amplifiers
Most marine amps you will find on the market have four channels. This type is very common because it is an excellent option for a vessel with four speakers. If you have four speakers and do not want to use a subwoofer, a 4 Channel amplifier is a great choice.
1.5 5 Channel Marine Amplifiers
Again, this type is basically a 4 Channel amplifier plus an extra channel for a subwoofer. This is a good choice if you want to add more kick to your four-speaker stereo using a subwoofer.
1.6 More Channels
There are marine amps that have even more channels. You will see that you can find models with eight channels. These amplifiers are usually good options for larger vessels, with multiple speakers installed.
1.7 General Rule
Basically, there are two things to remember when it comes to an amplifier's number of channels. First, even-numbered channels are good options for an even number of speakers, and the odd-numbered channels are usually good for an even number of speakers and a subwoofer.
Second, the amplifier you get should have the same number of channels with the number of your speakers, or with the number of your speakers and another channel for the subwoofer.
2. Wattage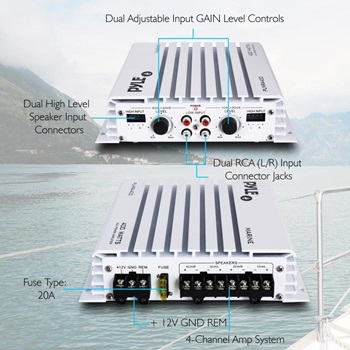 Another thing you ought to take into consideration is that your amp's wattage should be consistent with the speakers you are using. If you already have the speakers and want to get a new amplifier, you need to check the maximum wattage. This should be higher than what your new amp can feed.
Of course, the same rule applies if you are also looking for new speakers. In short, a speaker the receives more wattage than it is made to handle is sure to blow up. Moreover, if the power of the amplifier is equal to that which the speakers can handle, the quality of the sound will be affected negatively.
3. Bridging
This is a common feature of multi-channel amps. Basically, when two channels are bridged, they combine their power and generate more output than a single dedicated channel. This is a good way to provide more power to your subwoofer.
You can also provide more power to your speakers in case you have fewer speakers than channels. However, you need to do the math on the wattage to make sure you will not blow your speakers.
4. RMS Rating
An amp's RMS rating shows how much driving power each speaker will sound its best at. The higher the number, the higher the sound quality. However, the most appropriate maximum and minimum potential for each type of speaker need to be determined.
Before selecting your amp, you need to check the ratings of your system. Also, take into consideration that your subwoofer might require a higher RMS than some aftermarket speakers.
5. Filters and Equalizers
An amplifier that has these features is an excellent investment because equalizers give you the possibility to adjust the bass, treble, or other settings levels. As a result, you will be able to set the frequency of the sound and obtain a better listening experience. Filters allow you to reduce static sound and eliminate distortion.
6. Total Harmonic Distortion + Noise
In other words, THD + N, this is a measure of how the amp affects the sound output. Basically, more distortion translates into more sound coloration. Therefore, the lower this figure is, the output will sound closer to the original recording. Since speakers have the most important sound effect, you should choose them according to your listening preference.
7. Construction
While most marine amplifiers are listed as suitable for marine use, some are build better than others. You need to consider that your amp is going to endure a lot since it is going to be exposed to the elements.
You need to look for models with high IPX rate, sealed circuits, and other components that are water and UV-resistant. The better the construction, the longer the lifespan of your amplifier.
How To Install a Marine Amplifier?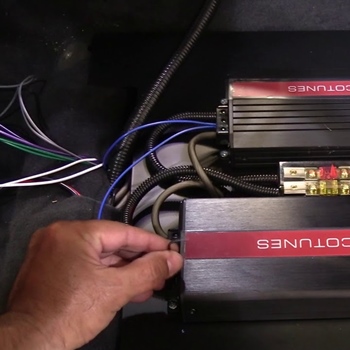 It is essential to install your amplifier correctly. Our recommendation is to always check the manufacturer's manual which usually comes with the device. While all units work basically the same, some models may differ when it comes to mounting.
There are a few things to consider as well. Not all marine amps come with installation kits or wiring. Therefore, it is very important to purchase the recommended equipment for that particular device.
You should never go for the standard wiring kit because it is not designed to withstand the harsh marine environment. Basically, you will need a marine-grade speaker wire, cable kit, a condenser, as well as a marine battery that will not lose power very fast.
Another thing, since most marine amps come with the instruction manual, it should be fairly simple to install the unit. Usually, these gadgets are marked with cable ports and buttons. This makes it easy to attach various cables or change settings.
In short, the installation process is about connecting your amplifier to your speakers, electric source, and subwoofer, if that should be the case. Still, it is extremely important to check the manual. Also, if you are not sure how to proceed, we recommend calling a technician in order to receive professional guidance.
FAQ About Marine Amplifiers
1. How To Maintain Marine Amplifiers?
Even though your marine amplifier is built with sturdy and high-quality materials, there are still some things you need to do in order to take care of your amp and prolong its life. For example, you should regularly dust off the unit.
When it comes to resisting water, salt air, or dust entry, marine amplifiers are designed to withstand these elements. They are also made to handle shocks, vibrations, as well as UV rays. Still, it is better to place the unit in a place where water does not get so easy, and where it is not in direct sunlight.
Another thing you need to keep in mind is to let the unit dry after cleaning it and before connecting it with the wires. Moreover, when you connect the device to your speakers, always check the polarity to be correct.
If you do everything right, there is no reason why you shouldn't be able to enjoy the great sound a reliable marine amplifier can offer, for a very long time.
2. Can You Use a Car Amplifier in Your Boat?
Well, using a car amp in a boat is physically possible, but it is certainly not recommended. The reason is that the circuit board, as well as the electronic parts, are always exposed to moisture and corrosion.
Car amplifiers are not built to withstand these severe conditions, and they would get damaged extremely fast. Marine amplifiers have protective coatings that are not present in their land-vehicle counterparts. Therefore, you should not select a car amp for your boat.
Do not make the mistake of thinking that you would be saving money because you would actually end up spending more. Once for the car amp, and then for the right, marine unit.
3. Are There Any Safety Tips For Marine Amplifiers?
Safety is always important, and things are no different when it comes to your marine amplifier. First of all, make sure you get a marine-dedicated device and not one designed for cars or other land vehicles. You need to get a unit that has the necessary protection against the severe outdoor elements.
Another important aspect is correct installation. Always check the manufacturer's manual that comes with the unit. You can also ask a professional for help if you cannot handle the mounting process.
You should also check the wires every time before you start the amplifier. Also, when you clean the unit of dust, make sure that you are using a dry rug.
4. What Makes a Marine Amplifier Overheat?
Cheap marine amplifiers actually waste more power than they produce in sound. Therefore, this waster power turns into heat, and this causes your device to overheat. Ventilation is a vital aspect when it comes to installing an amplifier in your boat.
Also, if there is to muck power transferred from the speakers to the amp, it will cause the unit to overheat as well. That is why it is important to check the ratings and make sure that your amp and speakers match.
Wrap Up
The best marine amplifier is not the one that someone recommends or the one with the most positive customer reviews. It is the one that best suits your auditive needs. As you learned by reading our article, there are multiple types of amps for several purposes. Therefore, you should select the one that meets your listening preferences. The information we have gathered should put you in the right direction to make the most suitable choice.
Moreover, the marine amplifier reviews we have prepared for you can give you a good idea about what is trending on the market. Once you've made your choice, all you have to do is install the unit on your boat and you are all set. Set sail and enjoy your favorite music you go! Or, throw the greatest boat party and amaze your friends with amazing sound and fun!