The best marine stereo is just the right thing to set the mood when you're out there, sailing away. The wind in your hair, the water splashing the sides of your boat, and a great tune – there are few things as pleasant as that.
Investing in a reliable stereo system for your vessel will make sailing so much more pleasant, and you will have a great time each time you get on your boat. We have checked what some of the available models on the market are, and showcased our favorite picks in the marine stereo reviews section. And if you're not sure what to look out for – check out our buying guide too!
See The Quick Comparison Chart
Benefits of Having a Good Marine Stereo System
Once you start looking for sound pieces of equipment for your boat, you will start learning why you should go for specifically designed devices for this type of environment, instead of the regular models. It is the same with marine stereos. Let's look at some of the benefits offered by such a unit.
1. UV Protection
Since the unit may constantly be in direct sunlight, electronic devices can suffer from it. Therefore, you need a unit that can withstand the damaging effects of the UV rays.
A reliable marine stereo has the controls, faceplate, as well as the display with UV resistant qualities that also provide the unit durability over many years.
2. Water Resistance
Needless to say, the marine environment is wet. Water is bound to get inside your boat and into your electronic units. Marine stereos are water-resistant, so you do not have to worry about this part.
3. Anti-Corrosion Protection
This type of device has anti-corrosion sealed components that help reduce the quantity of water that can enter the electrical area of the vessel. This will increase the durability of your device and it will keep it functioning properly.
4. Marine Weather Radio
Many models on the market have this feature included. You might not care about the weather conditions in your everyday life, but when you are in the water, this is valuable information. Having a weather radio at hand can be very useful.
5. Music Streaming
Using the built-in Bluetooth function on your audio receiver, you can easily listen to music from your smartphone. You can select only your favorite tunes or you may already have a song collection that you use for fishing, for instance.
6. Better Materials
A car stereo may be cheaper, but it certainly is worth throwing in a few extra bucks to get a marine stereo that is made for the marine environment. You will get what you pay for because the materials included in the unit's construction are of higher-quality.
Best Marine Stereos Comparison Chart
PRODUCT
DETAILS

BOSS Audio Systems MCKGB350B.6 Marine Gauge Receiver

Price:

$$

Customer Rating:

4.2

Speakers included:

Yes

Size:

3.5 x 3.5 x 3 inches

Maximum Power:

180 watts

View On Amazon

Pyle Marine PLMRB29B Bluetooth Stereo

Price:

$

Customer Rating:

3.9

Speakers included:

No

Size:

8.5 x 3.5 x 7.5 inches

Maximum Power:

300 watts

View On Amazon

Sony DSX-M55BT Bluetooth Marine Digital Media Stereo Receiver with SiriusXM

Price:

$$

Customer Rating:

3.9

Speakers included:

No

Size:

8 x 2.8 x 7.1 inches

Maximum Power:

110 watts

View On Amazon

JVC KD-X35MBS SiriusXM Bluetooth Marine Stereo Receiver

Price:

$$

Customer Rating:

3.9

Speakers included:

No

Size:

7.5 x 4 x 9 inches

Maximum Power:

200 watts

View On Amazon

Pyle Marine Receiver & Speaker Kit

Price:

$

Customer Rating:

4.0

Speakers included:

Yes

Size:

1.97 x 4.26 x 7.01 inches

Maximum Power:

300 watts

View On Amazon
Best Marine Stereos Reviews
1. BOSS Audio Systems MCKGB350B.6 Marine Gauge Receiver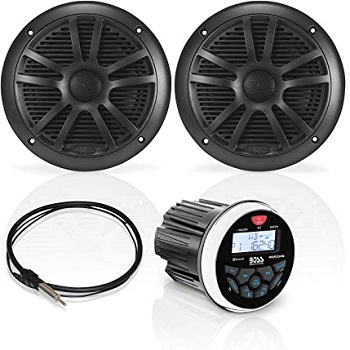 You can certainly set sail with this combo kit that comes with a gauge receiver, a pair of full-range marine speakers as well as a marine dipole antenna.
The BOSS Audio Systems MCKGB350B.6 Marine Gauge Receiver allows you to connect your smartphone and MP3 player using the auxiliary input, plug into the UBS port for more tunes, and to turn on the weather band, AM, and FM radio. As you can see, a lot of possibilities! The Bluetooth technology that is present allows you to stream music apps.
What is more, this unit has an IPX6 rating because it is built with high-quality weatherproofing materials as well as UV coatings. Therefore, you can be sure your stereo will be kept safe from the elements. Moreover, thanks to the built-in Preset EQ, you can select from the preset EQ curves for a wide variety of music styles.
Pros
You can use the front or the rear subwoofer outputs to connect your speakers and subwoofers
If you purchase through Amazon, you are covered by a three-year platinum online dealer warranty
The unit features a built-in amplifier
Cons
There is no CD mechanism included in this audio system
2. Pyle Marine PLMRB29B Bluetooth Stereo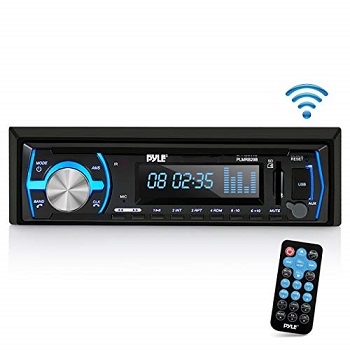 If you are looking for something more on the budget, the Pyle Marine PLMRB29B Bluetooth Stereo is designed with a clever playback capability.  The convenient built-in Bluetooth technology allows you to stream music wirelessly.
Moreover, the built-in microphone from the front panel of the receiver offers you hands-free talking ability. This means that you can easily answer or even reject calls safely so that you can focus better on your navigation. The unit has a power of 12 volts and a single DIN universal standard-size design. The black color adds up for a sleek look.
This model can easily replace single DIN size radios. Also, it is compatible with all of your favorite Bluetooth devices, which is extremely convenient. You will also appreciate the 300 Watt peak power output of this unit that allows you to play your favorite tunes as loud as you want while you stay afloat.
Pros
This stereo comes with a convenient and easy-to-use remote control
The maximum USB/SD memory support is 32 GB which is more than enough to store your favorite music
The illuminated front panel controls are very convenient to use when you are afloat at night
Cons
Since the stereo does not come with speakers, you will have to get these separately
3. Sony DSX-M55BT Bluetooth Marine Digital Media Stereo Receiver with SiriusXM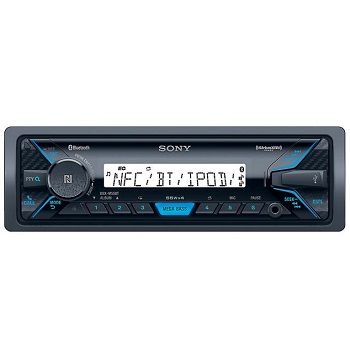 This stereo is brought by a name that has a long history of producing top-quality sound. Since it comes from Sony, this model does not lock the usual stylish design that can modernize any boat. However, the design is not everything about the Sony DSX-M55BT Bluetooth Marine Digital Media Stereo Receiver with SiriusXM.
With this unit, you can enjoy a lot of smart as well as innovative technology. The device includes bot only Bluetooth but also one-touch technology which means you can stream music using the NFC of your smart device.
The front USB slot and the microphone offers you Siri control so that you can use it hands-free also. Thanks to the advanced sound technology, this stereo will sound amazing in any condition. What is more, you will also get a wireless remote control that allows you to access your music wherever you may be on your boat.
Pros
All the stereo's vital components are humidity and UV-resistant to last you for many years
This unit works with Pandora from iOS, Android, and Blackberry smartphones
The Mega Bass modifies boost frequency and gain according to the volume's position
Cons
Unlike other Sony models, this one does not offer the possibility to control it from your mobile device
4. JVC KD-X35MBS SiriusXM Bluetooth Marine Stereo Receiver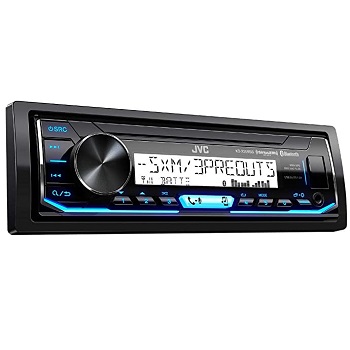 When you are preparing for an outdoor adventure, you probably do not intent to pack a CD collection. With a good marine speaker, you can play all of your favorite tunes. The JVC KD-X35MBS SiriusXM Bluetooth Marine Stereo Receiver has a built-in Bluetooth connection that allows you to stream the music from your smart device.
Also, it has a lot of connections for many types of digital devices. Therefore, you have plenty of entertainment options for your boating adventures. Another feature that you will probably like is the reverse display that cuts through the glare.
This feature makes the stereo ideal for various open-top vehicles. As you might have guessed, this unit can be used in your car as well. Furthermore, this model comes with three sets of 4V preamp outputs for front, rear, and subwoofer. The power output of this unit is 50 Watts for four channels.
Pros
With this stereo, you can play your music as loud as you want
The face plate is removable so you can take it off when you are not using it
The price of this unit is extremely affordable
Cons
You won't be able to use the stereo with and Android phone as it is compatible with iOS operating systems
5. Pyle Marine Receiver & Speaker Kit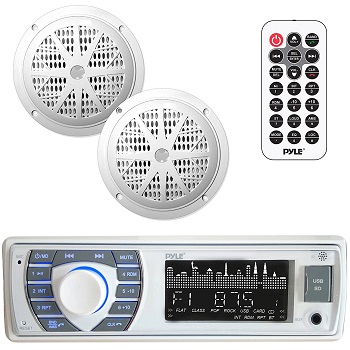 This audio system was made to impress! And we are not talking about looks here. First, it comes with two 5.25-inch speakers with marine-grade construction. The 300 watts power is more than enough to throw a great boat party. Also, the remote control allows you to wirelessly and conveniently control the stereo.
The Pyle Marine Receiver & Speaker Kit allows you to play your music files using the built-in Bluetooth technology which is compatible with all devices that use this technology. Thanks to the SD slot, you can easily store your favorite playlists.
The stereo also has an AUX port as well as a USB flash input connector that you can use to charge your phone. This unit is compact and extremely easy to install and use. You probably won't even need to read the manual to figure out how it works.
Pros
The stereo is equipped with a built-in microphone that allows you to take calls hands-fee
The LCD digital display is very easy to see even in the dark
You will also receive a remote control so that you can access your music
Cons
You will need to get an external antenna if you want to listen to more radio stations
6. Fusion Entertainment MS-RA70N Marine Entertainment System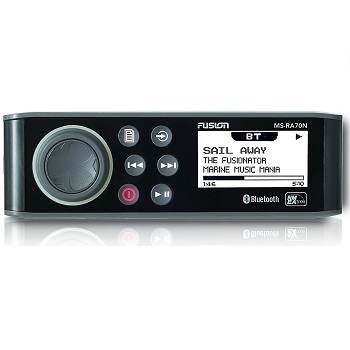 The Fusion Entertainment MS-RA70N Marine Entertainment System is a sleek yet simple stereo that includes innovative marine technologies in order to provide a high-quality on-water entertainment experience. Its ability to deliver amazing sound will make all your boat trips a real pleasure.
Thanks to the 4 x50 W class-A amplifier, you will enjoy enough power to blast your tunes. Since it has built-in Bluetooth, a rear USB connection, as well as an AUX, you have options for any type of connection. Moreover, the stereo has a bright and clear display, with full Android and Apple interface so that you can easily see the song that is playing.
This stereo is water-resistant and it can easily be installed because it fits standard-style car stereo holes, so it can be a perfect replacement for your old unit. It can also be integrated into a glass helm with a flush surface mount for a high-end installation.
Pros
This stereo comes with an optically bonded glass display
The front is IPX6 rated meaning it has a high resistance to water and humidity
You can remotely control the unit using your smartphone
Cons
You should know that the face plate is not removable
This model is quite expensive compared to other products on our list
7. Pyle PLRMR27BTB Bluetooth Marine Receiver Stereo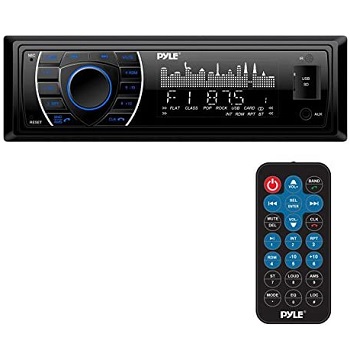 In case you are searching for a high-quality stereo but do not want to spend a lot of money, you should take a look at this product. Besides having a great sound quality, the Pyle PLRMR27BTB Bluetooth Marine Receiver Stereo is very easy to install.
It is your basic in-dash DIN stereo, with Bluetooth audio streaming and AM and FM radio. Moreover, the unit comes with a built-in microphone that allows you to take calls hands-free. This is very useful when you are too busy having fun on your boat to pick up the phone.
Thanks to the auxiliary cable input, this stereo is compatible with smartphones, tablets, as well as MP3 players. This model also comes with ports for Micro SD cards and USBs. The LCD screen has an ID-3 tag readout which allows you to easily identify the tune it's playing by song title and artist.
Pros
This stereo has a maximum power output of 4 x 75 watts, allowing you to enjoy your music in noisy environments.
The remote control is a convenient way to control the stereo even if you are on the other side of the boat.
It is compatible with various types of vehicles.
Cons
The audio settings are poor, and there isn't much to choose from.
8. Garmin Fusion MS-RA70 Stereo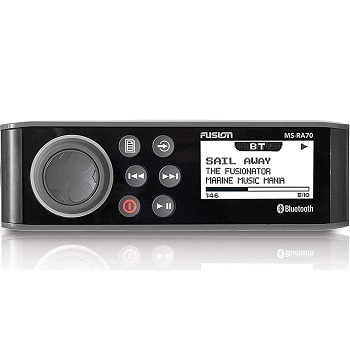 This unit was designed to provide high-quality on-water entertainment because it includes some of the newest marine technologies. The stereo can easily replace your standard DIN-sized standard unit and it does not require you to reconfigure your dash space.
When it comes to installation, you have the option to mount the device with a conventional flush finish or to integrate it flat into a glass helm. The Garmin Fusion MS-RA70 Stereo features the A2DP Bluetooth wireless technology that offers the Fusion-Link app remote control. This unit allows you to stream your favorite tunes from any device that is compatible.
You can easily download the Fusion-Link application from your mobile store. It is free and available for both Apple and Android smartphones. The optically bonded glass display and the IPX6 rated front ensures that no water can get inside your stereo. Since it is built with high-quality materials, you will be able to enjoy this unit for a very long time.
Pros
The functions of this unit are extremely easy to use.
This unit provides an amazing sound, even in noisy environments.
You have a lot of choices when it comes to the audio settings.
Cons
The device is rather expensive and you will have to get the speakers separately.
9. Aquatic AV AQ-MP-5BT Bluetooth Waterproof Marine Stereo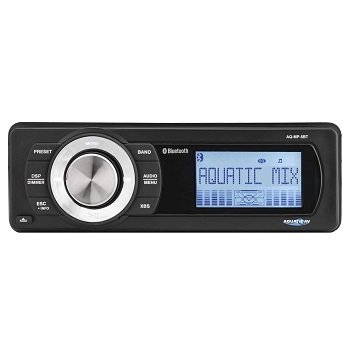 This unit is rated for use in wet, dry, damp, and muddy conditions, so basically, you can use it in any type of environment which is extremely convenient. It has a compact design and it is very easy to install. The Aquatic AV AQ-MP-5BT Bluetooth Waterproof Marine Stereo supports MP3 players, and it is equipped with Bluetooth technology.
The USB port is universal, which means that it can be used with most types of smartphones. You will also like that it provides 30 presets range for FM and AM frequencies making sure that your on-water experiences are never going to become boring. You can also enjoy wired connections with the 3.5 mm Stereo Jack as well as the RCA inputs.
The device also features a knob control rotary that is very easy to use. What is more, the face plate comes with a built-in 288 amplifier that can be connected to a maximum of eight speakers.
Pros
The large LCD screen is extremely visible and easy to read
Since the face plate is removable, you can take it off when the stereo is not in use
The functions are very easy to use
Cons
This model does not come with wireless support
What Are Marine Stereos?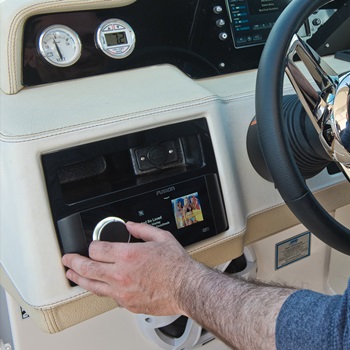 At first glance, a marine stereo is just like your average stereo, but it is designed with the rough conditions of the open water in mind. As you might know, extreme temperatures, the sun, the wind, as well as continuous impacts can damage sensitive electronics. Therefore, a car stereo is not built to withstand such conditions because there is no need for it.
Marine stereos, on the other hand, need to have a sturdy construction, or they would not last in this environment. Saltwater is extremely conductive to electrical charges and it is almost impossible for it not to enter your stereo at some point. For this reason, marine stereos have a particular construction with special materials included in their build.
Marine Stereos vs. Marine Radios
When it comes to comparing marine stereos and marine radios there are a lot of differences in terms of functionality. If you want your music to be heard out loud and clear, you should definitely stay away from marine radios. However, it is not uncommon for people to refer to a stereo as a radio.
1. Marine Stereos
These units are mainly used for music playback purposes. There are models available on the market that can be used as speakerphones, provided they have Bluetooth connectivity and offer microphone support.
2. Marine Radios
These are devices that can transmit and receive messages which are used to communicate on a set of international frequencies which are called channels. The models in our VHF marine radio reviews allow you to call for help from the emergency support services, speak with captains of other vessels, or even contact bridge tenders to request an opening.
It can also be used to listen to sea and weather reports. Under U.S. regulation, you are not required to have a radio onboard a recreational boat, but it is a smart thing to keep one, just in case.
3. Main Differences
Now that we've seen what these devices are, let us look at the main differences. Marine radios usually have an antenna that catches the channels on AM and FM waves. In terms of weather reports and communication, marine stereos are less practical.
However, you will be able to find radio stations to listen to music. Both devices can receive a radio signal, but it is only a marine radio that can also send a radio message.
The functionality to play music is one of the biggest differences between these two types of devices. Marine radios allow you to listen to the music that is broadcast through radio stations, and that is it. Marine stereos, on the other hand, provide many levels of functionality and are most appealing for people who really enjoy listening to music.
When it comes to appearance, these two devices are quite different as well. Most marine stereos available could be placed into a car. However, marine radios are much bulkier and are designed to be used only on boats.
As a conclusion, if you love music, and want to be able to play your favorite tunes loud and clear, you should definitely go for a marine stereo. Still, it would not be a bad idea to have a radio on board, in case of an emergency.
Marine Stereo Buying Guide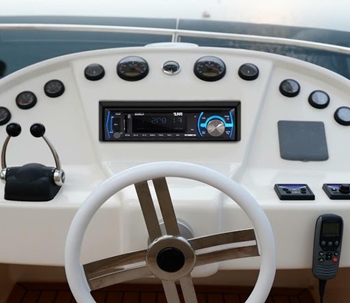 In case you are a big music lover and you like having your favorite tunes with you at all times, your boating gear should include a good marine stereo. However, you should know that these are complex devices, and there are certain qualities and features you should be looking for, in order to make sure that you are making a good investment.
1. What to Look For
First, there are certain features any good marine stereo should have without which, you should not even waste your time looking at. Let's see what they are.
1.1 Water, IPX Rate and UV Resistance
Since your new stereo is for a boat that is intended to be in the open, susceptible to all mother nature throws at it, clearly it will also have to deal with the sun and occasional contact with water. For this reason, it is paramount that the unit is waterproof against possible contact with water.
The IPX rate is what guarantees that the item has been tested for water penetration so it is safe to use on marine environments. You should look for this when you get your device. This is usually the part that separates standard stereos from marine units.
UV protection is just as important because the rays of the sun can cause a lot of damage to your stereo. Equipped with UV protection, your device will last longer even after dealing with harsh environmental conditions.
If you think that these features are not that important, you should know that you might get away without UV protection, for a while. However, if your stereo is not waterproof, you are going to end up with a device that is damaged beyond repair because contact with water is inevitable on a boat.
1.2 Anti-corrosion Protection
When it comes to units you are going to use on a boat, water resistance and UV protection is not enough. A good marine stereo should also be resistant to corrosion.
Since water can get in certain areas of the device, this feature will not allow these parts to rust. A stereo that is water and corrosion resistant is a solid investment because it will last you a very long time.
1.3 Power
The marine environment is loud due to the water hitting your boat combined with the hum of the engine, and let's not forget about the wind. Therefore, if you want to be able to enjoy your music, the speaker needs to be loud as well. Still, it is not only about hearing your tunes loud, but it is important to hear them clearly.
For this, you will need a marine speaker that has serious power. If you also have a four-way marine amplifier, it will help you increase the sound and hear it clearly. You should know that there are two standard power ratings given to stereos.
These are the maximum power output and the RMS power output. The maximum power output refers to the power that can be generated over a short period, while the RMS power output is a measure of what can be delivered continuously.
In case your boat will usually be in a noisy environment, the stereo you choose should have a high power-rating as it will help you hear the music you play clearly. However, if you are usually boating on calm waters, this aspect is not that important.
1.4 Fit
Before deciding on a specific model, you need to think about where you are going to place it, and where you are going to put the speakers in your boat. In case you are replacing a stereo, you will probably need to fill a gap with specific dimensions.
Therefore, you need to select a model that is the same size as your old one, otherwise, it will not fit. It will also make the installation easier. However, if your heart is set on a certain stereo, you can also widen or shorten the existing space so that it will fit.
The important thing for you to remember is that before you choose a new stereo, you should plan ahead how you want it to look on your boat and make the necessary measurements. If not, you may end up with issues you have not even thought of.
1.5 Ease of Use and Installation
No matter how many useful features and extras your stereo has, they are worthless if they are too complicated. If you are new to these devices, you are going to be extremely frustrated by not knowing how to use yours.
Since not all of us are extremely knowledgeable using sound systems, you can also make your life easier by choosing a stereo that is fairly easy to install and use, with a user-friendly interface and controls.
2. Functionality and Features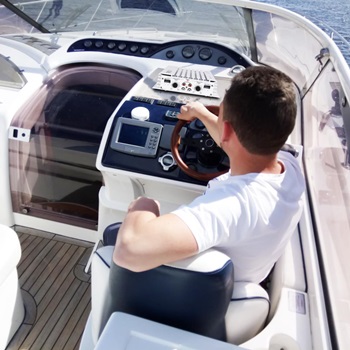 Besides the features required for a marine stereo, there are certain things you might want from this device so that it meets your music listening needs. Here are some of the most important ones that you should take into account.
2.1 Bluetooth Connectivity
Most marine radio receivers can transmit and receive a Bluetooth signal, which makes them very convenient for streaming music from your smart devices. That means that it is enough to have your smartphone with you, packed with music, and stream your favorite tunes on your stereo.
There are, however, some models that only support certain types of software. Therefore, before you decide on a specific model, make sure that it is Bluetooth compatible.
2.2 Smartphone Compatibility
Having the possibility to link up your phone with the stereo makes things a lot easier when it comes to managing your music. It means you have to use fewer items and perform fewer operations as well.
A connection between these two devices means linking to your applications, taking phone calls, using voice recognition, as well as being able to charge the phone. All these features extremely useful, and they will make everything much easier for you.
2.3 USB Ports
A USB port allows you to connect your stereo with your MP3 player or smartphone, and you can stream music files such as MP3s or WMA. You can connect a flash drive for this purpose as well.
Some models support memory sticks of up to a certain memory. The great thing about USB ports on marine stereos is that USB charging is an option for your cell phone or any other devices compatible with the port, which is extremely useful.
2.4 Expandability
In case you want to increase the sound of your stereo, you have the possibility to expand your system into devices such as the models in our marine subwoofer reviews and marine amplifier reviews. If you plan on doing that, you need to make sure that the unit you select has all the necessary connections available. That is, of course, if you have the required space for them into your boat. There are plenty of marine stereos with this ability available on the market, so you have where to choose from.
2.5 Remote Control
This is not one of the most important features your stereo might have, but it certainly is convenient, especially for bigger vessels. Just imagine having the possibility of control your stereo from the other side of your boat. Wouldn't that make things nicer?
You should also know that there are two types of remote controls for marine stereos. Wireless remotes do not work through infrared light. Instead, they use radio frequencies. Therefore, their signal is much more powerful, as they can emit through any obstacles such as doors, walls, and other objects.
The second option is represented by wired remotes that can be installed anywhere on the vessel. These are also extremely convenient to use and more than one can be installed, depending on your needs.
2.6 Audio Equipment Included
It is important for you to know that some marine stereos are sold just like that, but there are also options that come with the whole audio system including speakers and wires. In case you are just replacing an old stereo, you will probably want a simple stereo.
However, if you are interested in more music equipment, you should know about this option, as you might even pay less if you get the entire package, compared to buying the components separately. Also, you will be sure that they are a perfect match.
Depending on your needs, and what you already have on your boat, it is a great thing that you have various options to choose from.
How To Install/Wire a Marine Stereo System?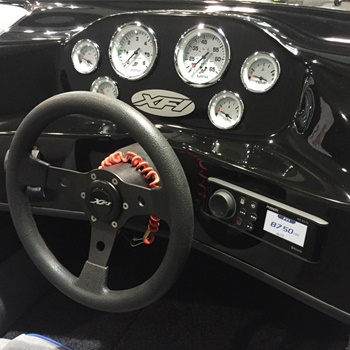 Since there are so many marine stereo models available on the market, the installation process might differ from one unit to another. However, we can provide you with a few installation tips that should be useful when you get your stereo.
First, make sure that the designated hole on the dashboard of your boat fits. It is best for the unit to fit perfectly. If it is a little smaller, you risk it to bounce around when sailing, and it can easily get damaged. In case the available space is smaller or bigger, you should make the necessary adjustments. You can also purchase mounting or adaptor plates.
Once you managed to fit the device into the designated area, you can connect the cables for the receiver, but before installing it. You should secure the device and set the hardware provided for the installation.
Afterward, you can place the face panel and then turn on the device for testing. The last step would be to connect your smartphone to your new stereo and enjoy your favorite music.
FAQ About Marine Stereos
1. Are Marine Stereos Waterproof?
Marine stereos are usually waterproof or, at least, water-resistant. Unlike car stereos, these devices are constantly under a lot of pressure from the environment, and the marine environment is wet. It is impossible water not to get at your stereo at some point.
Therefore, marine dedicated stereos need to have this feature. However, since there are so many models available on the market, you should check this information before you decide on a specific unit, just to be sure.
2. How To Maintain a Marine Stereo System?
Even though marine stereos are built to withstand harsh conditions, they still need some care and attention from the owner's part. One of the most important things you should do is keep your device away from water as much as possible. Since your boat is out on the water, this seems a bit difficult.
However, you can place the unit somewhere on the boat where it is at least covered and where less water can enter. Another very important aspect is to install the stereo properly. If you do not, water may enter the inner workings of the device. In case you are not sure about how to mount the stereo, you should ask a specialist to do it for you.
Moving on, while many marine stereos are UV-resistant, it still is best to keep the device away from the sun as well. When the boat is not in use, make sure you provide it with some shade. You can use a boat cover for that, and some models even offer UV protection also. This will protect not only your stereo but your vessel as well.
Furthermore, since a stereo is nothing without speakers, it is essential to also take care of them. They will probably be even more exposed than your stereo because they are spread around the boat. Therefore, if your speakers are exposed, you should look for waterproof options. If you pay attention to these aspects, you will be able to enjoy your stereo for a long time.
3. What Is The Difference Between Marine Stereos and Regular Stereos?
Even if you think that a normal stereo is cheaper and easier to use than a marine stereo, it is not a good option for your boat. Marine stereos are designed specifically for this purpose, and they are built to withstand the tough environmental conditions.
A regular stereo is not made the same way and, evidently, it cannot support such situations. In case you want to use a car stereo on your boat, it will not last. The weather elements which include splash water, salty air, humidity, and rain will damage the device very fast. Marine stereos are made with circuit boards that are dipped in plastic or liquid resin.
This feature seals everything, from water to air. Moreover, marine stereos are also UV-protected because they are usually in direct sunlight. A normal stereo does not have this issue, therefore its design does not need to include UV-resistant components.
As a general conclusion, marine stereos are specifically designed for the marine environment while regular stereos are not. A normal model may be cheaper, but it will not last you. In the end, you would be spending more than getting a stereo that was built for boating purposes.
4. Can You Use a Car Stereo in Your Boat?
The answer to this question is yes, you can. However, you should not. Car stereos do not have the same features as marine stereos such as water resistance or UV protection. On a boat, the device faces numerous harsh conditions such as water splashes, rain, humidity, and even salty air.
All of these are extremely damaging to the circuits. If you put a car stereo in your boat, it would probably last less than a year. Therefore, although it is physically possible to use a car stereo on your vessel, you should use a marine stereo instead.
5. What Antenna Type is Good For Marine Stereos?
Marine stereos usually come with antennas that are able to pick up signals when you reach areas where these signals are available. There are marine stereos that have a global radio tuner that can support AM and FM radio frequencies from all over the world, no matter where your current location is.
In case you want to catch a wider range of radio signals, you can also get an additional antenna. However, you need to make sure that the AUX port of your stereo is a match for the antenna's cable connector.
Wrap Up
After reading this guide, we strongly believe that you now understand the importance of getting the best marine stereo. As you know, the marine environment is a hard place for electronic devices. There are many elements that can cause a lot of damage. Therefore, the devices you are going to use on your boat need to be specifically designed for these kinds of conditions.
Even if you are new to boating, we hope that we have provided you with enough information so that you can get a unit that meets all of your needs. Our marine stereo reviews should also give you a good idea about the products in this line that are popular with boat owners. Now that you are all set, it is time to set sail and enjoy some good-quality music!
See also: marine speaker reviews