The best boat anchor can truly ensure a safe return, so much so that they were even thought to bring good luck to the sailors! These heavy objects still represent protection and welfare, for a massive reason. Yet, do you know how to pick the right one?
Here, we've prepared boat anchor reviews so you can find an ideal pick among the products that boast great quality. Also, in order to narrow your selection down, make sure to take a look at our complete guide about the most important features to look for in a boat anchor, such as its holding power, type, and weight.
See The Quick Comparison Chart
Types and Uses Of Boat Anchors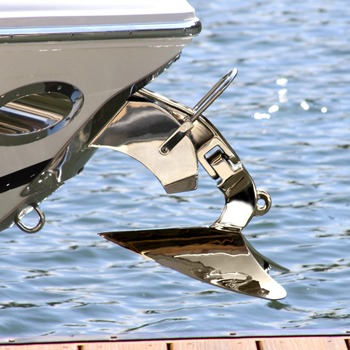 Now that we went through the best products on the market, it is about time to get familiar with different types of anchors. You could already spot not all anchors sizes, shapes, and holding power are the same.
We can split boat anchors into two main categories, although there are a couple of subcategories as well. And, here they are.
1. Anchors for Permanent Buoys
1.1 Mushroom Anchors
It's easy to say why this type of anchor holds this name. Of course, the shape of this type reminds of a mushroom, but the one that's turned upside down. This type is the most convenient with soft beds, such as mud and sand.
A mushroom anchor can hold a boat in place when the currents are mild. It has a great holding power and can hold boats ten times heavier than its original size. Works best with silty bottoms, as the mushroom gets through the silt and catches on easily, which is the case with sandy and muddy seabeds as well.
1.2 Wing/Delta and CQR/Plow Anchors
These two types feature a pretty similar design, although there are a couple of differences that make each type unique. Wing or Delta anchors always come in one piece – the arm and the shovel are attached one to each other. These are the most common type of anchors nowadays.
On the other hand, plow anchors come with an extra hinge, so you can never mistake it for a delta anchor. This type was immensely popular during the 1930s, although it is pretty common today as well.
When we say similar, that also means they perform similarly. Both types dig well and hold onto the bottom tightly so no winds or tidal changes can move them. You can use them in a variety of bottoms, but we would recommend avoiding rocky areas.
2. Anchors for Temporary Buoys
2.1 Fluke/Danforth Anchors
Fluke anchors are used either as primary, secondary, or stern anchors. They have a practical design and come with heads that dig into the bottoms easily. Great holding power and correct positioning make the fluke anchor a great choice with sand and muddy bottoms. However, a fluke anchor will struggle to set into any other type of bottom, besides these two types.
2.2 Claw/Bruce Anchors
The claw construction performs great in mud, rock, sand, and coral bottoms. This type digs easily and sets effortlessly, which is the reason it remained popular for almost 50 years now. Yet, their performance is not so good with clay and grass bottoms.
Although the claw anchor sets easily, it doesn't feature that much holding power. It works with smaller vessels, but if you own a medium-size boat, opt for another type, such as Delta.
2.3 Grapnel Anchors
Mostly used for small boats, such as kayaks, canoes, and dinghies, grapnel anchors make a popular option among the fisherman. The 4-fluke design makes it a great choice for rocky bottoms, as there is almost no chance the grip would fail.
Yet, the situation can get a bit complicated if the rope wraps around the fluke, so keep this in mind if you are not willing to dive in and untangle the thing. Also, grapnel anchors usually fold easily and don't take much space in your vessel.
2.4 Plow Anchors with Roll Bar
We've already mentioned the plow anchor, but this one comes with a roll bar, which makes a big difference. The roll bar makes this type perform great in tough conditions and various bottoms, including seaweed and hard clay.
This all is thanks to the sharp plow that penetrates the bottom effortlessly. Plow anchors with roll bar hold a great holding power, which makes them a bit hefty. Also, they take some space so consider the space in your vessel before making the final choice.
Best Boat Anchors Comparison Chart
PRODUCT
DETAILS

Crown Sporting Goods Galvanized Folding Grapnel Boat Anchors

Price:

$

Customer Rating:

4.7

Weight:

17.5 pounds

Type:

Grapnel

View On Amazon

M1 Mantus Anchor Galvanized

Price:

$$$$$

Customer Rating:

4.8

Weight:

52 pounds

Type:

Fluke

View On Amazon

Lewmar Claw Anchor

Price:

$$

Customer Rating:

4.7

Weight:

12 pounds

Type:

Claw

View On Amazon

Airhead Complete Grapnel Anchor System

Price:

$

Customer Rating:

4.4

Weight:

3.2 pounds

Type:

Grapnel

View On Amazon

Danielson Galv Anchor Folding

Price:

$

Customer Rating:

4.5

Weight:

8.2 pounds

Type:

Grapnel

View On Amazon
Best Boat Anchor Reviews
1. Crown Sporting Goods Galvanized Folding Grapnel Boat Anchors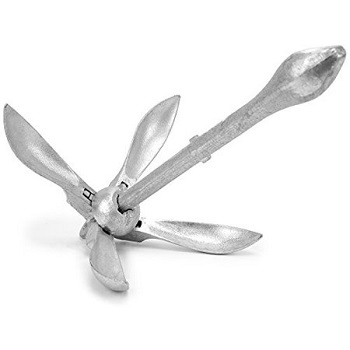 If you own a canoe, pontoon boat, kayak, dinghy, or any other watercraft that reaches 24 feet in length, the 17.5 lbs Crown Sporting Goods boat anchor will knock you off your feet with its performance. This unit boasts an impressive weight that will keep your boat still in all water conditions, whether you like being in the open sea, lake, or pond.
On the other hand, it works amazing with various bottom waters as well, including coral, gravel, stones, and heavy weeds. This grapnel-shaped boat anchor is foldable and won't take much space in your vessel. It is made of galvanized steel, which makes the thing very durable.
Due to its practical weight and compact size, the Crown Sporting Goods boat anchor could be a perfect addition to your arsenal if you are into recreational water sports activities, including fishing.
Pros
Corrosion-resistant,
Convenient lock mechanism,
7 sizes to choose from.
Cons
Not suitable for water beds covered with mud,
D-ring not included,
Made for short-term use only.
2. M1 Mantus Anchor Galvanized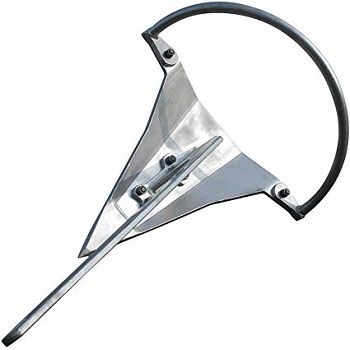 The M1 Mantus boat anchor is one of the impeccable units on the market. Some may find this type of design a bit awkward but believe us when we say the seller had a greater purpose in mind when making this boat anchor.
This steel plate construction is as tough as hell. It features high-quality workmanship and is almost indestructible. Another amazing thing about this anchor is that the shank is welded and well attached to the fluke with steel bolts.
Back to the design, the M1 Mantus comes with a sharp-headed nose. You don't have to be an experienced sailor to understand this shape can be used with muddy, grassy, and sand bottoms. Besides, these are also the most tricky to deal with. Additionally, the head is strengthened for these reasons so you can be carefree about any type of bottom.
However, it would be best to avoid ropes with this unit, as you wouldn't get good leverage. Instead, use at least a 4-feet chain to get the best performance of this boat anchor. When not in use, you can store this unit flat so it doesn't take up much space in your vessel.
Pros
No cast parts,
Oversized ASTM certified steel bolts,
Corrosion-free,
Lifetime warranty.
Cons
A bit heavy so it would be best if you have someone to help you with handling the unit.
3. Lewmar Claw Anchor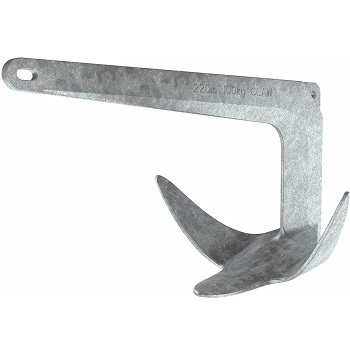 If you are looking for a boat anchor that works well with most of the seabeds, the Lewmar claw anchor will amaze you with its performance. This type of claw design combined with 3 prongs makes it almost effortless to set it and holds onto rock, grass, mud, and coral.
If you travel quite often, you should know the Lewmar anchor can withstand heavy, consistent use and it will be still performing impeccably. You can choose between a wide range of sizes, starting from 4.4 to 44 pounds and find the best anchor size that will hold your vessel still.
The Lewmar claw boat anchor is made of galvanized steel and comes in a single piece, which ensures the device won't break or bend under the pressure. Ideal for fishing and sailing on lakes, rivers, and the sea, this anchor holds a solid holing strength and provides reliability to smaller vessel owners.
Pros
Stows easily,
Stays set even during the toughest currents,
Very useful with smaller vessels.
Cons
A few customers complained about the small size of the front hole.
4. Airhead Complete Grapnel Anchor System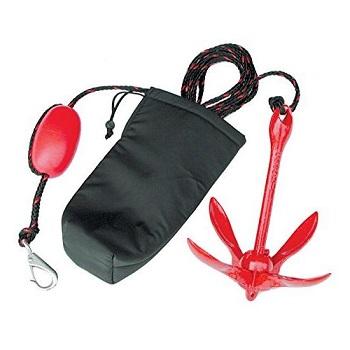 The 3.5lbs anchor system by Airhead makes a great choice for canoe, inflatable boat, sailboat, float tube, and personal watercraft owners. It features great holding capacity and you will find it useful with most seabeds, such as sand, mud, rock, and gravel.
You may be thinking this lightweight boat anchor doesn't boast durable construction, but, on the contrary. It is coated with a protective finish that ensures a long lifespan and uncompromised performance.
It comes with a nylon storage case so you can stow and store it easily within your vessel. This Airhead anchor also has a small footprint so you can fit it under the seat under the next use.
What you may appreciate a lot about this device is that it comes with a 25-foot rope and a heavy-duty hook so you can set your watercraft nicely. There is almost no chance currents and winds will move the Airhead boat anchor, so you can leave the vessel float itself – that's how reliable this device is.
Pros
Complete anchoring solution,
Resistant to corrosion,
Marine-grade rope included.
Cons
Some sailors find this anchor too light.
5. Danielson Galv Anchor Folding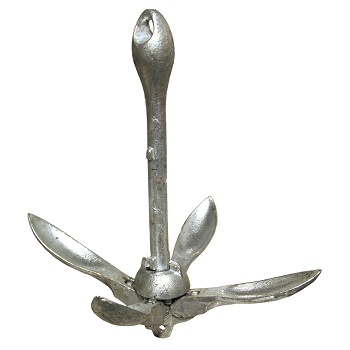 Here comes one of the tiniest anchors available – the Danielson galvanized boat anchor. Yet, although it is tiny and weighs 1.5lbs only, this boy can withstand a lot!
The modest size of this rather classic boat anchor makes it easy to fold and store, but what you might not know is that you can use it even this way. The Danielson boat anchor is suitable for the use of both folded and unfolded, which is something we haven't seen before, and we guess you either.
It comes with 4 prongs and, when open, reaches 7 inches of width. This unit is suitable for use in rocky and sandy bottoms. Made of galvanized steel, it is rustproof and salt water can't damage it.
If you own an inflatable boat or a kayak, the Danielson boat anchor will keep your vessel in place. Although you would maybe want to use a chain to strengthen this boat anchor a bit, it will certainly provide solid security when the current is mild even when used on its own.
Pros
Made for boats up to 9ft,
Lightweight,
Twist lock and unlock.
Cons
Wind can cause displacement,
The locking mechanism requires a gentle operation, otherwise, it will break.
6. Best Marine and Outdoors Kayak Anchor with 40ft Rope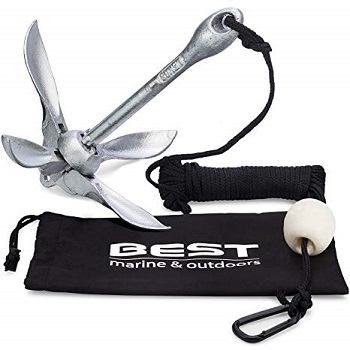 The nomenclature Best Marine and Outdoors already justifies the quality this seller provides, which is the case with their kayak anchor too. This 3.5lbs device stands out from the rest by its functional design and compactness.
If you have an 11ft long boat, you will find this kayak anchor useful as it is easy to fold and weighs 3.5lbs only, so it won't take up space in your watercraft. When not in use, store it in a cute vinyl bag that is included in the package. This will also prevent scratches, although the construction of The Best Marine and Outdoors anchor is pretty durable and resistant to impacts.
It is actually made of galvanized steel, which is well-known as one of the materials that perform great in both fresh and saltwater. This boat anchor holds onto weeds, sand, and rocky bottoms. Use it when the weather is mild and when the currents are mild, as it can't withstand rough weather conditions and wind. Yet, overall, this boat anchor makes a great purchase for those who enjoy still waters and fishing.
Pros
4-fluke grapple design,
40ft rope included,
1-year guarantee.
Cons
It would be better to use a chain instead of a rope if you are into river fishing.
7. Slide Anchor – Box Anchor for Offshore Boat Anchoring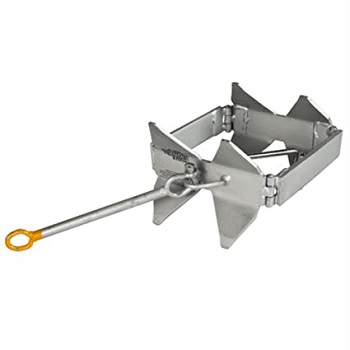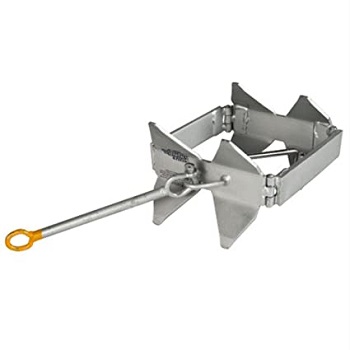 The Slide Anchor has an amazing unit in their store that will make anchor placement easier than ever. This boat anchor holds onto the surface easily at a 45-degree angle and uses no mechanical power of your boat. What is even better, water and weather conditions won't mess up the anchor setting, which adds to the overall value of this unit.
This boat anchor is available in 3 sizes so you can find the one that will hold your boat down still. Yet, it's still slightly more convenient for use with smaller vessels.
When you reach the desired destination, toss this Slide Anchor overboard and let it sit under its own weight. Once you are ready to move on, pull the line to bring it back and it will pop off the bottom in one-two-three.
This small and compatible yet powerful boat anchor is recommended for the use with 24-feet cabin cruisers as well as boats from 18 to 30 feet. When not in use, fold it flat and put away until the next enjoyable sailing.
Pros
Minimum effort required to use it,
The stabilizing arm is made of stainless steel,
It comes with a ventilated storage bag.
Cons
Sometimes, depending on the seabed, the clay gets stuck on the anchor due to its shape, which makes it hard to retrieve it.
8. Shoreline Marine #7 Slip Ring Anchor Kit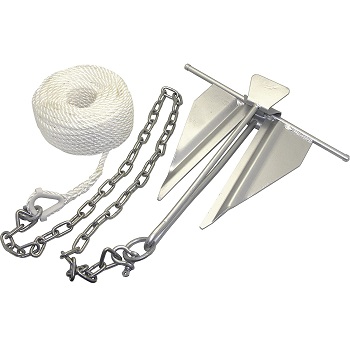 If you don't mind dealing with currents, but still mind your boat moving like it's going to flip each second, the Shoreline Marine #7 boat anchor can help you outperform the challenges. It makes a convenient solution for all types of terrain, elements, and weathers.
A specific design of this boat anchor is what makes it so amazing. The 2 drop-forged shackles get through any seabed easily, including stone, mud, and debris. You may be feeling just a little bit of drag, but once you are all set – this anchor won't get out of its spot.
The Shoreline Marina #7 also features sturdy and durable construction, as it is galvanized and very resistant to impacts. It weighs 9.7lbs, and it's not hard to notice it is a bit heavier than the most anchors from our list, but there is a reason for that, a good one.
This boat anchor works well with a wide range of boats of different sizes, resists tough currents, and it is easy to set, which all makes it
Pros
Nylon rope included,
Rust and corrosion-resistant,
For vessels 15ft and longer.
Cons
The rope is made of low-quality material, so you would have to replace it eventually.
9. SeaSense Anchor #13 Slip Ring Econo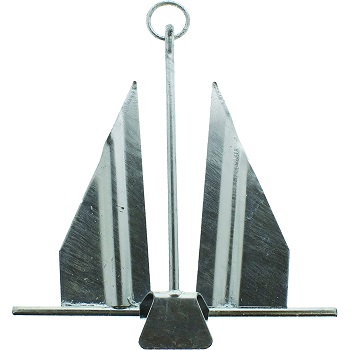 The slip ring is an innovative feature that makes time spent on the water more safe and enjoyable. The SeaSense boat anchor with the integrated slip ring makes it easy-peasy for you to release it if your vessel comes across unexpected obstacles. Besides, this anchor is relatively lightweight (9lbs) considering its performance.
Actually, it boasts a great holding power and you can use it with boats 19 to 21ft. It is made of aluminum but galvanized so you can use it in both fresh and saltwater. This type of construction is durable and rust-proof so you can go fishing anywhere you want.
Also, strong currents won't mess up the performance of the SeaSense anchor, which is the case with seaweeds, mud, and sand. It proved itself as one of the top-performing anchors for river fishing, especially when knowing river currents can get nasty.
Easy to put in use, carry, and store, the SeaSense boat anchor makes a great product in this section that's reliable and well-performing, but you should still be careful about rocky bottoms.
Pros
Catches to the bottom perfectly,
Works great with pontoons,
Small footprint.
Cons
Hard rocks can bend the aluminum construction.
Typical Bottom Conditions To Consider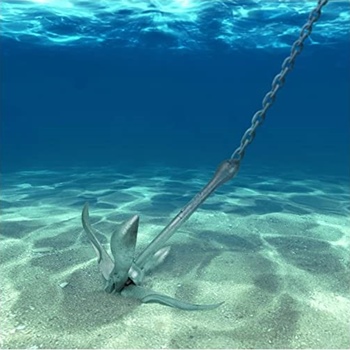 If you are just learning more about anchors, then you should know you should choose one based on the bottom conditions in your sailing area. These are different types of bottoms and recommendations on the anchors that perform great in these conditions.
1. Sand
Sand is a quite convenient bottom type for most types of anchors. You can set the anchor in a sandy bottom easily and, if you have the right type of anchor, it will feature a high holding power.
Fluke, claw, wing, and plow anchors work great with sandy bottoms. If you want to nail it, opt for a pivoting fluke or a non-hinged scoop anchor.
2. Mud
Mud is a little tricky for anchor setting. You would need a wider anchor that has a high hold. The most convenient anchor types that dig deep into the mud and set in well are claw, fluke, plow, and wing types.
3. Rock, coral
Surprisingly, even the most experienced sailors can't guess which anchor would work best with different rock and/or coral bottoms. Why? Because it is more important where are you going to drop it than which type you have. However, we would still recommend claw, plow-shaped, and grapnel anchors for these types of bottoms.
4. Clay, grass, shale
If you are fishing or sailing in the area where the bottom is covered with shale, clay, or grasses, you should look for a heavy-duty anchor. Here, it's not about the design but about the weight of the unit. Any anchor type besides the fluke anchor would be suitable.
Types Of Boat Anchor Materials
Boat anchors are made of different materials. Yet, the most common ones are the best ones at the same time. Let's get familiar with the features each material provides.
1. Grade 316 Stainless Steel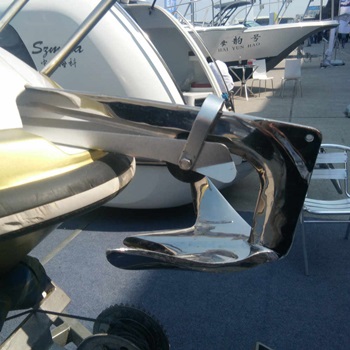 Stainless steel constructions are popular for being durable, attractive, and corrosion-resistant. Yet, note that this type is not resistant to scratches. Boat anchors made of stainless steel are suitable for use with salt and freshwater.
The key to the 316 stainless steel anchor is that it weighs more. If you are going to fish in the areas where the bottoms are covered with grasses, weeds, clay, or shale, this material would suit your boat the best as it would set well and the currents wouldn't be able to flip your boat over.
2. Galvanized Steel
An alternative to the stainless steel anchor is the galvanized anchor. The latter is more budget-friendly and also features higher tensile power. Galvanized steel anchors are more prone to wear and tear than stainless steel anchors but they can be re-galvanized and restored to the original condition.
3. Aluminum
Aluminum boasts a solid holding capacity and great strength. Yet, most people avoid aluminum anchors because of the fact aluminum is extremely lightweight.
If you are fishing around the area with grass and clay bottoms, avoid aluminum anchors as they won't set here. On the other side, this type sets well on bottoms where they can hold onto something – a rock for example.
These penetrate well and you can be confident currents won't move your anchor. Yet, keep in mind tougher currents can still bend your aluminum anchor a bit.
Boat Anchor Buying Guide
1. Boat Type
Boat type is one of the factors that determine the anchor you are going to use. If you have a longer boat, a heavier anchor, possibly made of stainless steel will work best. Shorter and smaller boats, kayaks, and canoes need a medium to small anchors, but you should be careful about the weight of the unit. Find about this more in the following sections.
2. Holding Power
Different anchors boast different holding power. You should take factors such as the size and weight of the unit when determining its holding power. Yet, manufacturers usually have their charts you can check the recommended type and size of a boat to use a specific anchor with.
Low-capacity anchors can't handle rough waters and currents, which is why it is essential to have water conditions in mind as well.
3. Materials
You want a durable anchor for your boat that will justify what you pay for it. You can't go wrong with stainless steel anchors, although you would have to spend some extra on this type. An almost good alternative is a galvanized anchor.
4. Bottom conditions
If you would be using claw anchor in the muddy or clay bottoms, your vessel would be likely to flip over. This type of anchor is recommended for use in specific areas, mostly rocky and coral bottoms. The same applies to other types of anchors. Keep in mind the bottoms in your fishing area when buying a new anchor.
5. Weight
The larger/longer the vessel, the heavier the anchor should be. A lightweight anchor wouldn't be able to hold a large boat. However, this doesn't mean you should go for the heaviest one. Get familiar with your watercraft's weight and choose an anchor accordingly.
6. Retrieval
The best anchor is the one that's easy to retrieve. If you are having a hard time pulling it out of the water, it would spoil your experience on the water. Some anchors are prone to collecting seaweeds and clay, which might make them a lot heavier. Again, that's why it is important to choose the type of anchor that is suitable for the bottoms in your area.
7. Storage
Most anchors are foldable, but not all of them. If you have a small vessel, it would be best to find an anchor that can fold easily and doesn't take space. Store it under the seat until the next use. With larger boats, you can opt for a bulkier anchor, as it won't take up much space either way.
How To Anchor a Boat?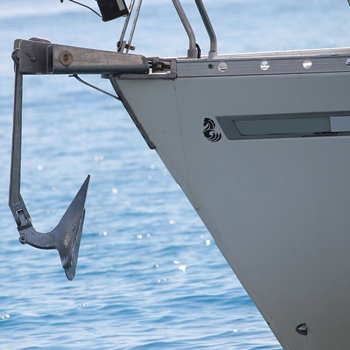 Here is a step-by-step guide on how to anchor your boat.
Take the end of your rope or chain. We recommend having at least 3ft of rope or chain per 1ft of depth. If you opt for a chain, use the one that is 4 to 5ft long. Put the anchor shackle through the rope/chain. Also, you can use top-rated anchor ropes and anchor chains if you are dealing with currents and wind.
Band the anchor and rope/chain together.
Clip the other end of the chain with the rope.
Take the anchor and start lowering it to the bottom while trying to keep things steady.
Safety Tips
We want you to remain safe and sound when using your anchor. Here is how to ensure your personal protection while anchoring your boat.
Choose an anchor that's appropriate for the type and size of your vessel. Also, take into account the type of bottom.
Be careful not to set the anchor in an upright position. Try to make the unit tilt so it can dig into the bottom better. Also, beware of the waves while anchoring your boat, as the waves can move the vessel all along. In this case, there is a chance the anchor would not dig into the bottom and start sliding. The best way to prevent this is to use both a chain and a rope.
If the rope gets stuck around the chain, you would have a hard time retrieving the anchor. Try to lay the anchor, rope, and chain properly. A top-rated underwater boat light would help you detect the bundle and untie it faster.
Double-check whether the boat is dragging the anchor and re-set if needed.
It would be best to have a second anchor in your boat, in case the primary fails you.
FAQ About Boat Anchors
1. How To Maintain a Boat Anchor?
If you are using your anchor in salty water, the unit might wear faster. In this case, opt for a corrosion-resistant unit and clean it regularly after each use. Apply a sealant to ensure a longer lifespan of your anchor.
Clean any particles like lumps of clay and sand off your anchor, as the dirt can make the unit erode faster, which can pose a threat to your security while on the water. It is important to take care of the vessel itself. Use a top-rated boat wax and boat seat cleaner to keep your boat well-maintained and more resistant to corrosion and rust.
If you are not using your anchor during the winter, keep it in the water during this time. Another option is to use a buoy to prevent the riser from sinking.
2. Which Anchor is a Good Choice For Recreational Boats?
The plow-style is always a good choice for recreational boaters as it has great holding power. However, it is a little heavy. If you have a smaller boat, the fluke anchor can be a good alternative as it is lightweight.
3. How Big Of Anchor Do I Need?
If you are not dealing with wind and storms, use medium size of anchor. Yet, if there are hurricanes or rough currents in your area, opt for a bigger anchor. To define the right size, compare the size of your vessel to sizing charts manufacturers provide.
4. How Many Feet Of Chain Do I Need For My Anchor?
The general rule of the thumb is that you need 1 inch of the chain per 1 inch of the boat.
Wrap Up
We hope the useful info we aimed to provide in our boat anchor reviews will help you find the right unit for your vessel. Take into account all of the factors we listed before making the final decision, as every detail counts. With our expert advice, there is no doubt you will nail it!
Finding the best boat anchor means being safe when on the water but also getting the most out of this experience, especially if you are fishing and you need your boat to be still. If you would like to enjoy your water sports activities at the fullest, make sure to check our other guides on marine equipment, audio systems, security gear, and more.