Keeping your boat in tip-top shape is impossible without the best boat seat cleaner.
But what are the exact characteristics of the ideal cleaner for your boat seats? What should it contain? What properties should it have and how can you know you've picked the right one? You'll find the answers to these questions in the second part of our article. For now, here are some boat seat cleaner reviews of the products that we have found to be the most effective.
See The Quick Comparison Chart
Why Should You Use Boat Seat/Vinyl Cleaners?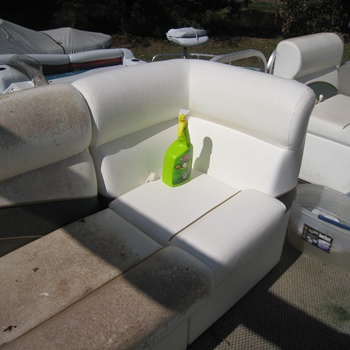 There are several reasons why you should consider opting for special boat seat cleaners instead of using homemade solutions, although there are ways of circumventing this if you really are hell-bent on using only what you have available.
Here are some of the reasons you should always consider using specific products for your boat seats.
1. They Are Safe
Nothing beats a product that was specifically made for the type of material that your boat seats are covered in. If you have real leather seats, you need to invest a lot of time and effort into cleaning and maintaining them, especially if you do not want to use a special cleaner.
With a boat seat cleaner, you can rest assured that your seats are going to continue looking great and that they are not going to be damaged by any toxic ingredient.
2. They Are Easy to Use
From what we have noticed, most of the options in this line come either in 1-gallon bottles or in convenient spray bottles (32-ounce or 16-ounce options). You can use a microfiber cloth to wipe your seats after you have sprayed the solution over their surface.
Some of the units that we have showcased in our selection are so effective that they will allow you to clean a seat in mere seconds. You definitely do not need a PhD in quantum physics to complete the whole process, meaning that even someone who is less skilled or used to tending to such details can do it.
3. They Are Effective
Boat seat cleaners have a lot of properties. Besides removing the dirt that you see with your eyes, some can even disinfect the surface of your seats, allowing you to rest assured that you have eliminated bacteria, mold, and even viruses. They don't even cost that much when you consider that they are also safe and they can keep your seats looking amazing.
4. They Protect Your Seats
This one is a no-brainer. Boat seat cleaners are made to protect your seats against a variety of contaminants, such as the salt from the water you do your boating in, but also other things. Water can have metals, microorganisms, and a lot of other debris, and all of these can inflict damage on your boat seats over time.
Plus, these products protect against UV sun rays, and the latter is known to produce almost irreparable damage on your seats, but even your boat's hull and an array of other types of boat equipment.
5. They Maintain Your Boat's Value
Even though you might think that you are completely satisfied with the way your boat performs and how you can use it, at one point in the future, you might be interested in selling it. If you don't take good care of it, and that includes your boat seats, the resale value is going to decrease over time.
Other maintenance procedures that you need to ensure include, but are not limited to, using top-rated boat polish and best boat wax so as to remove any corrosion traces or marks and give your watercraft a certain shine and protection.
Best Boat Seat Cleaners Comparison Chart
PRODUCT
DETAILS

Star Brite Mold & Mildew Stain Remover + Cleaner

Price:

$

Customer Rating:

4.4

Amount:

22 ounces

Surfaces:

Vinyl & acrylic

View On Amazon

Marine 31 Mildew Remover (20 oz)

Price:

$$

Customer Rating:

4.6

Amount:

20 ounces

Surfaces:

Vinyl, rubber, fiberglass & others

View On Amazon

Spray Nine 26932 Marine Cleaner, 32 oz., Pack of 1

Price:

$$$

Customer Rating:

4.4

Amount:

32 ounces

Surfaces:

Vinyl, carpets & others

View On Amazon

Boat Bling VS-0128 Vinyl Sauce Premium Vinyl & Leather Cleaner

Price:

$$$$

Customer Rating:

4.5

Amount:

128 ounces

Surfaces:

Vinyl, plastic, carpet & others

View On Amazon

Meguiar's M5716SP Marine Vinyl & Rubber Cleaner & Protectant

Price:

$$

Customer Rating:

4.7

Amount:

16 ounces

Surfaces:

Vinyl, rubber & plastic

View On Amazon
Best Boat Seat Cleaners Reviews
1. Star Brite Mold & Mildew Stain Remover + Cleaner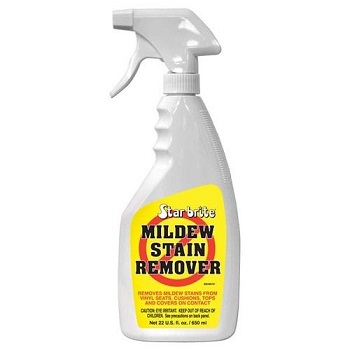 This product is available in three sizes — a 128-ounce gallon bottle, a 22-ounce container, and a 32-ounce container. We recommend trying out the smallest or medium choice before ordering the bigger one so as to see whether you like how it works.
The Star Brite alternative is a stain remover and cleaner, all into one, meaning that it removes all sorts of contaminants from mold and mildew to bacteria and a variety of other pathogens. What we do have to note about this unit is that it contains buffered bleach, so you have to remove it from the seat rather quickly after applying it.
The technology used in the development of this product makes it possible for it to be suitable for cleaning outdoor and marine upholstery or outdoor acrylic fabrics such as those in Sunbrellas. It doesn't have any harmful action on stitching or threads, so that's one less thing to worry about.
Pros
Compatible with a broad range of materials from concrete and wood to vinyl upholstery and fiberglass
Works best for seats on boats, RVs, and those made for commercial use
Highly effective cleaning power
Contains surfactants for cutting grime and grease
Cons
If you have a lot of mold on your seats, you might have to clean them time and again.
2. Marine 31 Mildew Remover (20 oz)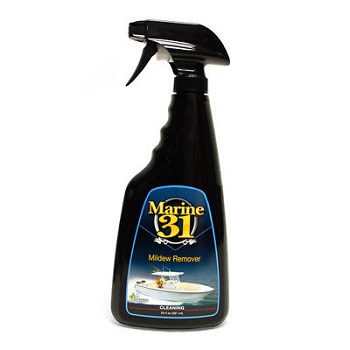 This is another effective cleaning product that you might want to look into, especially if you are looking to test several choices before getting a larger container. Since mold and mildew are two typical problems that boaters have to deal with, this option can be a friend in need.
The Marine 31 cleaner removes mildew stains from a variety of marine surfaces from rubber fenders and gel coat to fiberglass, vinyl seat cushions, as well as canopies. You can also use it in your house on surfaces such as tile, grout, your counters, and even your sink.
If the stains are pretty stubborn, you can spray the solution on the affected surface and rinse with a towel or soft brush. At the end of the process, rinse and dry the surface with a microfiber cloth, for example. You can use the same brand's protector to make sure that your seats aren't affected by other contaminants or UV radiation as easily in the future.
Pros
Effective and fast-acting
Easy to apply by anyone
It comes in a wide variety of sizes
It doesn't dull, discolor, or excessively dry out vinyl surfaces
It can be used to clean mold from your mesh patio furniture, too
Cons
This product doesn't remove the heavy areas that are deep in the seats and that have been contaminated with mildew.
3. Spray Nine 26932 Marine Cleaner, 32 oz., Pack of 1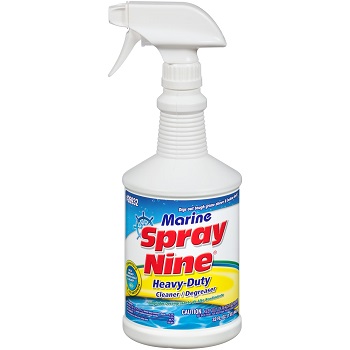 Unlike some of the other units that we have showcased here, this one takes the cake when it comes to versatility. What this means for you is that you can use it on a wide array of surfaces, whether they are indoors or outdoors. The product kills germs and removes stains, as well as yellowing.
Additionally, the Spray Nine 26932 is capable of eliminating bacterial odors with as little effort as possible. You can rely on it to control mold and mildew that might otherwise grow on your hard surfaces, carpets, or vinyl boat seats.
This product is, without a doubt, one of the most critically acclaimed ones in this category. It has received quite a bit of appreciation on the part of fishers and boaters that have given it a shot, but also on the behalf of homeowners.
Some consumers have reported that the regular formula works a little better compared to the marine one, but that depends on the material your seats are covered in.
Pros
Cleans and disinfects a wide range of surfaces
Can get rid of nasty smells, no matter their origin or cause
Is available in a 1-gallon and a 32-ounce container
More affordable than similar formulas
Cons
Some problems with the delivery were reported, in that some bottles had leaked into the box.
4. Boat Bling VS-0128 Vinyl Sauce Premium Vinyl & Leather Cleaner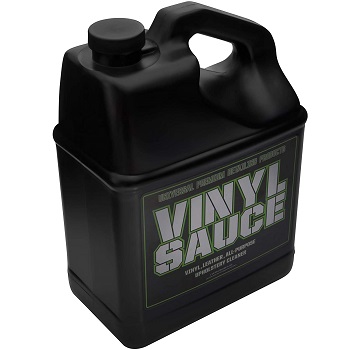 The best thing about the Boat Bling option is that it is specifically made for vinyl surfaces, which means that you don't have to worry about getting your seats damaged. It removes sunblock, oils, dirt, as well as mildew, and a wide variety of other contaminants which could potentially cause harm to your seats.
As for the substance itself, you'll be happy to know that it is non-caustic, safe, and it does not contain any silicone. All you have to do to use this product for cleaning is to spray it on your boat seats and then wipe it off almost immediately.
What's also worth adding with respect to this unit is that its effect isn't just instantaneous. It also protects your boat seats from further mold and mildew development. Plus, you can even use it on your carpets or on plastic surfaces.
Given its effectiveness and versatility, it's truly no wonder that this product has become the favorite of boaters and RVers across the world.
Pros
Can be used to clean a variety of surfaces
Removes many contaminants from dirt and debris to mold and mildew
Specifically made for vinyl, but works on other material, including carpets
Easy to spray on and wipe off
Made in the United States
Cons
It might not work as well if you plan on removing sunscreen marks.
5. Meguiar's M5716SP Marine Vinyl & Rubber Cleaner & Protectant
One of the things that you don't have to worry about if you decide to go for this choice is getting your seats damaged. It is specifically made to clean, but also protect the surfaces it is applied on. Moreover, it is compatible with several types of surfaces from vinyl and rubber to those made of plastic.
The product leaves a certain rich and natural sheen to the vinyl it's sprayed on. It doesn't have an artificial look whatsoever, and the pleasant smell also gives you the feeling that you have properly cleaned the surface.
What truly makes this unit stand out from the crowd is its ability to provide UV protection, not just its cleaning capabilities. The conditioners in the formula prevent fading, drying, and cracking, which are all mishaps that can happen when the seats get exposed to the sun day in and day out.
Last, but not least, this one is very easy to use by absolutely anyone.
Pros
Formula contains super safe ingredients that clean and protect
Can be applied on several types of surfaces
Offers great results in as little time as possible
Reduces damage caused by prolonged sun exposure
Cons
This one can't be used for removing water spots
Calls for some elbow grease
6. Aero Cosmetics Interior Vinyl Cleaner
If you don't have that big a budget, but you're still looking to purchase a more than decent vinyl cleaner, then this one by Aero Cosmetics might just as well be right up your alley. It's effective, easy to use, and it is safe to apply on a variety of surfaces and materials.
There shouldn't be anything stopping you from using it on your vinyl boat seats, but you can also clean your carpets, trim panels, tables, and galleys with the help of this product.
Despite being quite budget-friendly, especially when put side by side with other models out there, this one is aviation-grade. This means that it actually gets the job done precisely how it is supposed to.
As for the application, you don't have to worry about anything in this sense. Just spray the formula onto your boat seat, use a damp towel to rub and gently blot the stained area, and once the towel collects no dirt, just dry towel it.
Pros
Removes makeup, lotions, body oils, and all sorts of stains
Safe to use on most interior surfaces
Cleans both leather and vinyl seats just as well
Doesn't cost a fortune
Cons
It doesn't remove salt and gunk that might have accumulated in-between your seats.
7. 3M Marine Vinyl Cleaner, Conditioner & Protector (09023) For Boats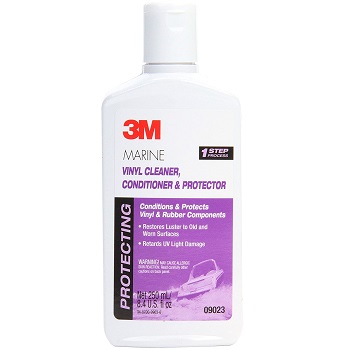 As an all-in-one product, this one by 3M should most definitely make your list. It cleans vinyl, but it also conditions it and protects it against a variety of contaminants and things that might damage it over time, including UV radiation.
What's also worth adding with respect to this product is that it is non-toxic. This means that you can use it on your boat seats even when you are planning a trip out on the water with all of your family, including your kids and pets.
On top of everything, the 3M formula is unique because it comes with a cleaner that acts like a barrier and that blocks future mildew growth. As for versatility, you will be happy to know that you can utilize this product on a variety of surfaces from plastic, grout, and tile, to wood, metal, fiberglass, nylon, and of course, vinyl.
Pros
It's compatible with a variety of materials
Makes vinyl look as if it is brand new
It's specifically formulated for marine conditions
Safe to use and non-toxic
Cons
Doesn't do that great of a job when it comes to cleaning mildew spots on white vinyl
Not a very large bottle for the price
8. 303 30215 Boat Cleaning Spray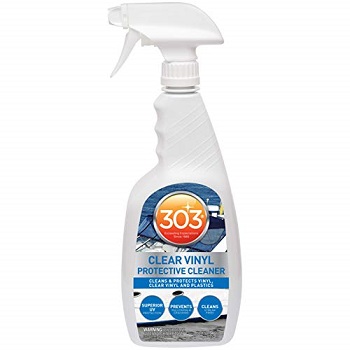 As you might have guessed by now, your boat and your upholstery are vulnerable to a variety of things, whether they deal with the elements and the generally harsh marine weather conditions, or with UV damage. The 303 clear vinyl protective cleaner can allow you to rest assured that your boat seats are going to be clean, but also well protected against any sun rays.
What seems to make the difference between this unit and some of the others is that it is specifically made for marine surfaces. It also helps you get rid of saltwater spots, grease, or dirt, or anything else that might have accumulated on the surface of your seats.
What is interesting about it is that it doesn't call for any additional rinsing following the application. It also doesn't contain any alcohol. However, to make sure that you do not create streaks, you have to wipe the surface clean with a towel or microfiber cloth almost immediately.
Pros
Protects your seats against UV radiation
It leaves a non-streak finish
Doesn't contain any alcohol
Convenient, effective, and safe to use
Cons
It takes a little time to dry on the vinyl seat you've applied it to
It is not as affordable as others
9. Bio-Kleen M00307 Amazing Cleaner – 32 oz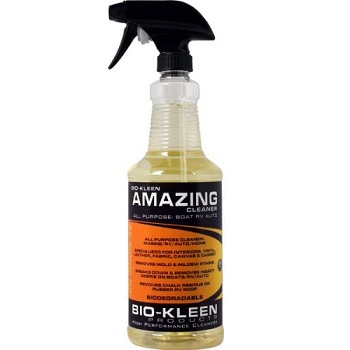 If your budget is a little tight and you aren't feeling prepared to invest in a higher end cleaner for your vinyl seats, this one by Bio-Kleen might be a good choice. It is specifically developed for materials such as fabric, canvas, leather, carpets, and, needless to say, vinyl.
The neat thing about this option is that it is capable of removing both mold and mildew stains and it also breaks down and gets rid of insect debris. On top of all that, it removes chalk residue that might have accumulated in some places, including your RV roof, if you have a motorhome.
Last, but not least, it's worth noting that it is safe, biodegradable, and you can even use it in the presence of children or pets. Plus, most of those that have invested in it seem to have nothing but good things to say about its performance.
Pros
Works well on smooth surfaces
Cleans very fast
Effective, easy to use, convenient, and biodegradable
Takes about a half of a minute to do its job
Calls for minimal scrubbing only when the material is heavily stained
Cons
It doesn't remove oxidation or corrosion traces on vinyl that has come in contact with rusty metal.
What are Boat Seat/Vinyl Cleaners?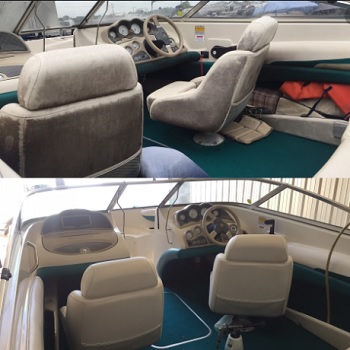 As you might have guessed already, boat seat cleaners are special products that are uniquely made to clean your boat seats. Yes, that's true and that doesn't come as a surprise. But the truth is that they are completely different compared to, say, the cleaning products that you use in your home.
Boat seat or vinyl cleaners are specifically manufactured so as to extend the life of your seats. Whether they're covered in leather, be it real or faux, plastic, or any other kind of upholstery, your boat seats have a higher chance of getting damaged due to prolonged sun exposure.
Your car seats don't have the same risks, by comparison. If you keep your car in the garage, the seats are pretty much never going to be exposed to UV radiation. That means that their surface is going to look as if it were brand new for a longer amount of time. That doesn't happen with boat seats. When the season comes, they are in the sun every day.
Some of them are even stored on the water. That is why the cleaner, in this situation, must have two purposes — clean the surface, but also protect it from the elements, the sun, and a variety of contaminants and things that could damage it over time.
How Do They Work?
The answer to this question is that it depends on the product. Some have a cleaning component that is more powerful, meaning that they remove debris, dirt, dust, and anything else that might be on the surface of your boat seats. Usually, you just apply the product using a spray bottle or a wipe and it is going to do its cleaning job quite easily and effectively.
Others come with a degreasing component added to their cleaning ingredients, meaning that they also remove some of the grease and gunk that might have accumulated on your seats and in-between those apparently unreachable areas.
Another ingredient boasted by the majority of boat seat cleaners that we have come across is a protectant.
Whether that is a leather protectant, one against UV radiation, or just one that provides a protective layer against the weather and other contaminants over time, it is going to be in the formula that you will opt for.
Boat Seat Cleaner Buying Guide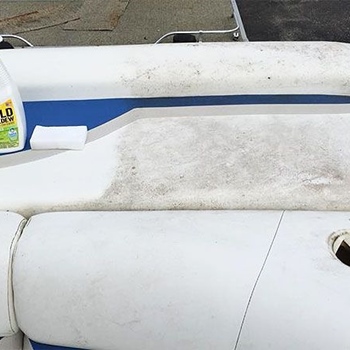 If you are having a little trouble picking the perfect boat seat cleaner, you have definitely come to the right place. We have created a straightforward guide packed with all the info that you ought to give some thought to before deciding on a particular product.
Just remember, correlating your needs and preferences with the features of the unit you will choose is the right way of going about things, no matter what product you are shopping for.
1. Ease of Application
We have already noted that the easiest to apply boat seat cleaners are those that come in spray bottles. All you need for the entire process is a microfiber cloth and you'll get the job done in no time.
If your covers are removable, there is also the option of you taking them off the seats and cleaning them separately, especially if you are looking to perform a more in-depth saniziting routine. In any case, the cleaner should be as easy to apply as possible, by anyone, regardless of their expertise in the matter.
2. Fast-Acting Ingredients
If you come across a product that tells you that you should spray it on your seats and then wait for an hour for it to do its job, perhaps it is not the perfect choice for you. Unless you set an alarm, you might forget about the time and leave the solution on your seats and even damage them by accident.
The ideal boat seat cleaner should act fast and should clean well. You shouldn't wait for more than 5 to 10 minutes for it to do its job. After that, wipe it with a cloth or remove it as per the instructions provided by the manufacturing brand.
3. A Little Should Go a Long Way
Needless to say, you shouldn't have to buy a product and find that you finish it right after one cleaning process. If that is the case, you definitely need to buy it in bulk or get a more concentrated solution. Ideally, a spray bottle should last you for at least 7 to 10 cleaning routines.
4. Versatility
If you get a product that is specifically made for one type of surface and that is the only way you will use it, you have to be aware of this.
There are some universal options out there, but you should bear in mind that, since they aren't especially made for vinyl or any other materials that cover boat seats, they might not be as safe or effective as a fabric-specific choice.
5. Size
In most cases, boat seat cleaners come in 16 ounces, 32 ounces, or 1-gallon containers. The first two are typically spray bottles, and the latter is a container that you can use to refill the smaller ones. We wouldn't advise ordering a gallon right off the bat.
You never know just how the product, if you have never tried it before, will meet your expectations. That is why it is better to try out several brands of spray bottles and once you find your favorite one, you can order it in bulk.
6. Stay Away From Bleach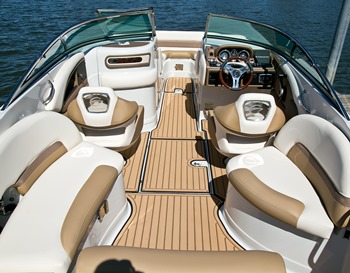 Even though bleach is still one of the best disinfectants ever to have been invented by humankind, especially since it kills anything from bacteria to the nastiest viruses out there, it is also corrosive and it damages textiles, leather, or any type of material. This is especially true when it is not diluted properly.
Bleaching ingredients can dull the color of your boat seat material and that is likely to be the last thing that you might ever want to do.
7. Smell
Some might argue that the scent of the product doesn't really matter that much, and we might agree to some extent that it is not the most important factor to consider. However, a fresh smell can give you the feeling that you have actually cleaned your seats.
A pleasant smell can make your boat feel nicer on the whole. Fortunately, the majority of the boat seat cleaners that we have stumbled upon have a pleasant or fresh scent.
8. Concentration
We have already discussed how the product should go a long way, but the concentration also refers to the formula used in its development. Make sure to always read the label or the instructions provided by the manufacturing company.
Who knows? Maybe you should agitate the bottle before using it so as not to end up applying an unmixed solution on your seats and causing some sort of damage or another.
9. UV protection
For boat seats that have a real leather upholstery, it would be ideal for the formula to come with a moisturizer, too, so that the material doesn't dry while being kept in the sun. UV radiation can cause a lot of damage over time, and if you don't want to apply seat protectants or actual sunscreen on your seats once in a while, get an all-in-one product.
10. Compatibility
Do you have vinyl seats? Do you have leather ones? Do you have PU leather boat seats? You should get a little acquainted with your watercraft before deciding to buy a cleaner so that you don't risk purchasing the incorrect one.
As we might have mentioned, the universal ones rarely do the trick, especially when it comes to also protecting the material.
11. Safety
Having a look over the ingredients in the formula is a great idea, especially if you want them to be non-toxic. If you go out boating with your family once in a while, you want to make sure that the products that you will use for cleaning are kid-safe.
If you can't find any in this category, look for one that's pet-safe, since they are also likely to suffer from the toxicity of some types of substances.
How To Clean Boat Seats With a Boat Seat Cleaner?
As tempted as you might feel to utilize harsh chemicals or bleach on your boat's seats, this will do more harm than good, especially in the long run. Use the right boat seat cleaner and keep the steps showcased below in mind.
1. Removing Any Dirt and Contaminants
Clean one seat at a time so that the substance you are using for the purpose doesn't end up drying on the surface of your seat. Spray the cleaner on the vinyl surface or seat and let it rest for a couple of minutes or the amount of time recommended on the label.
Use a soft brush or cloth to rub in the cleaner using a circular motion. If the cleaner is highly efficient, you will be able to skip this step. Wipe the grime away with a clean and damp cloth and then use another clean cloth to wipe the surface and as such, remove any cleaner traces.
2. Cleaning Mildew Stains or Grime
Spray the stain remover on the area that you have dirtied and let it sit for a while. Following several minutes, brush the cleaner using a soft bristle brush and a circular motion. Wipe the surface clean with a damp cloth. Once you have removed every bit of the cleaning solution, make sure you use another clean cloth to pat the surface dry.
3. Cleaning Your Boat's Vinyl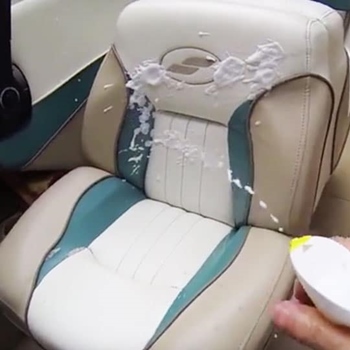 First of all, you need to find out the exact type of vinyl that has been used to cover your seats. Cleaning your vinyl seats on a regular basis can keep them looking great even as time goes by.
Vinyl works best when it's cleaned with a simple solution of water and mild soap. Dip a sponge into the mixture and wipe the vinyl using a circular motion. If the vinyl surface has to be rinsed, you can use clean water and a cloth. Deep cleaning might be required if the boat has been stored for the winter.
Following the cleaning procedure, let your seats dry and then apply a marine vinyl cleaner and then a protector.
4. Practice Makes Perfect
No one was born an expert when it comes to cleaning their boat seats, and that is an important note that we have to add. You might think that professional help is required, but if you are cautious and pay attention so as not to damage your seats, you will find that cleaning them can be learned easily.
The key here is to do it regularly. You wouldn't believe just how quickly grime, dirt, and debris can get hard and tacky and affect the surface of your boat seats in the long run. Create a schedule where you clean your seats every week or every ten days or so.
5. Don't Wait For Too Long
The cleaner that you will invest in shouldn't come with any bleach, but neither should it come with any harsh ingredients such as citric acid, acetic acid, or sodium hypochlorite. If you want it to have disinfecting properties, you can opt for a choice that contains alcohol.
The more you leave the cleaning solution on the surface of the seats, the higher the likelihood of them becoming stained for this reason. Always stick to the instructions on the label, especially when it comes to exposure times.
By the same token, don't wait too long after staining one of your seats with a drink or anything else. Get your cleaner and get rid of the stain right away, if you can.
FAQs About Boat Seat Cleaners
1. Are Boat Seat Cleaners Toxic?
There is no clear answer to this question, unfortunately. The majority of boat seat cleaners available out there aren't toxic to people or even kids, but they can be to pets, for example, if they contain harsh active ingredients. Try to stay away from cleaners who haven't been approved by any official organization in your country.
2. How Long Should a Boat Seat Cleaner Take To Remove The Stains?
It depends on the particular product that you have opted for. Some need around two to three minutes, so they are quite effective, and others might need around ten minutes. What you should consider, though, is that you should never forget to wipe your seats and remove the cleaning solution, so avoid cleaning a too large surface at the same time.
Otherwise, you risk getting your seats stained or damaged, especially if the cleaner has harsher ingredients.
3. How Much Seat Cleaner Should You Use To Clean Boat Seats?
Not too much. Usually, if you get one of those options that come in spray bottles, you just have to spray the surface so as to cover it superficially, and if you want to save some of the cleaning solution, you can use a cloth to get it to spread evenly on the seat.
The lower the amount of cleaner you have to use for the purpose, the more effective it is.
Wrap Up
As you might have noticed, getting the best boat seat cleaner nowadays can be quite an adventure. There are many options that you should consider and you should always look at the ingredients in the formula so as to ensure that you don't risk damaging your seats.
To make sure that you pick the right product for your specific type of seats and for your cleaning preferences, always take some time to read as many boat seat cleaner reviews as possible. Doing some research will always lead to you making the best decision.
See also: best boat buffer