There are few things as pleasant as a spotless boat, and you need the best boat buffer to achieve that effect!
In case you are new to boating, you should know that a buffer is a device used to eliminate the blemishes on a boat. We will tell you all you need to know about these products. Also, check out our boat buffer reviews to see which products in this line are popular with boat owners.
See The Quick Comparison Chart
What Are Boat Buffers and Should You Have One?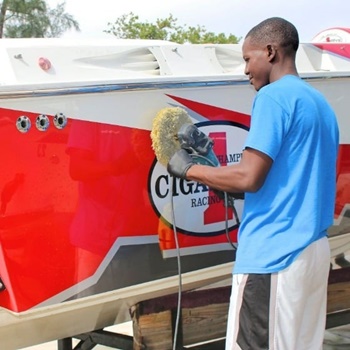 If you want to enjoy your boat for a long time, one of your most important responsibilities is polishing. The way to perform this task is to use a boat buffer. It is a device that you should be using when you wax and polish your boat.
It often takes a waxing compound to use a buffer in order to smooth the surface in question. Also, to wax or polish your boat, you need to put in a lot of effort to rub in whatever solution. Doing this by hand, especially on a larger vessel can be a difficult and time-consuming task.
However, if you perform this activity with a boat buffer, the hard part will be eliminated. This device allows you to buffer your boat expediently. It also imitates the motion of your hand, while the various heads provide a remarkable finish.
Best Boat Buffers Comparison Chart
PRODUCT
DETAILS

BLACK+DECKER 6-inch Random Orbit Waxer/Polisher (WP900)

Price:

$

Customer Rating:

4.3

Weight:

2.05 pounds

Size:

13.8 x 6.2 x 8.6 inches

Style:

Waxer / Polisher

View On Amazon

PORTER-CABLE Variable Speed Polisher, 6-Inch (7424XP)

Price:

$$$

Customer Rating:

4.6

Weight:

5.75 pounds

Size:

14 x 6.5 x 6 inches

Style:

Polisher

View On Amazon

DEWALT Buffer/Polisher, Variable Speed, Soft Start, 7-Inch/9-Inch

Price:

$$$$

Customer Rating:

4.8

Weight:

3.52 pounds

Size:

4.5 x 9 x 21.7 inches

Style:

Waxer / Polisher

View On Amazon

Avid Power Polisher Dual Action Random Orbital Buffer Polisher

Price:

$$$$

Customer Rating:

4.5

Weight:

5.69 pounds

Size:

15 x 7.5 x 6 inches

Style:

Waxer / Polisher

View On Amazon

Chemical Guys BUF_503X TORQX Random Polisher Kit

Price:

$$$

Customer Rating:

4.5

Weight:

8.6 pounds

Size:

8.5 x 8.5 x 20.5 inches

Style:

Polisher

View On Amazon
Best Boat Buffers Reviews
1. BLACK+DECKER 6-inch Random Orbit Waxer/Polisher (WP900)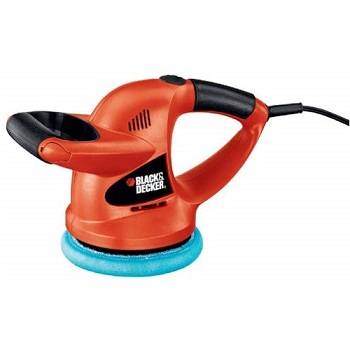 In case you need a tool that can help you wax and polish, you do not need to get two separate devices, as this one can help you with both. The unit comes with a foam applicator bonnet for waxing as well as a polishing bonnet.
That way, you will be able to make your boat all shinny and glossy once again. The BLACK+DECKER 6-inch Random Orbit Waxer/Polisher (WP900) features the random orbit action that is able to polish any type of surface. This is possible because the head can change the angle while in use providing a swirl-free finish.
This tool is also useful for polishing around the edges with little to no effort. The design of the handle is well-thought as you can use it with both hands which will cause you less strain. Thanks to the 10-foot-long cord, you do not have to stick close to a power source.
Pros
The unit runs at 4400 orbits per minute significantly reducing the buffing time
If you get this product, you are covered by a two-year warranty
The buffer only weighs 2.05 pounds
Cons
The fact that the speed is not adjustable is a major downside
This model does not include a backing plate
2. PORTER-CABLE Variable Speed Polisher, 6-Inch (7424XP)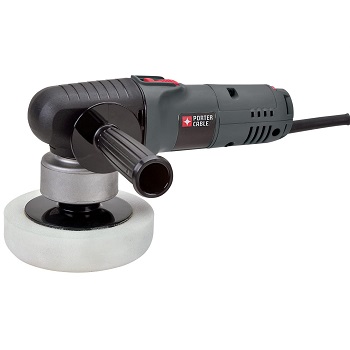 This model is something entirely different from what you will usually find on the market when it comes to comfort. The PORTER-CABLE Variable Speed Polisher, 6-Inch (7424XP) is compact, lightweight, as well as powerful. It features an ergonomic design that enables the user to hold the unit by its tail.
What is more, it has a removable two-position handle that allows you to hold the device conveniently which will generate less strain for your arms. This buffer has a 4.5-amp motor that applies a random orbit action. This means that the rotation angle of the head varies according to the type of surface.
Having the ability to use it on both even and uneven surfaces, edges, and corners is a great advantage. In terms of marine use, this tool is perfect for polishing and sanding. This model also features a variable-speed dial that ranges from 2,500 to 6,800 orbits per minute.
Pros
This unit also comes with a six-inch polishing pad
The device accepts 5/16 to 24 spindle thread accessories
It also features a proprietary counterbalance for bigger pads
Cons
The vibrations generated by this tool are quite strong making it a bit difficult to control
There is not backing plate included
3. DEWALT Buffer/Polisher, Variable Speed, Soft Start, 7-Inch/9-Inch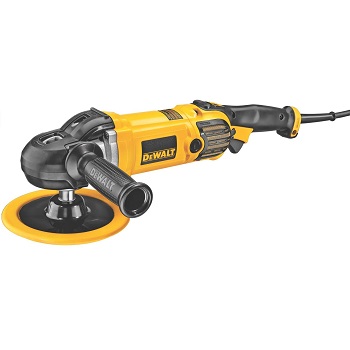 Regardless if you want to polish your boat or your car, you will be able to do both with the DEWALT Buffer/Polisher, Variable Speed, Soft Start, 7-Inch/9-Inch. The unit is equipped with a 12-amp motor that provides a significant amount of power but also superior performance. Since it has variable speed settings it is even easier to use.
The construction of this tool includes precision-cut heat-treated steel gears that ensure reliability and durability. This buffer is built using ingestion shields that are meant to protect the internal parts from small particles of dust that could fly in there, especially during the polishing process.
This feature prolongs the unit's lifespan and reduces the need for servicing. When it comes to the level of comfort this unit offers during use, we can tell you that it is quite lightweight and that it has two handles for a firm grip and to maintain good balance.
Pros
The gear case that comes with this unit is made of non-marring rubber, in order to reduce imperfections
The speed can be set from 0 to 600/3,500 RPM depending on the materials and applications
It has quite a robust construction
Cons
Be careful with the plastic components as it may burn them
4. Avid Power Polisher Dual Action Random Orbital Buffer Polisher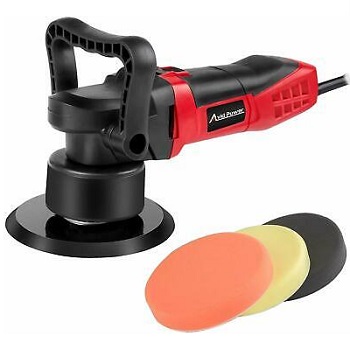 We have another recommendation in case you are looking for great performance, as well as an easy-to-use polishing tool. The Avid Power Polisher Dual Action Random Orbital Buffer Polisher is often the choice of professional detailers, so that says a lot about the product's reliability and functionality.
The unit is designed with a six-speed dial control that allows you to adjust the speed of the machine according to the application you need it for. This tool does a great job of removing swirls, as well as defects, and polishing. It can be used on metal and sand wood as well.
Moreover, the body of the unit is rubberized and it has an ergonomic design. Thanks to its adjustable handle, you will enjoy a comfortable and non-slip grip. This unit comes with a foam disc, three foam pads, two carbon brushes, a hex wrench, and a spanner.
Pros
You can use this unit for your boat as well as your car
The device's configuration and internal components are well-balanced for excellent ease of use
This unit comes with a 9.8-foot cord that is long enough to offer mobility
Cons
The paint on the boat may infiltrate into the machine's head
5. Chemical Guys BUF_503X TORQX Random Polisher Kit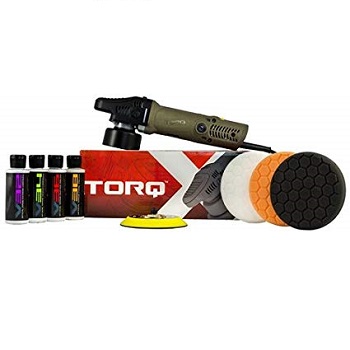 The Chemical Guys BUF_503X TORQX Random Polisher Kit comes with pretty much everything you need for a great polish job on your boat. The buffer can remove scratches, swirls, as well as defects, and polishes all types of painted vehicles. This means you can use it on your boat, car, and even motorcycle if you own one.
The kit was specifically developed for professionals as well as enthusiasts using heavy-duty construction. With this buffer, you can apply wax, glaze, and sealant in a matter of minutes. The unit is equipped with a powerful motor of 700W.
You will probably also appreciate the easy-to-use features designed for detailing. What is more, the large 2,800 – 7,800 RPM band is perfect for cleaning, scrubbing, waxing, and polishing. Compared to many other products in this line, this one allows you to perform several jobs using just one unit.
Pros
Thanks to the gentle dual action motion, the machine can be used even on sensitive finishes
The ergonomic handle makes the unit comfortable to hold, even for longer periods
This kit is suitable for beginners, enthusiasts, and professional detailers
Cons
The buffer is quite noisy compared to other products in this line
6. WEN 948 10 Amp Variable Speed Polisher with Digital Readout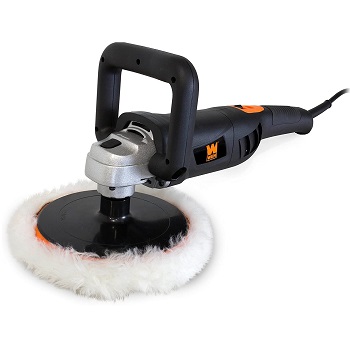 This device is an all-in-one deoxidizer, waxer, mixer, polisher, and a buffer that can offer heavy correction work and excellent finishes for your boat. Thanks to the 10-amp motor you can enjoy power and reliability.
The WEN 948 10 Amp Variable Speed Polisher with Digital Readout features adjustable speed that works from 1,500 to 3,500 rotations per minute, and it can be increased by 500 RPM. There is an onboard screen included in the design of this unit that shows you what RPM you are in. Due to this feature, you can work with incredible precision.
What is more, the machine has a D-handle that can be operated by both right and left-handed users. Another thing you might like is the woolen fleece polishing bonnet that is included in the pack. In other words, this model is an effective device that meets all the beautification and pampering needs of your boat.
Pros
This unit comes with a seven-inch backing pad
For your peace of mind, the manufacturer includes a two-year warranty
Given all its high-quality and all offered features, the price of this unit is quite affordable
Cons
When above 1,000 rotations per minute, the unit generates a loud grinding noise
7. Makita 9237CX3 Makita 7″ Polisher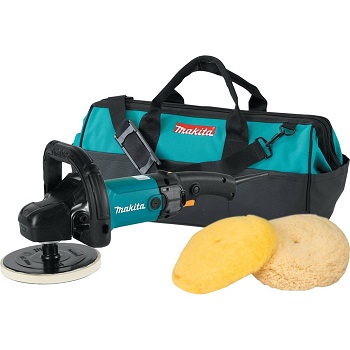 This machine is an excellent choice for delicate work surfaces. It has a rubberized gear housing as well as a loop handle for comfortable use. The buffer comes with a wire mesh intake that does not allow any wool fibers nor other debris to enter the motor of the unit.
Something quite different from other similar products is the cord guard that is included in the construction of the machine. This ensures a long lifespan for the cord, as well as flexibility for the user. The Makita 9237CX3 Makita 7″ Polisher is a great combination of constant power and control for superior polishing results.
What is more, the three-prong plug that is included in the unit does not allow any static electricity to accumulate. This machine comes with a variable speed dial and trigger that allows you to match the speed according to your needs. This model has many extra features that many of its competitors lack.
Pros
For easy serviceability, the unit allows externally accessible brushes
The unit also includes a lock-on button for constant use operation
It also has a pad alignment and centering sleeve
Cons
The motor has a tendency to abruptly turn off in the middle of the job
8. Griot's Garage Dual Action Random Orbital Polisher with 25′ Cord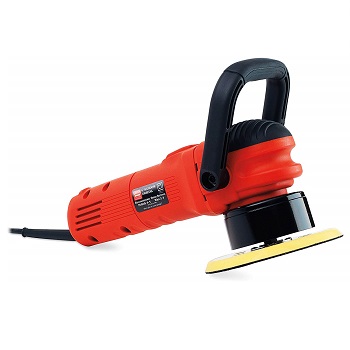 If you are a beginner, the Griot's Garage Dual Action Random Orbital Polisher with 25′ Cord is a great option for you. It is one of the most user-friendly buffers on our list. Since it stars a third-generation dual-action random orbital feature, this unit can offer the same power as many of its competitors but in an improved way to provide a high level of comfort and ease of use.
Another positive thing about this unit is the six-inch hook and loop backing plate that allows a more convenient mounting and removal of the pads. Moreover, the machine is equipped with an adjustable loop handle that has a rubberized grip which makes it non-slip as well as super-comfortable to hold.
The speed control and power switch are placed in very convenient positions allowing you to quickly and easily access them. With this unit, you will be able to achieve great results with not too much effort.
Pros
Even though it is a good choice for beginners, this unit is powerful enough for professional use
This tool allows you to easily and safely remove swirl marks
It will help you remove swirl marks safely
Cons
This model is not as durable as many of its competitors
9. TACKLIFE Buffer Polisher 7-Inch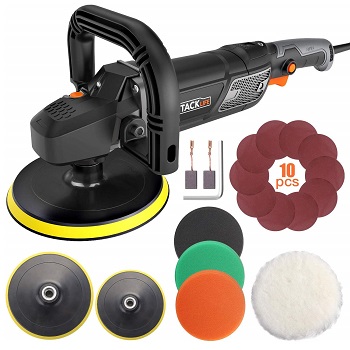 In case you are looking for a product that allows you to work on large applications, you should take a look at the TACKLIFE Buffer Polisher 7-Inch unit. It comes with six variable speeds you can select from, it can also tackle various tasks, and it is especially great for buffing your beloved boat.
Alongside a polishing pad and a backing pad, the unit also includes a 120 grit sanding disc that is great for removing paint and rust. Unlike many other types of buffers, with this one, you do not have to keep switching the control settings to maintain the desired speed. Due to the switch lock design, the speed will be maintained as you set it.
The pure copper motor that is 12.5 amps offers effective and reliable performance. What is more, the speed can be adjusted between 600 and 3,500 rotations per minute according to the surface you are using it on.
Pros
The unit is equipped with an onboard digital screen with a LED indicator
For more convenient use, the handles are detachable
The D-type handle offers various gripping options
Cons
This model is heavier than most competitors on our list
It makes a loud noise when in use
Types Of Boat Buffers
When looking for a product that you need to use for the maintenance of your boat, you should also check what types are there available. In the case of boat buffers, the most common types are orbital and rotary buffers.
1. Orbital Buffers
This type is suitable for removing small and mild scratches. These devices usually include a shaft that spins very fast. The buffer is placed on the top of it. This is also known as floating. What this means is that the device does not generate a circular motion, but it simply vibrates.
You should also know that if you apply too much pressure on the unit, the head will stop spinning. This is actually a good thing as it means that the paint job on your boat will not get damaged. Still, you should also keep in mind that you cannot fix deep cuts with an orbital buffer.
2. Rotary Buffers
Rotary buffers rotate very fast. They should only be used by professionals because they can cause paint burning if not handled correctly. Due to its powerful and fast motion, the entire unit becomes a bit unstable.
Someone with the necessary experience will be able to control it. However, if you are a newbie, you should go with dual-action polishers.
Boat Buffer Buying Guide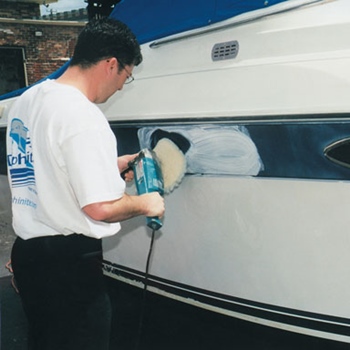 When it comes to your boating gear, there are some things you can do without, such as the marine stereos or top-rated marine subwoofers, but there are also important items you should have. If you care for your boat and want to extend its life for as much as possible, you should definitely get a good buffer. But what does a "good boat buffer" mean? Let us see!
1. Type of Orbit
Although it might not be the first thing you would look at, the type of orbit is quite important. We recommend looking at the random orbit action because it is very effective and much easier to use that the rotation action buffer.
The reason for this is the angle of rotation of the head which varies with the surface that is being polished. This means that buffing is done efficiently even on uneven surfaces. What is more, the random orbit action does an excellent job of buffing tight spaces, edges, as well as corners.
2. Weight
Given the fact that you will be lifting the unit all the time you are working on your boat, it is extremely important to select a lightweight boat buffer. If you go with a heavy model, your hands will become fatigued fast and you will not be able to work on your boat for too long.
And if we are talking about a large vessel, there is no way you will be able to finish your project in a timely manner. Therefore, regardless if you are working on a tiny boat or on a bigger one, choosing a lightweight buffer will allow you to do a great job fast without putting a lot of effort into it. Moreover, such a device is easier to maneuver.
3. Ease of Use
This aspect goes hand in hand with the weight of the device. The lighter it is, the easier to maneuver. However, since it will be moving at a very fast rate, you need a good level of control. And here we are talking about the switches and the dials that are on the unit as well.
The handle placement is extremely important too because if your hands are in the correct position you will be able to handle the device with ease. Therefore, the switches and the dials should be close to the hands so you can easily turn the unit on or off and be able to change the speed settings quickly.
This does not only permit you to carry on with the buffing fast and easily but the entire process becomes much safer.
4. Speed Settings
The buffing process sometimes requires a slow pace, while other times it needs to move swiftly for a quick finish of the task. The speed you require to buff your boat depends on the part of the section of the vessel you are working on.
For example, when you are polishing the walls, you can work at a higher speed. However, when it comes to the edges and attachment section, you should move more cautiously, at a slower speed. In other words, you should always go for a buffer that comes with a variable speed setting.
5. Comfort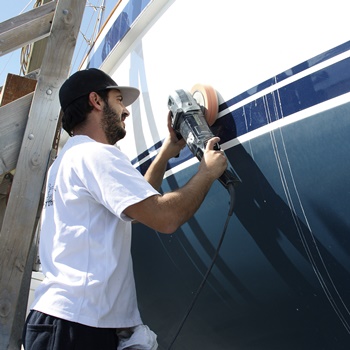 Buffing a boat is a process that cannot be done in a few minutes. And if the vessel is larger, the necessary time required for this process is increased. Therefore, you need to be able to feel comfortable while working with the buffer. The comfort of such a device is determined by its weight, size, as well as its grip handles.
We have already mentioned that a lightweight model is also much easier to use and your hands will not become fatigued fast. The hand controls are extremely important when it comes to the level of comfort offered by a boat buffer. Therefore, you should look for ergonomically-designed dual handles that permit you to hold the unit with both hands.
Moreover, the handles should be well-cushioned for a better grip. To make the entire comfort list complete, the placement of the speed dials as well as the power button is also important in order to comfortably handle the device. A good and truly comfortable model comes with dials that are easy to operate and reach.
6. Durability
This type of device moves at a very fast rate. Therefore, the built quality and the materials used in the construction of the buffer is extremely important. A cheaply-made unit will not last very long and you risk remaining in mid-task with a buffer that has failed you.
One of the best ways to check a product's quality, functionality, as well as durability is to read customer reviews. You will find real opinions from people who have already been using the device you are interested in.
Also, we recommend looking for models that come with a manufacturer's warranty. That way, you will feel more confident by knowing that if anything fails, your purchase will be covered.
7. Vibrations
A device such as a boat buffer is powered by a motor that vibrates the entire unit when in use. As you might imagine, the more vibrations, the more uncomfortable it is to use it. Moreover, it can lead to inaccurate results. Therefore, for detailed buffing, we recommend selecting a model with minimal vibrations.
How To Use a Buffer on a Boat?
In order to buff your boat the right way, there are a few important steps you need to keep in mind each time you are performing this task. If you do things right, you will be able to achieve the best finish possible. Before you begin the buffing process, you need to make sure that there is no debris on the surface (even it is a boat or even a car) by cleaning it really well.
Then, you need to add a small amount of solution to the pad and slowly work it into the boat. As you gradually get used to the process and get more comfortable with the buffer, you can increase the speed in order to achieve a nice finish. It is very important to find a good boat polish that will improve your results.
As already mentioned, the cleaning process is extremely important. If you apply polish or wax on a dirt boat, it will not shine too well, and you will not get the expected finish. Also, you should consider that if you catch small particles of dirt, they will be driven in the hull's surface. As a result, a large amount of scratching will ruin the appearance of that surface.
Safety Tips For Using Boat Buffers
Whenever you decide to buff your boat, it is also important to keep safety in mind. In case you are using a buffer for the first time, you should pay attention to the instructions the manufacturer provided. However, there are a few other safety tips you should also consider.
For example, you should not start or stop the buffer if the pad does not push firmly against the surface. Otherwise, you risk shooting the product all over the place. Also, you should put less pressure on decals and letters like god leaves. You should workaround these spots so that you do not tear the stickers.
Furthermore, since most buffers have a soft start, it is recommended to set yours to low operating speeds, especially if you are a beginner. Once you learn your way, you can move forward and set other speeds as well.
You should also know that setting a lower speed offers you better control over the device. An orbital buffer will decrease the chances of forming swirl streaks.
Another thing you should consider is to buff your vessel from the transom to the bow. You may feel that it is necessary to tilt the buffer and polish it with the edges of the pad. Actually, this causes more friction and heat, and make it more aggressive for your unit and compound.
You should finish polishing with the buffer as flat as you can in order to remove any trails or swirl marks.
This is not so much a safety tip, as a recommendation that will also allow you to save some money. You should not throw the pads out. Most types can be run through the washing machine and reused when needed.
Maintenance Tips For Buffers
Some things allow you to take care of your boat. For example, a top-rated boat cover protects your vessel from the elements, and a buffer allows you to provide it an excellent finish. However, not only your boat needs to take care of, but the buffer as well.
You can start by reading the manufacturer's instructions which will offer you all the information you need regarding the functionality and maintenance of the unit. Another thing you should be careful with is the cables which should be kept away from the water. Always check for them to be dry, especially before you start the machine.
Also, make sure you properly clean the buffer from dust. If you think the buffer got damaged, you should replace it or call specialized technicians for help. In case you hear unusual sounds coming from the buffer, you should stop using it immediately.
FAQ About Boat Buffers
1. Can You Use a Boat Buffer On Your Car?
Even if they are meant for boats, boat buffers can also be used on cars. However, it is extremely important to know the needs of your car so that you can get a boat buffer you can also use on your vehicle. When you get the device, check out the indications to make sure you can also use it on cars. Otherwise, you might not get the results you are expecting.
2. Do You Need To Clean Your Boat Before Using a Boat Buffer?
This is actually the first step in the buffing process. You need to clean the surface extremely well so that no debris is left behind. If small particles of dust or other debris get into the hull's surface, you might end up scratching the area you meant to polish.
One way to clean is to add a cup of detergent to a gallon of water. If the water is warm, it is even better. Then, use a sponge to wash the entire surface using this solution. You should also make sure your hands are protected by wearing rubber gloves.
In case you have to deal with mildew, you can also add a cup of household bleach to the cleaning solution you have prepared. Tough stains such as waterline scum or fish blood might demand direct application of a concentrated cleaner that is specifically formulated for fiberglass.
Once you are done, you should rinse the surface thoroughly and then let it dry. The cleaning part is extremely important so make sure you do not skip this step.
3. When Should You Buff Your Boat?
The answer to this question depends a lot on how often and how much your boat stays in the water. If you take your vessel for a spin frequently, then every four months you should get it out and give it a good wax and polish. This would mean you should perform this task three times per year. However, if you only take your boat out very seldom and it stays a lot in the garage, only once per year will do just fine.
4. Do I Need Other Tools to Buff My Boat?
Indeed, the boat buffer itself is not all you are going to use in this process. First, in order to get the best possible results, you should find a good wax or polish solution. This will allow you to achieve an excellent finish. Also, if the case requires it, you might need to get a product that can remove oxidization.
Other things you will need are suitable pads that will be able to do the job. You will also be using a compound bag to get to the finish and apply the formula, and then you will also need a polishing pad in order to finish the look. After you are done, you should wipe the polished surface with a microfiber cloth.
Wrap Up
The best boat buffer is not the cheapest item you will get for the maintenance of your boat but it is a worthy investment. Since there are so many products on this line available on the market, we have selected and presented a few of them for you in our boat buffer reviews section to make your job a bit easier. Each of these models is worthy of your attention. No matter which one will be your choice, you can rest assured that it will be able to perform quickly and effectively.
We selected only products that are reliable, durable, and easy to maintain. Choosing the right one will help you save time as well as money. Even if you decide to go with another model, we are confident that the information we provided in this article allows you to make an informed decision and choose a product that meets all of your polishing needs.