If you want to make sure that your boat is kept in perfect shape or you want to resell it at a more than decent value, you need the best boat polish you can afford. Combine it with a high-quality boat wax and you'll be able to not only restore the look of your watercraft in no time, but also to protect the paint finish from harm.
Since the wide variety of products out there might leave you feeling baffled, we decided to make a list of boat polish reviews of products that are actually worthy of your consideration.
See The Quick Comparison Chart
Benefits Of Polishing Your Boat
If you are looking into getting into boating and you're considering purchasing a yacht or another type of watercraft, you should do a bit of research on the type of gear that you will need after purchasing it. Here is a list of benefits that you will enjoy if you buy a polish that's worth every penny.
1. Improve The Looks of Your Boat
Polishing removes the pitted surface of your boat. Both buffing and polishing compounds are, in fact, abrasives, so they are capable of restoring the shine of a boat's fiberglass gel coat, for instance.
Boat polish can remove discoloration, scrapes, and imperfections from the surface of your watercraft, and it can also increase the body shine. In other words, such a product can make it possible for your boat to look as if it were brand new.
There is a procedure that some boaters use. They apply pure boat polish and then they wax the surface of their vessel. This makes it possible for both products to retain the high gloss of the paint. It is worth noting, however, that this type of polishing works only if the boat needs only superficial refinishing.
Rubber compounds are necessary if the surface of the boat is extremely dull.
2. UV Light Protection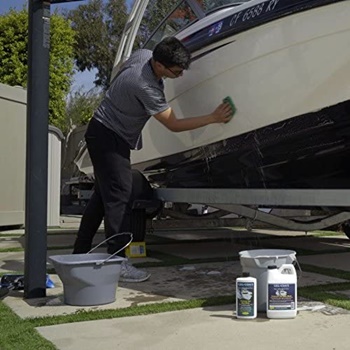 If you use both polish and wax on your boat, you can get all the benefits of UV protection. We couldn't help noticing that there are many articles out there that misinform people by telling them that the products themselves have UV protection properties.
Unfortunately, that is not true. Polish removes part of the debris and pitted surface on your boat, so it exposes the vessel even further to UV damage, if it sits outdoors all day long. That's why boat polishes and waxes are often used together. Make sure to pick two compatible products.
3. Contaminants Protection
This is the same as in the case of UV protection. It is true that boat polishes are made to put up with the abuse of water, no matter if it's freshwater or saltwater you're doing your boating in. A polish can protect the wood on your boat, for example, or other parts, provided that you pick either a cleaner wax or a polish and a wax at the same time.
Best Boat Polishes Comparison Chart
PRODUCT
DETAILS

MEGUIAR'S M4965 Marine Restoration System

Price:

$$

Customer Rating:

4.6

Amount:

16 ounces

Type:

Restoration system

Surfaces:

Fiberglass & gel coat

View On Amazon

STAR BRITE Premium Marine Polish with PTEF

Price:

$

Customer Rating:

4.5

Amount:

16 ounces

Type:

Marine polish with PTEF

Surfaces:

Fiberglass, metal, plexiglass & others

View On Amazon

303 (30320) UV Protectant Gallon 128 Fl. oz.

Price:

$$$

Customer Rating:

4.7

Amount:

128 ounces

Type:

UV protectant

Surfaces:

PVC, gel coat, fiberglass & others

View On Amazon

Flitz Multi-Purpose Polish and Cleaner Made in the USA 2lb

Price:

$$$

Customer Rating:

4.6

Amount:

2 pounds

Type:

Polish and cleaner paste

Surfaces:

Metal, plastic, fiberglass, aluminum & others

View On Amazon

3M Marine Aluminum Restorer & Polish (09020) For Boats

Price:

$$

Customer Rating:

4.2

Amount:

18 ounces

Type:

Aluminum restorer & polish

Surfaces:

Aluminum

View On Amazon
Best Boat Wax Reviews
1. MEGUIAR'S M4965 Marine Restoration System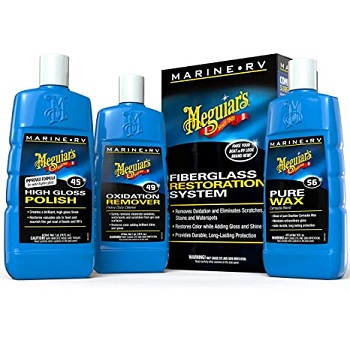 We decided to start with this unit as it is among the most critically acclaimed ones that we have found. The restoration system comes with everything that you might ever need to get your boat looking as if it were brand new.
What's worth noting about this product is that the system is uniquely designed for gel coats and fiberglass hulls, which means that you can't use it on aluminum watercrafts, for example. The oxidation remover included in the offer can remove both scratches and oxidation stains from your vessel.
As for the high-gloss polish, it is capable of providing a bright shine to your boat both in and out of the water. A Pure Wax is provided in the pack, too, and it ensures durable protection.
Every bottle has a volume of 16 ounces, which means that it should be enough for the task. Based on the feedback it has acquired, it even works on 20-year-old boats.
Pros
The kit contains every product you need to care for your boat
The polish and wax offer excellent value
16-oz bottles offer you sufficient substance for one maintenance process
Can be used on RVs and motorhomes
Cons
To remove all of the oxidation, the remover included in the deal has to be applied evenly and on areas that are small as 2ft x 2ft.
2. STAR BRITE Premium Marine Polish with PTEF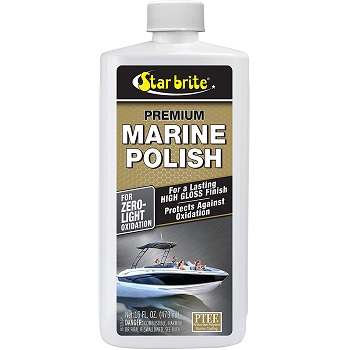 This marine polish is available in several different sizes, which is great since not all boaters have the same kind of watercraft. We've noticed that it comes in packaging weighing 128 ounces, 16 ounces, 32 ounces, and a small tub of 14 ounces.
The unit can be used on metal, fiberglass, plexiglass, as well as painted surfaces, and it can even be applied on old polish or old wax. It is capable of offering your vessel the right type of UV protection and the shine that it brings can last for up to four or five times longer compared to other marine products.
The material is slick and non-stick, which means that it's quite easy to apply. Thanks to its properties, this product can increase hull speed and offer you some better fuel efficiency. Just so you know, this STAR BRITE product is manufactured in the United States of America, which basically speaks for its quality.
Pros
Protects your boat for as long as a whole season
Can be applied on boats that don't have a lot of oxidation
Provides your watercraft with a high-gloss finish
Works on vehicles, too
Cons
Some boaters say that this product is no better than Meguiar's similar one
3. 303 (30320) UV Protectant Gallon 128 Fl. oz.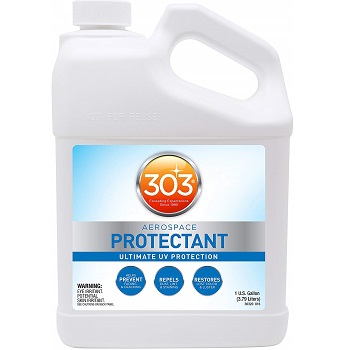 Even though this isn't a polish per se, it is still worth taking into account if you are looking to provide your boat with some good UV protection. The unit brightens all of the surfaces on which it is applied and it even keeps them looking as if they were brand new.
The formula can be used on anything from rubber, plastic, gel coat, as well as fiberglass surfaces, which means that you can utilize it on your boat and motorhome, too, if you have both. You should avoid using it on fabrics, unfinished leathers, or floorings, though, as per the instructions of the manufacturer.
If you have a spray bottle, you can get one gallon of this product and use it conveniently. It's rinse-free and leaves a dry matte finish that doesn't smell and that's non-toxic. It's worth noting that the product is water-based, so pretty safe.
Pros
This product can repel dust and a variety of contaminants
It doesn't have any smell and it can be applied by hand on small areas
It restores faded color
You can use it on several types of surfaces
Cons
There are some limitations in terms of the things you can apply this substance on, though
4. Flitz Multi-Purpose Polish and Cleaner Made in the USA 2lb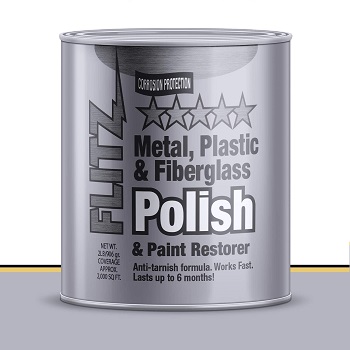 Unlike some of the other products that we have showcased in this article, this one can be used on a variety of items, including jewelry pieces. It is also excellent if you want to restore the looks of your headlights and it is more than capable of removing the rust on aluminum surfaces.
The 2lb quart should allow you to perform minor adjustments on your boat. If, for example, you notice a scratch or some traces of corrosion here and there, you can polish your vessel only in those areas.
The best thing about this alternative is that it can be applied on anything from fiberglass to chrome and nickel, so it is quite versatile. It is capable of removing lead and powder residue, bird droppings, tree sap, graffiti, and any scuff marks.
If you are wondering whether this unit is safe, we'll put your mind at ease. It's non-toxic and non-flammable.
Pros
It can be used on a broad range of surfaces from those in your bathroom to aluminum and fiberglass hulls
It removes anything from water stains to black streaks and heat discoloration
Non-abrasive and safe to utilize
You can use it with a buffer or rags
Cons
Tends to cost a pretty penny
Leaves some residue, so you have to be careful
5. 3M Marine Aluminum Restorer & Polish (09020) For Boats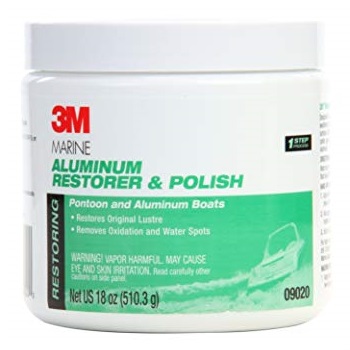 Aluminum is quite likely to lose its shine over time. This happens because it is also rather vulnerable to scratches and even corrosion, particularly if you don't care for your boat properly. The 3M product is made specifically to be made on aluminum boats, and the best thing about it is that it can be applied on the hull, rails, deck, or ladder.
This formula is capable of removing chalking and heavy oxidation from either bare or painted aluminum. It's apparently also able to restore the color and shine of the surface. Before using the product for the first time, it is advised to test it out on a small surface ahead of utilizing it on the entire boat.
You can apply this formula either by hand or by using a buffer. Relying on the latter is the better choice of the two, at least based on the consumer reports we've come across.
Pros
Can be used on pontoon boats and fishing boats
It both restores and polishes the aluminum
It can be used on any aluminum parts on your vessel
Removes chalking and oxidation
Cons
It is not recommended for matte or anodized aluminum
6. Meguiar's M6732 Marine Polish One Step Compound 32 oz
From what we have gathered by checking out the reviews that this product has acquired, it definitely seems like it's capable of restoring your boat in as little time and with as little effort as possible. The formula can do compounding and finishing in just one step.
The polish is quite aggressive, which is why it can restore the looks of the parts that have been neglected time and again. As for the surfaces that this option is compatible with, we'll tell you that it works for fiberglass and gel coated boats.
What's worth noting about Meguiar's alternative is that it is fully capable of removing water spots, scratches, oxidation, and stains. Your boat looks better and gets a rich gloss after this treatment.
This formula tends to get dry pretty fast, so it might be a better idea to use a buffer instead of relying on elbow grease exclusively.
Pros
Works on fiberglass and gel coat
Budget-friendly, especially when compared to other units in the same line
Restores your boat's color and shine
Removes heavy oxidation
Cons
You have to wax your boat after the polishing process. Otherwise, you risk exposing it to severe damage.
7. STAR BRITE 087616 Ultimate Aluminum Polish W/Ptef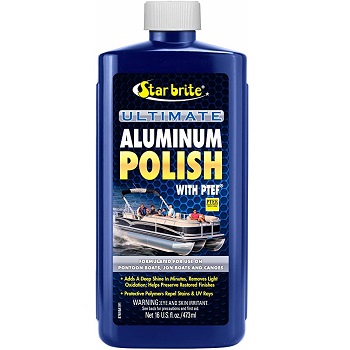 This product can be used on canoes, Jon boats, as well as aluminum pontoon boats, so it is compatible with a generous number of surfaces. The PTEF polymers boasted by the formula can provide your watercraft with the UV protection that it needs so that it doesn't get damaged by any sun rays.
It can also help repel stains and dirt over time, which will make further maintenance as easy as pie. However, it is worth adding that the manufacturing brand recommends using a buffer for the application process so that you are able to cover the whole surface of the boat evenly.
To get even better results, you should also consider investing in an aluminum cleaner or restorer as it can undoubtedly restore the look of older boats. Since this one is also just a polish, you should apply some wax or other protective element following the process.
Pros
It works on mostly clean boats
Provides plenty of UV protection
Cleans stains and repels dirt
Made in the United States
Adds a deep shine to your boat in a matter of minutes
Cons
Cannot be applied on faded anodized aluminum windows
8. Chemical Guys MBW10916 Marine and Boat Polish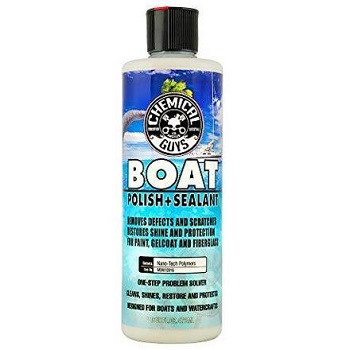 If you are in need of a product that doesn't come in a huge amount and you are looking to fix minor defects on your boat, perhaps this one should be right up your alley. It is effective and convenient and it removes all scratches and a wide variety of defects that might have affected your watercraft by now.
The MBW109616 can be used to polish mainly fiberglass and gel coat hulls. What it does is that it strips away the damage that your boat has sustained so that you can apply an extra layer such as wax and get as much protection against marine damage as possible.
Furthermore, the unit can restore the shine of your vessel, which is definitely something worth considering, especially if you are looking to resell it. While it is true that you can apply another layer of boat wax, this one is a sealant, as well, so it doesn't leave the hull completely bare and exposed to contaminants.
Pros
Removes scratches, swirls, and oxidation
Works on both fiberglass and gel coat hulls
Restores a lustrous and shiny finish to your watercraft
Protects against future water spots
Cons
It's hard to rub in or off, so use a buffer.
9. Gel Coat Labs GCL-MOS16 One-Step Gel Coat Micro-Polish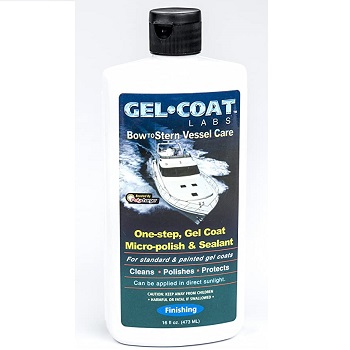 This is another smaller product for those minor adjustments that you have to perform before going out on the water, for example. The marine boat polish and sealant lets you rest assured that all oxidation and defects are going to be removed, but the surface isn't going to remain bare and vulnerable to the elements.
The polish is fully capable of leaving an excellent shine on your boat, and the best thing about it is that it doesn't get yellow, fade, or crack. On top of everything, you might want to know that this polish is very easy to apply and it doesn't call for the addition of any wax following the whole process.
When it comes to durability, this unit is a winner in this respect, as well. It's even sustainable and friendly to the environment and has been recognized as such. In actuality, all of the products manufactured by Gel Coat Labs are approved by the major marine manufacturers out there.
Pros
Easy to apply
Unique formula consists of a polish and a sealant so it also protects your boat
Leaves your hull looking shiny, as if it were brand new
Made in the United States
Cons
Might be a little pricey for the amount provided
What Is A Boat Polish?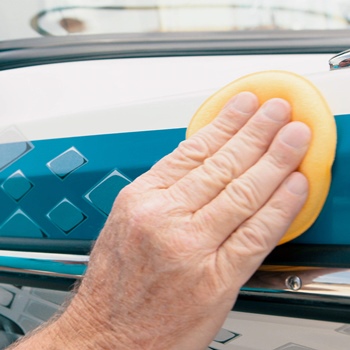 Boats need regular maintenance just like your house. Regular checks on your battery's health, along with the safety and condition of other boating equipment that you use can make it possible for you to make the most of your boat in the long run.
Boat polish is a type of product that allows you to protect the coating of your boat from things like oxidation and corrosion. These can become real problems after a while, especially if you don't pay attention and leave your vessel to rust. Sealing and polishing a boat can prevent these issues.
1. Ingredients
If you have ever considered getting a boat wax, you might have asked yourself how come you should also purchase a polish, too. Well, boat polish is a little different than your typical wax. It is a synthetic mix that's used on new watercrafts or after any oxidation has been removed from older ones.
Boat polish is also capable of protecting your vessel against UV damage. Most of the products that we have come across effectively transform your hull into a non-stick surface. These are things that boat wax just can't do.
2. Use
Unlike wax, boat polish should almost always be applied with machines and devices. If you don't have any experience in this field whatsoever, you might have to ask a professional to do it. That means that you risk spending more money, but it's still a good idea to polish your boat when you notice the first signs of corrosion.
Boat Polish Types
There are different types of boat polishes out there but the difference between one another stands not in the quantity, but in the ingredients and the type of material that they are crafted for. Let's look at some of the most common ones.
1. Polishes for Gelcoat Surfaces
These are a little more abrasive when compared to the other two that we have mentioned here. Because of this, you should avoid utilizing them on other types of surfaces and more specifically, avoid using the same boat polish on your car.
2. Products for Fiberglass Hulls
Fiberglass doesn't call for that much care and attention compared to other boat surfaces. However, it is a good idea to pick an option specifically designed for this type of hull so that you don't risk producing damage to your watercraft.
3. Polishes for Aluminum Boats
Aluminum is the most problematic type of boat surface that you might want to polish. Finding a product that is absolutely compatible with this type of hull is paramount. Otherwise, you risk damaging your boat to the extent that it becomes unusable.
Besides, applying a boat polish on an aluminum hull requires a bit of cleaning and maintenance beforehand. Make sure that the surface is debris-free so that the polish does its job properly. Then just buff the hull and apply the polish of your choice.
Boat Polish Buying Guide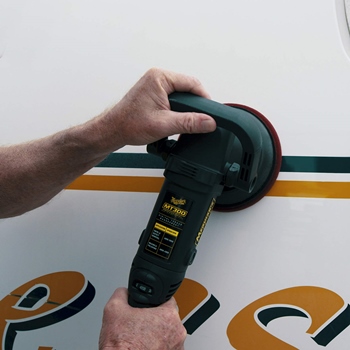 Boats that spend a lot of time on the water and they have no cover placed over their surface can significantly suffer from the marine environment and UV damage.
That's how your watercraft might end up with things like scratches, oxidation, bird dropping, and a variety of other defects that can ruin your boat's overall appearance. If you are in the market for a good boat polish and it's the first you're thinking of getting, you might be feeling confused as to which features matter the most.
Here is a comprehensive guide on all of the aspects that you should keep in mind before deciding on a particular unit.
1. Marine vs. Auto Polish
As tempting as it might be to use a regular bottle of polish that you might have already purchased for your car, that might not be the best idea in the world. The product will find it very hard, if not impossible, to cut into the gel coat or fiberglass surface so as to remove its defects.
Most auto polishes aren't capable of doing the same things as polishes made specifically for watercrafts. They are primarily designed for painted surfaces.
Utilizing a specially made boat polish makes it possible for your vessel to put up with the abuse of the environment it will spend most of its time in. Not only will the boat polish protect against water spots and UV rays, but a lot of other damaging factors, too. In the end, using a marine boat polish is safer and more effective.
2. Application
There are two ways of going about things in terms of how you can apply the product on your boat — by hand or by using a device.
If you have a large boat, you shouldn't even try to apply boat polish by hand. First, it will be a lot more exhausting than you might imagine. Second, there is no way of knowing you will apply it correctly, and you might risk causing damage to your hull. Seek out the services of a professional if you have zero experience at this.
Using a buffer is a lot more convenient and easy and you can apply the polish faster. This machine effectively enables you to cover more of the surface in a timely fashion. It also allows the substance to cut into the gel coat of fiberglass more easily.
Professional detailers recommend using limited pressure and setting your machine to spin at about twelve hundred to fifteen hundred RPM so as to cut into the boat surface.
If you don't feel like using the buffer can be done for the entirety of the surface, you can apply the polish by hand in the areas that are harder to reach.
3. Buffing
Getting rid of the oxidation that your boat might be suffering from doesn't call for the use of the strongest polish available for sale these days. Buffing the boat can be done with the least abrasive product that you get your hands on so that you can gauge the results and see whether a stronger one is needed.
In fact, you can use a more powerful polish for those areas that are heavily stained only. Restoring your boat's shine is extremely easy. You should consider regularly polishing your boat if you notice any damage whatsoever so as not to affect its resale value in the long run.
4. Adaptability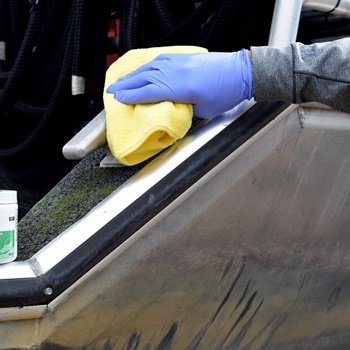 Choosing a versatile boat polish, one that can be applied on a variety of hulls, is the right way of going about things. If you pick one that's solely made for one type of surface, you should know that it's not going to work on all of the areas.
Boats nowadays aren't made with surfaces constructed of a single material. In fact, most boats have areas made of metal, fiberglass, and gel coat on the same watercraft. Keep that in mind when choosing your boat polish, whether it is cheap or not.
5. UV Protection
This type of feature doesn't even need to be described. It is an essential characteristic that you should look for in all of the products that you purchase for your boat's hull. The sun can inflict a lot of damage to your watercraft, and it can definitely negatively affect its resale value.
Ideally, you should avoid storing your boat directly in the sun unless you apply boat polish and boat wax regularly. Some boaters use these products every 4 to 6 weeks just to be on the safe side of things and make sure that UV damage isn't something they have to deal with.
6. Boat Damage
Choosing the right type of polish should also be done after you assess the imperfections and level of damage of your boat's exterior surfaces. Dry or flaking paint or big scratches can be fixed with a formula that's applied with a buffer.
Smaller defects, on the other hand, can be polished out with a little elbow grease and a cloth. Specific formulas might be required for other types of damages such as water sports, stains, oxidation, and mineral build-up.
7. Environmental Factors & Boat Storage
The place you store your boat in on a regular basis has a significant effect on the conditions that it faces every day. Boats that are stored indoors and out of the water are generally better protected against oxidation and corrosion, especially when compared to those that are on the water day in and day out.
These boat storage and environmental factors should be given some thought to before you decide on a product.
How To Polish A Boat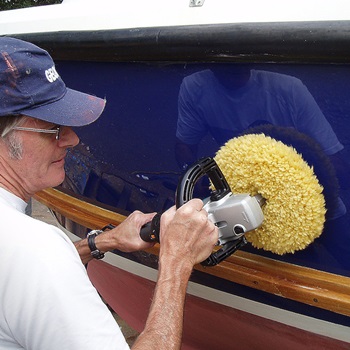 Polishing your boat can be a little challenging, especially if you have never tackled the task before. We decided to put together a list of tips that you should rely on each time you want to go through this process.
1. Before Polishing Your Boat
Clean your boat's surface as best as possible so that no dirt or dust are present. Use a buffer to smooth your deck and then clean it once again so as to remove any contaminant whatsoever.
Make sure to read the instructions that you have received along with the boat polish that you've bought. Doing this can save you a lot of trouble in the long run. Don't just rush in and apply the polish if you haven't gotten informed before.
2. Protection
Take a look at the polish features to make sure that it is made specifically for boats and that it can offer your watercraft UV protection. Use protective gear while applying the product, which in this case would mean wearing protective glasses and gloves.
Use the right kind of equipment. If the instructions state that you should utilize a buffer with the polish, don't think that you can go against them and apply it by hand. This might sometimes not work.
The products in this category differ a lot in terms of viscosity, in particular, so you might really have a hard time spreading out the polish as best as possible, if you just use your hand and a cloth.
3. Final Cleaning
Once you have done your best at applying the polish, wait for a while and leave it to dry. If the product calls for an application of boat wax, too, do that, as well. When all of the process has ended, make sure to rewash your boat using tepid water and mild soap.
FAQs About Boat Polishes
1. What Is The Difference Between Polish and Wax?
Wax and polish are two very different substances. Compared to wax, polish is abrasive, and that's why it is capable of removing oxidation and corrosion from the surface of your vessel. Polish is specifically meant to remove imperfections and contaminants.
On the other hand, wax acts more like a protective coating. This is the reason why it is highly recommended that you wax your boat right after polishing it so as to protect it as best as possible. A polished boat surface has the perfect adhering capabilities for you to apply wax on it.
2. How To Polish A Boat With A Buffer?
You are allowed to polish your boat without using a buffer, but keep in mind that the results that you are going to get might be less satisfactory. If your boat has sustained scratches or damage only in a specific area, you can use a microfiber (or any other soft) cloth to apply polish and then wax that specific area.
If your boat's hull has contaminants and imperfections in general and across its entire surface, you should always use a buffer.
3. How To Polish Aluminum Boat?
Use a specific aluminum cleaner for the best results. If the boat polish isn't made for aluminum boats, don't invest in it. It is not going to have the same efficiency.
The rest of the steps are rather similar to those that we have showcased in the section on how to polish your boat. This means that the surface has to be as clean as possible before you apply the product. Apply your favorite aluminum-grade polish with as much consistency as possible without overworking or under-working an area.
After buffing consistently and effectively everywhere, your boat should have a consistent shine. Inspect your watercraft fully to spot any nooks and crannies that you might have missed. Take care of them now if you have rented the buffer and it doesn't belong to you.
4. Can I Use a Car Polish On My Boat?
You can try, but it is not made for the same types of surfaces on most boats out there. Therefore, it is not going to provide you with the same results as a product made specifically for marine watercrafts.
Even though car polish is cheaper, we urge you to consider getting a boat polish made for your type of hull, just to be on the safe side of things.
Wrap Up
Hopefully our guide, along with our boat polish reviews, have helped you understand what features you should focus on when you are in the market for this type of product again.
Finding the best boat polish can sometimes be a matter of trial and error. If you haven't consulted any other resources, you could use YouTube, where there are a variety of tutorials on how to polish your boat.
A boating forum might be helpful, as well, as you will find there a lot of opinions from boaters that are more experienced and that might have tried out a lot of products over time.