If you've invested in a boat and you want to keep it in top shape for as long as possible, you will need the best boat wax.
Waxes do not only keep your boat exterior looking slick, but they also protect the paint and any custom graphics your boat might have. With regular use of boat wax, you will slow down the deterioration of the boat's exterior, and even bump the resale value of your boat once you decide it's time for an upgrade.
See The Quick Comparison Chart
Benefits of Waxing Your Boat
If you are having second thoughts about getting a type of wax for your boat, although many marine aficionados might have recommended it to you, check out the list of benefits that such a product can offer you.
1. Less Drag in The Water
Even though you might not be keen on the idea of spending several hours making sure that you properly wax your boat, the truth is that it needs to be done. Thanks to the protective layer, you will effectively notice that your boat glides through the water a lot easier.
It might be true that this might not last for a very long time as water, especially saltwater, is capable of removing the superficial layer of the wax. This is the precise reason for which many boat owners wax their watercraft as often as once a month. As such, they get to enjoy a certain glide on the water more consistently.
2. Preventing UV Damage
Boats that spend a lot of their time in the sun are more exposed to the damage that the sun can inflict upon them. This includes damage to the paint or custom graphics, both of which are exposed to long-term UV damage.
Adding a coat of wax can help prevent this issue, and also preserve both the quality and the color of your boat exterior.
3. You Can Store Your Boat in Direct Sunlight
If you aren't one of those people who have nothing against keeping their boat in the port all the time (even if that involves some taxes), but you want to take your boat home and keep it in the driveway, you should know that it can get damaged either way.
Some boaters don't even think about the amount of sunlight that a so-called stored boat is exposed to. If you leave your boat out, whether on the lawn or the driveway, it's going to get just as much exposure to the sun as it would have if you had it in a port or out on a lake.
Cleaning and waxing your boat before you store it in the sun is wise and it can prevent both the UV damage that we have mentioned, but also the fading of any colors. In case you didn't know, that's why many boaters wax their boats right after the boating season has ended. This practice guarantees safety even while in storage.
4. Marine Protection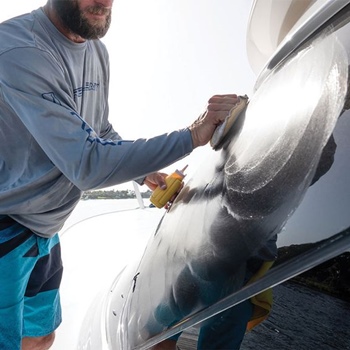 Saltwater is far more dangerous to a hull than freshwater, but there are many other substances that could be in a lake or even the ocean or the sea and that could damage your boat. A layer of wax can add an extra amount of protection to the boat surface so that it puts up better with long-term damage.
Boat wax can also prevent any buildup of debris or a variety of hull contaminants that are involved in the activity of regular boating.
5. You Protect Your Graphics
While this might not apply to all types of boat waxes, there are some that are specifically engineered to provide protection not just to the hull per se, but also your graphics.
The latter are exposed to the marine environment like the rest of your boat, and regularly cleaning your watercraft just won't cut it if you want your graphics to last for as long as possible.
6. Easy Maintenance and Cleaning
Cleaning a boat or a yacht that has been waxed is as easy as possible. If you get a ceramic coating instead of a boat wax, you will be provided with even more numerous benefits. This type of coating can reduce the buildup of grime and dirt, and it also has hydrophobic properties. Therefore, you can rest assured that no foreign material can make its way to the underlying paint.
A boat that has been recently waxed should be cleaned with wax-safe shampoos or similar such products. You can also use a soft brush, but ideally, you shouldn't apply too much pressure.
7. Increased Fuel Efficiency
There is less surface tension between your boat and the water when you cruise a watercraft that has been recently waxed or covered in a ceramic coating. What this means for you is that you can effectively achieve more speed and get wherever you're going a lot faster and with less fuel.
Best Boat Waxes Comparison Chart
PRODUCT
DETAILS

MEGUIAR's M6332 Flagship Premium Marine Wax

Price:

$$

Customer Rating:

4.8

Amount:

32 ounces

Type:

Cleaner Wax

Apply With:

Hand pads or polisher

View On Amazon

Boat Bling Quickie Sauce Premium High-Gloss Fast Wax

Price:

$$

Customer Rating:

4.5

Amount:

32 ounces/1 gallon

Type:

Fast Wax

Apply With:

Hand pads or cloth

View On Amazon

3M Marine Restorer & Wax 09005 For Boats

Price:

$$

Customer Rating:

4.4

Amount:

16 ounces/32 ounces

Type:

Restorer & Wax

Apply With:

Hand pads or buffer

View On Amazon

Collinite 885 Heavy-Duty Paste Fleetwax

Price:

$$

Customer Rating:

4.8

Amount:

12 ounces

Type:

Wax Paste

Apply With:

Buffer

View On Amazon

3M Marine Ultra Performance Paste Wax 09030 For Boats

Price:

$$

Customer Rating:

4.2

Amount:

9.5 ounces

Type:

Wax Paste

Apply With:

Hand pads or cloth

View On Amazon
Best Boat Wax Reviews
1. MEGUIAR's M6332 Flagship Premium Marine Wax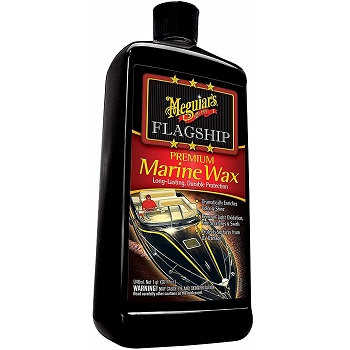 If you are in the market for an affordable alternative that's easy to apply and that can allow you to rest assured that your boat's going to look and work great, check out this wax. It's easy to use and it offers both protection and a deep gloss. It is compatible with gel and fiberglass surfaces.
It is also worth noting that MEGUIAR's option protects both against UV damage and wear and a variety of contaminants in the water. You can rely on this product for removing light oxidation, and also superficial scratches.
Not only is this choice capable of providing your boat with the protection that it needs, but it also makes it look amazing. It enriches the color of any graphics that might be on the boat's hull or sides and it brings out the richness of the surface.
You can apply this boat wax using a polisher or hand pads.
Pros
Can be used even by boaters who have no experience waxing their boat
It's a cleaner wax that has a very fine abrasive
The protective coat lasts for a long time
Spreads thin and it's easy to apply
Cons
It should be kept in a warm garage during the cold season as it can tend to separate when left in the cold.
2. Boat Bling Quickie Sauce Premium High-Gloss Fast Wax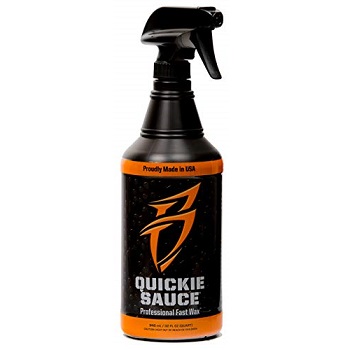 If you'd really rather avoid all the hassle associated with applying wax on your boat, then this is the product to give a try. It comes in two sizes — a 32-ounce container or a 1-gallon one. Pick the one that you believe suits your requirements the most.
The high gloss fast wax provides protection in about half the time that you'd need when waxing your watercraft with similar, yet different products. What's more, it's safe and biodegradable and all you have to do is to spray it and then wipe it off.
It doesn't call for any buffer, either, which is an advantage in itself. In terms of compatibility, you will be glad to learn that this one works with fiberglass, vinyl decals, and painted surfaces just as well. We couldn't help noticing that this product has received a lot of favorable reviews from people who own campers, motorcycles, or even ATVs. This is the best choice for quick touch-ups on boats.
Pros
Protects from sunlight damage
Makes cleaning your boat a breeze
Protects your watercraft for up to twelve weeks
Easy to remove wax residue
Cons
Some say that it does not remove hard water as advertised
Doesn't remove all stains from vinyl
3. 3M Marine Restorer & Wax 09005 For Boats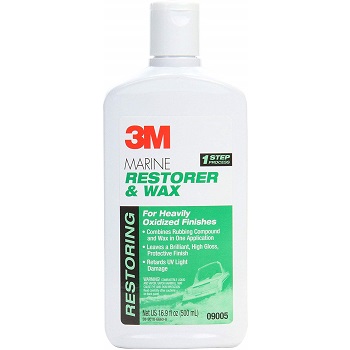 This great product can effectively get rid of any signs of chalking, oxidation, and even rust or superficial scratches. However, it can also provide your watercraft with the shine and gloss that you've been looking for. The marine restorer has a formula that's specifically made for improving the condition of fiberglass and gel coat hulls.
Applying the product can be done effortlessly with a buffer or by hand. If you have been looking for something that can restore the glossy finish of your boat, this one might be right up your alley.
On top of everything, this product can make it possible for your boat to put up with the abuse brought on by sun rays. The blend of waxes adds an extra layer of protection from water contaminants and UV damage.
Despite being one of the most budget-friendly options in this particular line, the 3M Marine Restorer and Wax has gathered a lot of appreciation on the part of those that have tried it out.
Pros
UV protection
Works on heavily oxidized gel coat and fiberglass hulls
Provides a high gloss finish
Can be applied easily by anyone, no matter their experience
Cons
For the best results, the manufacturing brand recommends using a rotary buffer — and not everyone has that.
4. Collinite 885 Heavy-Duty Paste Fleetwax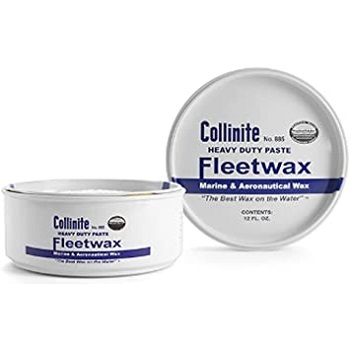 Even though some boaters might tend to think that the quantity provided by this product isn't nearly enough to wax their whole boat, that's far from the truth. The wax comes in 12-ounce containers, but this amount is more than enough for most watercraft so long as they aren't bigger than 26-foot long.
The formula makes it possible for your boat to be protected against hard water, marine growth, salt sprays, stains, and a variety of other potential dangers that a boat gets regularly exposed to. The product can assist with reducing your boat's drag, so it even increases fuel efficiency.
Additionally, the beading properties of the paste make it easy to apply and durable, too, so much so that it can last for months on end. It is recommended to first polish your watercraft, though, for the paste to do its job properly.
The amount of appreciation acquired by this option is amazing as most of those that have bought it say that it meets their expectations.
Pros
It sheds dirt and it's far easier to clean compared to other products
Can be applied easily if you use a foam pad
Works on RVs, not just boats
Offers your ship UV damage protection
Cons
It tends to get dry very quickly, so you have to wipe it off as fast as possible.
5. 3M Marine Ultra Performance Paste Wax 09030 For Boats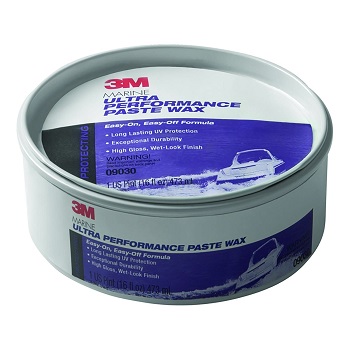 Due to its small size, you might tend to think that this paste wax shouldn't be at the top of the list of products that you ought to bear in mind. Well, we'll argue with that statement and tell you that this wax does a great job when it comes to protecting both fiberglass and gel coat hulls, but also topside paints.
The blend contains carnauba and a variety of other substances that all work together in improving the state of your boat's surface and giving it a high gloss and a deep shine, too. You can apply the product using your hand or a buffer as per your needs and preferences.
The best thing about the unit is that it contains silicones that make it impossible for saltwater or rain to affect the surface of your boat. Naturally, it is going to be removed after a while, but for a period of at least six to eight weeks, your watercraft will be adequately protected.
Pros
Provides UV resistance
Protects against dirt, saltwater, and water contaminants
Easy to apply even by people less skilled in this
Enhances the colors and graphics on your boat
Cons
It doesn't apply as easily as some liquid waxes, at least in the opinion of some customers
It costs a pretty penny compared to other options out there
6. Meguiar's M5616 Marine/RV Pure Wax Carnauba Blend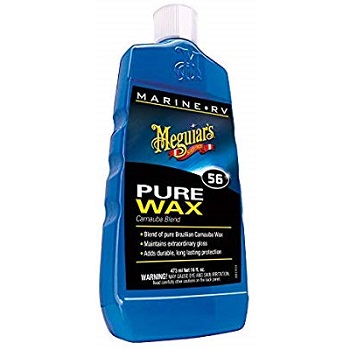 This is another of Meguiar's quality products. The wax blend is specifically designed to provide shine and protection to your watercraft. You can opt for the 16-oz packaging or get the 1-gallon alternative if you want to wax your boat more or less regularly. Just be sure to store it indoors as it can modify its consistency when left in the cold or out in the sun.
The ingredients in the wax make it possible for the vessel to regain some of its gloss. The wax is made from a mix of silicones, polymers, carnauba wax, and resins. If you have clear-coated metal finishes on your boat or it boasts dark-colored graphics, you should consider this choice as it is made for this type of surface.
You'll be glad to know that Meguiar's wax blend is suitable for fiberglass, gel coat, as well as painted surfaces. Some have used it for their motorhomes and have gotten great results, too.
Pros
Provides your watercraft with UV damage protection
If you wax your boat properly, one application can last for a whole year
Works with many types of surfaces
Can be applied by machine or by hand
Cons
If you have applied this wax with a buffer, it can be a bit difficult to remove.
7. STAR BRITE One-Step Heavy Duty Cleaner Wax with PTEF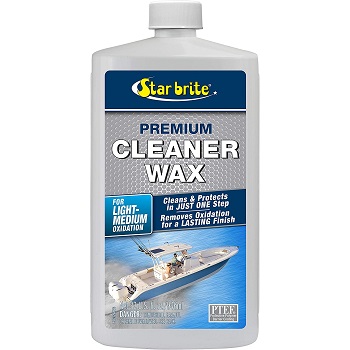 If you are looking for something that's suited for cleaning oxidized and old boat surfaces, then it's a good thing that you've come across this product as it is likely to provide the best results. The premium cleaner contains polymers that can protect your boat from the damaging effect that saltwater can inflict on it.
Plus, the formula prevents oxidation and fading and it also creates a layer of protective coating on all metal, fiberglass, and painted boat surfaces. Since it can be easily applied by anyone, regardless their experience, this is an option worth considering. You don't have to rub hard to get it in, especially since it contains small abrasive particles.
What's truly neat about this alternative is that the use of polishing products, once you have applied this one, is no longer necessary. The wax cleans and protects your boat surface, all along providing it with a glossy shine.
Pros
Very easy to apply
Offers UV damage protection
Works great for light to medium oxidation
Offers a lasting finish
Cons
Unfortunately, this product cannot remove or improve the look of scratches.
Some consumers have reported issues with the delivery (the bottle top was unsealed and part of the product had leaked out).
8. 3M 09062 Marine Liquid Wax, 1 Liter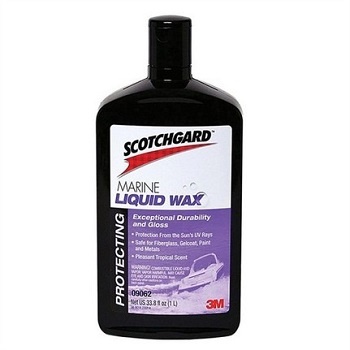 3M have made a name out of developing high-quality products not just for the boating industry, but also for all people who want to clean and maintain their cars, RVs, motorcycles, or any type of vehicle as best as possible. This product is quite durable as it bonds to boats and RVs to provide them with long-lasting protection.
It's safe to use on metal, fiberglass, topside paints, gel coats, as well as other surfaces. Once you apply this liquid wax on the hull, you will notice how good it looks. The shine is definitely worth writing home about, especially compared to what other products can offer.
As for application, you will be happy to know that you will not have to go out of your way to do it. Just wipe it on and then off right from the bottle. Use a microfiber cloth to make sure that you have applied neatly and then get back to your water adventures.
Pros
Protects against UV radiation
Smells nice
Applying it is a piece of cake, especially compared to other products
Easily bonds to the boat's surface
Cons
You should use a polish before applying this wax.
Some customers complained about the product containing silicone.
9. Woody Wax Awesome Protection For Your Boat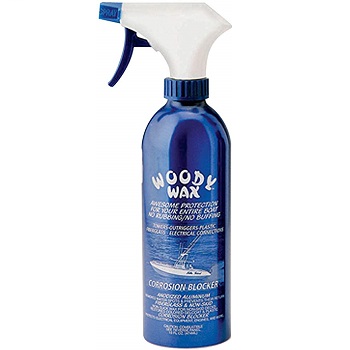 If you need a product that can be applied even easier than the rest that we have showcased in this article, you might have to opt for this one. It is highly convenient and effective and it can be applied only on the problematic areas on your boat.
It's not the most traditional type of wax, in that it can be applied on a variety of surfaces, including your deck, electrical connections, wiring, plexiglass, and even your fishing gear. Needless to say, this one works for protecting motorhomes, too, especially if you are looking to get as much as possible from your investment.
The product doesn't leave any sticky film after you have applied it on the boat. It gives some shine to your vessel and it also provides it with long-lasting protection. Based on the info that we found about it, it is available in containers of 8 ounces, 16 ounces, and a 64-ounce refill bottle.
Pros
Works on anything that can corrode
Long-lasting and effective non-skid wax
Very easy to apply based on most of the reviews
Great for boats that do not have a high gloss
Cons
The effect doesn't last long, with some buyers saying that it can protect your boat from leaf stains and dirt stains for just a few weeks.
What Are Boat Waxes and How Do They Work?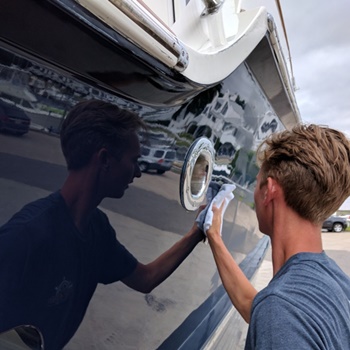 Boat waxes are liquids or pastes that can be utilized and applied on your watercraft so as to protect it against color fading, oxidation, scratches, and anything else that your boat might be exposed to.
Not to be confused with the best boat polishes, boat waxes are typically aimed at treating surfaces that are painted or covered in gel or fiberglass ones. Some can be utilized on plexiglass or metal, but not all boat waxes are created equal, so that depends on the product.
The process is rather simple. If you are looking to get as much use from your boat over time, you have to use a boat wax once in a while. The product basically covers the whole surface with a protective layer that can make it stand the abuse brought on by the elements, saltwater, UV rays, or the degradation processes that we have already mentioned.
If you are committed to investing in your boating endeavors, you're probably willing to get some top-rated boat seat cleaners or top-rated submersible trailer lights. So, then why shouldn't you be willing to apply a boat wax now and then?
Types of Boat Waxes
Not all boat waxes are made the same and contain the same ingredients, and that's why they serve different purposes. If you have never purchased one before, we suggest that you take a little time and check out the list below.
It will help you understand your needs, what you are expecting from such a product, and also which one you should pick.
1. Cleaner Waxes (All-in-One)
There are both pros and cons to investing in cleaner wax, in that it is truly convenient, but it also comes with several risks. Usually, such boat waxes contain the wax per se, but also an abrasive substance that cleans the hull. The product can remove things like oxidation and dried stains, and also dirt and debris present on the surface of your boat.
Cleaner waxes can be thinner or thicker depending on the degree of oxidation. They contain small abrasive particles. In terms of advantages, you'll find that all-in-one waxes can clean and seal the finish, can remove hazing and chalk or oxidation, and can also prevent fading.
Ideally, they should be applied using a dual-action buffer, but you can apply them by hand if you truly have no other option. Cleaner waxes are better suited for surfaces that are covered in gel or that are painted or fiberglass hulls.
The drawback would be that they can merely be used for light to medium oxidation and that they don't remove or fill any scratches.
2. Carnauba Waxes
Such products contain a soft wax that has no abrasive substances or particles. Carnauba wax products are a little less popular than their counterparts and that's because they usually come in smaller containers. However, they aren't inconvenient as they don't have to be applied in several thick layers.
In terms of benefits, carnauba wax can be used on new boats, it can be applied easily and conveniently by hand, and it can be used on fiberglass, gel coats, and a variety of other surfaces. Moreover, carnauba waxes have water-beading capabilities, protect your boat against UV damage and saltwater, and also produce a high gloss and a deep shine.
3. Polishes
Polishes are more or less similar to carnauba waxes, but they are purely synthetic, so they do not contain any natural ingredients. Their polymer content makes polishes the best when it comes to protecting your hull against dirt, UV rays, or saltwater. They effectively create a protective film on the boat surface and they restore its original gloss.
We do have to mention one thing about them, though. They have to be applied on the clean boat — otherwise, they can't do their job properly. In terms of benefits, they last for a fairly long amount of time and they can be applied by hand, and they are also compatible with a wide range of boat surfaces (from fiberglass to painted surfaces).
They can't be used on hulls that are heavily oxidized or those that haven't been cleaned properly.
4. Restorers
Restorer waxes can be used on damaged hulls or those that have suffered from extensive oxidation, films, marks, or scratches. Such products have two functions. They both restore the surface and protect it in the long run.
Restorer waxes remove contaminants quickly and effectively, they fill out scratches and improve the look of the boat on the whole, they are UV and saltwater-protective, and they can also be applied on many types of surfaces.
On the other hand, they are quite abrasive, which is why they don't work for people whose boats have graphics, for example. Plus, they should only be used along with a power buffer.
5. Paste and Liquid Waxes
These are pure boat waxes either in a liquid or a paste form. They do not have a cleaner element added to them, so they solely comprise of the wax, without containing any abrasive whatsoever.
Pure waxes usually have higher gloss and durability compared to all-in-one products. However, they do call for a really clean and shiny surface to provide the benefits that they can offer, which means that you'll have to do a bit of maintenance on your boat beforehand.
Boat Wax Buying Guide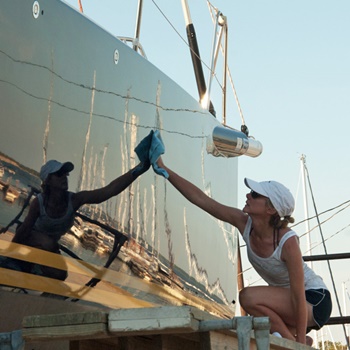 Finding the perfect boat wax these days can be quite tricky, especially since you have a lot of products to browse through and you need to make sure you're ordering the right one for your watercraft and your needs.
Check out the comprehensive guide that we have created to find out what aspects you should mull over before making up your mind on a product.
1. Type of Boat
Both the size of vessel and the actual surface matter a lot when it comes to choosing a boat wax. If you have a particularly large yacht, it goes without saying that you aren't going to want to spend a lot of time waxing it by hand. A smaller boat can be managed, in this respect, even if you don't have someone to help you.
Some waxes are compatible with certain types of hulls, so be sure to get informed with regard to this detail before investing in one.
2. Application Method
There are two main types of application that you can consider. Waxes that come in smaller containers are typically made to be applied by hand, so you will need to utilize a cloth or a pad so as to spread the substance evenly onto the hull.
These products are soft and easy to distribute, but the whole experience can be a quite strenuous one. It could take you several days to finish waxing and polishing your boat, especially if it is a sizable one.
Polymer waxes can be used with power buffers, but in this case you need to make sure that you have a functioning machine and the right type of disperser. Thinner waxes are easier to apply while thicker ones pose more difficulties.
3. Durability
There are many factors that influence the durability of the boat wax that you will apply on your watercraft. The quality has a lot to do with how it behaves over time and how it can protect your boat, but there are other aspects, such as the climate in your region, the water you do your boating in, and the care and attention you give your vessel.
The way you apply the wax can also impact its durability over time. If you have zero experience, it might be a better idea to ask a professional to do it.
4. Quality
If you're thinking of getting your boat wax online, it can be quite challenging to tell whether it is truly worth spending your hard-earned cash on it or not. If you are having second thoughts about the unit you have chosen, check out some consumer reports.
Other boaters can tell you a lot with respect to how the boat wax behaves during the application or about the results it offers over time. You surely don't want to waste your money on a product that doesn't meet your expectations, right? So, do a bit of research beforehand to assess its quality.
5. Surface To Be Waxed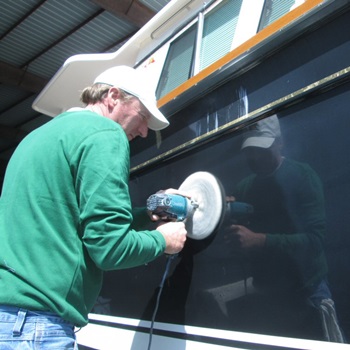 Both the type of hull you have on your hands and the condition of the surface can influence your decision when it comes to picking a new boat wax. If the surface is very deteriorated, you might have to invest in a different, more powerful wax.
Inspect your boat and try to determine its condition to be able to choose the right type of wax for your needs.
6. Finish
Not all boat waxes can provide you with the same benefits and not all of them come with the same features. That's why some can offer your boat a deep, rich shine, whereas others can provide your watercraft with a sort of a wet look.
Generally, a shiny coat is easier to clean and maintain, and sometimes it's also more convenient as you can see the scratches a little easier. This is due to the fact that the areas that have been damaged have lost their shine, making it more convenient for you to spot them.
7. UV Protection
Your boat needs UV protection, and that's because the sun can create as much damage as water, whether it is saltwater or freshwater you do your boating in. There are coatings that can keep your boat from suffering from the additional oxidation inflicted by UV rays.
This aspect is particularly important when it comes to boats that are left outdoors for longer periods of time and that are, therefore, subjected to sunrays day in and day out.
8. Automotive vs. Marine Wax
Marine waxes are specifically designed for things like gel coats or linear polyurethane surfaces. These surfaces are actually chemically different compared to automotive paints. Modern gel coatings and polyurethane coatings are more water-resistant and harder than their automotive counterparts.
Their unique chemical components make them suitable for marine use. You can use automotive wax, of course, but do know that it is not going to provide you with the same durability and the same water resistance over time. Auto waxes are more affordable.
9. Cleanliness and Shine
The result that the boat wax will deliver is one of the most important factors to consider. There should be a noticeable difference in how your boat looks like after you have applied the boat wax.
One of the main purposes of a boat wax is to make your watercraft look more polished and also better maintained. For this reason, you should invest in a product that makes the boat surface cleaner and shinier after each use. Check out some reviews of boat waxes to find out which one of the products on your list provides just this.
How To Wax a Boat?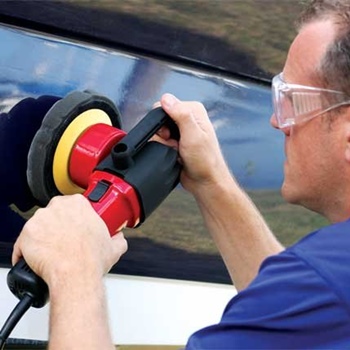 Having a boat calls for ensuring good maintenance so that it is capable of serving you for as long as possible. Waxing is a procedure that you simply can't avoid, at least if you are committed to keeping your boat in top shape. Here are the steps that you have to ensure before and while waxing your boat.
1. Steps Before Waxing The Boat
Before waxing your boat, you have to clean and remove all the debris that might have piled up on its surface. You wouldn't believe how much gunk and particles you will find once you take a closer look.
Secure your boat on a flat surface — not in the water. Rinse your boat and look at all the places that could have gotten so damaged that they would have to be repaired instead of covered with wax. Inspect and clean your boat beginning with the top.
2. Waxing The Boat
Once the boat is free of any debris, you can polish your vessel before waxing it or you can use an all-in-one product, instead. If you notice any marks on the watercraft, it's highly recommended that you apply a finish first so as to get rid of the defect.
Apply a cleaner to get rid of any chalking or oxidation or any other contaminants that might have accumulated on the boat's surface. After rinsing once again, you can apply your wax using circular movements.
Try to focus on one area in particular so that the wax doesn't dry and over-complicate buffing. At the end of the process, wipe off every section either by using a buffer or your hand and then let the coat dry.
FAQs About Boat Waxes
1. Can I Use Car Wax on a Boat?
You can use car wax on your boat, but it is not going to provide you with the same benefits. Think of it this way — your automobile isn't exposed to the same dangers that your boat has to endure day in and day out. Rain is freshwater, so it inflicts less damage on your car than saltwater does on a boat.
Boat waxes are specifically made to enhance the boat's resistance to things like water damage, UV rays, and even things that can scratch your hull. Car waxes are made for protection, but they're rather made for shine.
2. Do I Need Additional Tools For Waxing My Boat?
It depends on the type of product that you will choose. If you get a wax that can be applied by hand, you don't need any extra tools besides several pieces of cloth that you will use to wipe the boat at the end of the whole process.
If, on the other hand, you get one of those waxes that are liquid and that have to be applied with a top-rated boat buffer, you obviously need the device and an attachment for dispersing the product.
3. How Often To Wax Boat?
Every make and model is unique in its own way, and gel coats are applied differently in a factory. However, most boaters and wax manufacturers suggest buffing and waxing your watercraft every four to six months.
There are boaters that do it every couple of months, and that's because they want to keep their boat in pristine condition. There are others that are even more willing to maintain their boat, so they wax it every month. The more often you wax your boat, the more you'll get to enjoy it.
Wrap Up
Hopefully our guide and product selection were able to help you in your quest to find the best boat wax. Since getting informed is always useful, we suggest that you take some time and read as many boat wax reviews as possible.
In the end, remember that waxing your boat regularly can effectively extend its life and the time you get to enjoy it!