The best submersible trailer lights can ensure you are sending turning, braking, or stopping signals on the road. Since hauling your boat on a trailer blocks the lights on your car, this can save you from an accident or material damage.
Yet, a massive reason why you should go for submersible lights specifically is that you are going to back your trailer into the water when loading your vessel. No doubt, you need submersible and waterproof trailer lights. Where do you find these? In the following submersible trailer lights reviews, we've created to help you out with your search.
PRODUCT
DETAILS

MaxxHaul 70205 12V All LED Submersible Trailer Light Kit

Price:

$$

Customer Rating:

4.2

Bulb Type:

LED

Weight:

2.4 lbs

Safety Rating:

DOT

View On Amazon

CZC AUTO 12V LED Submersible Trailer Light for Under 80 In Boat

Price:

$$

Customer Rating:

4.2

Bulb Type:

LED

Weight:

2.86 lbs

Safety Rating:

DOT

View On Amazon

Partsam Red Sealed Stainless Steel Trailer Identification LED Light

Price:

$

Customer Rating:

4.4

Bulb Type:

LED

Weight:

0.22 lb

Safety Rating:

DOT

View On Amazon

Online Red Store Waterproof Red Oval LED Trailer Tail Light Kit

Price:

$

Customer Rating:

4.7

Bulb Type:

LED

Weight:

1.25 lbs

Safety Rating:

SAE & DOT FMVSS-108

View On Amazon

Wellmax 12V Submersible and Waterproof LED Trailer Lights

Price:

$$

Customer Rating:

4.6

Bulb Type:

LED

Weight:

2.2 lbs

Safety Rating:

DOT FMVSS108 

View On Amazon

Wesbar 403076 Waterproof Over 80-Inch Low Profile Taillight

Price:

$

Customer Rating:

4.4

Bulb Type:

Standard

Weight:

0.86 lb

Safety Rating:

FMVSS/CMVSS 108 

View On Amazon
Best Submersible Trailer Lights Reviews
1. MaxxHaul 70205 12V All LED Submersible Trailer Light Kit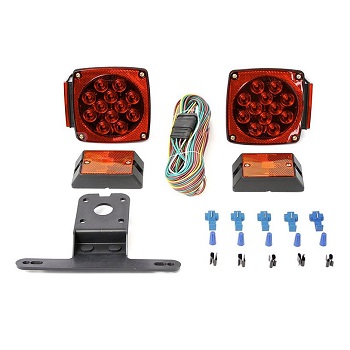 MaxxHaul is one of the most reliable brands when it comes to marine equipment so it's no wonder they came to the top of our list. This seller has an amazing trailer light kit to offer. It features incredible brightness other people simply can't un-see, even from greater distances, which can contribute to your safety on the road – big time.
Unlike traditional copper-coated wires, the MaxxHaul kit comes with more durable wiring that ensures at least a couple of years of service life. They designed resistant housing that is prone to corrosion. Weather conditions or water can't damage your lights either.
You don't have to be a professional in installing trailer lights. MaxxHaul will provide you with a great diagram that shows you how to connect the wiring. If you have an up to 80-inch wide trailer, this unit might be the right pick for you.
Pros
23-feet long wiring,
Comes with UV coated jacket,
Meets DOT safety standards.
Cons
Although the front lights are LED, side market lights aren't.
2. CZC AUTO 12V LED Submersible Trailer Light for Under 80 In Boat
If you are looking for a trailer light that ticks all the boxes regarding quality and safety, make sure to pay attention to this unit. Equipped with a long, 25-feet wiring harness, you can install this trailer light easily and attach it securely so it performs at its best at all conditions. As you would have to bolt it, CZC Auto gives you mounting clips to ease up this process.
Now, speaking of the number of lights, you get 10 LEDs for the left side and 16 for the right tail. To ensure your license plate visibility, this manufacturer added 3 LED lights to highlight it.
Another great feature is that water can flow through the gaping holes in this trailer light. You can be fully confident about submerging them into the water. Suitable for trailers up to 80-inches wide, the CZC Auto trailer light fits most trailer models on the market.
Pros
Sealed from PCB,
Meets DOT standards,
12-month warranty.
Cons
Wiring harness made of standard copper is less durable.
3. Partsam Red Sealed Stainless Steel Trailer Identification LED Light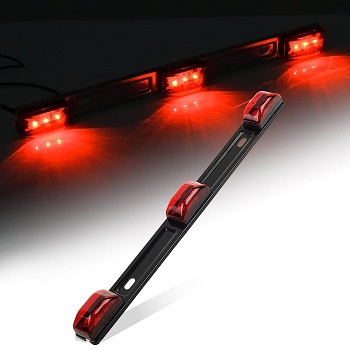 Here comes one of the sturdiest trailer lights made by Partsam. This unit comes with a stainless steel black base that ensures durability and resistance to numerous factors – road debris, saltwater, etc. Partsam made it for trailers 80-inch and wider.
With 9 replaceable LED lights, you can rest assured this trailer light would increase your visibility on the road whether you are using it with your boat trailer, travel or camper trailer, motorhome, or a number of other applications.
Partsam made this unit sealed and waterproof so you can submerge it into the water when loading your boat. It's super-easy to install as well as it comes with a single lead wire. Attach it with screws and hit the road. Screws are included in the package.
Pros
Universal fit,
Rust and corrosion-resistant,
IP65 waterproof rating.
Cons
If you don't check your vehicle year, made, and model fit on time, you might get a wrong sized-unit.
4. Online Red Store Waterproof Red Oval LED Trailer Tail Light Kit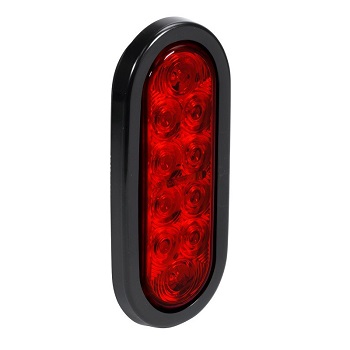 The Online Red trailer tail light kit is one of the most attractive units on the market. Versatile, you can use it for your boat trailer, work truck, or a tractor. It's already clear why this kit might be a good buy, but let's dive deeper into its specs.
Say no to dim, average-brightness lights, as the Online Red kit features 10 LEDs that shine out amazing color are easily visible from a distance. The lenses are made of diffused polycarbonate that increases the brightness and durability of the lights.
One of the things that separate this kit from the rest is that there are two light intensities – red and amber for turning and breaking and there are white, back-up, going-in-reverse lights as well.
Online Red includes a 90-degree connector, 12-inch of wiring, and grommet to make the installation easier and help you out with mounting the lights in tight spaces.
Pros
DOT FMVSS-108 and SAE-certified,
IP67 waterproof rating,
Sonically sealed.
Cons
The gaskets are somehow thin so make sure to attach the lights well.
5. Wellmax 12V Submersible and Waterproof LED Trailer Lights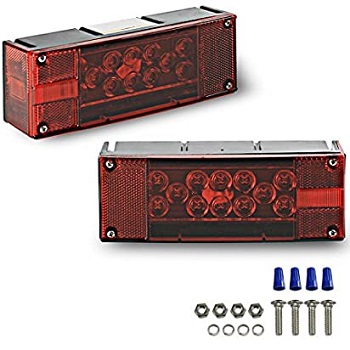 Wellmax is one of those brands that can guarantee the longevity and reliability of their products. Their trailer lights come with stainless steel hardware that ensures resistance to corrosion, salt water, and other elements you can encounter while hauling your boat.
You get two lights – tail and turn, both LED lights that are well-known for their durability (up to 40 times longer than standard bulbs) and exceptional brightness. Sealed and submergible, the Wellmax trailer lights feature an acrylic lens that protects the circuits and block water from getting inside.
Safety is always a priority. The Wellmax trailer lights are compliant with the highest safety regulations so you can rest assured these will prevent you from injuries and your property from damage.
Wellmax designed lights suitable for both under and over 80-inch in width trailers. This kind of flexible sizing ensures these lights will fit any trailer shape and size.
Pros
Meet DOT FMVSS108 standards,
Waterproof and submersible,
Easy to install.
Cons
Plastic parts feel quite cheap.
6. Wesbar 403076 Waterproof Over 80-Inch Low Profile Taillight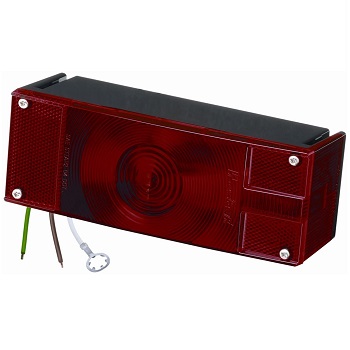 The Wesbar 403076 might be a great pick for boat trailers wider than 80 inches. This taillight is versatile and you can use it in a number of ways, depending on the manner you want to install your trailer. What is more, it features 8 unique functions. For instance, you can turn signal light with it.
Bulbs within this taillight are super-easy to replace if any of them breaks down. The well-built capsule is resistant to thermal shocks and corrosion, which ensures its long life and reliability.
Of course, that means you can submerge the Wesbar taillight with no worries as it is sealed and water can get inside it at no means. Wesbar packs a ring terminal ground and 2 gift supply wires so you have everything you need for a straightforward installation.
Pros
Meets FMVSS/CMSVV 108 safety standards,
Low-profile,
1-year warranty.
Cons
You can mount it on the right side only so you would have to buy one for the left side, too,
This taillight comes with standard bulbs, not LED lights.
7. CZC AUTO LED Submersible Left and Right Trailer Lights
If you are looking for a kit that involves all of the things you need for trailer lights installation, you should know the CZC trailer lights are equipped with all the pieces. That means these come with a 25-feet wiring harness, a ground wire ring connection, and a color-coded harness. As CZC created these trailer lights to be bolted, they included mounting clips into the package as well.
These units feature 6 amazing functions and 1 extra function – side and rear reflection, side marker light, stop turn, rear, tail, and license plate light. You can use the CZC trailer lights with trailers under 80-inch in width. Yet, as these are versatile, you can use them for your snowmobile or a truck, too.
No doubt you will be easy to spot on the road as CZC built-in 35 LED lights in the right tail and on the left side but also 3 extra LEDs to light up your license plate. Sealed from PCB, submergible, and flashy, the CZC lights are durable and safe to use.
Pros
Multi-use,
Meet DOT standards,
12-month warranty.
Cons
You don't screw in but clip these lights, they can be a bit wobbly so make sure to attach them well.
8. MICTUNING 20 LED Trailer Tail Lights Bar Waterproof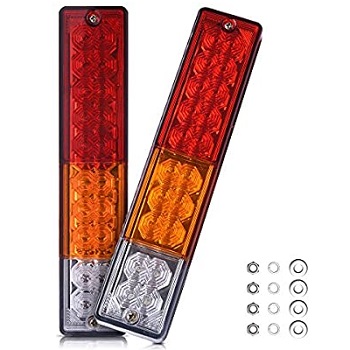 Some trailer lights produce too much glare. The Mictuning trailer tail light is not one of those. Instead, it is designed to give you the superior brightens when you are on the road, and thus, increase your safety when hauling your boat.
Equipped with 5 colored copper and lead wires, this trailer tail light is quite simple to install. Mictuning designed this unit to be durable so they sealed the light bar to prevent water from damaging it. This unit is completely waterproof and you can submerge it into the water when loading your boat to the trailer.
The Mictuning lights come with LED lights that are well-known for their resistance to heavy rain, fog, and other weather conditions. What is more, there are 13 LED lights to keep you and your boat safe and sound on the road.
Pros
DOT-approved,
Rated IP 65,
Cons
Direct sunlight can blur the turn signal a bit.
9. Blazer C6285 Low Profile Submersible Trailer Light Kit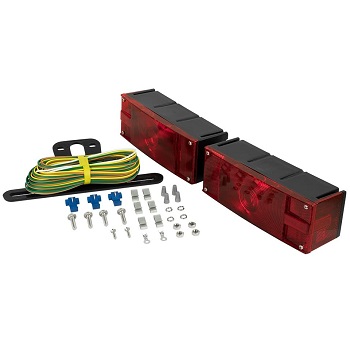 Low-profile, rectangular, universal – the Blazer C6285 has a trailer light kit that is easy to install and durable. What do you get with this kit? A 20-feet wire harness, mounting hardware, license plate bracket, and 2 lights for stop, tail, and turn you can mount on either 2-inch or 4-inch mounting center.
Bell Jar Principle is a unique technology Blazer applied when designing their trailer light kit. It means they are not using adhesive or seals but seal their lenses sonically, which prolongs the service life of this product. You can be confident about submerging your boat trailer into the water as these lights are also resistant to water and no liquid can get inside the socket or reach the bulbs.
Pros
Meets DOT requirements,
Suitable for multiple applications,
For trailer under and over 80-inch wide.
Cons
Standard bulbs are less durable and you would have to replace them frequently.
10. Optronics GloLight Red 6″ Oval Sealed 22-LED Trailer Light Kit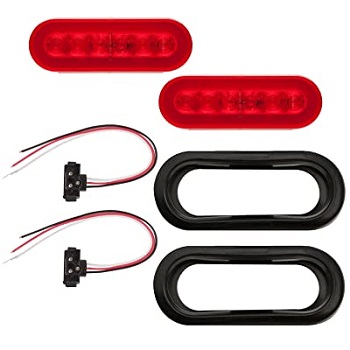 Not only the Optronics GloLight trailer light kit can illuminate your boat trailer but it can add an extra layer of sleekness while you are towing it. This sonically-sealed kit ensures you can submerge it into water numerous times without worries.
Equipped with LED lights, the Optronics kit features better durability than units with standard bulbs. Yet, a lifetime warranty for their LED lights is definitely a massive advantage in comparison to other brands in the same category.
Made of solid-state components, packed with plugs, grommets, 4-function lights, and 3-wire PL-3 pigtails,
you can be fully confident about the simple installation process and brightness of this kit.
You don't get tinned wires and connectors in this package, but the Optronics kit can still add that distinctive touch and safety while you are towing your boat.
Pros
Attractive outer rings increase brightness,
Suitable for both truck and trailer applications,
You can mount it any of 360° positions.
Cons
Be careful you ever want to unplug these lights from the harness.
11. Dry Launch SP7RBX-CL13 Shoreland'r Left Marine Tail Light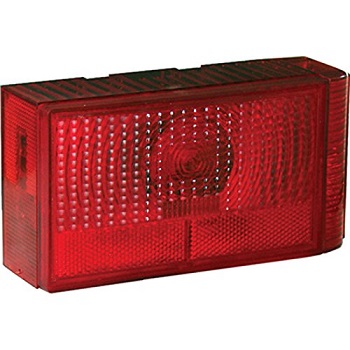 Dry Launch is aware of the fact of how important it is to prevent dirt, sand, and water from coming inside the lenses. This air-trapping principle is what makes the Dry Launch tail light a great pick. Resistant to salt water and sun, you can rest assured of the durability of this unit and submerge it numerous times.
There are no gaskets with Dry Launch tail light. This comes as a great bonus to those who used units with gaskets and experienced a leakage. Ultrasonically-welded, the lenses are quite protected and durable.
If you would like to add new, fresh lights to your boat trailer or replace broken ones, make sure to have the Dry Launch tail lights in mind.
Pros
7-function application,
No tools required for installation,
Made of Lexan (high-quality polycarbonate).
Cons
Uses standard bulbs that are less durable than LED lights.
What Are Trailer Lights?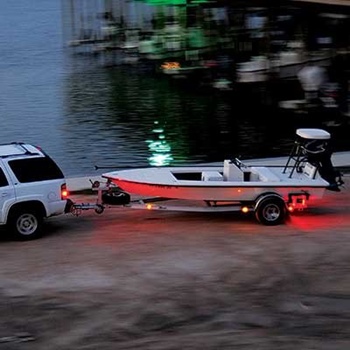 Trailer lights are lights you install on the back of your boat, truck, camper, or any other trailer. This way, other people can know when you are turning, braking, etc, and act accordingly. Trailer lights help you ensure your safety while towing weights and prevent damage to your property.
Submersible trailer lights are designed to be waterproof and thus, are used for trailer boats. By the way, do you know how important it is to have a pair of the best boat trailer tires? Getting back to our topic, it is principal for trailer lights to be waterproof besides being submergible as you might be needing your trailer during different weather conditions.
If you are looking for a set of high-quality trailer lights for your boat trailer, go for marine-grade lights.
Benefits Of Submersible Trailer Lights
Using trailer lights is as important for your safety but also maneuvering your trailer as well. Here are some of the benefits of using trailer lights, especially LED lights.
1. Safety
If you wouldn't be using trailer lights, you might be exposing yourself to risk. Lights are designed to give clear signals to other people on the road about your next move. Hauling a trailer covers your vehicle's lights, which is why you should connect it to trailer lights. Not only trailer lights can prevent collisions but not using them is against the law as well.
2. Durability
Although this applies to LED lights rather than to standard bulbs, you can expect your trailer lights to last for a while either way. However, LED lights can last up to 10 years on average and require no maintenance, which is their biggest advantage in comparison to standard bulbs.
That means you can install your trailer lights and forget about them for another decade. This way, you can save up some money as well.
3. Designed For Marine Use
When loading your boat onto a trailer, you just have to submerge it to a certain extend. Not all trailer lights are submersible but those we reviewed today are. You can submerge them when loading your boat with no worries, which is why you should always opt for specialty products for marine use.
4. Energy-Efficiency
Again, this applies to LED light bulbs rather than standard bulbs LED lights are way more energy-efficient as you don't have to use as much power as you would with standard bulbs. What is more, LED lights to use up to 10 times less energy than standard bulbs do.
5. Generate Little Heat
You probably already know how easy it is for lights to overheat. Halogen lights can get extremely hot when in constant use for a couple of hours while LED lights stay warm no matter how long you use them. LED lights are more practical, safe to use as they won't burn your hand, and there is no risk of overheating.
Submersible Trailer Lights Buying Guide
When buying trailer lights, pay attention to the following features if you want to ensure you get the best quality product.
1. Brightness
This is the most important feature of any light. What's the point of using a light that is not bright enough? When on the road, it is essential for other people to spot your signals in time. LED lights are the best when it comes to brightness and they use very little power so it is a win-win situation.
Although we have managed to find a couple of great and bright trailer lights that come with standard bulbs, LED lights might be a slightly better choice when you are submerging your trailer.
2. Waterproof
Again, you would be submerging your boat trailer and trailer lights into water. If you don't have a unit that is waterproof, your trailer lights will fail you shortly.
On the other hand, heavy rain can mess up with low-quality, improperly-sealed lights as well. Water can get into the casing easily, which would damage the unit.
This is the second most important thing to look for in trailer lights if you want them to last even after you submerge them into the water multiple times.
3. Quick Draining
We've said you should find submergible, waterproof lights. Yet, it is as important to find a unit that boasts quick draining. This will ensure no water can get under the casing or cause damage to wires or bulbs. You can find trailer lights with drilled holes meant for quick water draining that prevent water from getting inside.
4. Corrosion-Resistant
If you are sailing salty seawater, it is essential to find corrosion-resistant trailer lights. Of course, housing and lights are plastic, so you can't expect them to be resistant to corrosion, while wiring can and should be. Stainless steel is the best material to choose as it is suitable for marine use so try to find trailer lights with stainless steel parts.
5. Ease Of Installation
You don't have to be a professional to install trailer lights. Replacing bulbs is super-easy so you can do this task with the minimum effort once you've installed the unit. Here, it is important to install wiring the right way and attach the unit well so it is not wobbly.
Of course, you have to know some basic skills in electronics or you can ask a friend to help you out with this.
6. Design
Design is a matter of preference. You can find trailer lights in different shapes – round, oval, and rectangular. Some units come with different light intensities, which is a rather attractive feature but not the essential one.
7. Safety Rating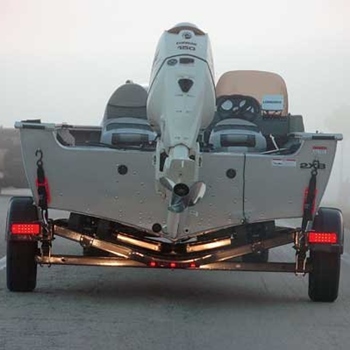 Although trailer lights are required on the road and you can get a penalty for not using them, the most important thing why you should is – for the sake of your own safety and safety of other people on the road.
As you could see yourself, most of the trailer lights we listed in our reviews are DOT certified, which means they meet the highest safety requirements. If you want to prevent damage to your boat and protect yourself from injuries, go for a unit that holds this safety rating.
8. Fitting
Most trailer lights are designed to fit the boat trailer either under or above 80 inches in width. Make sure to check on the manufacturer's specs or sizing chart before making a final decision.
How To Install Trailer Lights?
You will need some basic home toolbox and this guide to install trailer lights.
Attach and secure your boat trailer so it doesn't move while you are installing lights to it.
Unscrew the original lights, disconnect old wiring, and thread the new one. Attach the wires so none is hanging down. In order not to get a penalty, make sure the cable has some kind of support every 60cm.
If there is any excess wiring, trim it off.
Strip 1 cm of insulation off the wires with cable strippers.
Take your new kit and you will spot one piece for the number plate light. Attach this one first so that your visibility is impeccable at night.
Make sure all of the lights are positioned properly and there is equal space between each.
Screw-in or set bolts to secure the lights on both sides.
Match the same colors on the lights and wires and twist them. Here are the color codes: stop lamps are red, brakes are blue, a left indicator is yellow and the right is green, the reverse is black, earth return white, and finally, rear laps are brown.
Tighten the plastic housing but make sure not to damage it.
Secure the trailer plug to your vehicle and attach the trailer to the vehicle's tow bar.
Test all of the indicators to make sure you have attached the wires properly.
Take a heat gun and seal the joints with a piece of heat shrink. Do this for both sides. The electrical tape would do as well if you don't have a heat gun and heat shrink.
Maintenance & Safety Tips For Trailer Lights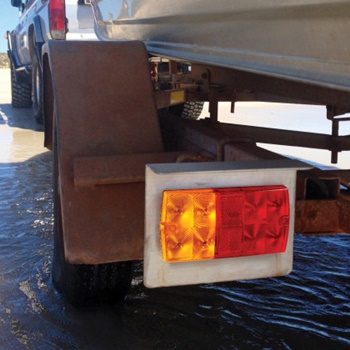 Trailer lights are easy to maintain, just as it is the case with your boat anchors, anchor ropes, or best bilge pumps. Still, the following steps are important to take if you want to preserve your trailer lights in good condition and ensure their long service life.
1. Maintenance Tips
If your trailer lights are gleaming, that might be a ground issue. To fix this, ground the wiring by using a trailer hitch from the truck.
Rinse dust from your trailer lights' surface regularly. Use water and mild soap. This will prevent overshadowing and risky situations on the road.
If you spot any of the wires hanging from the trailer, tie them up. Take a closer look and try to inspect the whole wiring. There might be a broken wire. Check female and male connections as well. In case you find a broken wire, try to re-connect it with insulating tape or call a professional to handle this.
2. Safety Tips
Check the electrical connectors, cables, and wires each time before you hit the road. If something looks suspicious, call a technician.
Don't ever go for a trip if your trailer lights are not working properly.
FAQ About Submersible Trailer Lights
1. How Do I Waterproof My Trailer Lights?
You can't make trailer lights waterproof if they are not designed to be waterproof. That is why it is so important to find a marine-grade, submergible, and waterproof trailer lights.
The only thing you can make waterproof is the wiring. If you happened to rip it off somehow, you can dip the connector into a liquid electrical tape. Repeat if needed and let it dry for a while. This will coat the wiring completely and seal it up so you can be carefree when it is raining heavily.
2. Are LED Trailer Lights Better?
Yes, they are. LED trailer lights last 10 times longer than it is the case with standard bulbs. Also, these use less power and are designed not to overheat. Most importantly, LED lights are so much brighter than standard bulbs and can be easily seen at all weather conditions.
3. Can LED trailer lights be submerged in water?
Absolutely. If you get submersible LED trailer lights, there is no reason not to be afraid. All of the available, high-quality LED trailer lights on the market are listed in our reviews.
Wrap Up
Clearly, you would block the back of your vehicle when hauling your boat, which is why you need the best submersible trailer lights. You will use your boat trailer to load the vessel on it but also take it back into the water.
We took all of the important features of boat trailer lights into account when we were creating submersible trailer lights reviews. To make sure you find the best pick for your needs, we followed you through our buyer's guide. However, the story doesn't end there! We have other guides about marine equipment you can check with just one click.