Looking for the best small outboard motor out there? This piece of equipment is essential for most sailors out there, so picking a great model is important.
That's why we prepared small outboard motor reviews to see which models have gathered a lot of appreciation on the part of the boaters that have invested in them. These are all capable of excellent performance and are also easy to maintain. You can also find our comprehensive buying guide where you can learn what exactly to look out for.
See The Quick Comparison Chart
Advantages of Small Outboard Motors
If you have been wondering whether this type of motor addresses your requirements or not, you're going to enjoy reading the following section. We have put together a list of some of the most significant benefits that you will get if you decide to start using an outboard motor for your boat.
1. Easy to Replace
The first and most obvious advantage is that the engine can be replaced very easily in case of failure. An outboard motor is capable of improving a boat's handling since it provides articulated thrust unlike rudders used with inboards. Most modern outboards are able to offer an excellent power-to-weight ratio, especially when put side by side with the other options out there.
2. Size and Space
Small outboard motors are easy to handle, lighter than their heftier counterparts, and they also occupy less space on your boat. Their name is 'outboard' for a reason, meaning that you can use the amount of space that they put at your disposal for anything else — a boat seat or use it as storage for something you might need while out on the water.
3. Maintenance & Dependability
A few years ago, diesel inboards would have been more likely to be yard-maintained by a professional mechanic, and therefore, they would have been pricier to own and use compared to outboards.
If you have to upgrade or replace an engine or prop, it's far easier to do it with an outboard. Since everything is at your disposal, you can also take a good look and see whether the motor has sustained damage from an impact, for example.
4. Fuel
Outboards run on gas whereas inboards are mostly diesel-powered. You can, of course, come across gas inboards, but for safety reasons, diesel ones are recommended. Diesel is about twenty percent more expensive than gasoline, so outboard motors make it cheaper for you to do your boating.
On top of everything, over the past decade, diesel motors have become less and less popular, also because they produce a lot more pollution. Some countries have forbidden diesel cars completely and are forcing their owners to upgrade to a gas automobile. At this point, we don't know if this will happen with diesel motors for boats, but it's quite likely that it will.
5. Cost
Small outboards motors that don't come with any bells and whistles can be quite affordable. While the cost might not be the most important aspect to consider, it does make a difference, especially if you are on a budget.
However, there are expensive outboard motors, too, such computer-controlled models, many of which can be quite sophisticated.
Best Small Outboard Motors Comparison Chart
PRODUCT
DETAILS

Sky 2-Stroke 2.5HP Superior Engine Outboard Motor

Price: $
Customer Rating: 3.3
Weight: 21.2 lbs
HP: 2.5
Stroke: 2

View On Amazon

Coleman Powersports 2.6 HP Outboard Motor

Price: $$$
Customer Rating: 3.7
Weight: 47 lbs
HP: 2.6
Stroke: 4

View On Amazon

US DELIVER Outboard Motor 6.5HP Water Cooling 4-Stroke

Price: $$$
Customer Rating: 5.0
Weight: 52.9 lbs
HP: 6.5
Stroke: 4

View On Amazon

CLIENSY 4HP 4 Stroke Outboard Motor Boat Engine

Price: $
Customer Rating: 5.0
Weight: 29 lbs
HP: 4
Stroke: 4

View On Amazon

NOPTEG Hangkai Water Cooled 2 Stroke 3.5 HP Outboard Boat Motor

Price: $
Customer Rating: 4.4
Weight: 28.7 lbs
HP: 3.5
Stroke: 2

View On Amazon

SEA DOG WATER SPORTS 4 Stroke 4.0HP Outboard Motor

Price: $$
Customer Rating: 4.5
Weight: 29.3 lbs
HP: 4
Stroke: 4

SEA DOG WATER SPORTS Outboard Motor 2.5 HP 2 Stroke

Price: $
Customer Rating: 3.8
Weight: 21 lbs
HP: 2.5
Stroke: 2

HANGKAI 6HP 2 Stroke Outboard Motor with Water Cooling System

Price: $$$
Customer Rating: 5.0
Weight: 55.1 lbs
HP: 6
Stroke: 2
Best Small Outboard Motor Reviews
1. Sky 2-Stroke 2.5HP Superior Engine Outboard Motor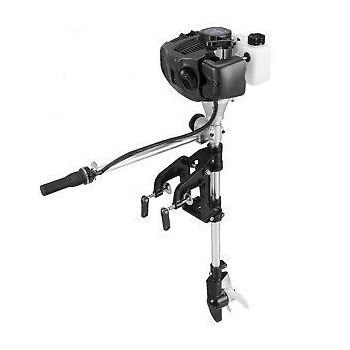 This is a relatively cheap and compact outboard motor that comes with excellent features. You should definitely jot it down on your list if you haven't made up your mind just yet. The motor comes with an air-cooled engine that ensures extended use without getting heated.
Furthermore, the 2-stroke single cylinder engine can get you moving on the water efficiently and easily, but also in as little time as possible. The 2.5HP motor makes the perfect choice for inflatable boats or small fishing boats.
Additionally, you might want to know that this engine comes with a compact and durable construction, which means that you will get as much use of it in the future as possible. Plus, it's also easy to store and carry, which makes winterizing it a breeze. Last, but not least, we'd like to add that the motor doesn't make as much noise as you might expect it to.
Pros
Suitable for freshwater and saltwater
Lightweight and easy to carry
Doesn't make a lot of noise
Compact and durable
Perfect for small inflatable boats
Cons
This one isn't powerful enough for bigger and heavier boats, so we would recommend against purchasing it if that's the type of watercraft that you own.
2. Coleman Powersports 2.6 HP Outboard Motor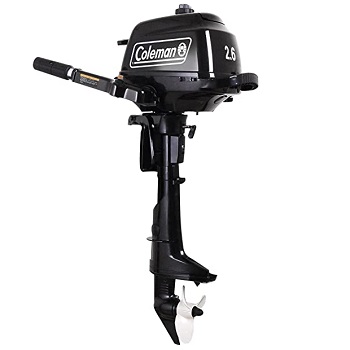 Coleman Powersports is a very well-known brand in the United States, especially, as the company makes lots of high-quality products in a variety of domains. The 4-stroke motor that we are reviewing here comes with a 31-gallon internal gas tank and can be considered to be a lightweight alternative since it weighs in at 37.5 lbs.
The easy start TCI ignition, the 360-degree steering, as well as the fact that this motor has been both CE and EPA approved are all things worth writing home about. It has been specifically engineered to offer reliable and quiet operation. That's why it makes one of the best options out there for inflatable boats and small boats.
Needless to say, you are also free to rely on this outboard motor as an auxiliary trolling engine. On the other hand, it calls for a significant financial investment, so do keep that in mind when deciding between this one and another unit.
Pros
Adjustable steering friction
Vibration reduction
Made with marine aluminum alloy parts for corrosion protection
Meets EPA and CE standards
It's water-cooled, so operation is a breeze
Cons
The fuel shutoff valve works backwards, which might confuse some boaters in the beginning.
3. US DELIVER Outboard Motor 6.5HP Water Cooling 4-Stroke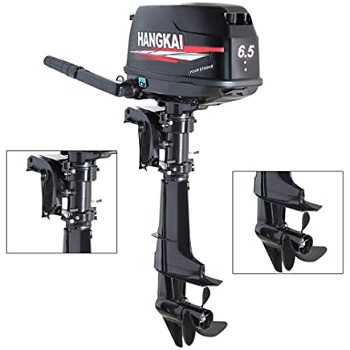 The power of this engine is what makes it stand out from the crowd. It really takes the cake when it comes to performance, which is why it can be used on slightly heavier and bigger boats, especially when compared to the other models that we have showcased here.
The 6-HP engine gives you all the power that you need. It runs on gas and it does tend to make a lot of noise, so you do need to consider that before investing your hard-earned cash in this one. The unit doesn't wear more than 100kg, which makes it lighter than some of its competitors.
It is a great match for rubber boats, inflatable boats, but also some types of fishing boats. As for the fuel efficiency, we haven't come across any complaints in this sense. We also couldn't help noticing that most of the feedback acquired by this unit is favorable.
Pros
Comes with a booklet, tubing, cotter pin, a start rope, a start key, and a pump impeller, but also a toolbox and other accessories
Has been approved for use by the CE
Max speed (r/min) is estimated at 5000-6000
Very powerful, given its 6.5-HP
Newly designed handles make it easy to transport
Cons
It's not the cheapest engine in this line.
4. CLIENSY 4HP 4 Stroke Outboard Motor Boat Engine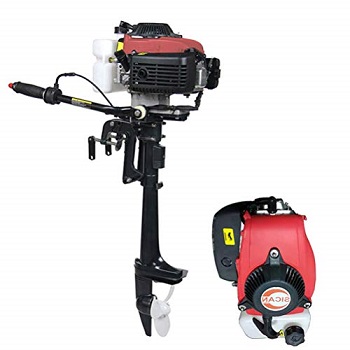 This is another small outboard that you ought to bear in mind, and that's because it comes with excellent performance. It's a 4-stroke alternative, so it's more eco-friendly compared to others that we have described in this post. The 4HP is another aspect worth considering since this one offers you enough power when you need it the most.
The engine is equipped with its own patented air cooling system, which means that you can rely on it for a whole day of fishing. Furthermore, it comes with a 360-degree steering rotation for reverse without any gear shifting, so you also get to operate it conveniently and easily.
If you are worried about durability and safety, you will be happy to know that this unit comes with a lubricating system and a safe twist grip throttle control. This engine makes an excellent alternative for fishing boats, inflatable boats, as well as rubber boats.
Pros
Can be used in freshwater and saltwater
Weighs in at just 29lbs
It's a dry motor, so it uses air cooling, not water cooling
Very easy to grease and get ready for the winter
Fairly inexpensive
Cons
This unit wouldn't be strong enough to pull a raft or to be used for water skiing.
5. NOPTEG Hangkai Water Cooled 2 Stroke 3.5 HP Outboard Boat Motor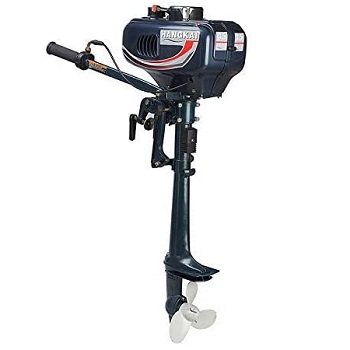 If you have been trying hard to find an outboard motor that doesn't force you to break the bank, this one should be right up your alley. Compared to many others out there, it doesn't cost a fortune, but you should also know that it comes with limited power.
You can't compare a 6.5HP engine with a 3.5HP one, but you can definitely opt for this one if your boat is light and you don't need a lot of power. The cooling technology is another aspect to keep in mind, and this one is water-cooled, which is convenient and reliable.
On top of everything, the NOPTEG alternative is eco-friendly, energy-efficient, and also easy to carry. The compact design makes it easy for you to service your engine before you store it for the winter. You don't have to worry about anything in terms of durability as this one is made from high-grade marine material, so it doesn't corrode easily.
Pros
Perfect for fishing boats, inflatable boats, but also small yachts
Covered by a 1-year warranty
Doesn't make a lot of noise
It weighs in at about 21 lbs, so it's quite lightweight
Durable and easy to operate
Cons
It can smell like rubber when it's running, which can bother some boaters.
6. SEA DOG WATER SPORTS 4 Stroke 4.0HP Outboard Motor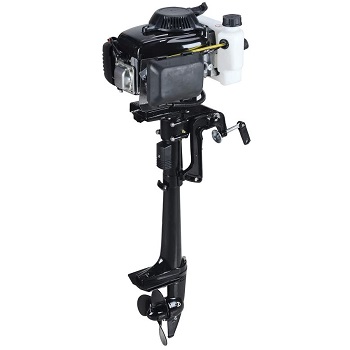 This four-stroke alternative should be right up your alley if you are looking to do some fishing or boating and also be eco-friendly, at the same time. It's been certified by the CE. The unit is outfitted with a 360-degree rotary handle complete with a self-lock, so that's one less thing to worry about.
As for the waters in which you can rely on this motor, you'll be glad to know that it works both in saltwater and in freshwater. It can be installed on a variety of watercraft from fishing boats, canoes, and sailboats to good old kayaks.
Durability is not a factor that you should worry about if you decide to opt for this model. It boasts a compact structure, but it is made to be anti-corrosive, meaning that it's not going to become the victim of rust anytime soon. It's also quite lightweight and easy to carry around.
Pros
Modern fuel-saving technology
Can be installed on a broad range of ships
No assembly required
It starts easily, with almost no effort and no issues whatsoever
Backed by a 1-year warranty
Cons
It calls for a financial investment compared to other small and budget-friendly choices in the same line, but we might argue that it pays off in the end.
7. SEA DOG WATER SPORTS Outboard Motor 2.5 HP 2 Stroke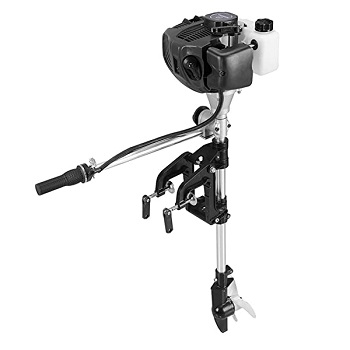 If you have been looking for something that suits your budget, then you should definitely consider this one as it seems to fit the bill. Granted, it's a 2-stroke engine, so it can offer you less performance compared to the first model that we have showcased in our selection.
Nevertheless, it still makes a great option for watercrafts such as small yachts, fishing boats, inflatable boats, as well as sailboats. It's durable, economical, and compact, so you can service it with as little effort as possible. What's also worth noting about it is that it boasts an anti-corrosive construction.
Being compatible with both freshwater and saltwater, you can basically use this engine anywhere you please or wherever you do your boating or fishing. It's a single-cylinder, 2-stroke, air-cooled model and it works with less noise, especially compared to others. As a final note, this model works with gasoline, so do keep that in mind when making your decision.
Pros
Works great based on the feedback it has received
Offers excellent power for a small boat
Offers amazing value for every cent spent
The motor can be tilted
More stable and reliable compared to traditional land motors
Cons
Since it's been described as a weed eater, try to avoid using it in waters with heavy cover.
8. HANGKAI 6HP 2 Stroke Outboard Motor with Water Cooling System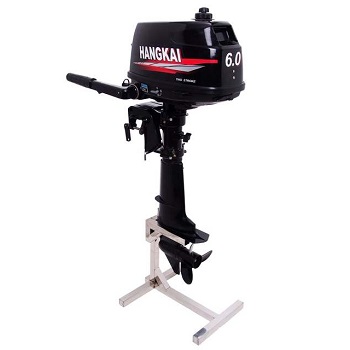 This one is similar to the model that we have described a little earlier, but the difference between the two is that the HANGKAI is a 2-stroke, not a 4-stroke outboard. It comes with a water cooling technology which largely improves the reliability of the engine, so that's one less thing to worry about.
It's also worth noting that it comes with 360-degree steering rotation for reverse without any gear shifting whatsoever. You might want to consider this unit if you are in the market for a convenient and easy-to-operate engine that's also fuel-efficient and eco-friendly.
Despite its quite large tank capacity, the motor boasts a compact design. This is one of the reasons that makes it easy to winterize and carry from one place to another and even install on another boat, if you're looking to change your watercraft. As is the case with some of the other engines described in this selection, this one is CE certified.
Pros
Suitable for freshwater and saltwater alike
Works on a variety of ships
Comes with a 2.5L fuel tank capacity
Doesn't take a lot of skills and effort to operate
Convenient, reliable, and reasonably quiet
Cons
Avoid starting the motor on the shore or using it when you come out of the water — this can result in irreparable damage.
What is an Outboard Motor?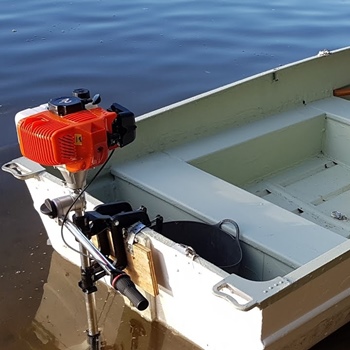 Outboard motors can be defined as contained marine propulsion systems that can be installed onto the transom of a watercraft. The powerhead, driveshaft, as well as a lower unit with running gear are contained all together in just one unit.
Similarly to many other marine power systems, the engine spins a shaft. The shaft consequently spins a propeller shaft, and the latter spins a propeller so as to create thrust.
If you have been trying to tell whether alongside the rest of your boating gear, you should consider using an outboard motor, we're here to help you understand just that. An outboard motor simplifies the boat building process as both an inboard or stern drive would have to be mounted to the motor, lined up, and then attached to the drive system.
Like other types of equipment, from the models from our boat seat reviews to boat anchor reviews, outboard motors have come a long way in the past years. They were invented at the end of the 19th century and they initially were 1.5-horsepower motors that could be clamped to the back of any rowboat. Later on, 2-stroke and 4-stroke motors were invented.
Different Types of Outboard Motors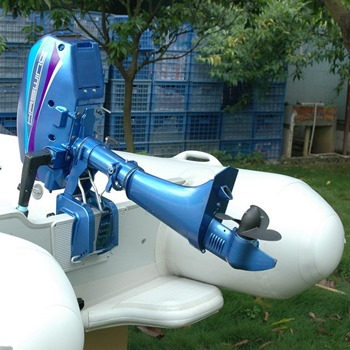 Outboards can be either two or four-stroke engines, with the latter having gained some favor in recent years for several reasons. We made sure to create separate sections for both of the kinds so that you understand the advantages and disadvantages of each.
1. Two-Stroke Outboards
If you are both price and weight conscious, what you need is a two-stroke small outboard motor. It effectively produces the compression strokes of the plunger and its consumption in just a single action.
Two-stroke outboards are usually lighter, cheaper, and they also have a simpler construction compared to their four-stroke counterparts. This is what makes them easy to maintain. They are also quite rugged, in spite of their size and somewhat 'limited' capacity.
2. Four Stroke Outboards
4-stroke engines have become more and more popular in recent years, and that's because they use less fuel, they are quiet, and they also tend to run more cleanly. There is no oil mixed with the fuel, so the two-cycle smokescreen is automatically eliminated.
Four-stroke outboards also have a greater economy and fewer emissions, so if you're not so particular about the size (since they tend to be bigger and heavier), you might want to consider this type.
The weight is something definitely not worth writing home about when it comes to four-stroke outboards. For instance, four-stroke engines that are in the 5-HP category are about 20% heavier than 2-stroke engines that have the same horsepower. They also tend to cost a pretty penny compared to their 2-stroke counterparts.
The nice thing about four-stroke outboard motors, though, is that they are in compliance with environmental regulations. This, of course, can't be said about 2-stroke motors.
3. Cooling Categories
Every engine, no matter whether it is small or large, or four-stroke or two-stroke, will have to be cooled using one method or the other. To date, manufacturers have come up with two types of cooling:
Air-cooled systems cool down the engine thanks to a fan. They are quite rare, they're small, and they don't seem to do that good of a job.
Water-cooled systems, on the other hand, are a great choice in most situations. They obviously rely on water to cool the motor. Most compact outboard motors rely on closed-loop cooling where the surrounding water is used for the purpose. However, the water never gets into the motor or the boat.
Small Outboard Motor Buying Guide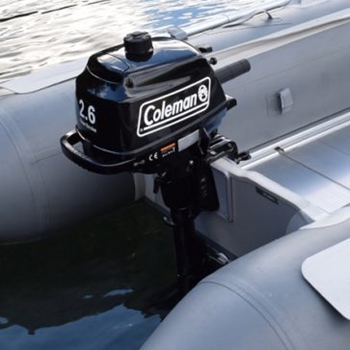 Since we know that finding a good small outboard motor these days can be more or less challenging, we have decided to take some of the hassle out of your decision-making process by creating a comprehensive guide.
It contains all of the essential aspects that you ought to mull over before you make up your mind on a specific model. Check it out below.
1. Horsepower
This factor is by far the most important one to consider when shopping for a boat motor. Technically, bigger is better, but the truth is that you have to pick the right horsepower for the boat type and size that you own. If you have a small boat and you get a large engine, it might affect the ship's stability. Plus, the additional power can cause damage to the transom.
On the other hand, using a too small outboard motor on a boat that's too large can effectively burn out the engine due to excessive demand and drag. Making sure that the size and horsepower of the motor match your boat can provide you with reliability, but also stability.
There is an easy way of telling what type of HP motor you should get. You can look at the National Marine Manufacturers' Association Certification Plate, which should normally be found inside your boat stern. There you will find the horsepower rating that is recommended for your type of ship.
2. Transom Height
The boat transom is the part of the backend where you will mount your portable outboard motor. The reason this part is so important is that the thrust and momentum of the engine will be transferred to the whole boat through the transom.
Look at the transom height when shopping for any outboard motor as you need to make sure that it is a good fit for your type of vessel. You can measure the transom height of your boat by measuring from the top center section to the bottom center of your hull.
3. Electric Start
Recoil start engines can be difficult now and then, but today's recoil start motors are easier to work with thanks to their automatic decompression. This feature effectively bleeds off cylinder pressure so as to reduce the pulling force.
There are outboard motors out there that have an electric start. The core advantage of an electric start is that it can get the engine running with just one push of a button. It can also give you some reassurance when it comes to safety. If you end up in a rocky shore area, you can just press the electric start button and get away from danger.
4. Fuel Type
Gasoline can be a little more expensive and it can also put less strain on the engine valve seats, especially when compared to propane. It has been the fuel of choice for many years now, and many boaters will find it comfortable to work with.
However, propane has been gathering a lot of appreciation, too, and that's because it's more efficient and also cleaner than gasoline. It will also not gum up or degrade the engine as fast. In addition to this, propane engines start quicker and more easily as the fuel is effectively pressurized.
If you already use propane as a fuel for other types of equipment, such as your grill, for instance, you might want to eliminate gasoline altogether and choose a motor that can be used with propane. You might want to do this out of pure convenience.
5. Controls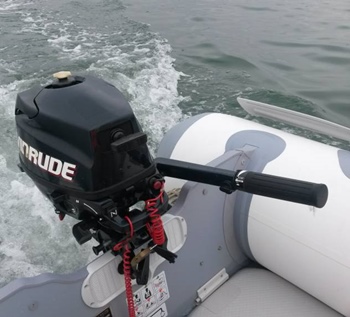 The outboard controls have to be ergonomic and simple. Some of the most convenient tiller handles are longer for easy reach, and are also adjustable. They can also ensure one-handed operation, which can't be said for some of their competitors. You can use just one hand to control the steering, shifting, throttling, and tilting.
For manual tilting, you should find a tiller handle that you can just push down and snap from and into any angle. Most portable outboard motors come with a power tilt and this can be a great feature to have, but it can be difficult to work with on larger engines.
After launching your ship, you will have to tilt it down into the water, so you might need to tilt your motor up, especially in shallow areas. You'll need to tilt it back down when you get back to deeper waters. You should also tilt up your outboard motor when you are retrieving your boat at the boat launch.
6. EFI
There are modern outboard motors out there that are built with EFI engines. These ensure controlled throttle response and reliable and fast starting no matter the weather. On top of everything, EFI engines are known for not gumming up like carburetor engines. They also call for a lot less maintenance in the long run.
Although the vast majority of boaters seem to prefer the simplicity of carburetor engines, many will learn to appreciate how efficiently and clean EFI models can run, even in inclement weather or when it's very cold outdoors.
7. Size & Weight
The size can matter a lot in the grand scheme of things. If the engine is too sizable for your ship, it can make the latter lose its balance. This can mean that you and the rest of the people in the boat can be put in a dangerous situation.
Picking the right size of motor can be done easily nowadays since most manufacturing companies can be contacted and they can give recommendations with regard to which engine size works best for what ship size.
As for the weight, it also has a say in your decision. If the motor is too heavy, it might not work properly, and it might also make the front of your watercraft lift up and essentially modify its position on the water. Under such a circumstance, a boat can lose power and speed, which has a negative impact on fuel efficiency, too.
8. Type
As we have already mentioned, the majority of small outboard motors that are available for sale right now are either two-stroke or four-stroke. If fuel economy and being environmentally friendly matter a lot to you, a four-stroke engine is the best choice of the two.
On the other hand, two-stroke engines are smaller, have a simpler construction, and they also tend to cost significantly less compared to their four-stroke counterparts.
9. Shaft Length
All outboard motors come with a shaft, and it can be either short or long. If you have a lower boat, then you should definitely select a motor that comes with a shorter shaft length.
On the other hand, higher boats call for longer shafts. The length of the shaft goes a long way when it comes to determining the performance and cooling system of the motor.
10. Build Quality
You can't really assess the construction quality of a small outboard motor just by having a look at some pictures online. Make sure you read as many reviews of the outboard motor as possible before ordering it. Additionally, we would like to note that in this case, the brand actually matters.
It is universally acknowledged that bigger brands make their products using better quality materials. Plus, if you get a model made by a reputable company, you will also benefit from a generous return and refund policy in case you come across any problem.
How to Install & Use a Lightweight Outboard Motor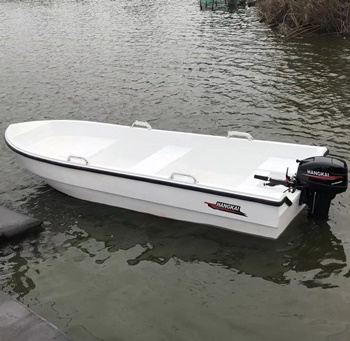 Before anything, you need to make sure that you have picked the right kind of motor for your type of boat. If you don't, you will not be able to do any safe boating and you might jeopardize yourself and the other people on the ship, and also damage your watercraft.
General Tips
Make sure that the engine is in the correct position.
Tighten it and look at how you can use it in relation to your hand or other type of operation. The middle part of the outboard should be moved up and down with as much ease and convenience as possible.
Check the manufacturing brand's manual and then look at the pictures provided and compare them with the reality. If the motor doesn't seem to be well-installed, call a technician.
Before using the motor for the first time, make sure that it is fastened as best as possible so that it doesn't detach from the boat when being operated.
Rely on safety cables to position the motor as best as possible. This will ensure that, in the unlikely event that the motor bumps into an object in the water, it won't be knocked down from the transom.
Position the outboard motor's fuel tank in a well-ventilated area of the boat. Ideally, this part of the boat should also be away from direct sunlight and no more than six feet away from the outboard motor (and less than 3 feet below the fuel connector).
Always use a startup checklist before anything.
Maintenance & Safety Tips for Portable Outboard Motors
It can be more or less easy to keep your outboard engine in top shape, even if you aren't a mechanic. A little TLC and preventive maintenance can make sure that your boating is always safe. It can also make sure that the motor runs reliably for many years to come.
Regular Maintenance
Prevention is worth a pound of cure, they say, and we couldn't agree more. Here is a checklist of things that you ought to ensure on a regular basis.
Check the fuel line for worn spots and cracks.
Make sure that the fuel primer bulb isn't cracked or pliable.
Ensure that the fuel line fittings don't leak and seat right.
Check the clamps for corrosion or rust, especially those on the fuel line.
Check the fuel tank for corrosion or any other type of damage.
Check the tank vent so as to ensure that it aspirates correctly.
Regularly check for any water present in the fuel.
After Every Trip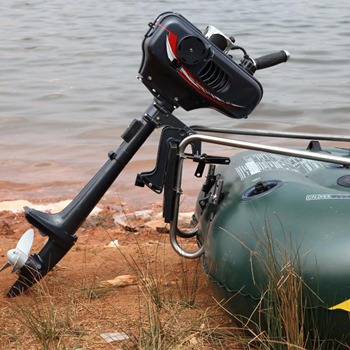 Here are a few essential rules to follow so as to ensure safety when you maintain your small outboard motor. These tasks should be performed after each and every boating trip.
1. Flush Out the Motor
Remove the water using a hose connected to the water outlet and then run the engine until there's no more exiting the hose.
2. Burn Off Any Excess Fuel
Turn off the fuel tap and run the engine until it naturally stops. This will get rid of the fuel in the carburetion system. Needless to say, make sure that the battery switch is turned off when the motor isn't in use.
3. Check for Leaks
Remove the engine cowling and inspect it for fuel or water leaks. If you find one, get in touch with your local mechanic as he or she can perform repairs before things get worse. Pipe clips can also become loose quite easily, and if you notice any signs of rust or corrosion, you should change that clip.
4. Use WD40
Spraying the engine with WD40 can protect it against corrosion. After getting rid of any rust present on the motor parts, you should use an appropriate lubricant. As time-consuming as these tasks might seem, they are essential in maintaining your outboard for as long as possible and in as good condition as ever.
5. Fresh Fuel
When the season ends, drain the fuel from the tank. It goes without saying that you should dispose of it correctly. Grease everything before storing your boat and get in touch with a mechanic so as to perform a thorough check of your motor. The same should be done when the season starts, again.
FAQs About Small Outboard Motors
1. How to Winterize an Outboard Motor?
Winterizing an outboard involves several steps. First, fill up the gas tank, which gets rid of the moisture buildup over the winter months. Check the bulbs, hoses, and connectors and replace them if there is any damage present. Change the water separator and fuel filter and add a fuel stabilizer to the gas tank — this makes sure that the gas is fresh in the spring.
Use a motor flusher and while the water's running, start the motor and allow it to go idle for a quarter of an hour. Spray a fogging agent through the carburetors until you see smoke coming out the exhaust and the engine kills. The oil lowers the chance of any moisture occurring inside the motor.
Spin the flywheel by hand several times to distribute the oil as evenly as possible. Check the spark plugs for wear. Coat the engine body with silicone anti-corrosion spray as this will prevent moisture from sticking to its parts.
Remove the propeller and inspect for weeds or fishing line or whatever else that might have become entangled around the shaft. If the seals are obviously damaged, they have to be replaced. Then coat the shaft with lube and replace the prop. You have now winterized your outboard motor.
2. Where Should Water Come Out On an Outboard Motor?
Water should be removed via the hose attached to the water pump. However, there can be situations in which you might notice that water is coming out of your exhaust pipe, for example.
You should know that cooling water can exit through the exhaust and it's absolutely normal. It's a part of the cooling system, along with the pee stream. When you are not moving, the exhaust can even bubble out from the lower unit as it exits out through the prop while you are underway. There's nothing to worry about, in this case.
3. How to Build an Outboard Motor Stand?
Building a motor stand really isn't that difficult. You do have to make sure that it is a good fit for the engine that you have on your hands, though. For example, for a 550lb engine, you'd need bottom runners that would have to be 4×4 3', 2 feet behind and 1 in the front, and a height notched 1" into the bottom runners.
You'd also need a 12-motor mounting plate, 2×4 side support and one behind the upper legs, and 3/4″ side plates. You can use glue, screws, and lags, and even add casters later on. There are a lot of free instructions on the Internet, as well as tutorials and tips.
Wrap Up
As you might have been able to tell, picking the best small outboard motor from the plethora of the models that are available these days can be quite challenging. We hope that our small outboard motor reviews have assisted you in making the right decision for your boat and your needs and preferences.
Just remember to do as much research as possible before opting for one unit or the other. Go through as many consumer reports as your time allows you to as other boaters can let you know what mishaps they have encountered, especially in terms of installation, operation, and maintenance.