Comfort on your boat depends on having the best boat seats. We have done a lot of research on this topic and we have created a selection of some of the most durable, comfortable, and easiest to install models out there.
Should you have some time on your hands, we suggest having a look at the boat seat reviews showcased below. All of the models listed here have received a lot of appreciation from experienced and amateur boaters alike.
See The Quick Comparison Chart
Types and Uses of Boat Seats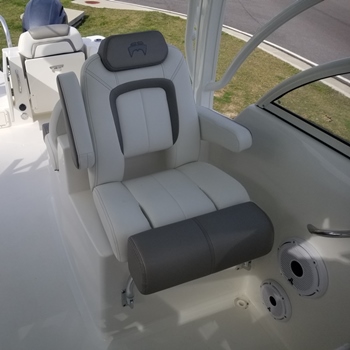 As we have mentioned, not all boat seats are made the same. They can differ in terms of design, in terms of the materials used in their construction, but they can also vary in terms of where they can be installed.
Some boat seats just aren't going to fit a kayak boat either because they're too big or because they are too heavy. Choosing the appropriate type of seat for the type of boat that you own and use is highly important, so here are the main characteristics of some of the most common ones out there.
1. Offshore Boat Seats
There are five main kinds of seats that you are likely to find on offshore boats.
Pilot chairs are mounted onto a pedestal and that's why they fit perfectly into the helm. These are also known as captain seats.
Leaning posts are mounted right onto the boat deck. Such a chair gives standing support while you are navigating or angling. These seats can be seen on center console boats or offshore boats.
Fighting chairs are typically found on sizable deck boats and are usually mounted to a pedestal. Most fighting chairs come with rod holders built-in. They can make the best choice for avid fishermen and women.
Swingback boat seats take the cake when it comes to comfort. They are outfitted with a backrest that can slide so as to move the seat forward or backward. Traditionally, swing back boat seats can be installed on a pedestal, box, or post.
Cooler seats are mounted right to the boat deck and don't actually look like separate seats. They serve an additional purpose besides supporting the weight of the person sitting on them. They have a container on the inside where you can place an icebox and drinks, for example. Therefore, these boat seats make the best choice for lounging and having fun with friends.
2. Fishing Boat Seats
There are several types of boat seats for fishing purposes that you will come across. The first are folding seats, which have a more or less simple style, and that are quite convenient. The majority of those that we have come across come with brackets for convenient storage and carrying. Generally, this type is commonly used on utility and fishing boats.
Buddy seats are attached in-between 2 bucket-style seats so as to create a seating arrangement.
Bucket seats are comfortable and effectively look like buckets. They fit right in the helm and can be used as the captain's seat. Some come with a bolster, but the greatest benefit that they offer is that they fit most boats out there.
Casting seats are typically mounted to a pedestal and as such, they take the cake when it comes to stability. They are also pretty comfortable, particularly for those fishers who tend to do their angling in rough waters. They can often be found on walleye or bass boats.
As their name suggests, bench seats aren't meant for just one person. These are designed simply and look cool, and they can be installed with as little effort as possible. They're great for hanging out with your friends on the water.
3. Pontoon Boat Seats
Pontoon boat seats typically come in two forms — individual seats and furniture groups.
Individual seats can be mounted right to the floor of the boat. Some models might be outfitted with storage boxes underneath, where you can keep anything from small boating gear to snacks or juice. Most of the units we've stumbled upon are modular, so they fit together if you want to create a bench-like organization.
On the other hand, furniture groups typically come as a matching set. They can fit the whole boat or just the front or the rear. Almost in all cases, they call for a significant installation process, so if you have zero experience in this respect, you might need the services of a professional.
4. Cruiser Boat Seats
There are two types of boat seats on runabouts and cruisers. Bolster seats make great choices for passenger seats or the captain's seat and they offer good stability thanks to their bolster.
Back-to-back seats are mounted right onto the floor and have storage available underneath. They have just one base and it connects at the back.
Best Boat Seats Comparison Chart
PRODUCT
DETAILS

Wise Deluxe High-Back Seat

Price:

$

Customer Rating:

4.4

Type:

High-Back Seat

Size:

21.6 x 15.4 x 15.8 inches

Armrests:

No

View On Amazon

Millennium Marine B100 Boat Seat

Price:

$

Customer Rating:

4.8

Type:

Sling Seat

Size:

22 x 20.8 x 7 inches

Armrests:

No

View On Amazon

Wise Pro Casting Deck Seat

Price:

$

Customer Rating:

4.2

Type:

Casting Deck Seat

Size:

5.9 x 11.8 x 15.4 inches

Armrests:

No

View On Amazon

Moeller Boat Helm Seat and Cushion Includes Mounting Plate

Price:

$$

Customer Rating:

4.3

Type:

Helm Seat

Size:

34.8 x 21 x 18 inches

Armrests:

Yes

View On Amazon

Wise Standard Pilot Chair with Adjustable Height Pedestal

Price:

$$

Customer Rating:

4.0

Type:

Pilot Chair

Size:

23 x 23 x 21 inches

Armrests:

Yes

View On Amazon
Best Boat Seat Reviews
1. Wise Deluxe High-Back Seat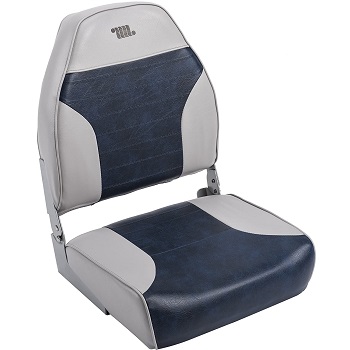 Despite being one of the most budget-friendly choices in this line, the Wise Deluxe High-Back Seat comes with most of the features you might ever want from such a product. It has high compression foam padding that is capable of remaining firm for all-day comfort. It's plastic sealed, meaning that it resists moisture.
As for the covering, you will be happy to know that this one features marine-grade 28-ounce vinyl, and that it's loaded with UV and mildew inhibitors. That means less of a headache for you when it comes to cleaning and maintenance.
The four mounting screws that are included with this unit can be used to attach the seat to any seat swivel or standard pedestal system. There are no pinch aluminum hinges, by the way. What's truly outstanding about this unit is that it is backed by a warranty of six years on the frame and three years on the upholstery.
Pros
If you take good care of it, it can last for a lifetime
Very easy to install as it's compatible with most pedestal systems
Plastic injection molded seat frame
UV and mildew-resistant vinyl covering
Aluminum hinges
Cons
Not made for heavy users
Doesn't come with any armrests
2. Millennium Marine B100 Boat Seat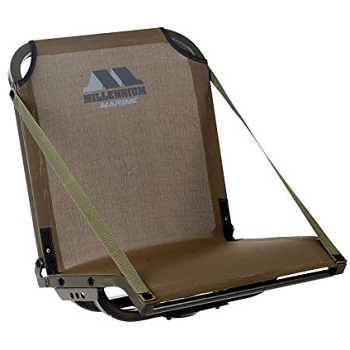 If you are in the market for a simply designed, easy to install, and rugged marine chair that allows you to enjoy your time spent on the water as much as possible, the B100 should fit the bill. It's also among the most budget-friendly units that we have come across, so it won't break the bank.
The B100 has a maximum weight capacity of 400 pounds, which is a feature definitely worth writing home about. This means that even heavier users can sit in this chair and not affect its durability whatsoever.
This UV-resistant boat seat is durable and convenient, but it does have bolts made from steel and they might be affected by corrosion after a while. Additionally, the seat is portable since it can be folded and taken to a different place. Mounting the unit is made easy as it is compatible with any boat pedestal or swivel base.
Pros
Lightweight and portable since it weighs in at 10 pounds
Back measures 20 inches and the seat is 17 inches in width
Drains quickly, so it's less exposed to mold and mildew
Generous weight capacity
Cons
The fact that it doesn't come with any mounting hardware is a serious disadvantage, especially for folks who haven't purchased any other boat seats before.
3. Wise Pro Casting Deck Seat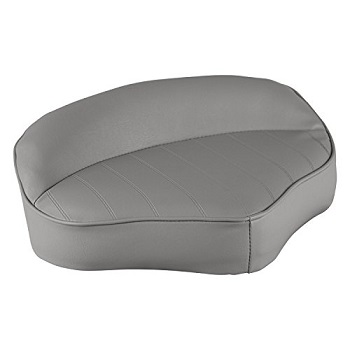 Sometimes, you just need a deck seat to expand the seating space on your boat. Most of the options that we have stumbled upon are affordable, and this is the same case with the Wise Pro alternative. It's durable and convenient and it has been found to be among the most comfortable units in this line.
The seat comes with a high-impact plastic injection molded frame and a high-compression, firm foam padding. Its vinyl surface is embossed and has been treated so as to put up with the potential abuse of mildew and UV damage.
What's neat about this choice is that you don't have to worry about getting it installed. It mounts to virtually all BIA standard 4-bolt pedestal systems that you might find on boats nowadays. The seat measures 5.25 inches in height, 15 inches in width, 11 inches in depth, and it has a seat depth of 8.5 inches.
Pros
Comfortable and reliable
Doesn't take a lot of effort to install
Quite affordable, especially compared to other models in the same line
Fits most users, even heavier and bigger ones
Cons
Can become flat after about a year of consistent use
The vinyl can make users sweat
4. Moeller Boat Helm Seat and Cushion Includes Mounting Plate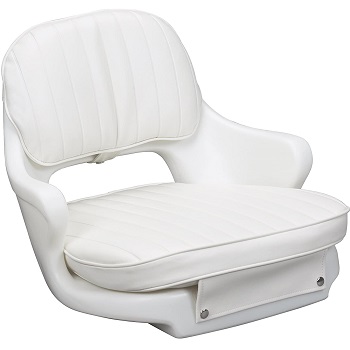 The ST2000-HD model by Moeller is another model that you should keep in mind as it also has been found to be one of the most durable, comfortable, and easiest to install ones in this line. It measures 18.5 inches in length, 17.5 inches in width, and it has a height of 13.5 inches.
Therefore, it is not the biggest boat seat ever to have been invented, but it is convenient enough to accommodate the bodies of most boaters, whether they are bigger or smaller. The molded arms make it easy for you to clean and maintain the seat.
Moreover, the two pillows boasted by this choice, one for the backrest and one for the bottom, are covered in UV-resistant marine grade vinyl. The neat thing about the two pillows is that they can be removed and cleaned thoroughly, so the chances of mildew or any dirt accumulating on the vinyl surfaces are even slimmer.
Pros
Compatible with most pedestal systems
UV-stabilized seating substrate
Molded arms
Sturdy plastic
The pads easily snap into place
Cons
The seat can be a bit smaller than what you might expect.
Pillows have to be cleaned regularly to inhibit mold and mildew growth.
5. Wise Standard Pilot Chair with Adjustable Height Pedestal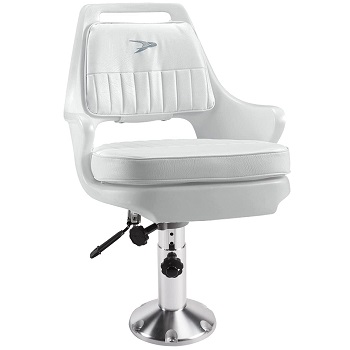 The Wise Standard 8WD015-6-710 model makes a great choice if you are in the market for a rugged, convenient, and comfortable pilot chair. The best thing about it is that its height can be adjusted, so it speaks to the needs of various people or it can be set as per your momentary requirements.
The seat includes the adjustable pedestal and seat slide, so pretty much anything you need for a quick and easy installation process is provided in the box. The easy-grip lock handles are convenient, too.
Also, the unit features a 9-inch diameter base outfitted with recessed mounting holes. You need to make sure that it's compatible with what you have available on your boat, though.
The covering has been treated so that it is resistant to both UV damage and mildew. The snap-on cushions come with compression foam padding and they can be cleaned with ease since they're removable.
Pros
Height adjustable from 12 inches to 18 inches
Pedestal comes with a thick walled anodized aluminum post
Durable and very comfortable
Is reported to be quite easy to install
Cons
The seat can have a bit too much back lean, as per some customer reviews.
6. Leader Accessories Pontoon Captains Bucket Boat Seat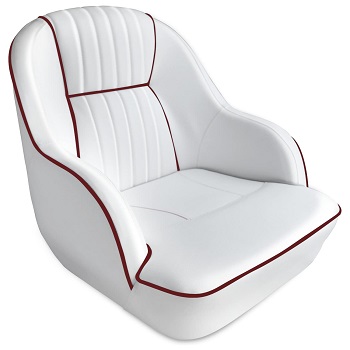 Armrests can make the boating experience a lot more comfortable, so here is a model that comes with this specific feature. Not only that, but it is also one of the best cushioned alternatives currently available, so it will guarantee that your time spent on the water will be as smooth as possible.
The seat is compact, so it might not address the needs of people that are bigger. However, it does provide amazing back support and it comes with a lumbar curve that enables you to sit comfortably. It's available in several different colors, so pick the one that best matches your ship.
With its plush foam padding and marine-grade vinyl covering, this seat is neither too soft, nor too firm, and it's also capable of standing the test of time. The back of the seat has mounting holes that enable you to install it in any typical pedestal.
Pros
Ergonomic design
Heavy-duty covering and a plastic frame guarantee durability
Armrests make it possible for you to use the seat comfortably
Doesn't cost a fortune, unlike other models out there
Cons
This seat can be a bit too narrow for bigger individuals
Some of its steel parts might corrode in the long run, so make sure you clean them properly
7. Wise Economy Low Back Seat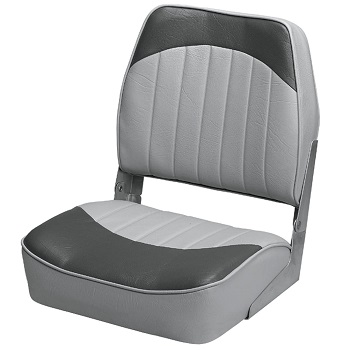 This one is a budget-friendly choice if you're in the market for a low back seat. What's pretty neat about it is that it includes a mounting fastener that you can use for mounting in any pedestal system.
As for the seat itself, it is filled with compressed foam padding, which makes it comfortable, but also not too firm, neither too soft. The rated seat depth is estimated at 14 inches. The hinges are made of aluminum and the seat frame is crafted from plastic, so durability is one less thing to worry about.
Another aspect that makes it stand out from the crowd is the fact that it is covered in 28-ounce marine-grade vinyl. Therefore, this model is more than capable of standing the abuse of inclement weather, but also UV damage and mildew.
What is a little disappointing about this unit is that its weight capacity is 200 pounds. This means that it can't be used by heavier boaters.
Pros
Comes with mounting hardware
Marine-grade vinyl cover resists UV damage and mildew
Rugged plastic frame, aluminum hinges
Comfortable padding
Cons
There are no armrests, which might inconvenience some users
The 200-lb weight capacity doesn't make it possible for heavier boaters to use this boat seat
8. DeckMate Premium 55" Pontoon Boat Seats
If you want to save yourself the hassle of purchasing several individual boat seats and you also want to benefit from some storage space for drinks, snacks, and some boating gear, perhaps the DeckMate alternative might make a good choice for you.
The 55-inch wide pontoon boat seat comes with a pillowed cushion and a plastic frame, so you don't have to worry about it not being durable or comfortable. The seat back bolts down to the fully enclosed base and the seat cushion hinges right in place.
There are two 27-inch enclosed bases outfitted with drain channels. As for the covering material, it's a good thing that this one is made of 30-ounce vinyl material that comes with double stop stitching. The bolsters are quite comfortable, too, which is another factor to take into account.
If you take the time to look through the reviews acquired by this unit, you'll notice that most of them are quite favorable. People speak highly of the seat quality.
Pros
The space under the seats lets you store anything from snacks to drinks
The seat bases come with molded drain channels
Every boat seat cushion is plush for excellent comfort
UV and mildew-treated polyester thread and vinyl
Cons
9. Seamander Captain Bucket Seat Sport Flip Up Seat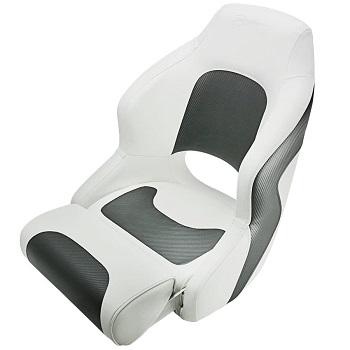 A captain's seat needs to take the cake when it comes to comfort and durability, and fortunately, this model is likely to meet and even exceed your expectations in this sense. The marine-grade vinyl cover that it is outfitted with will resist UV damage and also make it more difficult for saltwater and germs to affect its looks over time.
As for the padding, it's high-density and comfortable, so it provides you with great back support and quite comfortable seating. The chair isn't made upright, but it naturally curves so as to provide you with a relaxing position.
Moreover, it comes with a flip-up bolster, and this feature gives some extra height to the chair. Therefore, you can adjust the seat to have either a high or a low backrest. The fasteners are made of stainless steel, so they are less likely to be affected by corrosion over time. Plus, the backrest is made of plastic, so it is also a winner in terms of durability.
Pros
Mounting is standard and the seat has bolt holes and included mounting screws
Can be cleaned and maintained with ease
Beautiful and comfortable
Lightweight and good-quality
Cons
If you don't take good care of the staples, they might rust after about six months of being exposed to saltwater.
What Are Boat Seats?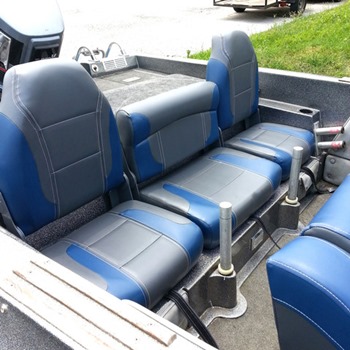 Boat seats definitely play an important part in making your boat comfortable on the whole, but they also make the difference when it comes to your watercraft's aesthetics. Old seats can both make you feel uncomfortable as you're trying to relax or maybe do some fishing under the sun.
But they can also look run down and disappointing, and that's not what you want. If you want to maintain your boat seats for as long as possible, consider investing in a good boat seat cleaner. After all, you'd do the same if you were to need various boating gear such as the boat anchors or good marine GPS chartplotters.
If you have already taken the time to do a little research on your own or if you have checked out several of the models that we have showcased in our selection, you might have noticed that there are some variations in terms of boat seats, both when it comes to their design and when it comes to their functionality.
We'll tackle all of that below, so we invite you to accompany us in this adventure of knowing your boat seats, learning what you should focus on when you're trying to shop for new ones, and distinguishing between the different kinds that exist out there.
Boat Seats vs. Boat Chairs
Believe it or not, these two are quite different. Boat seats have to be mounted down on your boat, meaning that they aren't portable, so you can't take them out once they have been installed. On the other hand, if you decide to shop for one of the best boat chairs currently available, you will be able to use it in various situations.
Boat Chairs
Boat chairs can be used while you are fishing or just lounging in the backyard with your family. Most are made of lightweight materials and are foldable, meaning that you aren't going to have a hard time carrying them from one place to another.
However, they do present several risks. If you don't have any boat seats installed on your boat and you're looking to use a boat chair, you'd better find a highly effective and safe way of fastening the chair onto your watercraft. Otherwise, it could be a hazard for your health and safety or for those of anyone sitting in it, for that matter.
When To Use a Boat Chair
Chairs can be a great addition to your boat if the weather is nice and your vessel is large and stable enough to counterbalance the movement of the waves. If you're looking to host a gathering with family and friends, you can get several chairs to make up for the missing room that your seats might be able to offer.
But in the end, boat seats are far more reliable and convenient compared to boat chairs. They are the safest of the two.
Boat Seat Buying Guide
Finding the perfect boat seat nowadays is made particularly difficult by the wide variety of products that are available out there. You need to make sure that you pick the right boat seat both for your personal needs and preferences, but you also have to make sure that it perfectly fits your watercraft.
In the guide below, we have showcased and described all of the important aspects that you need to consider when shopping for a good boat seat.
1. Material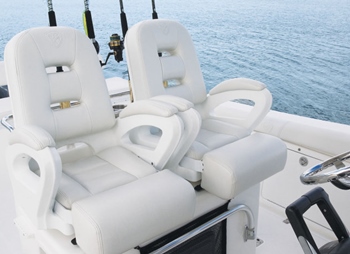 A boat seat isn't made of a single type of material. Sure, the covering matters a lot because it's going to be the one that gets the most use and exposure to the sun and saltwater, but the frame matters a lot, too.
Look at the material that the frame and hinges are made of. If they are crafted from steel or aluminum, they have a good chance of standing the test of time. They can even be made of treated iron so long as they don't have a chance of rusting.
Some models come with a backing manufactured from plastic. This is a good choice for back support, but not much else. As for the covering, most boaters seem to prefer hard plastic or vinyl boat seats. Vinyl is weather-resistant, as well as waterproof, so it doesn't have to be cared for that much.
Hard plastic chairs are the most convenient option out there, though, as they don't even allow mold and mildew to grow on them. They are not as comfortable as a seat that has a layer of foam and vinyl on top.
2. Comfort
Comfort is right at the top of your priorities. No matter what material the seat is made of or how it was installed or even how much it cost, everyone wants to sit in a comfortable boat seat.
Many of the products in this line come with a good level of high compression foam that doesn't make them too soft nor too hard. In choosing your favorite seat, though, you should keep in mind that the type also impacts the comfort. A sporty bucket seat just can't be as comfortable as a standard captain's seat, for example.
3. Durability
Boat seats aren't the cheapest things in the world, and this is the main reason why you have to choose the best possible ones, especially when it comes to durability. Think of it this way. People are going to sit in the boat seat all the time, and that puts pressure and affects the durability of the seat.
There are various factors that affect the amount of time that you get to enjoy a boat seat. Some of these are UV damage, saltwater, the wet environment in general and the ability of some microorganisms to thrive in it (such as mold and mildew), and others. If at all possible, invest in boat seats that are marketed as being resistant to all of these things.
4. Installation
While it might be true that most boat seats are rather convenient and easy to install, there are some types that might call for additional effort and time. If you are a person who hates long and tedious setup processes, you have two options.
You can either ask a professional to do it for you, but that would cost you some more money on top of everything, or you can choose a seat that's specifically made to be easy to install.
When you buy a boat seat, checking for the accurate match on the connection sizes with your pedestal or existing mountings is essential. Do this before picking a seat as it helps you avoid both time and money.
5. Size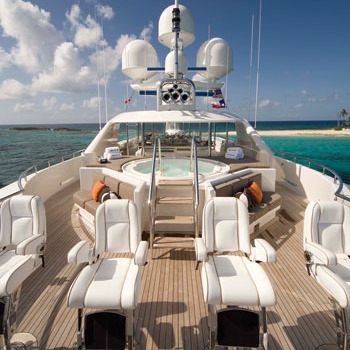 The dimensions of the boat seat play an essential part when it comes to choosing the right model. You can't just purchase any boat chair and expect it to properly fit your boat. When looking at its size, consider the depth, the height, as well as the width of the seat.
Naturally, there are many marine seats that come in a standard size, but you have to know for sure that they are going to be a good fit for the amount of space you have available on your watercraft.
6. Support
Whatever you might want to do when boating, whether fishing or just boating for the fun of it, you will need a boat seat that provides you with the right amount of support. Know your needs before deciding on a particular model, but also get one that comes with lumbar support as it can significantly influence your activity and overall user experience.
Lumbar support also matters a lot when it comes to your comfort. If you intend to go boating for several hours, sitting in an uncomfortable chair can ruin the activity on the whole.
7. Shock absorbency
A boat seat has to be decently shock-absorbent because you're going to do boating, not driving a car. This means that it has to hold up to the physical shock inflicted by rough waters and their waves. If you do your boating in less rough waters, you can get a boat seat that doesn't come with the best shock-absorbing capabilities.
Boat seats are usually rated in this respect, so you can get a clear picture of how smooth your boat ride will be even when ordering one online.
8. Weight
The weight of the seat might not seem to matter that much in the grand scheme of things, but it actually does count a lot. If you don't have the right type of boat, for example, you can choose a too heavy seat and that might be inappropriate. For example, if you have a kayak, don't get a boat seat made for a yacht.
The weight of the unit also impacts the installation process. It goes without saying that handling a heavier chair is a bit more difficult compared to working with a lightweight one.
9. Type and Connectors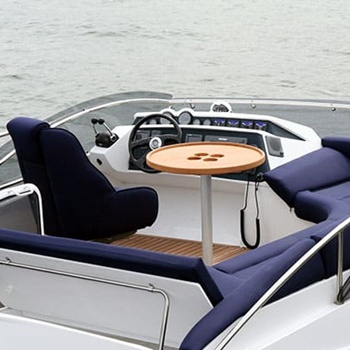 We've already discussed the different types of boat seats that are available out there, but when choosing a brand new one, it is important for you to look at how you're going to install it on your boat. What type of connectors do you have on your boat? You need to ask yourself this question before investing in a boat seat.
If you get it wrong, you might be left with a completely useless seat that might not even be able to fit your vessel. Fortunately, most of the manufacturing brands make it really easy by providing this connector-related info in their product descriptions.
The chair should come with everything that you might require for the setup process.
10. UV Treated
Since boat seats tend to spend a lot of their time in the sun, they can suffer from UV radiation after some time. UV-treated boat seats can be more UV-resistant than most of the standard ones, and this largely reduces the amount of damage that they'll sustain over their lifespan.
Get a UV-treated boat seat if you can as they will not become faded or have a burnt exterior ahead of time.
11. Mildew-Resistant
Boat seats are commonly exposed to very humid areas. If they never end up drying, they can become victims of mildew. This can leave both bad smell and also ruin the finish of the seat.
Seats that have mildew-resistant capabilities can effectively prevent its growth. Even though they aren't fully impervious to mildew, it does tend to grow a lot slower than how it would on a seat that isn't mildew-resistant. This gives you the opportunity to clean the seat and care for it before it sustains irreparable damage.
12. Weight Capacity
You should most definitely consider the seat's weight limit as it can be crucial when making the difference between one model and the other. The vast majority of boat seats that we have come across have a weight capacity of about 250 pounds.
Needless to say, if the seat has to be used by a big person on a regular basis, you have to opt for one that comes with a higher weight limit. A chair that doesn't have the right weight capacity can be both unsafe for the person sitting in it and it can also wear out faster (the foam padding gets squished and the frame can get damaged easier).
How To Install/Mount Boat Seats?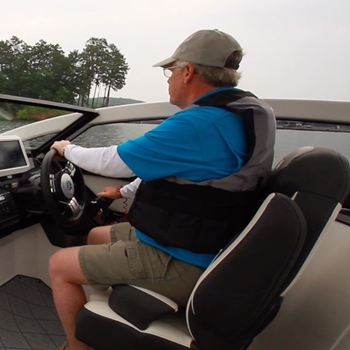 Mounting a boat seat varies depending on the particular model that you have chosen. Usually, boat seats can be installed by turning the boat seat upside down and attaching the bolts onto the mounting plate and then setting the seat on the pedestal. All you have to do then is to screw the bolts through the plate.
There are lots of instructions that you can find online and more than enough videos on sites like YouTube. Almost all boat seats come with a specific method of installation. Read the manufacturer's installation instructions and take note of the needed hardware and mounting tools.
The type influences the setup, too. For example, a bench seat mounts directly to the boat deck whereas a casting seat mounts to a pedestal. Buddy seats fit both individual and kit pedestals while swing back seats can be mounted on a box, post, or pedestal.
FAQs About Boat Seats
1. How to Reupholster Boat Seats?
You can reupholster your boat seats using some marine-grade vinyl, foam padding, a screwdriver, grease pencils, sewing scissors, and most importantly, an industrial stapler or carpet tacker with staples.
Measure up your vinyl and foam and use the old vinyl as a template so as to cut the new. Then place the foam and seat base onto the material, pull the latter tight and staple into place, and then apply some vinyl protection spray.
How much does it cost to reupholster your boat seats by yourself? The cost of the vinyl is around twenty dollars per yard, a good electric staple gun can cost just under fifty to sixty dollars, and the foam price can vary largely from one store to the next.
Make sure you do as much research about the whole process as possible. Otherwise, you are going to damage the materials and you will have effectively wasted your money.
2. How to Get Mold/Mildew Off Boat Seats?
Removing mold and mildew from the surface of boat seats can be done conveniently and easily with commercial products, but you should also consider the actual age of the damaged area and how much mold has been growing on it. Really old mold and mildew can sometimes affect the fabric or material to the point that it gets severely stained.
Cleaning your boat seats largely depends on the material they are covered in. The most common types are vinyl and hard plastic. For hard plastic, you can use harsher substances such as a diluted bleach solution, but vinyl is a bit more sensitive and can be damaged by such products.
Removing mold and mildew from vinyl needs to be done with a special solution, one that is formulated specifically for vinyl.
3. How to Build a Boat Bench Seat?
Actually creating a boat bench seat is difficult, if not impossible, if you don't have any access to manufacturing tools and processes that allow you to develop a safe seat. But you can get quite creative when it comes to improvisations.
If you come across some seats at a local yard sale, you can come up with a system to fasten them onto your boat. There are securing systems available for sale, but you need to do a bit of research. Check out the Instructables site if you want to see some suggestions in this sense.
For some people, getting a boat seat that already comes with the right features is the best choice, but for others, especially skilled DIY-ers that have patience and experience, building a boat bench seat can make sense.
4. What is a Captain's Chair?
A captain's chair can be defined as an armchair that is equipped with a saddle seat and a low curved back. But what is the difference between one and the rest of the boat seats that a vessel can come with? Well, the short answer to this question would be that a captain's seat is always more comfortable and supportive.
In most cases, captain's seats are ergonomic, rugged, and will even support more weight compared to standard ones.
Wrap Up
As you might have noticed, getting one of the best boat seats for the money these days can be a rather challenging task. You should always look at the features of the seats, of course, but don't forget about your own needs and expectations as they will be the ones defining your user experience.
Needless to say, if you have some time on your hands and you still aren't feeling sure about which model you should pick from the plethora of those currently available, make sure you go through as many boat seat reviews as you can. Other boaters can always let you know how the unit performs in real life, especially if you plan on ordering it online.
See also: boat carpet reviews