Finding and installing the best boat carpet can truly make the vessel feel like home. If you like spending a lot of your time on your boat, you have surely made a lot of improvements in order to make it as comfortable as possible. A carpet does not only make the place feel warmer, but it also helps you bring some color and joy into the place.
After reading our boat carpet reviews, you will see that there are many models, materials, and colors to choose from. And if you're not sure what to pick, check out our buying guide for all relevant information!
See The Quick Comparison Chart
Benefits Of Boat Carpets
As previously mentioned, having a carpet on your boat is not mandatory. However, if you want to protect the floors, you should use these items. Just like any other products, boat carpets have some advantages. Let's see what they are.
1. Long lifespan
First of all, these products offer durability. They are meant to protect the floors on your vessel so that you can enjoy it for a longer period. If you select the right type, mount it correctly, and take good care of it, the carpet will protect your boat for an extended period.
2. Safety
Secondly, these items offer increased security. As we all know, water on the floor can be quite dangerous. If you have a slip-resistant carpet on your boat, the risk of slipping and falling down is significantly reduced. Let's face it: on a boat, water will get onto your floor, no matter what you do!
3. Less Maintenance
Boat carpets are also advantageous in terms of maintenance. Since your floor will be protected from rust, sunlight, rust, and other damaging factors, you won't have to do any maintenance work on the surface. Of course, your carpet will need some cleaning.
4. Comfort
Imagine stepping on a hard and hot surface with your bare feet. Now imagine stepping on a soft and warm surface. The second scenario does seem more appealing, doesn't it? That is how much of a difference a carpet can make on your boat.
Best Boat Carpets Comparison Chart
PRODUCT
DETAILS

SeaSense 12 in x 12 Ft Boat Bunk Carpet-Charcoal

Price: $
Customer Rating: 4.0
Size: 12 In x 12 Ft
Color: Charcoal

View On Amazon

House, Home and More Carpet with Rubber Marine Backing

Price: $$
Customer Rating: 4.2
Size: 6 x 10 Ft
Color: Grey

View On Amazon

Yuanjiasheng Non-Slip and Self-Adhesive Boat Flooring Pad

Price: $$
Customer Rating: 3.9
Size: 94.5 In × 35.4 In
Color: Black/White/Grey Camouflage

View On Amazon

Marine Carpeting 20 oz. Do-It-Yourself Boat Carpet

Price: $$$
Customer Rating: 4.4
Size: 8 x 10 Ft
Color: Black

View On Amazon

CPR Marine Upholstery Durable Carpet 72″ x 36″ Mini Roll (Black)

Price: $
Customer Rating: 4.4
Size: 72 x 36 In
Color: Black

View On Amazon

Bascar 32 oz. Pontoon Boat Carpet – 8.5′ Wide x Various Lengths

Price: $$$$
Customer Rating: 4.3
Size: 8.5 x 10 Ft
Color: Jasmine

View On Amazon

MELORS Foammaker Non-Slip Boat Flooring Decking Pad

Price: $
Customer Rating: 4.1
Size: 94.5 x 35.4 In
Color: Brown With Black Seam Lines

View On Amazon
Best Boat Carpets Reviews
1. SeaSense 12 in x 12 Ft Boat Bunk Carpet-Charcoal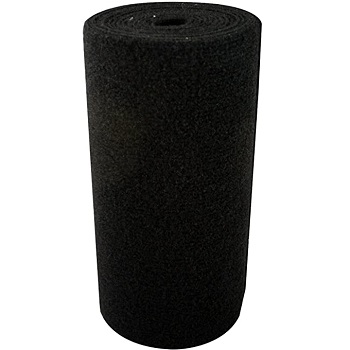 If you care for quality, you can select the SeaSense 12 in x 12 Ft Boat Bunk Carpet-Charcoal. This model is designed so that you can comfortably walk on your boat barefoot. What is more, this boat carpet is water-resistant and extremely durable.
The product is made with high-quality polypropylene marine carpet material. Another nice thing about this model is that it is very easy to cut and place on your boat's floor. The charcoal color is suitable for pretty much any interior boat design. This carpet is designed to hold as little water as possible. Therefore, you will not get your feet wet when walking on it.
Thanks to its sturdy construction, this marine carpet does not tear easily. You can expect to enjoy it for quite a while. Unlike other types of carpets, this one is easy to cut which is a great advantage. You can provide it any shape with ease.
Pros
This carpet is a great choice to protect the hull
It also eases loading as well as launching
The carpet creates fewer fuzz compared to many other similar products
Cons
This model is thinner than other options
It is not as durable as other carpets in the same price range
2. House, Home and More Carpet with Rubber Marine Backing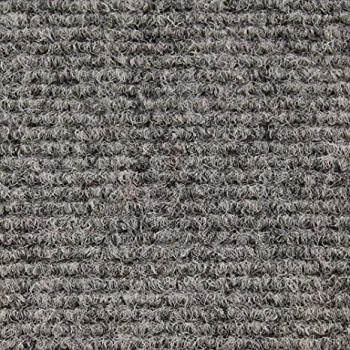 This marine carpet is designed to resist mold, mildew, as well as stains. It is an indoor-outdoor carpet that can be used on various types of floors on your boat, deck, basement, sun room, garage, and many others.
Besides being so versatile, the House, Home and More Carpet with Rubber Marine Backing is UV-protected and has a marine rubber backing. Therefore, it can resist various harsh weather conditions and fading caused by the sun. The carpet features a low pile height of about 1/4 inch and a ribbed texture to provide traction.
The unbound edges allow this model to be used as it is or to be trimmed to size and it will not fray. It is also very easy to cut using a utility knife or scissors. So, you do not have to worry about the installation process because it is a quick and easy one.
Pros
You will also receive easy-to-clean instructions
The rubber marine backing keeps the carpet flat on the surface
It is a multi-functional product that can be used both indoors and outdoors
Cons
There are not too many options to choose from in terms of size
3. Yuanjiasheng Non-Slip and Self-Adhesive Boat Flooring Pad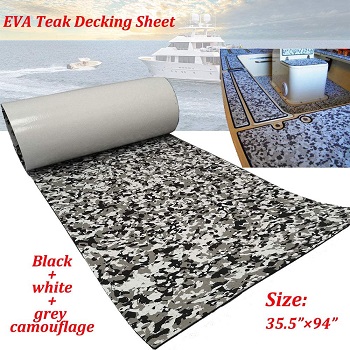 In case you want a high-quality product that is also environmentally-friendly, you should keep this model in mind. It is made of quality EVA or Ethylene-vinyl Acetate. This material is non-toxic for your boat and it is resistant to seawater, grease, alkali, acid, and a bunch of other chemicals that cause corrosion.
The Yuanjiasheng Non-Slip and Self-Adhesive Boat Flooring Pad is also incredibly easy to maintain, which you will probably appreciate. Moreover, it has self-adhesive which makes it extremely convenient, easy, and quick to install.
It does not matter if the conditions are wet or dry, as this model has a non-slip surface. Furthermore, the smooth wood-like design will upscale the aesthetic quality of your vessel. The closed-cell structure makes this marine carpet highly resistant to water and moisture which is exactly what you need on your boat. It does not even give a strong odor that regularly comes with new carpets.
Pros
This marine carpet is soft and pliable
It is also extremely easy to cut and custom-fit the material
Compared to other similar products, this one is quite reasonable-priced
Cons
The foam is rather thin
Also, the adhesive may not be enough for the carpet to stick well
4. Marine Carpeting 20 oz. Do-It-Yourself Boat Carpet
The Marine Carpeting 20 oz. Do-It-Yourself Boat Carpet is a great choice if you are looking for a high-quality product that can complement the tasteful design of your boat. This model is not only for offering your vessel an appealing view but it also protects it from stains, mildew, and mold.
The marine carpet is made of UV-resistant polypropylene that also allows it to maintain its vibrant colors even if it is exposed to the sun frequently. Moreover, there are many colors to chose from, so you will surely find one that best suits the design of your boat. In terms of installation, this model features a straightforward glue-down application.
You will probably also like the fact that this carpet comes with a knife that has extra blades and very clear and simple instructions. This will help you install the carpet correctly and enjoy it for a very long time to come.
Pros
You get everything you need to trim and customize the carpet based on your needs
There are many colors and sizes to select from
The company's tech team is very supportive and professional
Cons
It is a bit more expensive than other similar models
It tends to get a little too hot
5. CPR Marine Upholstery Durable Carpet 72″ x 36″ Mini Roll (Black)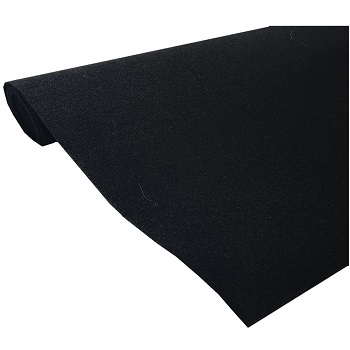 This model is available in pre-cut mini rolls measuring 72 by 36 inches. You can easily cut the carpet to your liking, but it is not available in bigger sizes. If you do not need a larger model, you should know that the CPR Marine Upholstery Durable Carpet 72″ x 36″ Mini Roll (Black) is made of a very flexible material that makes the trimming and installation process very easy.
Moreover, it is a great choice for automotive cargo areas, not just for boats. It is also an excellent option for adding a soft touch to a vehicle renovation or conversion. As you can see, this carpet is not suitable only for your boat but for many types of surfaces and vehicles.
This feature is appreciated by many customers. If you install it on your vessel, you will find it extremely convenient as well as good-looking.
Pros
This model is very durable even after frequently being exposed to the sun
It is extremely malleable and easy-bendable for corners
Even though it is thin, the carpet is not fragile at all
Cons
If folded, the material can generate creases that are very hard to get rid of
6. Bascar 32 oz. Pontoon Boat Carpet – 8.5′ Wide x Various Lengths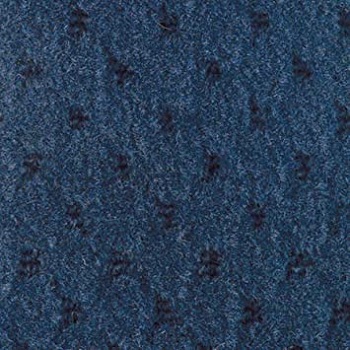 If you want to bring that home-feeling into your boat, you should also keep this model in mind. It is a thick boat carpet made with high-quality materials that can efficiently withstand the harsh marine conditions. This model is resistant to moisture and mildew.
When it comes to the installation process, this carpet can simply be glued-down. The rubber backing makes it so easy to install. Moreover, if you want to check the color and test it, the manufacturer offers free samples. That way, you are sure of what you are buying.
The Bascar 32 oz. Pontoon Boat Carpet – 8.5′ Wide x Various Lengths offers several different lengths. However, the width is fixed at 8.5 feet. Still, this should be enough to cover most boat bases. Another thing you will probably like is the fact that you will also get a clear instructions manual, a carpet knife, as well as an extra blade.
Pros
This is a thick carpet made of highly-resistant 32-ounce marine-grade material
There are various colors to choose from
Given its quality, the carpet offers great value for the money
Cons
This marine carpet tends to get hot under direct sunlight
7. MELORS Foammaker Non-Slip Boat Flooring Decking Pad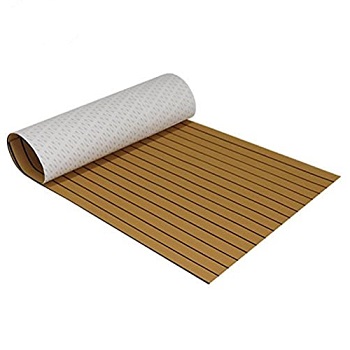 This model is an EVA foam sheet with features that provide excellent performance of water resistance. Thanks to the closed-bubble hole structure, no water is absorbed. The MELORS Foammaker Non-Slip Boat Flooring Decking Pad is suitable for a wide array of flooring applications for boats, RVs, swimming pools, gardens, as well as others.
This model is capable of heat insulation preservation. Moreover, this marine carpet offers excellent cold temperature performance. Therefore, you do not have to worry that your carpet will be exposed to harsh winter conditions. Regardless if it's wet or dry, the non-slip surface provides increased safety.
This model is extremely elastic and does not deform too easily. Due to the fact that it was designed with self-adhesive, the installation process is fast and easy. Furthermore, it is very convenient to maintain which is a great advantage for this type of product.
Pros
Due to the high-tensile elongation and high density, this carpet is not easy to tear or damage
The colorful, smooth surface will make your boat look great
This carpet provides great shock and cushioning performance
Cons
The product gives off a strong odor that is not to everyone's liking
What Are Boat Carpets?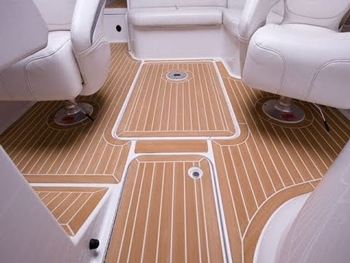 As the name suggests, they are carpets meant to be used on boats, designed for the marine environment. They are also intended to protect the surface in your vessel. However, you need to keep in mind that boat carpets cannot be replaced with normal indoor carpeting.
The marine ones are specifically designed to withstand, mold, and fading. Moreover, they are not the same thing as outdoor carpets. Using carpeting on your ship is just as important as using a boat cover. It is not a mandatory item in your boating equipment but it will protect the surfaces and offer an overall better experience.
Furthermore, not only will they protect your boat surface, but carpets will also provide the feeling that you are at home. This may not seem like much, but when you are cruising for extended periods, you will see that it matters. What is more, if you like walking without any shoes on, your feet will also appreciate not having to step on a hard surface.
Types Of Boat Carpets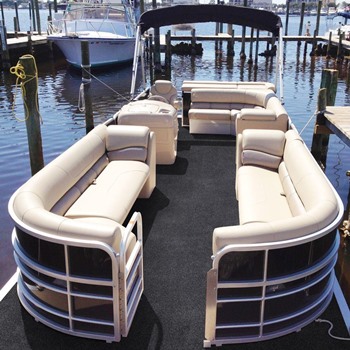 Before starting your hunt for a boat carpet, you need to know that there are a few different types you can select from. Here are the most common types you can find on the market.
1. Rubber Carpets
This type is very comfortable and also slip-resistant. It may not look as attractive as other options, but it is cheap and easy to obtain. You should know, however, that in very warm days, this type of carpet can become quite scorching. Direct sunlight does not only warm up the carpet but it can also damage it. Therefore, you need to take excellent care of it.
2. Vinyl Carpets
This type is easily accessible, and you can also find it in garages. Such a carpet is a bit more pricey compared to the rubber type, but it looks better. It has slip-resistance features as well, and it is extremely easy to install. The downside is that you need to have shade over it as sunlight makes it very hot and it can also damage it in time.
3. PVS Carpets
This type is compact and quite easy to install. It is similar to a jigsaw puzzle. Moreover, it is waterproof and does a great job of protecting the floor from the mold. This type is very popular with boat owners. Still, you need to keep in mind that these carpets are more expensive, and they cannot be left in direct sunlight for extended periods.
4. Drainage Tiles
Thanks to the design of this type of carpeting, water can flow underneath it which allows the tiles to dry faster. Another advantage is that it is extremely easy to install and clean. However, this is the most expensive option, which may be a disadvantage if you are on a tighter budget.
5. Outdoor Carpets
Even though this type of carpeting is not designed for boats, you can still use it. However, since it holds water, you will have to change it constantly. If you don't the floor underneath it can rot. We do not recommend using this type on a boat, but some owners use it, and we wanted to mention it, as a short-term alternative.
Boat Carpet Buying Guide
Before deciding on the carpet you are going to select for your boat, there are some things you need to consider. There are factors such as type, features,  or color. Surely you want a high-quality product that matches the vessel's design and that of your top-rated boat seats and other onboard accessories.
1. Boat Type
Carpets can be mounted on most types of boats without any issues. Pontoon vessels usually come with carpets already in place, but you can install one on bay liner, bass, deck boats, among other types. So, if you've just bought your boat, inspect it and make sure that you really need a new carpet.
2. Weight and Size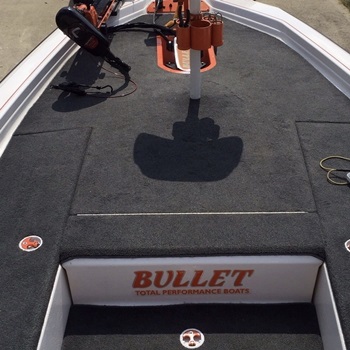 It is very important to measure the surface that you need to cover before getting the product. It is recommended to get a bit more than you've already calculated so that you can have enough material to work with when you fit the carpet. When you start looking for yours, you will see that you can find various sizes. The market has a lot to offer and you will be able to find a model that properly suits your needs.
In terms of weight, you should know that boat carpets have ounce ratings. These represent the weight of the piles per square yard. Therefore, the larger the weight, the denser the fibers. This translates into a better quality of the carpet. The weight also affects the price of the product. Still, we recommend looking for a better quality even if you have to pay a few extra bucks. It will last you longer, and the carpet will feel great under your feet.
3. Glue
This is another very important aspect when installing the carpet on your boat. You will also need to get a quality glue. Make sure that you choose a marine adhesive that will be able to link the wood of the floor with the rubber backing of the carpet.
You need to pay extra attention when choosing the glue because using the wrong type will cause a lot of issues. Not only will it not glue the carpet properly, but it may also damage the floor. Before you use it, make sure that you've measured and cut the carpet so that it fits the designated area properly.
Moreover, make sure your deck is cleaned from any dirt, as it will make the process more efficient. The glue needs to be applied in even layers. Only afterward you should put the carpet into place.
A reliable carpet adhesive is strong, waterproof, and it is a good sealant. Therefore, make sure you pay as much attention to the glue as you do for the carpet itself.
4. Color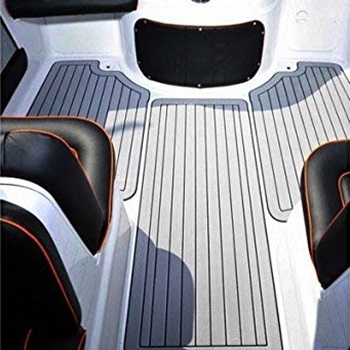 Since the carpet is in a visible place, it needs to fit with the overall design of the boat and accessories. Therefore, you will also need to think about selecting a suitable color for your carpet.
Since there are so many options available on the market, you can match the carpet to the fenders, the hull, the bimini top, seats, chairs, as well as other details from your boat. Most manufacturers send out samples so you can easily compare them.
5. UV Stability
In case the carpet is going to be in direct sunlight for long periods, we recommend that you get a model that is UV stable. Otherwise, the color will start to fade and the carpet will break down fast. If you do not want to get a new carpet every few months, you should pay attention to this feature.
6. Installation Process
It is always a good idea to get a carpet that is easy to install. Some models come with an installation kit. This will make cutting and fitting extremely easy.
Moreover, if you go for a model that does not use glue, you can select one that uses a snap-in application. While this is easier to install and remove, it does not offer the same protection to the floor underneath as one with glue.
7. Other Features
Besides the aspects we've already mentioned, there are a few other features that you should keep in mind when looking for a boat carpet. For example, the texture is just as important as the overall weight of the item. Good texture also means higher durability. Moreover, you can get a better grip when moving it around.
These types of carpets usually have rubber backing. This prevents water from going underneath it and damaging the floor in that area. Still, water can stay in the carpet. Therefore, you need to look for a product that does not hold water and which can resist mildew and mold.
8. Maintenance
Another thing you should consider when getting your boat carpet is how you are going to clean it. Make sure it can easily be cleaned and that you can find suitable cleaning solutions for that particular type. If you are going to use the best boat seat cleaners, you should do the same for the carpets.
How To Install Boat Carpets?
Installing a carpet on your boat is not a difficult task. All you need is a few knives, a good marine adhesive, and some time. Before you start, make sure you read the manufacturer's recommendations. Regardless of the model you select, there are a few tips you will find very helpful.
First, make sure you clean the surface well before placing the new carpet. Then, work in small sections, as it will be easier. Place even layers of glue and let it dry for a bit before you place the carpet over it. The exact time will probably be indicated on the adhesive's package. You can also use a carpet roller which will help you a lot and make the job much easier.
Maintenance & Safety Tips For Boat Carpets
High-quality is not all that you need to increase the durability of your boat carpet. You also need to clean it and keep it dry. For example, depending on what type of carpet you have, you can use a steam cleaner, which makes your job a bit easier.
In order to wash it, you need warm water and a mild soap which needs rinsing afterward. Again, depending on the type, you can use a broom or even brush the carpet. However, whenever your carpet gets wet, make sure you allow it to dry well. Also, even if your product is UV-stable, try to keep it under a shade, if possible.
Safety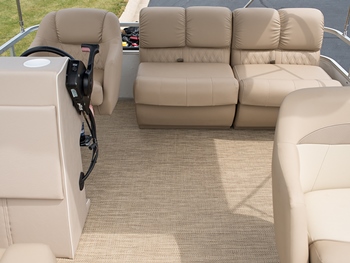 Since we are talking about boats and sailing, you should never forget about safety. The carpet you get should meet your style, the design of the boat, and your needs. Moreover, it should be the right size.
Whenever you clean it, make sure you follow the manufacturer's recommendations and that you are using only the right supplies. Do not forget to look for slip-resistant models to increase your safety.
Also, keep in mind that a hot carpet can burn your feet, so that is another reason why you should keep it under a shade as much as possible. Last, but not least, be careful with the installation.
If the carpet is not mounted correctly, it can get damaged faster, but you can also trip over it. However, if you do everything right, there is no reason why you shouldn't enjoy your carpet for a very long time to come.
FAQ About Boat Carpets
1. Are Marine Carpets Waterproof?
Marine carpets are specifically designed for this harsh environment. They are made from high-quality materials that are usually waterproof or water-resistant, UV-stable, and resistant to mildew and mold. However, not all products are the same.
Depending on the materials they are made of, some marine carpets may be waterproof and others only water-resistant. Whichever the case may be, make sure you always allow the carpet to dry well, even after you clean it.
2. Is Marine Carpet the Same as Outdoor Carpet?
Outdoor carpets are definitely not the same thing as marine carpets. While they are more resistant compared to indoor carpets, these hold water. Therefore, if you decide to use an outdoor carpet in your boat, you will have to change it quite frequently. Otherwise, the floor underneath it can rot quite fast. You may find a good deal with an outdoor carpet, but in the long run, it is not cost-effective. That is why we recommend using only marine carpets on boats.
3. How Long Does Marine Carpet Last?
Durability depends not only on the quality of the materials but also on how you care for the carpet. If you install the unit correctly, follow the manufacturer's indications to the letter, use only recommended cleaning products and methods, and do not constantly keep it in direct sunlight, your carpet can last you over three years.
Therefore, it is not enough to simply buy the best there is because you also have a few things to do in this sense.
4. How Can I Take My Old Carpet Out?
Indeed, before installing your new carpet, you might have to take the old one out. It is not that difficult, but you have to do it right. First, you should cut the middle and then pull it out. In order to perform this, you can use a utility knife and cut a hole in the middle of the carpet.
Then, start pulling it out from this point. If the glue is too sticky, you can use a bit of acetone or even lacquer thinner. This will loosen the adhesive up. Then, you can slowly pull out every part of the carpet.
What remains can be scraped out, and you can use the back of a hammer to do this. Other remaining materials can simply be vacuumed and thrown away if the case requires it.
5. Can I Power Wash My Boat Carpet?
You should not use a power washer for cleaning your carpet at all. The main problem is that such a tool can ruin the adhesive which will cause your carpet to detach.
What is more, you should not take your marine carpet to a car wash either because the heat, water pressure, and chemicals will most likely damage the fibers. Use only the cleaning supplies and methods recommended by the manufacturer.
Wrap Up
Installing the best boat carpet on your boat will not only protect the floor but it will also make your feet feel more comfortable. Instead of stepping on a hot and hard surface with your bare feet, you can step on something soft. If you like cruising for more days in a row, a marine carpet will also provide you with a home-feeling. Your boat can be your home away from home!
Since there are so many options in this line on the market, we have prepared some boat carpet reviews that could help you with your decision. Moreover, if you don't know many things about this line of products, our buying guide and all the information we have prepared will provide you with all the necessary knowledge you need in order to make an informed decision that will meet your needs and preferences.