Moving a boat trailer by your hands is tough, and getting the best boat trailer dolly is a great way to avoid back and wrist injuries. This simple-to-use piece of equipment will make maneuvering your boat on dry land so much easier. Most dollies are easy to store and install so you won't need anyone's help with this either.
Although no excessive strength is needed to use a trailer dolly, it takes some experience and knowledge to find the right one. We created our boat trailer dolly reviews for you so you can get the idea of the best units on the market and get yourself one straight away. If this is your first experience with boat trailer dollies, we've prepared a buying guide where you can get familiar with the most important features of a dolly.
See The Quick Comparison Chart
What Is a Boat Trailer Dolly and Should You Have One?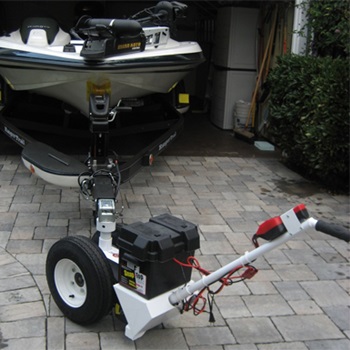 A boat trailer dolly is a piece of marine equipment that takes away the hassle of moving your boat and your trailer by hand. Once attached to your trailer, a boat trailer dolly allows you to move the unit in whichever direction you like, fit it into tight spaces, and works across most surfaces – most importantly with towing your boat trailer across sand and gravel.
Benefits Of Boat Trailer Dollies
Trailer dollies make hauling your boat way simpler and safer, which is why it is so important to find a reliable device. Speaking of benefits a trailer dolly provides, we've listed them down low.
1. Reducing Pressure on Your Back
Boat trailers are quite heavy units themselves. When you add the weight of your boat to it, it's even heavier. So, it's already clear you can't move either by hand. Doing so would highly likely cause back damage or wrist sprain.
Most units we reviewed come with long handles that make it even more comfortable to pull weights without experiencing an injury in the process.
2. Easy Maneuvering
You probably already know how tricky it is to move your boat and trailer in-between tight spaces. Boat trailer dollies can help you fit your vessel into almost any space. These units allow you to find that perfect angle and get your trailer where it seems most suitable.
3. Makes Your Life Easier
Probably the most valuable benefit of using a boat trailer dolly is that provides great value and makes your life easier.
When you find a sturdy and reliable unit to move your boat with it, you will see how much you needed it in your life. Now, you don't have to call anyone to help you out – you can do this yourself. It's you, your dolly, trailer, and your vessel.
4. Simplifies Storage
Depending on the type of a dolly (we are going to break this down in the next section), you will be able to save up some space in your home or in your vessel. With electric boat trailer dollies, there is no stressing over storage as these units allow you to store them basically anywhere.
5. Protects Your Investment
We bet you invested a lot into your boat and a trailer, right? Knowing this, you should do your best to prevent any damage to your vessel. A boat trailer dolly protects your boat from damage.
Believe us when we say, people are experiencing numerous troubles while transporting or loading their boats. With a boat dolly, you can be completely carefree about these processes as it protects your valuables.
Best Boat Trailer Dollies Comparison Chart
PRODUCT
DETAILS

MAXXHAUL 12″ Tires 70225 Trailer Dolly 600 Lb. Max Capacity

Price: $
Customer Rating: 4.6
Weight Capacity: 600 lbs
Tire Size: 12 inches
Material: Steel

View On Amazon

TMS Kayak Canoe Jon Boat Carrier Dolly Trailer

Price: $
Customer Rating: 4.1
Weight Capacity: 150 lbs
Tire Size: 9-1/2 inches
Material: Aluminium

View On Amazon

Tow Tuff HD Dolly Adjustable Trailer Moves with Caster

Price: $$$
Customer Rating: 4.1
Weight Capacity: 1000 lbs
Tire Size: 16 inches
Material: Solid Steel

View On Amazon

MAXXHAUL 70881 Dual-Pull Trailer Dolly

Price: $
Customer Rating: 4.2
Weight Capacity: 600 lbs
Tire Size: 12 inches
Material: Steel

View On Amazon

Bonnlo Kayak Cart Canoe Carrier Trolley Boat Dolly

Price: $
Customer Rating: 4.3
Weight Capacity: 165 lbs
Tire Size: 10 inches
Material: Aluminium

View On Amazon

Trailer Valet TV5X Lift Jack

Price: $$$$
Customer Rating: 4.0
Weight Capacity: 500 lbs
Tire Size: 9 inches
Material: Steel

View On Amazon

Giantex 600lb Heavy Duty Utility Trailer Mover Boat Hand Dolly

Price: $
Customer Rating: 3.8
Weight Capacity: 600 lbs
Tire Size: 10.5 inches
Material: Iron

View On Amazon

Aquacarts TRAILER DOLLY Move Trailers Easily

Price: $$$
Customer Rating: 4.7
Weight Capacity: 600 lbs
Tire Size: 19 inches
Material: Aluminium

View On Amazon
Best Boat Trailer Dollies Reviews
1. MAXXHAUL 12″ Tires 70225 Trailer Dolly 600 Lb. Max Capacity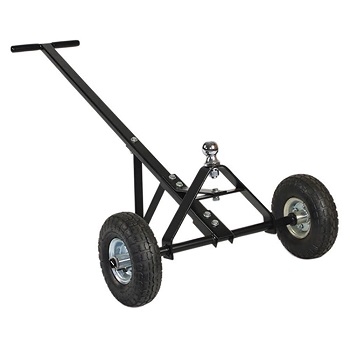 One of the fines, longest-lasting, and top-quality units in this section, the MaxxHaul trailer dolly offers the best value for money. It is very simple and reliable to use with moving your boat or jet-ski trailer.
Taking into account 600lbs of the tongue capacity, this trailer dolly can handle up to 4 times greater load and still perform impeccably. What is more, depending on the weight of the load, you can regulate the tire pressure and ensure the best performance of your trailer dolly.
Grass, dirt, or gravel – the MaxxHaul trailer dolly performs equally well in any type of surface and terrain and overcomes obstacles effortlessly. You can install standard aftermarket hitch balls or big couplers as this unit comes with the 1-7/8 ball receiver.
The MaxxHaul heavy-duty steel frame dolly comes with 12-inch tires and a 40-inch handle that offers you more room for maneuver. Another feature that makes this unit comfortable to use is the ¾ shank with rubber handles that prevent hand blisters.
Simple but reliable, this unit might be the product you've been looking for a dolly that gets the job done but won't break the bank and lasts for a while.
Pros
The frame is coated with anti-corrosion powder,
Easy to handle in tight spaces,
Compatible with most trailer brands.
Cons
Some customers think the rubber handles are kinda loose,
Takes some time to assemble,
Non-adjustable hitch-ball.
2. TMS Kayak Canoe Jon Boat Carrier Dolly Trailer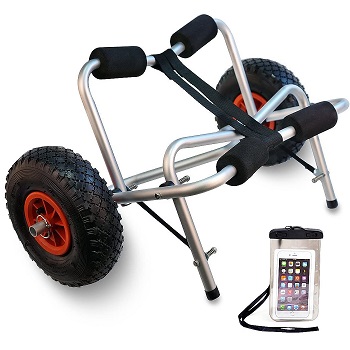 The TMS dolly trailer provides a hassle-free experience and makes it super-easy to transport your kayak or a canoe to the water. It is equipped with a V-shaped cradle and comfortable to grip and thick bumpers. A spring-loaded double-legged kickstand makes it even easier to load your vessel on a trailer.
You can get these wide tires (3-1/2 inch) across almost any surface – especially sand and gravel. Made of anodized stainless steel, the frame of the TMS dolly is sturdy and coated with an anti-rust protective layer that ensures the durability of the unit. The 13-inch nylon straps connect the cradle arms and prevent the cradle from opening wide.
This unit is a breeze to mount, as all you have to do is to attach the wheels and you are good to go. If you need a trailer dolly that's easy to take with you, well-built, and perform great with lighter vessels, make sure to take this one into account.
Pros
Foldable and easy to store,
A long, 12-feet tie-down strap is included in the package,
Lightweight.
Cons
Weight capacity of 150lbs is suitable for lighter vessels only,
No air valves on the tires.
3. Tow Tuff HD Dolly Adjustable Trailer Moves with Caster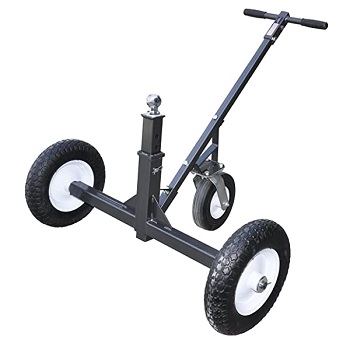 Looking for a versatile and capable unit? The Tow Tuff HD trailer dolly might be the one. This product features 800lbs max weight on the tongue, which means you can use it to move massive weights – even up to 4000lbs.
The fact it is equipped with the adjustable hitch ball (16.5-inch to 25.5-inch) makes this trailer dolly easy-peasy to maneuver. Don't worry about tight spaces – this product will help you handle weight in the narrow areas as well.
Tow Tuff packed their 12-inch tires with expanding foam so you can maneuver the thing on almost any kind of surface – gravel, sand, and grass. The wheelbase is 30-inch wide, which adds on stability and safety, especially when turning the dolly.
As a cherry to the top, the Tow Tuff trailer dolly comes with large handles that reduce stress on your hands and back, even when towing heavy weights. Sturdy, durable, adjustable, featuring a great weight capacity – this unit could be a good buy.
Pros
Powder coat finish against rust and corrosion,
Steel frame,
1-year warranty.
Cons
Hand grips are a bit slippery,
Be careful not to overload the unit as tire foam might explode in this case.
4. MAXXHAUL 70881 Dual-Pull Trailer Dolly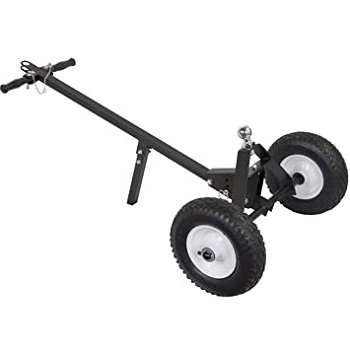 One of the rare yet quite capable units, the dual-pull MaxxHaul 70881 trailer dolly is a type of product you can use for a bunch of daily tasks besides towing your vessel. It features 2 modes – manual and towing so you adjust it to your needs best.
Equipped with 12-inch tires that are strengthened with solid steel rims, this dolly is durable and strong but also does great in challenging surfaces – sand, dirt, gravel, and soft ground.
MaxxHaul rated this unit's tongue weight capacity to 600lbs, but, if you had experience with such units – then you already know their real capacity goes way higher.
Although the hitch ball is not adjustable, at least you can use both aftermarket and bigger couplers with it. Another great feature is that the MaxxHaul 70881 trailer dolly comes with foldable handles and kickstand.
Pros
Durable, corrosion-proof steel frame,
Easily convertible,
Long handles provide easier maneuverability.
Cons
It takes some time to angle the hitch ball.
5. Bonnlo Kayak Cart Canoe Carrier Trolley Boat Dolly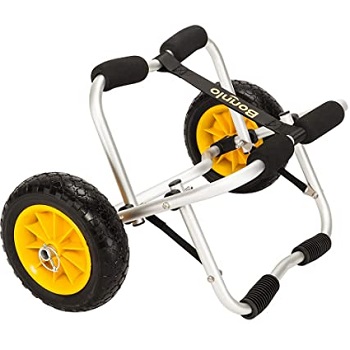 Many canoe, paddleboard, and kayak owners appreciate this boat trailer dolly made by BonnIo. Striking at first glance, this unit features much more than it meets the eye.
This practical dolly boasts lightweight but still sturdy aluminum construction and a solid 165lbs load capacity to handle your vessel effortlessly. What is more, it can handle 2 vessels at the same time if you are planning to have an active day on the water.
It comes with 3-inch wide tires that do great on a lot of surfaces – sand and gravel in the first place and don't sink that much. The BonnIo dolly comes with bungee cords and straps that will help you with securing the hull to the dolly.
There's a spring-loaded stand that makes it easy to load your vessel to the dolly when getting out of the water. Overall, this unit is a bang for the buck considering all the qualities it offers.
Pros
Weighs 8.8lbs only,
Wheels are easy to take off and it is foldable,
Full solid rubber tires never go flat.
Cons
You have to be careful about securing the hull, otherwise you can damage your vessel.
6. Trailer Valet TV5X Lift Jack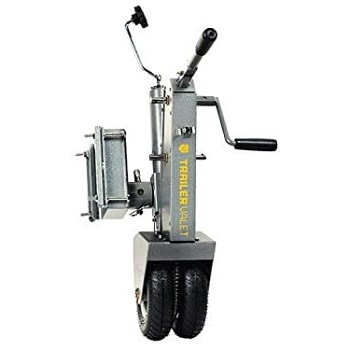 Those who ever had difficulty with hitching their vessels to a trailer know how annoying it was. Lift Jack designed a trailer dolly that can save your nerves and time. It offers a hassle-free experience and hitching your boat on the first attempt. You don't even need help with this and attaching lasts for a couple of minutes only!
Although it seems too small at first glance, the Lift Jack dolly is a heavy-duty trailer with 500lbs of tongue capacity that allows you to tow boats up to 5000lbs. How come this unit features that much of capacity?
Well, the key is in the patented gear mechanism that does the job effortlessly. You can even adjust the gear to low or high. The Lift Jack dolly is packed with another awesome and helpful feature – a cranking system that makes it ideal for maneuvering in narrow spaces.
A great choice for short-distance use, this device works wonders with most boats and other marine applications while you can use it with camper vehicles too.
Pros
Easy to store when not in use,
Automatic brake system,
Rust-proof steel construction.
Cons
Not suitable for off-road use,
On the bulky side.
7. Giantex 600lb Heavy Duty Utility Trailer Mover Boat Hand Dolly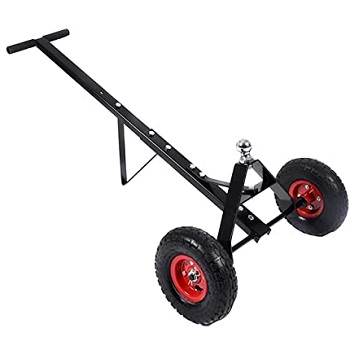 Heavy-duty, sturdy, and capable – the Giantex trailer dolly is super-convenient for a number of different applications. It features 660lbs of weight capacity and comes with 10.5-inch tires that can withstand the pressure with ease so you can move different objects, including your boat almost effortlessly.
The key factor of this type of performance is in the construction materials. Made of high—quality iron, the Giantex trailer dolly is almost impossible to destroy. Yet, the seller involved some wooden parts to this unit as well that enhance its durability even more.
The assembly process is easy and straightforward and requires little to no maintenance. The Giantex trailer dolly might be a great option if you have a jet ski or a boat but need a unit to move some cargo as well.
Pros
Extra-long handle,
Suitable for all types of terrains,
Lightweight and easy to store.
Cons
Tall people can find the unit hard to use due to its height.
8. Aquacarts TRAILER DOLLY Move Trailers Easily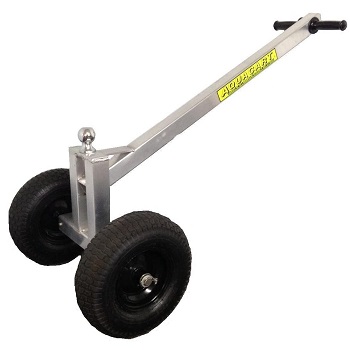 One of the trailers dolly with the greatest weight capacity of 4000lbs and 600lbs of the tongue capacity, the Aquacarts unit features topgallant quality. Versatile and simple to use, this dolly is super-convenient for maneuvering in narrow spaces.
It is quite small and compact itself, but don't let its size fool you. The Aquacarts dolly is packed with numerous useful features. It is made of aircraft quality aluminum that's well-known as a lightweight and quality materials, comes with a fully welded 2-inch tube, and a 1-7/8-inch universal ball, and large, removable tires.
This unit works well with most groundwork, including gravel, cement, and sand. The Aquacarts trailer is made in the USA, which is good to know if you want to avoid products made in China.
Pros
Great for moving small boats (up to 19-foot),
Well-made and robust,
Easy to store on your boat.
Cons
The ball height is not adjustable,
Tires tend to inflate occasionally.
Types Of Boat Trailer Dollies
1. Hand Trailer Dolly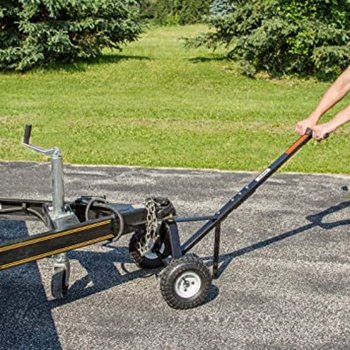 If you don't like the idea of electric devices or find them too complicated to use, a hand trailer dolly is a way to go. With this type of dolly, you have to attach the trailer to it, then do the pulling/pushing part yourself.
2. Electric Trailer Dolly
There are numerous electric-powered pieces of marine equipment – deep cycle marine battery or the models in our trolling motor reviews, etc. Electric trailer dollies offer an almost hands-free experience. This type is more convenient and comfortable to use, especially in tight spaces. If you want to avoid lifting (especially if you have lower back issues), an electric trailer dolly operated by a battery would be a better choice.
Although you would have to spend some extra to get it, an electric trailer dolly will provide more value and pay off in the long run.
Boat Trailer Dolly Buying Guide
The choice of the unit will largely determine whether you see the difference with a dolly. If you are not careful about the most important factors to consider when making a buying decision, there is a great chance you won't find what you are looking for.
That is why we compiled all of the important checks you have to make beforehand the purchase. Here they are:
1. Weight Capacity
Each dolly has a different weight capacity. This device supports the weight on your trailer tongue. In other words – a certain amount of weight placed on your boat trailer is transferred to the ball hitch.
Even the most lightweight boats are tricky to move without someone's help. Have you ever tried to attach your trailer to your car? Then you know what we are talking about. That's exactly why you need a dolly that can support the weight of your boat.
Double-check the weight rating of the dolly you are planning to buy. Also, make a difference between the tongue capacity and the overall weight capacity of the unit.
2. Adjustability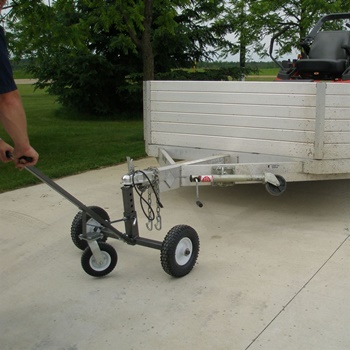 The best trailer dolly allows you to adjust hitch height. In other words – you can set it lower or higher in regard to the trailer and make the moving process more comfortable. By adjusting the hitch height, you can move the unit in a more natural position.
If you get a trailer dolly that comes with a non-adjustable hitch height, there is a great chance it might be too low for you, especially if you are a tall person. A too low hitch ball won't make maneuverability easier but much harder.
3. Ball Size
Again, everything about a trailer dolly should provide you with more ease and comfort when moving your boat trailer and your boat. Besides the fact it would be best to find a unit with the adjustable hitch ball, we highly recommend you to find a unit that can accommodate different ball sizes as well. This way, you will ensure you can use your dolly for a wider choice of applications, not only for your boat but for a camper, too.
4. Tire Size
Boat trailer dollies come with inflatable and solid rubber tires that also come in different sizes. These are as important as your trailer tires are. You can also see our boat trailer tires reviews.
The pattern and the size of the tires are of great importance when moving the unit across different surfaces. As a boat owner, you will use the dolly on sandy and gritty surfaces so make sure your dolly's tires can perform well in these areas.
Also, make sure to find a dolly with tires wide enough to support the size of your boat. Otherwise – you are putting them to a risk of exploding due to overloading.
5. Assembly
Who wants to spend hours assembling their dolly? Exactly – no one. Some boat trailers come with easily removable wheels and these types are mostly foldable as well so you can take them with you on your boat.
However, others that are not foldable might take more time to assembly. Check on the manufacturer's instructions, if possible, before making a final buying decision. There, you will see how clear the assembly instructions are.
6. Type
We've already listed the two types of trailer dollies – hand-operated and electric. The choice between these two is a matter of personal preference. If you still feel young and have no back pain, a manual unit will do. On the other hand, if you don't want to pose yourself to any, not even the slightest risk of an injury – an electric dolly would be a better option.
How To Use a Trailer Dolly?
Adjust and fasten the coupler on the hitch ball to desired, lower height.
Press the latch and turn the hand-wheel counter-clockwise to fully loosen it.
The ball clamp should be right below the coupler.
The hitch ball should be fully covered and enclosed by the coupler.
Push the latch even more while turning the handwheel to the right to tighten the coupler. Make at least 10 turnings.
You will notice when the handwheel tightens. Once it does, move your boat trailer towards the dolly while making sure the hitch ball is fitted into the coupler properly.
Double-check all of the connections. The hitch, hitch ball, and your boat trailer should be tightly adjusted.
Maintenance & Safety Tips
1. Maintenance
Trailer dollies are easy to use and even easier to maintain. If you pay attention to a couple of details, you will ensure your unit serves you for a while. For instance, you should place it in a cool and dry place away from direct sunlight.
If your dolly comes with foam-filled tires, UV rays can make the foam to go hard and cause rubber deterioration with solid rubber tires.
Also, be aware of the fact even powder-coated dollies will start wearing out after a couple of years. If you know how to do this, it would be great to repeat the powder coating and extend the unit's quality even more.
2. Safety Tips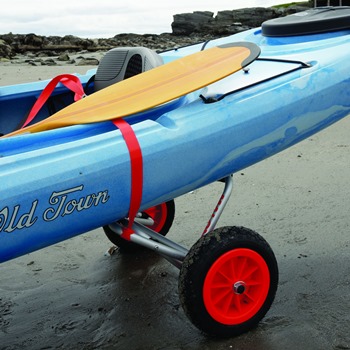 Using a trailer dolly should be comfortable and easy. Yet, if you don't have a reliable unit and if you are not careful enough, you might experience a back injury. In order to fully enjoy all the benefits of your new unit, make sure to stick to the following safety tips.
Wear a back belt no matter how much weight your trailer dolly can take.
Use nylon belts and straps most manufacturers provide or buy them separately to secure your boat and prevent slipping.
If you have a large boat, use 3 or 4-wheeled trailer dollies and 2-wheeled dollies for lighter vessels.
Getting a trailer dolly that can't hold the weight of your vessel will highly likely cause the tires to explode. Also, it is possible for the weight of the trailer to trigger the dolly to flip forward.
Always wear protective footwear when towing your vessel.
Inspect the unit for any signs of wear or cracks before using it.
If possible, choose to push the dolly instead of pulling it. Pulling the dolly can make the trailer run over you.
FAQ About Boat Trailer Dollies
1. How Does a Trailer Dolly Work?
It transfers the weight from the boat trailer. Once attached to the trailer, you can use the trailer dolly to move your boat around – within narrow spaces, between objects, etc. This unit reduces the pressure to your back and legs as the dolly takes on the weight and makes it easier for you to maneuver it.
2. How To Measure The Dolly Tongue Weight?
If you have a trailer dolly but you are unsure about its weight, it's easy to measure it on your own. You will need an improvised scaffolding and a bathroom scale. Lay the coupler of your dolly on the scale. If the scale can handle the weight of the
unit's tongue, it will display the tongue weight – whether it be 150lbs, 600lbs, or another measure.
Take into account the dolly tongue weight doesn't indicate the overall weight capacity of the unit. For instance, 600lbs of tongue weight capacity indicates that your unit can withstand weights up to 4000lbs. With some units, capacity goes up to 5000lbs.
3. How To Make a Motorized Trailer Dolly?
If you have a dolly that comes with a built-in connection for the battery, you can easily turn the manual unit to a motorized one. Yet, make sure the dolly supports the voltage of the battery you want to connect to it.
Wrap Up
You have struggled enough with moving your trailer and your boat by hand. Now you know there is a unit that can make your life easier and save your back and legs – the best boat trailer dolly. Easy to maneuver and portable, you'll experience numerous benefits dolly offers with time.
We hope you could spot the best unit for your needs among our boat trailer dolly reviews so you can fully enjoy your marine adventures. If you ask us, a boat trailer dolly is a must for sailors and the ones yet-to-become. Yet, this is just a tiny piece of equipment you need. We have prepared numerous guides on marine accessories and equipment you just have to check out. See you there!