The best trolling motor acts as an alternative to your boat's motor and can improve the overall vessel performance when dealing with currents and even rough grass. If you are among the millions of people who enjoy fishing, this simple addition can make your hobby even more pleasant.
Here, you can learn more about the most important features of this unit, and even how to install it to your vessel. We even found great trolling motor models that can enhance your boat's performance and make your water adventures hassle-free. By the end of this guide, you will have a clear image of the product that would suit your needs best.
See The Quick Comparison Chart
Benefits Of Trolling Motors
Each piece of the marine equipment boasts a couple of major benefits, which is the case with trolling motors. Let's see how they can improve your performance on the waters.
1. Greater Boat Control
Even the simplest trolling motor can give you a higher level of control than a paddle can. Trolling motors are most convenient for small vessels, although they work well with larger ones as well. Currents will never pose a threat to your boat again if you pick the right trolling motor, while it will provide easier, smoother steering on the other hand.
If you stay away from the rocky areas and banks, you will use this unit for many years to come.
2. Access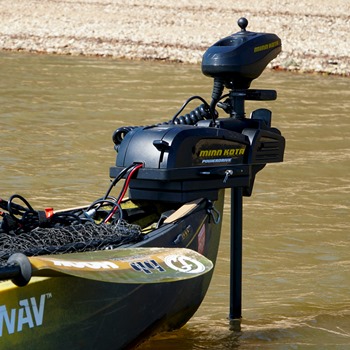 The range of areas you can access is pretty limited without a trolling motor. Some of these devices don't even require you to navigate them manually. This means you can cover more lanes, including some of the hard-to-reach ones, and focus on fishing instead of steering and navigating. In other words – it would be almost impossible not to catch a fish!
3. Quiet Operation
Now that we mentioned fishing, you already know that any noise reduces your chances of catching a fish, right? Big marine and outboard motors generate a lot of power, which makes them very noisy. Trolling motors reduce the noise when moving forward or going in reverse, so you won't scare the fish away.
4. Added Security
Just imagine your boat's motor dying in the middle of nowhere. Scary, right? A trolling motor provides a higher level of security while you are on the water, as it acts as an alternative to the main motor. You can always turn your main motor if you need some extra power to get back home as soon as possible, but a trolling motor will give you a sense of security either way.
When you have a backup, there is nothing to be worried about. Instead of calling for help or paddling like crazy, you can rely on your trolling motor.
Best Trolling Motors Comparison Chart
PRODUCT
DETAILS

Newport Vessels NV-Series Saltwater Transom Mounted Trolling Motor

Price:

$

Customer Rating:

4.6

Thrust:

36 pounds

Shaft Lenght:

30 inches

View On Amazon

Minn Kota Endura Transom Mount Trolling Motor

Price:

$$$

Customer Rating:

4.7

Thrust:

30, 40, 45, 50, 55 pounds

Shaft Lenght:

30, 36, 42 inches

View On Amazon

Minn Kota Endura Max in Shaft Thrust Trans MNT

Price:

$$$

Customer Rating:

4.1

Thrust:

40, 45, 50, 55 pounds

Shaft Lenght:

36, 42 inches

View On Amazon

Cloud Mountain 8 Speed Electric Trolling Motor Saltwater Transom

Price:

$$

Customer Rating:

4.2

Thrust:

36/40/46/50/55/60/86 pounds

Shaft Lenght:

28 inches

View On Amazon

Goplus Electric Trolling Motor Transom Mounted 8 Speed

Price:

$$

Customer Rating:

4.3

Thrust:

46, 55, 86 pounds

Shaft Lenght:

36 inches

View On Amazon
Best Trolling Motor Reviews
1. Newport Vessels NV-Series Saltwater Transom Mounted Trolling Motor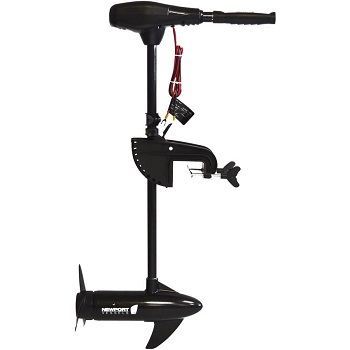 The Newport Vessels has one of the most comfortable to operate trolling motors on the market. This device is relatively quiet, although it can get a bit noisy when you accelerate the speeds. However, having in mind all of the following benefits this trolling motor offers, it's easy to forget about the sounds.
It is versatile and you can use it for your boat, kayak, or any other vessel. When it comes to performance – this Newport Vessels can go all day without overheating.
Equipped with a strong, adjustable, 30-inch shaft, it is also convenient to use in all water conditions and at all depths. Speaking of the highlights of the Newport Vessels NV-Series trolling motor – it features 3 reverse and 5 forward speeds, as well as the ergonomic and expandable handle that makes the operation even smoother.
If you want to invest in a high-quality and durable trolling motor, you will appreciate the strong build of this one. A combination of magnesium, zinc, and stainless steel will resist a lot of wear and tear, including fresh and saltwater.
Pros
5-point LED battery meter,
Easy to install,
2-year warranty on the motor.
Cons
It is kinda loud when in forwarding speed,
The mounting bracket is a bit shaky.
2. Minn Kota Endura Transom Mount Trolling Motor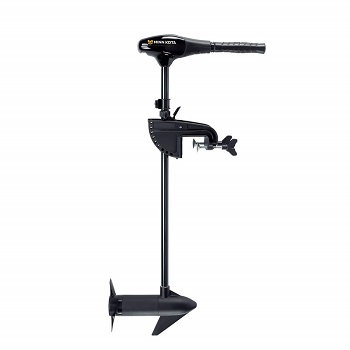 Reliable, robust, and durable – the Minn Kota Endura is a hella good trolling motor. You can't go wrong with this unit if you are into fishing, as it runs almost noiselessly. We know how much of a trouble fish-spooking noise can cause, but don't worry. The Minn Kota Endura reduces friction and eliminates unwanted outcomes when you are on the water.
Speaking of performance, this device rarely overheats thanks to these two amazing features that dissipate heat – commutators and extra-large windings. Cool, seamless operation leads to extending battery power and longer motor life.
Another amazing feature is the corrosion-free, hard to break the composite shaft. The Minn Kota Endura boasts 5 forward and 3 reverse speed settings. Although you may need some time to get used to the reverse mode, you will enjoy this device either way, as it offers great value and durability.
Pros
Lever lock bracket,
A 6-inch telescoping handle,
2-year warranty on the motor.
Cos
Going in reverse consumes the battery a lot,
No battery charge indicator
Meant for use in freshwater only.
3. Minn Kota Endura Max in Shaft Thrust Trans MNT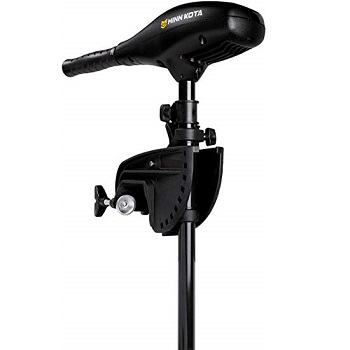 Seems like large windings and commutators make a trademark of Minn Kota as a brand. Their Endura Max in Shaft trolling motor ensures cool operation and never gets overheated due to these two features that dissipate heat.
The Endura Max was named this way for the longer motor life it provides, as well as the battery power expectancy. It is equipped with the digital maximizer that guarantees up to 5 times longer battery life. What is more, you can dial in the desired speed to this trolling motor, and it will perform accordingly while making sure you have enough battery life throughout the whole day on the water.
No doubt the whole device is well-made, but we can't help the enthusiasm about the durable, reinforced lever-lock bracket that is resistant to UV damages, flexing, and warping.
Fully-adjustable, made of high-quality, durable materials, the Minn Kota Endura Max is a type of device everyone would like to have. It can push you through the heaviest vegetations when hunting fish and perform all day long, while it is equipped with all of the other listed features that make it stand out from the competition.
Pros
An ergonomic telescoping handle,
Easy to maneuver and install,
Performs great even when it is windy outside.
Cons
Emits a high electromagnetic interference so your fish finder won't have any use
It vibrates slightly at higher speeds.
4. Cloud Mountain 8 Speed Electric Trolling Motor Saltwater Transom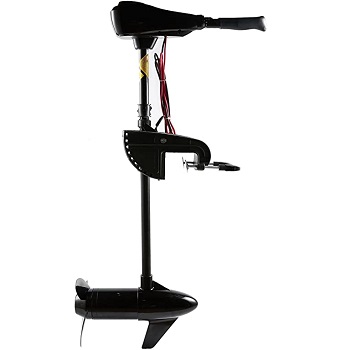 The Cloud Mountain trolling motor makes a great choice for both saltwater and freshwater. It provides excellent stability and first-class built quality. It features a strong, ablation-resistant, and reinforced nylon bracket.
You can control this device with minimum effort. It is equipped with the ergonomic extendable handle and 5 forward and 3 reverse speeds, which all guarantee super-easy to use and well-controlled rides.
Most of the hardware of the Cloud Mountain trolling motor is made of stainless steel so the unit is very durable. However, the bolts are made of different materials, so make sure to check for any signs of corrosion regularly.
Cloud Mountain sticks to the golden standard of equipping their trolling motors with fiberglass composite shafts. This piece allows you to place the device at any depth and in all water conditions.
You can track the battery life on the 10-point LED indicator. The battery itself is relatively durable and you can enjoy your days on the water without worrying whether it would fail unexpectedly.
Pros
You can choose between different thrust levels, starting from 36 and going up to 80lbs,
Develops 4mph of speed when at the highest setting,
The all-aluminum head is very durable.
Cons
Unreliable, plastic mounting.
5. Goplus Electric Trolling Motor Transom Mounted 8 Speed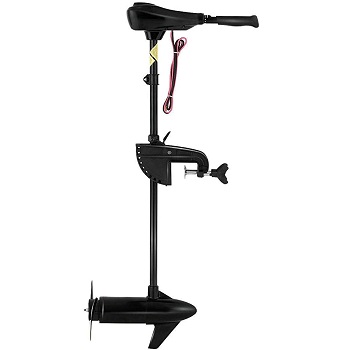 If you are fishing among the grass and marsh, the Goplus electric trolling motor may be the unit you need to help you with moving through it smoothly. This device ensures a smooth and comfortable ride and top-class performance.
It is equipped with a 6-inch telescoping handle that gives you maximum control. Also, you can switch between 5 forward and 3 reverse speeds to reach the desired traction.
What we appreciate the most about the Goplus electric trolling motor is that it comes with the 3-bladder propeller (46/55/86lbs). This feature is crucial for smooth movement, although you should be careful about the head of the motor. As it is not waterproof, water splashing can damage it.
One more great point about this trolling motor is the LED light battery indicator with 10 levels, which makes it is so easy to track on the electricity and the performance. The biggest con about the Goplus motor is that it drains the battery quickly, but it still one of the most reliable units out there.
Pros
Durable, fiberglass shaft,
Aluminum head increases the lifespan of the motor,
Adjustable shaft angle and propeller depth.
Cons
Low-quality thrust,
Slightly noisy.
6. MinnKota Traxxis 45 Transom Mount Trolling Motor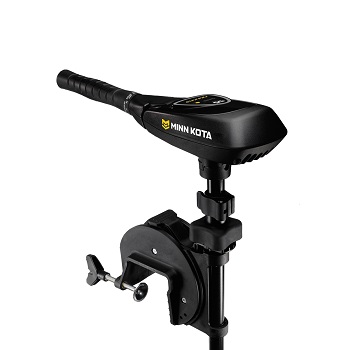 Once again, Minn Kota stunned us with their Traxxis 45 trolling motor. This unit allows you to enjoy one-hand stowing and provides easy deployment. Equipped with an ergonomic handle, you will find it pleasing to tilt or extend. Everything about this device serves to provide the utmost control and comfort to the user.
If you find dealing with steering tension troublesome, make sure to remember the Traxxis 45 comes with the innovative collar that takes ways the hustle. Lose it to achieve effortless steering, but you can also tighten it down to score vertical stowing.
Probably the best feature of the Minn Kota Traxiss 45 is the digital maximizer that extends the battery life 5 times more than you would get with a regular device. The main purpose of the maximizer is to control the draw of power as you switch between speeds.
To check the battery-charge status, simply run a push-to-test battery meter. The Minn Kota Traxiss 45 suits small vessels best, although it performs well with larger ones as well.
Pros
Composite shaft,
Steering tension control,
2-year warranty on the motor.
Cons
Weak performance when going in reverse,
The bracket is made of plastic, which makes it flimsy.
7. Newport Vessels Kayak Series Transom Mounted Saltwater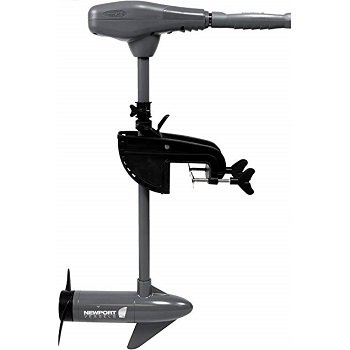 Newport Vessels designed a trolling motor for kayaker specifically, and we thank them for that. This powerful unit comes with the 24-inch fiberglass shaft, which, if you are an experienced kayaker, suits the size of a kayak best. Kayaks usually boast low transoms, which means you should find a shorter shaft for your water kayaking adventures.
The battery cables are quite long – 5.6 inches so you can place the battery more comfortably, almost without any hassle. Yet, when it comes to battery life, try sticking to speeds that are more moderate. This way, you will ensure a good couple of hours of motor performance.
The motor of the Newport Kayak Series itself is, no doubt, pretty frisky and you can count on it even when the currents get stronger. However, we wouldn't still recommend staying on the water for more than 1 hour if things get a bit complicated.
On the other hand, the motor is silent and it gives you an impression like it isn't even there. If you usually use your kayak to go fishing, the quietness of the Newport motor will enhance your chances of catching the prey.
Pros
Made specifically for saltwater use,
An extendable telescoping handle,
55lbs thrust,
Cuts through the roughest grass,
Suitable for canoes as well.
Cons
The battery indicator is useless.
8. MinnKota Edge Bowmount Foot Control Trolling Motor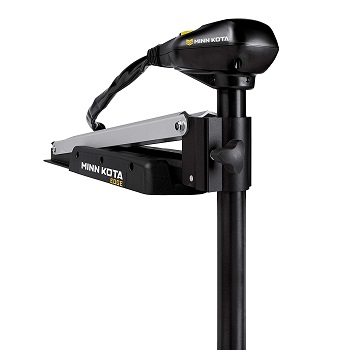 Minn Kota has a couple of gems in their store, and the Edge Bowmount trolling motor is one of them. This unit is equipped with all the bells and whistles that will swipe any angler off their feet. Foot controls allow you to use your hands freely and use more energy to wrestle with the catch instead of steering.
It comes with a 45-pound thrust that will help you deal with grass and rough waters with ease. However, if you feel like 45lbs is not enough, you can opt for the 70lbs model.
The battery runs for solid 7-8 hours, which will cover most of your day on the water. You can choose between 36, 45, 50, and 52-inch shafts, depending on the terrain you are exploring and your boat, and between 5 forward and 3 reverse speeds.
Mounting with the Minn Kota is easy-peasy and the mount itself is designed to withstand rough abuse. This unit boasts a respectable battery life, makes it easier to catch the pray with your hands, while the shaft is so well-made that it will serve you for life.
Pros
Easy to install,
Remove it within just a couple of seconds thanks to the latch and door mount,
Quiet.
Cons
It takes about one minute for this motor to start working in reverse,
The built-in power cord is a bit short,
Sometimes, the motor keeps on running for a while even after you turn it off.
9. Black Haswing Bow Mount Electric Trolling Motor Fresh&Saltwater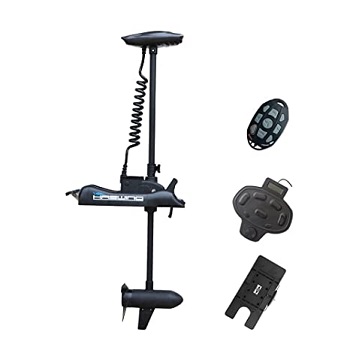 If you have a large vessel, you need a trolling motor that's compatible with it, and the Black Haswing device might be the right one for you. It comes with the 54-long shaft that works flawlessly.
Surprisingly for a trolling motor for large vessels, this one boasts foot control. What would you say if you had a chance to reel in more catches? Allow your feet to do the work, and get back home with a full net.
Another feature that makes this unit stand out from the competition is the remote control. You can set the boat speed remotely. Isn't that awesome?
This powerful motor ensures a couple of hours of cruising. Equipped with the 55lbs shaft, the Haswing trolling motor will remain in the same position even when it is windy outside, and you already know how important it is when you are fishing.
Well-made, this trolling motor is corrosion-resistant, and you can use it with fresh and saltwater. It is also lightweight, portable, and develops respectable speeds, which are the features that tick the boxes for many boat owners.
Pros
Runs quietly,
Comes with a quick-release bracket,
Equipped with an ergonomic lifting handle.
Cons
Lowering this unit can be a challenge.
What Are Trolling Motors and How do They Work?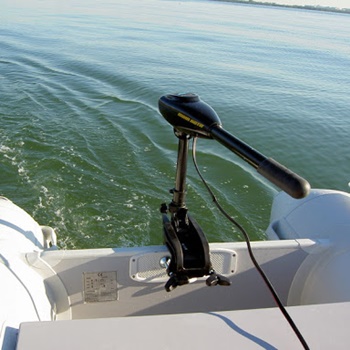 Trolling motors are devices that make it possible for boat owners to move through the water without using their boat's primary engine. This self-contained unit uses either gasoline or electricity, even though most of the models use the latter. Besides being an alternative to primary engines, trolling motors also reduce drag.
You need a special mount to install a trolling motor on your boat. Also, it would be great to add a couple of clamps to ensure the stability of the device. The next thing you need is a bracket to pull the motor out of the water, but also to pull it in.
Trolling motors come with different controls. Some feature hand tillers, others foot pedals, while rare motors boast wireless control. Be ready to deal with a lot of cables, as you will need something to transfer commands to the control head. Once the control reaches the control head of a trolling motor, it will steer the propeller (underwater) and drive a vessel in a certain direction.
Types Of Trolling Motors
In this section, we are going to explain 3 categories regarding types of trolling methods. Factors such as environment/usage area, mounting position, and motor control are used to make the following groups.
1. Freshwater vs Saltwater
The most common and the most popular type of trolling motors are freshwater motors. Needless to say, most people sail in the freshwater, and this is the main reason why this type of trolling motor is so widespread. However, note that you should never ever use it in salt water, otherwise it will experience long-term, irreparable damage.
It's already clear why you shouldn't use trolling motors for freshwater in saltwater. Saltwater can cause a trolling motor that's not meant for that use to fail pretty quickly. It would make the parts corrode so no matter how much you would wash it after the use, there would be no chance of repairing it.
Saltwater trolling motors are fully covered – the head, electronics, gear, etc, everything is well sealed and corrosion-resistant. The only part that comes into contact with salt water is the propeller, while the rest is protected.
2. Transom Mount vs. Bow Mount Trolling Motors
Bow mount trolling motors tick the boxes for most fishermen. They are very widespread mostly because they provide more control over the motor. You should install it in front of your vessel, which also contributes to great control. Everything is happening in front of your eyes, so you won't leave anything to chance.
On the other side, the biggest con of bow mount trolling motors is that they are heavy at the front. Yet, some people dislike the fact you would have to drill some holes in the boat if you want to mount this type of motor. In order to prevent any damages to the propeller, we would recommend dismounting the device each time before you land on a coast.
Transom motors are easier to install and this method requires no drilling. Normally, this type is mounted at the stern, which makes turning more comfortable. Unlike bow mount motors where the power of the motor pulls the boat, the power of the transom motor pushes the boat.
If you have a small boat, this type would probably meet your needs best. It comes off easily, you don't need any clamps, etc. However, the major con of this type is that you would have to hold the handle all the time with one hand. Another thing you might dislike is the handle is installed behind the person who controls the motor.
3. Hand Control vs. Foot Control vs. Wireless Trolling Motors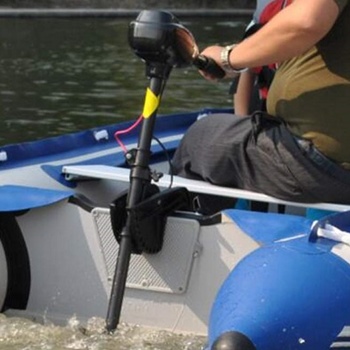 You can choose a trolling motor with different control options. Hand controlled motors come with a handle installed on the head. Most transom-mounted motors come with this type of control solution. One of the benefits of hand-controlled motors is that you can act quickly in case something bumps in front of you.
However, be careful when twisting the handle. If you would twist it too quickly, you would lose control due to drastic changes in the speed. To prevent tipping over under the power of the trolling motor, use the emergency bracelet.
And, the other category in this section is foot pedal motors. If you own a medium or large vessel, this type of trolling motor would contribute to its performance the most. Hands-free, this motor allows you to get the most out of the time spent on the water.
Some of the foot control motors are equipped with GPS control as well. Bow mounted trolling motors can be controlled by foot and you can use them in both salt and freshwater.
Trolling Motor Buying Guide
If you have never used this device before, you should get familiar with some of the most important features to look in a trolling motor.
1. Shaft Length
If your goal is to have the most control over your vessel, you should think twice about the shaft length of your next trolling motor. Also, the choice of the shaft will determine the mount size you are going to need as well.
To achieve a greater distance between the waterline and the bow, go for the longer shafts. However, the longer is not always better. A too-long shaft would cause problems with your vessel when you are in the shallow.
On the other hand, a too-short shaft would be very hard to submerge and operate, especially during adverse conditions and in rough waters.
The same rules we list regarding the shaft also apply to the transom and the waterline. If you order, for instance, a 36-inch long shaft, you will need a bow mount shorter than 16 inches. Yet, note that a transom mount compatible with this shaft length should be 10 to 16 inches long.
2. Max Thrust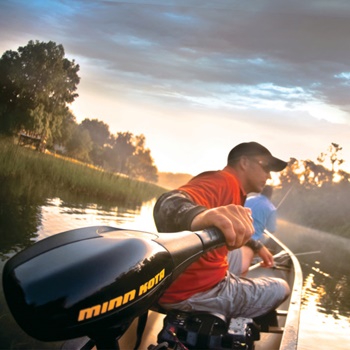 Another crucial thing to consider before making a final decision is the max thrust. Here, we are referring to the size of our vessel you are going to mount your trolling motor on. Each trolling motor provides a certain amount of thrust, and here is how to find the right unit.
You need 5 pounds of thrust per 200 pounds of the weight of your vessel. However, although the weight of the boat is important, make sure to consider the number of passengers on it as well as the contents you are transferring.
It would be best to count on the maximum weight capacity of your boat and only then calculate the adequate thrust. To make things even easier for you, we'll tell you the most reliable way of calculating this. Take the maximum weight capacity of your boat and divide it by 200. Once you do so, multiply this number by 5 and that is the thrust you should be looking for.
Note that, if you are usually fighting currents, it's always better to opt for a higher thrust, which implies a more powerful motor that will be able to deal with rough waters.
3. Power Consumption
How many hours do you normally spend on the water? If you are fishing for the whole day, you need a device that comes with a higher voltage motor. A 12V motor would suit 16-feet or smaller vessels, while larger boats usually need 24 to 36V motors.
4. Battery Efficiency
No matter the quality of the motor, if your batteries are low-quality, there is a chance you would stay stuck somewhere.
Don't be petty when buying a top-rated trolling motor battery, but go for the high-quality one that's designed for electric motors in the first place.
One of the best ways to ensure long battery life is to get a device that comes with Digital Maximizer. This thing extends the run time by slowing the draining down.
5. Speed Control
Although you don't have many options here, you still can choose between these two types of speed controls – fixed and digital variable. The latter is slightly more convenient for developing higher speeds, but also more expensive when we compare them to units that are controlled by gears.
6. Materials
Materials used to make different trolling motors define the life expectancy of a unit. If you want to find a product that's durable and corrosion-free, opt for stainless steel constructions. These can handle currents and rough water conditions.
The mount and the propellers should be made of heavy-duty and strong materials, if possible with no plastic parts.
Tips For Trolling Motor Maintenance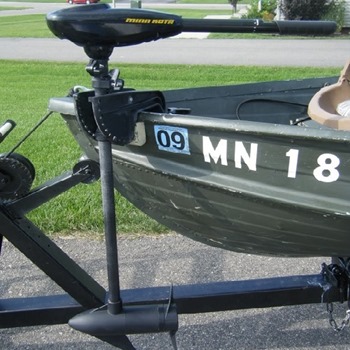 Maintaining your trolling motor is crucial if you want to prevent unwanted situations on the water. Here, we'll list some of the useful tips that will help you maintain your unit properly.
1. Recharge the battery regularly.
Don't start your trip with a battery that's halfway charged. Also, don't hurry things by taking the battery off the charger before it is fully charged. Let it charge 100% and fire it up only then if you want to retain the efficiency of your trolling motor.
2. Pay attention to the sounds.
Cranking or any other kind of odd sounds coming from your trolling motor are a red flag. Make sure to inspect the device thoroughly.
3. Keep your motor clean.
Needless to say, make sure your unit is free of dirt and grass. It would be great to apply one of the anti-abrasive gents to the motor when cleaning.
4. Inspect the propeller for any signs of damage.
One of the most important parts of any trolling motor is the propeller. A bent or chipper propeller will affect the overall motor performance negatively, but also pose a threat to your security. Always keep an eye on it.
FAQ About Trolling Motors
1. What Size Trolling Motor Do I Need?
Bigger motors are not necessarily better. You should pay attention to the shaft length and power consumption besides the thrust when getting yourself a trolling motor. Check on the models that can handle the weight of your boat and the additional weight you would be pulling. The largest boats would need an 80lbs thrust, while the small ones need no more than 16lbs.
2. How To Wire a Trolling Motor?
Wiring a trolling motor is relatively simple when you have the right tools to work with. When you get a trolling motor, it comes with controls and power leads. Yet, these are not enough to complete the process.
Additional equipment you will need include batteries, top-rated marine battery chargers, terminal ends, and a jumper wire. When wiring a 26 or 36V motor, short wires will be sufficient to connect the motor and the batteries.
Then, locate the black and red power leads and attach them to the battery. If you have a 12V trolling motor, for example, connect the positive lead to the positive and negative lead to the negative terminal. On the other hand, if you are wiring 24 or 36V motor, you will have to connect multiple batteries.
3. How To Mount Transducer on Trolling Motor?
You will need a knife and a screwdriver besides the basic equipment to perform this task. Transducers are located on the bottom of trolling motors, right behind the fin. Use a stainless steel hose clamp to clamp the unit to the motor. It is important for the transducer to be stable and straight. Make sure to prevent tilting.
You'll take the transducer cable now and tighten it with a nylon wire tire to the bottom of the motor. Once you reach the top of the shaft, direct the transducer to the fish finder and trim any excess wires. The only thing that's left now is to connect the transducer to the fish finder, and you are good to go.
Wrap Up
How do you feel about the products from our selection? If you have read our trolling motor reviews carefully, we guess you already have an idea of what you need.
We have devoted our time to make this list so you can recognize the best trolling motor that suits your boat and your fishing needs best easily. This unit will, no doubt, contribute to your safety when on the water, but also help your boat perform way better.
If you find our tips helpful and our guides useful, don't forget to check our other guides about marine equipment, audio systems, maintenance products, etc.
See also: best trolling motor batteries – small outboard motor reviews