Your boat deserves the best, and the best trolling motor battery is a piece of equipment that can ensure safety and improve the performance of your boat. No doubt you love being on the water, catching fish, or just chilling – that's why you are here. Yet, if you are usually spending most of the days over the year on the water, you should make sure your vessel is at its peak performance.
But not just any trolling motor battery can ensure the highest potential of your motor, so we've prepared trolling motor battery reviews to help you select between the units that are reliable, high-quality, and easy to use. We also covered how to maintain and charge your trolling battery, and some info on the most important features to look out for.
See The Quick Comparison Chart
Do You Need a Marine Battery For Trolling Motor?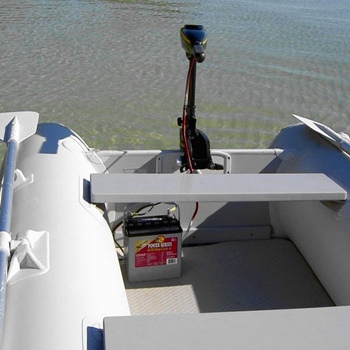 Batteries make the most important part of any electric device, including electric motor systems. If you own a vessel, then we guess you know what it takes to keep it in a tip-top condition. Having a marine battery for trolling motors is a requirement and it is still highly advisable to get a high-quality one for the following reasons.
This unit will ensure a couple of extra hours when fishing or sailing, and every moment counts when you are doing something you love, right? On the other hand, no way you would want to play games and question your safety outdoors. A trolling battery will bring you security about staying on the water.
So, again, you do need that battery for trolling motor if you want to be carefree and enjoy your time outdoors, without having to worry about swimming back to the shore.
Benefits Of Trolling Motor Batteries
1. You can use your trolling motor battery to charge other devices as well.
Not only trolling batteries power trolling motors but they can power additional appliances on your boat, too. Most of the units from this compartment are dual-purpose. After all, we live in an age of power-hungry devices, so no doubt you will need some extra power when on the water.
Yet, make sure to keep track of the battery charge, as you don't want to be stuck in the middle of nowhere for charging your phone or laptop.
2. The trolling battery is a second power source that will get you back to the mainland.
When having a trolling motor battery, you should use it as a second source. Your primary source will, most of the time, provide enough power to get you back to land. You will be much more carefree about heading out to the sea, river, or lake when knowing you have an efficient, on-power system you can turn on your trolling motor.
3. Solar energy can be used to charge some trolling motor batteries.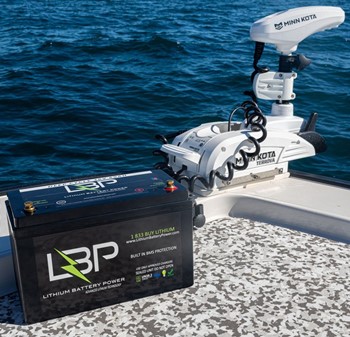 How do you ensure the longest charge of your trolling motor battery? By getting a unit that can use the sun's rays to recharge. You can sit on the water and wait for the fish as your battery is getting charged.
What is more, you can even power a TV or radio while the battery is charging this way. It's nice to have two units at the same time, but even a single trolling motor battery that uses sun rays can be enough to make your afternoon on the water more pleasurable.
4. Trolling batteries are more resistant to impacts than regular marine batteries.
The movement of the water can get pretty tough, and you can't predict it. That's why you need a battery that can stand some rocking of your vessel. Regular marine batteries tend to become faulty under the influence of vibrations.
5. Trolling batteries discharge electricity gradually.
Trolling batteries are more efficient than other types because they discharge electricity slowly. You can get an idea of how much power you have left and make an estimate of how much time you should spend on the water without overthinking.
Also, these don't use a lot of energy when on the lowest setting. To prevent the electricity from discharging quickly, you can turn your battery off when being still.
6. Most trolling batteries are not prone to overheating.
Who likes spending those hot summer days on the boat? The sun rays can cause some appliances to overheat, but that's not the case with trolling batteries. These are usable whether it is boiling hot or freezing cold outside.
7. High-quality trolling batteries have a longer lifespan.
When making a purchase, you expect your investment will last for a while, especially if you are spending a lot. Trolling batteries can last from 1 to 5 years. However, most of them will serve you for at least 2 to 5 years, which is a great return of investment when having in mind all of the already listed benefits this unit provides.
Best Trolling Motor Batteries Comparison Chart
PRODUCT
DETAILS

MinnKota Trolling Motor Power Center

Price: $
Customer Rating: 4.3
Weight: 1 lb
Dimesions: 14.9 x 8.7 x 15 inches
Ah: 60

View On Amazon

ExpertPower EXP12180 12V 18AH Lead Acid Battery 2 Pack

Price: $
Customer Rating: 4.9
Weight: 12 lbs
Dimesions: 7.1 x 6.6 x 3 inches
Ah: 18

View On Amazon

Universal Power Group 12V 100Ah Solar Wind AGM Battery

Price: $$$
Customer Rating: 4.3
Weight: 60 lbs
Dimesions: 16.4 x 12.8 x 12.6 inches
Ah: 100

View On Amazon

Optima Batteries 8006-006 34M BlueTop Marine Starting Battery

Price: $$$$
Customer Rating: 3.6
Weight: 38.4 lbs
Dimesions: 10 x 6 7/8 x 7 13/16 inches
Ah: 50

View On Amazon

Mighty Max 12V 35AH Replacement Battery for Light Trolling Motor

Price: $
Customer Rating: 4.3
Weight: 24 lbs
Dimesions: 7.68 x 5.16 x 7.13 inches
Ah: 35

View On Amazon

WindyNation 100 amp-Hour 100AH 12V AGM Battery

Price: $$$
Customer Rating: 4.6
Weight: 66 lbs
Dimesions: 13 x 6.8 x 8.7 inches
Ah: 100

View On Amazon

Optima Batteries 8052-161 D31M BlueTop Starting Battery

Price: $$$$$
Customer Rating: 3.8
Weight: 59.8 lbs
Dimesions: 12.8 x 6.5 x 9.4 inches
Ah: 75

View On Amazon
Best Trolling Motor Battery Reviews
1. MinnKota Trolling Motor Power Center
Minn Kota is a reputable company producing tons of marine gear. So, if you want to order from a reliable seller, make sure to have their power center in mind. This unit makes a great choice for smaller vessels or boats that don't include battery cells.
Most people appreciate the outside terminals that ensure you can attach the charger without moving the unit. One of the best features of the Minn Kota power center is the battery meter. Thanks to this add-on, you can easily check the state of the battery charge.
This device comes with 2 circuit breakers – one that supports up to 60 Amps and 15Amps plugs, both administering 12V. Intended for multi-purpose, this device can be used for charging gadgets as well.
You can accommodate 24 to 27-size batteries in this power center. Easy to mount or strap down, the Minn Kota power center provides the utmost protection to the battery.
Pros
Lightweight,
Easily-accessible terminals,
You can attach a couple of devices to it at a time.
Cons
2. ExpertPower EXP12180 12V 18AH Lead Acid Battery 2 Pack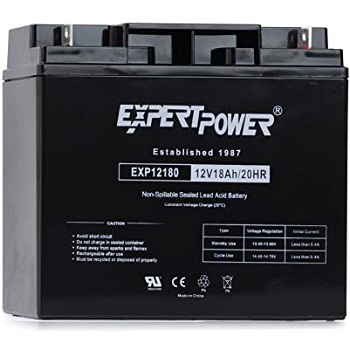 If you are not obsessed with brands, but you still care about quality and performance, the ExperPower battery might meet the criteria for you. This sheer sealed AGM unit can provide more than solid power for smaller vessels – 33Ah.
It all depends on the consumption of your trolling motor, but, if you have, let's say, a 5Amp motor, you can expect this unit to back you up for about 6 hours.
Unlike most batteries on the market, this unit comes with screw terminals. These make it easy for you to screw the bolt into the battery and detach whenever you want.
If you want to ensure nothing goes wrong with your battery, a handy carrying handle will make it easier to bring it inside during the night and get it back to the vessel in the morning. You don't have to think about the maintenance either, especially because you will always have a spare battery near at hand.
Pros
Valve-regulated batteries,
Rugged and durable construction,
Easy to install.
Cons
3. Universal Power Group 12V 100Ah Solar Wind AGM Battery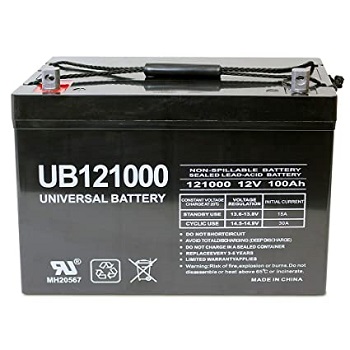 If you are looking for a versatile and reliable battery for fishing, but also using RVs or camping, the Universal Power Group's battery might be the right unit for your needs. Yet, when talking about boast specifically, this device can offer more than enough power to both small and large vessels.
It provides stunning 100Ah that can power even motors on the strong side. On the other hand, this ensures plenty of runtime with all types of motors, including the ones that drain a lot of power.
If you want to go fishing and your motor draw 25Ah, you can expect your Universal Power Group battery to back you up for up to 4 hours. Completely sealed, this unit requires very little maintenance and there are no fluid top-ups.
If you want to ensure the maximum lifespan of this unit, make sure to recharge at 50%, as discharging it completely will spoil the longevity of the battery.
This battery weighs 64lbs, which makes it a bit trickier to mount in different positions, but this is not that much of a big deal when we have in mind its overall performance.
Pros
An AGM battery that handles shocks and vibrations well,
No leakages,
1-year warranty.
Cons
4. Optima Batteries 8006-006 34M BlueTop Marine Starting Battery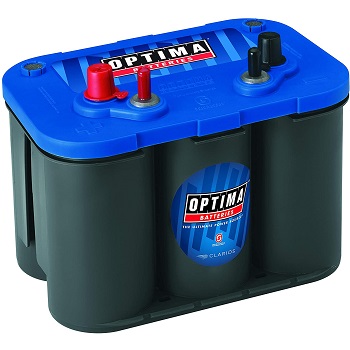 Optima has a set of amazing starting batteries you can also use for powering other appliances. Their 8006-006 battery boasts 34amp hours and you can use it to jumpstart your engine and continue on using it for a couple of hours.
What makes this unit stand out from the rest is an 800 Cold Cranking Amp, which makes it effortless to use the battery even when it is extremely cold outside. If you need a starting battery that will provide exceptionally high running time, you should know that the Optima 9006-006 comes with pure lead plates that ensure unimpeded use.
Also, you can use this unit with trolling motors with up to 45 pounds of thrust. Another major advantage of the Optima battery is that it can stand heavy use and resist shakes and vibrations. Install it is basically any position and have a backup whenever and wherever you need it while on the water.
Pros
Maintenance-free,
Fast recharge time,
Use it as a boat and RV battery,
2-year battery.
Cons
If you happen to overcharge the battery, that might be detrimental for the unit's performance.
5. Mighty Max 12V 35AH Replacement Battery for Light Trolling Motor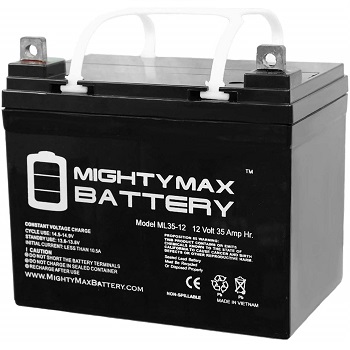 The Mighty Max 12V battery is one of the best and most reliable batteries on the market. This 12-Volt battery has great power and delivers 35amp hours. If you have up to 50-pound trolling motor, you can count on up to 6 hours of the Mighty Max battery performance at the lowest speed.
Another thing that makes this unit well-performing is the built-in heavy-duty calcium-allow grid. It makes the battery recover its charging capacity even after you discharge it totally. Also, you can count on it whether it is hot or cold outside.
What we appreciate about the Mighty Max replacement battery is that it requires no maintenance. All of the SLA-AGM rated spill-proof batteries, including this one, are pretty durable. Excessive vibration and shakes won't mess up its performance. Some of you may find it a bit heavy, but the overall impression of the Mighty Max unit is more than positive.
Pros
Completely sealed,
Easy to handle,
Comes with a carrying strap,
1-year warranty.
Cons
It takes a while to recharge.
6. WindyNation 100 amp-Hour 100AH 12V AGM Battery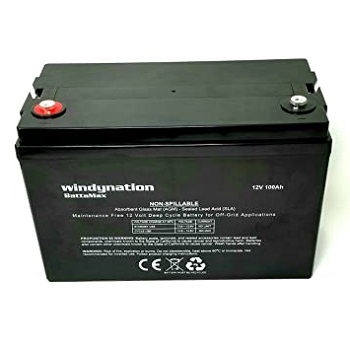 Unlike some of the low-quality trolling motor batteries that are made of recycled lead, the WindyNation battery is made of 99.955 pure virgin lead. This ensures amazing power storage and minimizes the discharge rate to a minimum.
This powerful unit boasts 100Amp-hours, which, most of the times provides up to 10 hours of power. You can use it to power most machines and run multiple tasks. Charging and re-charging are easy-peasy with the WindNation, and no matter how many times it discharges fully, it won't damage the lifespan of the battery.
Although not overly fancy, the WindyNation battery does the job you would expect it to do. It is on the heavy side, and you would use some help to lift and transfer it from one place to another, but this is not that much of an issue for those who experience this unit's performance.
Pros
Maintenance-free design,
Spill-proof,
1-year warranty.
Cons
A few customers complained the terminals were a bit loose.
7. Optima Batteries 8052-161 D31M BlueTop Starting Battery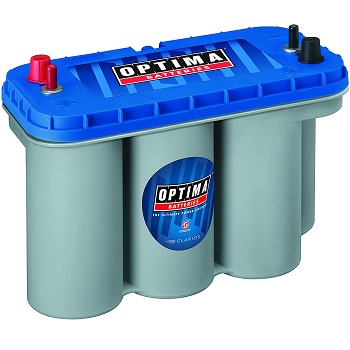 Speaking of high-end trolling motor batteries, the Optima 8052-161 model is a product you should have in mind. This 12-Volt battery features amazing workmanship and puts into accent numerous useful properties that make it very durable.
In a nutshell, this unit offers 155 minutes reserve capacity when in continuous use. You can start it no matter the weather, as it is 15 times more durable than some of the available marine batteries.
This battery also boasts a sturdy construction. Stainless steel stud posts ensure the safe use and long lifespan of this unit. Additionally, lead plates and lead oxide coating make the very heart of this unit, which extends the battery use even more.
You don't even have to care about the maintenance with the Optima 8052-161 battery. It ensures safety for you and the rest of the crew if you stick to recommendations and use it with your recreational vehicle or a boat with a large accessory load. Also, you can install it in any position that seems appropriate.
Pros
900 Cold Cranking Amps,
Dual-purpose,
Spill-proof.
Cons
Types Of Trolling Motor Batteries
You need a battery for your top-rated trolling motor that will discharge electricity gradually and ensure you get the most out of your time on the water. Yet, as you want to ensure you pick a safe option and prevent unwanted outcomes, you should get familiar with the following types of trolling motors.
1. Absorbed Glass Mats (AGM)
You can find the AGM batteries under the name of Sealed Lead Acid Batteries as well. Thanks to the electrolyte absorbed mats and the processes between oxygen and hydrogen, these batteries create water on their own.
It's a no brainer that this means you don't have to maintain these batteries overly. You don't have to worry about keeping your battery in a ventilated area, as there is no chance gases will come out of it.
Another great thing about the AGM batteries is that you can mount this unit wherever you feel like doing so. This type is resistant to shocks and vibrations, so any angle seems suitable.
Powerful and durable, you can rely on the continuous charge of your AGM battery. The longer lifespan makes this type a bit more expensive than the other types but it's all totally worth it. These can stand extreme temperatures, especially the cold ones, and you can count on their resistance to vibration.
Some people consider this a benefit, others as a disadvantage, but some AGM batteries are pretty massive. If you have a smaller vessel, no doubt you would want to avoid these. On the other hand, larger watercrafts would get the most out of a unit like this.
However, if you are reading this carefully, we mentioned that some are heavy, but some other types of AGM batteries are lightweight and space-saving. Just be careful about the measurements and the weight of the unit you intend to buy.
2. Gel Batteries
The reason why this type is named gel batteries is that these contain a fluid with a jelly structure. The gel adds on the protection and makes the unit very resistant to vibrations.
Yet, most of these batteries can be charged with special chargers only and there is no way to get on the inside of the unit, which all makes them less popular. When charging gel batteries, you should be careful about voltage, as high voltage can damage the battery.
3. Wet or Flooded Lead Acid (FLA)
No matter how you name them – FLA or wet lead-acid batteries, this type contains a lot of electrolyte fluid that submerges the plates. Yet, these batteries are not so common nowadays as they require regular maintenance and adding water.
Normally, FLA batteries are used with cars, as these can handle heavy use. No matter how many times you charge and drain the battery – it will still run exceptionally well.
The biggest pro of the FLA batteries is that you can use them for 2 to 3 years. More affordable, these batteries still make a good choice for people looking for a unit that performs well and don't mind maintaining their battery regularly.
Maintenance of this battery is essential as leakages and/or corrosion can have detrimental effects on the lifespan of the battery.
Make sure to keep them in a ventilated area in order to release hydrogen out of the vessel. On the other hand, don't mind if you overcharge, your FLA battery will stand it.
4. Lithium-Ion Batteries
Those who don't have that much space in their boats and would need something really lightweight might find lithium-ion batteries useful. This is the lightest type out of these 4, although you would have to pay more for one unit as well.
Relatively new, lithium-ion batteries have already gained some traction on the trolling motor market. If their name sounds familiar, that's because most gadgets are equipped with one of these, including phones, tablets, and laptops.
Lithium-ion batteries charge quickly and ensure a couple of hours of performance. The most important thing with this type is to avoid overheating. Finally, if you are an experienced angler who wants to increase the speed and improve the performance of their boat, a lithium-ion battery will help you catch that fish easily.
What Size Battery For Trolling Motor?
If you have never used a trolling motor battery before, getting one can cause you headaches. Swiping through products, all you can see is numbers. One of these numbers indicates the size of the battery. Here, you should have the group size battery of your trolling motor in mind.
Without the right battery, you wouldn't be able to power your boat. This can cause numerous complications when you are on the water.
Let's go through some examples. If you have a smaller boat, you still need some good run-time, agree? Opt for a 12-Volt 24-battery that offers up to 85Amps.
If you have a bass boat, you need a bit longer run-time, which means – a 12-Volt 27-group battery that provides 85 to 100Amps.
Lastly, a 12-Volt, 31-group battery with up to 125Amps can provide the best run-time for larger boats.
Trolling Motor Battery Buying Guide
The overall performance of your new trolling motor battery depends on various factors. Make sure to have these in mind when choosing between different units.
1. Battery Type
Factors such as the type of your boat, its size, where are you going to spend most of the time when on the water, and how much time you are willing to spare maintaining your device determine the type of unit you are going to get. Battery type is the crucial factor to watch out for when making a final decision.
2. Size
The units we've reviewed in this guide all come with 12-Volt batteries. Normally, these batteries are not space-consuming and you will have more than enough room in your vessel, especially if you own a boat or a kayak. However, as the size of the battery still makes a difference between units, keep the size of your vessel and the battery in mind so you can fit it properly.
3. Weight
This is a no-brainer – light vessels can't take heavy-duty batteries. If you own a small vessel, opt for a compact, lightweight unit. Otherwise, if you would get a too big trolling motor battery, you would cause the boat to perform worse than it used to perform previously.
Most trolling motor batteries weight 20 to 50lbs, but you can find the ones that weigh 64lbs. However, these batteries are designed for larger boats that can hold on to this extra weight.
You will find this information in any product description and in our comparison chart. Dimensions of the batteries are of extreme importance for the performance of your vessel.
4. Amp-Hour Rating
The Amp-hour rating determines how much electricity your trolling motor battery would discharge per one hour of use. This is the most important factor besides the unit's dimensions, as you want to stay safe when on the water.
The higher the rating, the longer your vessel can run on one charge. Batteries of about 20aH make a great choice for small vessels, while bigger ones require 50aH and higher.
5. CCA (Cold Cranking Amps)
Although CCC is one of those characteristics that don't show up right away. You have to look up for it. Yet, this factor is as important as the ones we already listed.
CCA displays the amount of Amps your trolling battery will use 30 seconds after you start it. That's why we call it cold – the battery won't heat up during these 30 seconds.
Thus, this factor is related to electrical components of your battery that will keep it running for a certain amount of times.
6. Lifespan
As you already know, capacity is a factor that declines over time, which is the case with trolling motor batteries as well. Yet, you want your new unit to run as long as it is possible.
Most units last for up to 3 years, with the exception of AGM batteries that have an average lifespan of up to 5 years. Factors such as the brand, proper usage, and maintenance requirements determine the lifespan of this device.
Yet, you should be careful about overcharging, improper charging, and eventually overheating, as these can spoil the performance of your battery's life.
7. Vibration Resistance
If you are an experienced boater or kayaker, you are used to occasional vibrations. On the other hand, just because these vibrations don't affect you, doesn't mean your battery isn't affected. Vibrations and shocks can harm trolling motor batteries.
In order to prevent damage, look for the vibration and shock-resistant unit. Otherwise, you will have issues with charging the battery. In the worst case, it wouldn't be able to charge at all. Vibrations are the reason for short-circuits as well.
The best way to avoid these scenarios is to get yourself a sealed battery, as this type imposes fewer risks that the other types.
8. Ease of Use
In order to put your new unit into action, you have to install it properly beforehand. You want to find a device that's easy to mount, if possible in any position.
We would recommend units that require no maintenance, but if you still want to get one that does – make sure there are no major issues or numerous requirements about the maintenance.
The unit that requires you to plug it in, charge to the fullest, and run for a couple of hours is the best one.
How To Charge Trolling Motor Battery?
1. Solar Power Charging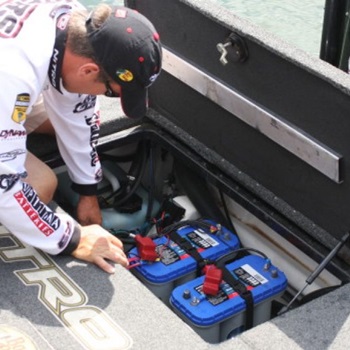 If you have a marine solar panel installed on your boat, you can use it to charge your battery. The higher the position, the better for the battery, as it will catch more sun rays. A boost converter or a relay circuit can be useful for converting voltage or charging multiple devices at once.
Charging trolling motor batteries by using solar power is reliable when you do it the right way. However, if the weather is overcast or if it is late in the afternoon, there is a chance your battery won't charge properly.
Also, beware solar charging takes time so you would have to be patient until the full charge.
2. Charging via Portable Chargers
Today, numerous portable chargers are available. These units are easy to carry and you can use them both when on and off the boat. Simply attach the charger to the battery until it is fully charger and disconnect.
Portable chargers are durable and charge faster in comparison to solar power charging.
3. On-Board Charging
Your boat also comes with one of the best marine battery chargers you can use to charge your trolling motor battery. No matter the type of charger, it will charge quickly – probably quicker than the previous 2 types.
Maintenance and Safety Tips
1. Maintenance Tips
Make sure to save all of the warranty papers after buying a trolling motor. This ensures you get a service or battery replacement in case your battery lets you down during the warranty period.
Charge the battery after each use. If you keep a trolling motor battery half-charged for a while or keep doing so, this will mess up the performance of the unit and decrease its lifespan.
As some terminal connectors are prone to corrosion, inspect these areas occasionally.
Always store your battery in a cool and dry place.
2. Safety Tips
Don't mix old and new batteries or different types of batteries. Different batteries come with different voltages and chemistries and you can't predict the reaction these can trigger.
Be careful about the sound of your trolling motor. If you notice any reduction in the number of running hours or find the engine hard to start, that means the performance of the unit is weakened and you should consider replacing it.
Check your wet-cell battery regularly and top it off to keep the unit working properly, otherwise – you can be left in the middle of nowhere, especially if your primary battery is not reliable either.
FAQ About Trolling Motor Batteries
1. What Is The Lifespan Of a Battery?
This varies between manufacturers. Usually, trolling motor batteries come with 1-year warranties and last 2 to 3 years. Sealed, AMG batteries make an exception, as some of them have a longer lifespan – 5 years and more.
If you take care of your battery, maintain if (when needed), charge according to the instructions, and store them properly after each use, you can ensure a longer lifespan of your unit.
2. How Long Do Batteries Take To Charge?
Again, this depends on the type of battery you have. AGM and wet-cell batteries take longer to charge than gel and lithium-ion batteries. What is more, they might require a couple of days of charging until the full charge. Also, the charger itself determines the charging time.
Chargers with more Amperes will charge your battery faster. A 5Amp charger will charge a typical battery within 12 hours. It would be best to leave it to charge overnight. Yet, make sure not to overcharge, as this harms the battery.
When overcharged, wet-cell batteries tend to corrode. If this happens, try to clean the corroded part with some baking soda and a wire brush.
Smart chargers turn off automatically when the battery achieves full charge. This prevents overheating and damaging the battery.
Although it would be best to charge batteries after each use, if your battery seems to drain completely, let it reach full charge and try not to repeat this situation.
Lithium-ion batteries need 2 hours to fully charge. Portable chargers make a good choice for this type of battery.
If you want to charge the battery by using solar panels, keep the battery attached during the whole time you are on the water. Although solar charging is a bit low, it will still provide constant power and your battery will run all until you are back to the land.
3. How Long Do They Last On Each Charge?
Different brands boast different battery run time. Also, the motor you are running with the battery will also determine the performance of the trolling motor battery. Some other factors include the weight of the load you are pulling and the speed you are moving at.
The Amp draw of your motor can help you get a better idea of how long the unit will last. You should find out the Amp-hours of the battery and the motor and divide the first number with the second.
For example, your trolling motor battery boasts 100Amp hours, and your motor draws 20Amps when moving at a medium speed. When you divide 100 with 20, you get 5 hours of running time of the battery.
The higher the number on the battery – the longer it will run on a single charge. Yet, the more Amperes your motor requires, the faster it will drain the battery.
4. How Should You Store The Battery?
First thing you should do is to recharge the battery after you've done using it. After it is fully charged, store the battery somewhere where it is dry and cold. If you have a wet-cell battery, you should top it off with distilled water before you store it.
Yet, when we say cold, we don't mean you should leave the battery exposed to cold winters and weather, as this can affect the performance of your unit negatively.
If you are about to use the battery again in the morning, you can keep the battery charging slowly at a trickle charge.
Wrap Up
Now that you have a better grasp of the available options, we guess you won't have a hard time finding the best trolling motor battery for your vessel. All of the products listed above make a great choice for different types of watercraft. You just have to find the one that suits your boat.
Trolling motor battery reviews can be helpful when buying a new piece of marine equipment. Yet, the story doesn't end here. You can find a lot more useful guides we wrote about everything marine-related, including safety gear, accessories, audio systems, maintenance products, and many more.