Swimming is fun, and with the best toddler swim vest, it's safe as well! The pool, hot tubs or spas, and water playgrounds are a great fun for the whole family, toddlers especially. There is nothing greater than seeing your children active and happy. However, as much fun as it may be, swimming can also be a dangerous activity, so it's good to come prepared.
A good swim vest does not only have the potential to save your kid's life, but it will also offer you peace of mind knowing that he or she is well-protected. But what makes a good swim vest? In this article, we are going to answer this question in great detail.
See The Quick Comparison Chart
Benefits and Drawbacks Of Swim Vests
When it comes to children learning how to swim, flotation devices such as swim vests are often used. Did you know that you can also find a top-rated dog life jacket? These items are very popular as well as effective for enhancing confidence in the water.
This type of swimming aid typically provides buoyancy at both the front and the rear parts of the torso. This is a good thing, as it encourages an upright body position which is excellent for a toddler.
1. Benefits
One of the biggest advantages of wearing this type of vest is the fact that it maintains the arms and the legs unrestricted. This way, it is easy to practice various swimming techniques. Most types of swim vests are equipped with floats within their lining structure.
The great thing is that the floats can be removed once the child becomes more and more confident in the water. Removing the floats provides less flotation, and this forces the swimmer to work harder. At one point, he or she will no longer need any help.
Compared to other types of floating devices, swim vests are usually made of a soft neoprene fabric that provides added warmth. Also, they offer more stability in the water, and the risk of the child not liking to swim is significantly reduced, and so is the fear of water.
2. Drawbacks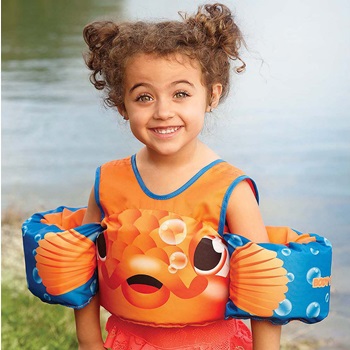 One of the main disadvantages of wearing a swim vest is exactly the sense of confidence it promotes. This swimming aid allows the child to feel independent and jump into the water with no fear. However, this way, small children couldn't possibly understand the dangers of getting into water by themselves with no swimming aid.
Another thing you ought to consider is that your toddler might enjoy swimming very much with the vest on, but he or she might not want to go anywhere near the water without it. That is why it is recommended to get a model with removable floats, even though there may be cases of children who are too afraid to go in the water on their own.
One last recommendation is for the parent. Swim vests can bring a lot of peace of mind by knowing that your child is safe wearing his or her vest. However, you should always keep an eye on your kids, no matter how well-equipped they might be.
Best Toddler Swim Vests Comparison Chart
PRODUCT
DETAILS

Stearns Original Puddle Jumper Life Vest for Children

Price:

$

Customer Rating:

4.7

Weight Capacity:

33 to 50 pounds

U.S. CG Approved:

Type III

View On Amazon

Speedo Kids' UPF 50+ Begin to Swim Classic Swim Vest

Price:

$$

Customer Rating:

4.5

Weight Capacity:

33 to 60 pounds

U.S. CG Approved:

No

View On Amazon

Body Glove Paddle Pals Learn to Swim Life Jacket

Price:

$$

Customer Rating:

4.8

Weight Capacity:

30 to 50 pounds

U.S. CG Approved:

Type III

View On Amazon

SwimSchool TOT Swim Trainer Vest for Toddlers

Price:

$

Customer Rating:

3.6

Weight Capacity:

up to 33 pounds

U.S. CG Approved:

No

View On Amazon

Konfidence The Original Jacket – Buoyancy Swim Vest

Price:

$$$$

Customer Rating:

4.4

Weight Capacity:

up to 110 pounds

U.S. CG Approved:

No

View On Amazon
Best Toddler Swim Vest Reviews
1. Stearns Original Puddle Jumper Life Vest for Children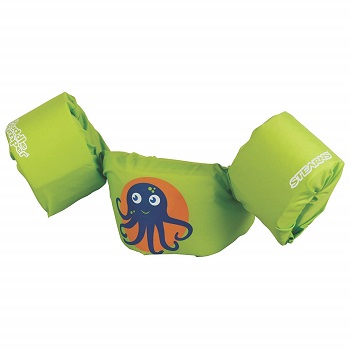 When preparing your boating equipment, you should think about getting a swim vest for your child as well, such as the Stearns Original Puddle Jumper Life Vest for Children. This model is highly appreciated by boating enthusiasts and their children because of the 15 fun patterns that can complement any kid's personality. It is well-known that children can be stubborn when it comes to wearing certain clothes, and these flotation devices are designed to attract their attention. Your toddler will not only have fun, but he or she will also stay safe. Furthermore, the vest is made of high-quality materials one of them being soft polyester which will ensure that the wearer does not end up with red marks. Moreover, this model offers freedom of movement and promotes a wide range of motion which makes it ideal for children who are learning to swim as well.
Pros
This is a type III personal flotation device that is approved by the U.S. Coast Guard
It can be used in public pools, at water parks, as well as on boats
The vest was designed to fit snugly and offer extra security
Cons
Since it is not inflatable, this model is a bit difficult to store
2. Speedo Kids' UPF 50+ Begin to Swim Classic Swim Vest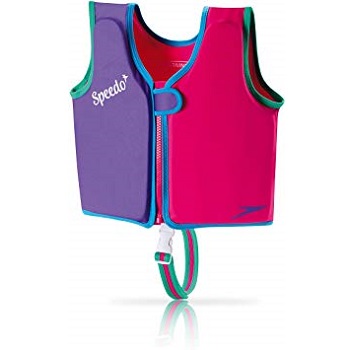 This model has a traditional design. It is a standard swim vest that is made from neoprene and offers a low profile. Unlike other products in this category, it is not bulky and it provides remarkable freedom of movement.
For this reason, the Speedo Kids' UPF 50+ Begin to Swim Classic Swim Vest is an excellent choice for kids who are just starting to learn how to swim. This model is also a good option for outdoor swimming because it offers great UV protection.
In terms of safety, the vest is equipped with a zipper in the front and a crotch strap. You can rest assured that the vest will not come off. Another great thing about this item is the fact that it is available in medium and large sizes, from 33 to 45 pounds and from 45 to 60 pounds, so even older toddlers can use it.
Pros
The safety strap is adjustable so it does not cause any discomfort
You get to choose between bright color options
It is extremely easy to get it on and off
Cons
This vest is not U.S. Coast Guard certified
Also, this model is not adjustable for fit
3. Body Glove Paddle Pals Learn to Swim Life Jacket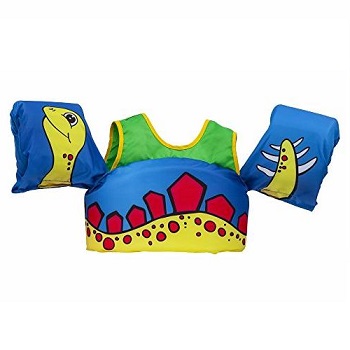 The first thing that tells you this product is a safe one is the fact that it is approved by the U.S. Coast Guard. Due to the safety shoulder straps, this model is more reliable than other similar items. Thanks to these straps, your child will not be able to take the vest off without another person's help.
Moreover, it stays on the body and there is no risk of sliding off due to sudden movements. The Body Glove Paddle Pals Learn to Swim Life Jacket offers a comfortable fit thanks to the multi-panel design and the polyester fabric that protects your toddler from chafing. What is more, this vest also comes with an adjustable rear safety buckle.
Even though the part that is around the chest is tight, there is a lot of space around the shoulders and the arms. This means that your toddler has plenty of freedom to move around in the water and have fun.
Pros
This vest comes with 12 styles to choose from with various fun designs
It is a great option for new swimmers
It's made of high-quality materials
Cons
The vest does not fully support the weight of the child, so help will be needed to keep the head out of the water
4. SwimSchool TOT Swim Trainer Vest for Toddlers
Due to the full-body design of this vest, your child will feel natural in the water, and he or she will be able to learn how to swim easily. It is an inflatable vest that comes with an inflatable ring which goes over the wearer's chest and fastens between his or her legs very securely.
An adjustable strap is also included, for your kid's comfort but also increased safety. The SwimSchool TOT Swim Trainer Vest for Toddlers is made of a soft fabric that does not cause any discomfort. This vest allows your baby to happily splash water all day long.
Since it comes with a UPF 50 rating, this model does not only protect your toddler from the dangers of the water, but it also protects his or her skin from harmful UV rays. It is recommended for ages two to four, and it comes with three color options to complete your kid's personality.
Pros
It is extremely easy to inflate and deflate the vest
It promotes confidence in the water, especially for new swimmers
The vest stays snug on your child with no risk of sliding off
Cons
More weight in the back would be needed to keep a child's face out of the water
5. Konfidence The Original Jacket – Buoyancy Swim Vest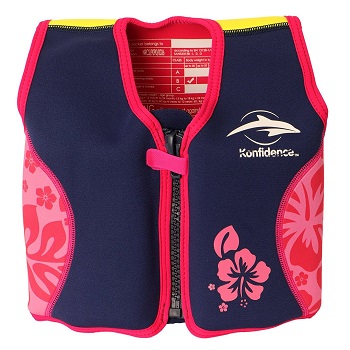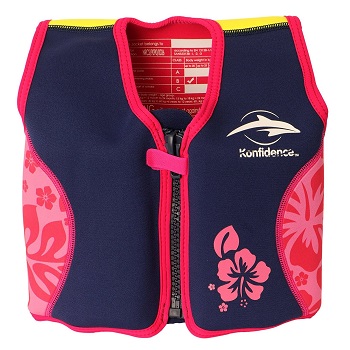 If you are spending time to find a good boat cover, you should not do any less to find a reliable product when it comes to the safety of your child. The Konfidence The Original Jacket – Buoyancy Swim Vest is an excellent option in this sense.
It is made from premium-quality neoprene that provides 100% protection on the skin areas that are covered by it, of course. The vest was designed to wrap around your toddler's torso and to leave the arms free for swimming. Regardless of the color you select, all models have a bright yellow back that makes your child very visible in the water.
Moreover, the vest is equipped with a self-locking, sturdy zipper closure. What is more, the vest comes with eight removable flotation panels. Therefore, you can tailor buoyancy based on your kid's needs and as he or she learns how to swim.
Pros
Since it does not have a bulky design, this vest is extremely comfortable
It is available for ages from 18 months to seven years
The design includes fun, bright colors that children will love
Cons
There have been reports regarding sizes that run a bit small, so you should double-check the measurements.
6. Stohlquist Toddler Life Jacket Coast Guard Approved Life Vest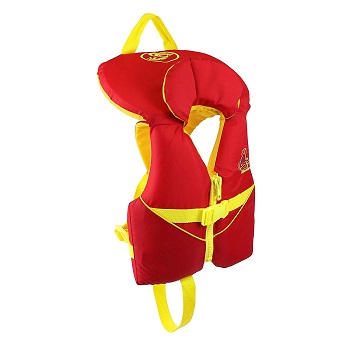 The Stohlquist Toddler Life Jacket Coast Guard Approved Life Vest is designed to keep your child both safe as well as comfortable. It has an easy-entry front zipper and fully adjustable straps. Furthermore, the security buckle ensures a secure fit.
The design of this vest allows a lot of freedom of movement so that your toddler can swim and have a great time in the water. This is a type II PFD with a sea-level buoyancy of 7 pounds. You should know that type II personal flotation devices will turn only some children to a face-up position. Moreover, this vest comes with a grab handle that is very convenient.
It was designed to stay open in the water so that any rescue mission could go smoothly. Since the vest comes with large arm holes, it also prevents any chafing. Also, the open-back design offers seat comfort and breathability.
Pros
The vest is equipped with a double collar that provides excellent comfort and mobility
The head of an infant is also supported
This model is U.S. Coast Guard approved
Cons
The design of this vest does not allow the child to fully get into the swim position
7. Zerlar Floatation Swimsuits with Adjustable Buoyancy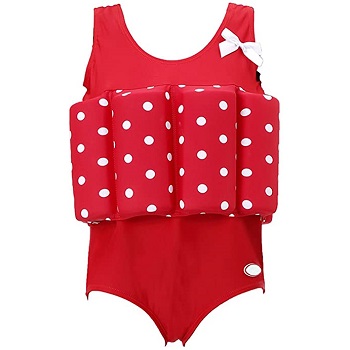 This swimsuit was designed as a learn-to-swim device for young girls from 1 to 10 years of age. The model is available in seven sizes. Unlike many other products in this line, this one comes with eight buoyancy panels that can be removed as your little girl learns how to swim and gains more confidence in the water.
The Zerlar Floatation Swimsuits with Adjustable Buoyancy is made of polyester fiber. Therefore, it is smooth, soft, and remarkably comfortable to wear. You will also like the fact that this suit is so well made that it maintains its shape even if it is regularly used.
Also, it allows a full range of motions, so it is a great option for children who are learning how to swim. With the suit, you will also receive armbands that can be used together with the swimsuit which will prevent your toddler from tipping over.
Pros
Thanks to its design, there is no way this suit will slide off
You get to choose between nine beautiful colors
This suit helps toddlers develop correct swimming skills
Cons
Sizes may run a bit too big, so make sure you check the measurements
Some colors may fade over time
8. Topsung Kids Deluxe Life Jacket Swim Trainer Vest for Children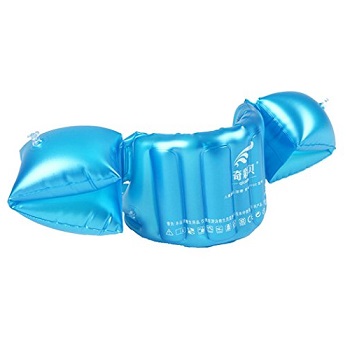 The swim vest comes with bright and fun colors and designs so that the children who wear them can enjoy a good swim and stay safe at the same time. The Topsung Kids Deluxe Life Jacket Swim Trainer Vest for Children is meant for kids who are already familiar with the water.
It is designed to provide complete flotation support and to allow the development of new swimming skills. This model is a bit different from many other products in this line because it is suitable for toddlers up to 120 pounds. Moreover, this flotation aid is one-way inflatable, and this ensures that no air leaks from it.
This swim vest comes with three inflatable airbags that are placed separately. In case any of them breaks, the other two will continue to function normally. The vest is made of eco-friendly PVC material that is gentle to the skin as well.
Pros
Besides the simple inflating process, the vest is also very easy to put on and take off
In case you are on a budget, this option is a good alternative
It is also a good choice for traveling, as it takes very little space
Cons
You should double-check the measurements, as this model tends to run a bit too big
9. Splash About UV Floatsuit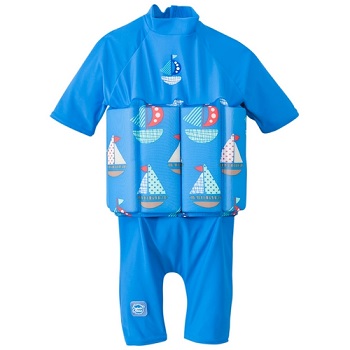 When you are at the pool or at the beach with your children, the two most important things to remember are safety and UV protection. The Splash About UV Floatsuit is a product that keeps your baby safe in the water, and it also protects him or her against UV rays. Moreover, it offers mums peace of mind.
This flotation device promotes confidence and swimming skills development, but it does not let the toddler become too dependent on buoyancy. The suit can be adjusted so that it can provide your child with a snug but comfortable fit. There are two floats per pocket included that are also removable. This way, buoyancy can be tailored to satisfy the child's needs.
The float suit is made of Nylon Lycra fabric that offers extra windproof and sand proof protection. You will also like that it is very easy to take on and off, due to the convenient zipper system.
Pros
You can choose from a variety of vivid colors
The design of the suit does not restrict arm and leg movement in the water
It is extremely easy and convenient to store and pack
Cons
The floats are a bit difficult to remove and to reattach as well
What Are Swim Vests?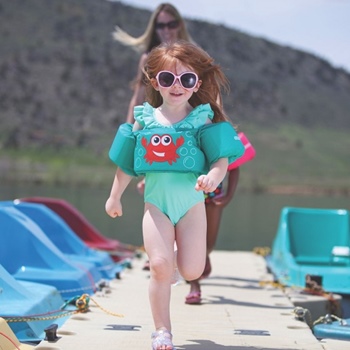 A swim vest is a Personal Flotation Device or a PDF, and it refers to a special type of clothing. Basically, such vests make their wearers flat in the water. The vests' design also maintains their heads out of the water so that they are able to breathe. There are various categories of swim vests available on the market and the main difference between them is how much flotation they offer. Also, some models inflate by themselves, while others require to be filled with air manually. Another characteristic of swim vests is their vivid colors. There is a good reason for it, too! Thanks to the vest's bright color, the user is very easy to spot especially when he or she is not close to the shore and finds trouble. Sometimes, time is of the essence, and a few seconds can make a difference between life and death. Also, a toddler swim vest is different from an infant life jacket, but we are going to get into that a bit later.
Can Swim Vests Be Used On a Boat?
Actually, you should know that you are required by the law to wear a flotation device while on a boat. The actual legislative piece may differ from state to state. In most regions, you are required to wear a life jacket on boats that are less than 16 feet long or on any kayak or canoe during the cold season, from November the 1st to April the 13th.
Another regulation states that each occupant from any type of boats, in all types of waters, must wear a Coast Guard-approved life jacket or personal flotation device.
What is important to remember from this is that before planning a boat trip, you should check your local legislation and see what it requires in this sense. Also, if you are going to reach other states as well, during your travel, make sure you check their boating laws too.
Swim Vests vs. Floaties
Even though some people refer to swim vests and floaties as one and the same, they are not. Floaties are very different from swim vests because they are usually not fixed on the child. The vest buckles the kid and there are even models that come with leg straps as an extra measure to keep the vest on.
Floaties are typically toys that a toddler can hold on to. Arm floaties are often used for children, but they can easily come off, and they do not offer the same flotation level as a swim vest does.
Kids Swim Vests vs. Life Jackets
These two personal flotation devices look similar and people often confuse them. Even though they perform pretty much the same functions in the water, there are some differences. First, whether you select a swim vest or a life jacket depends on the type of water you are about to get into.
Life jackets are usually thicker for a better flotation capability, and they are much harder to move around in. These devices have a number of powerful clasps in the front part, and many models provide thermal protection for cold open water.
When it comes to swim vests, these are thinner because they are designed to be used in the pool or other calm bodies of water. The flotation capacity is lower than that of a life jacket but swim vests offer a bigger range of motion and mobility so that young swimmers can be confident in the water.
Many of the swim vests you will find on the market are not certified as personal flotation devices, so you might want to check this out before you decide on a specific model. To make things easier, the main difference between these two devices is that life jackets are intended for survival while swim vests, for play.
How To Size a Swim Vest For Your Child?
Usually, swim vests come in one size because they can support kids of different weights. When you get one, make sure it is suitable for your child's weight category. It is the adjustable straps that offer a secure and comfortable grip.
When you adjust the straps on your child, make sure that the vest is fit tight enough so that it will not move around. However, it should not be too tight either. A swim vest is supposed to act as a safe and comfortable swimming aid.
Toddler Swim Vest Buying Guide
Are you looking for a toddler swim vest? Not to worry, as the market has a lot to offer! Children's products usually come in wide ranges of designs, colors, and prices.
Since you have so many options at hand, you need to know what to look for in a product. Since we are talking about a safety device for your kid, you need to be even more careful with what you select.
1. Size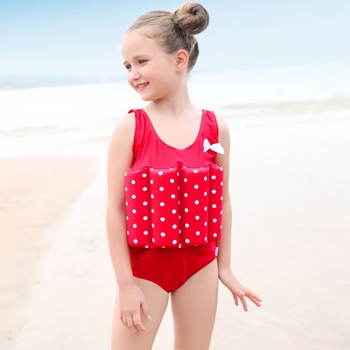 When you decide to get a swim vest for your kid, size is one of the first things you should look at. You can select the most expensive model because if it does not fit as it should, the vest is worthless. These products are usually made under certain guidelines according to different weight categories and the flotation capability that is required for them. Therefore, picking the correct size is essential.
2. Fit and Adjustable Straps
Fit is a very important aspect when it comes to any type of swimming vest. The fit must not bee to tight as to restrict movement but it should be secure enough so that it will not ride up when your child is in water.
Before entering any deeper water, you should do a test at the shallow end of the pool, for example, just to make sure. We have mentioned earlier that swim vests are usually equipped with adjustable straps. They will help you ensure a tight but also comfortable grip.
3. Age and Weight of the Child
Age is not the most important factor to consider when looking for a swim vest. Since these are adjustable, the weight is more relevant. Usually, most toddler swim vests you will find on the market are for children up to 50 pounds.
There are also options that support even higher weights. Therefore, in order to get a vest that will provide the necessary support and fit, make sure that you get an accurate reading before selecting one for your child.
4. Support
The necessary level of support offered by a swim vest depends on the type of water your child will be swimming into and his or her strength in the water. For example, if your toddler cannot swim at all, and you are going down to the beach, he or she will need a lot of support. However, if your kid can swim fairly well and you are going to the pool, less support is required.
5. Construction and Materials Used
Kids have more sensitive skin, therefore the materials of what they wear are very important. You should select a model that is made of skin-friendly materials like polyester and soft nylon. These options will reduce skin redness and chafing, offer comfort, and allow freedom of movement. Moreover, they are durable and environmentally-friendly.
Besides this, you should also look at the overall construction of the vest to make sure that the material is thick and strong so that it will not tear easily. The quality of the buckles is also something you should check before selecting a model. They should offer a secure grip and not be easy to undo for a child.
6. Coast Guard Approval
The swim vest you decide to get should meet certain standards. Surely, you do not want to take any chance with something as important as your child's safety. Besides the standards we have already discussed, you ought to look for the Coast Guard certification logo.
You should know that if the vest is not Coast Guard-approved, you can be denied access to public beaches and pools. If you do not check this information, you might end up with money and time spent, only to have to waste more time and money. It is best to go with a model that meets all the necessary safety standards from the beginning.
7. UVA/UVB Protection
Although this is not necessarily a safety requirement, we all know that sun protection is always important. Also, whenever you go to the beach or the pool, the sun is high in the sky. You do not have these activities when the rain is pouring down.
You should use sun-protection lotions whenever you stay under the sun for a few hours, but if the swim vest has this type of protection as well, it is even better, especially for a child whose skin is even more sensitive than yours.
8. Color and Design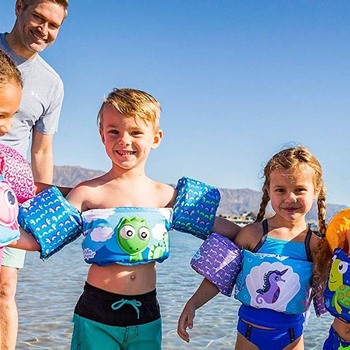 Some kids may not feel comfortable wearing swim vests at the pool. Here is where you have to be creative and choose a bright and colorful model that can captivate your toddler's attention. You can also look for something with their favorite cartoon characters.
A small child does not have any conservation sense, and it is very hard to make him or her understand the dangers they can be exposed to by not wearing a flotation device. But if you manage to get something they'll love, chances are your son or daughter will wear the vest each time you go to the pool, no questions asked.
9. Product Reviews
We all know that according to an ad or commercial, the product that is presented is the best. Unfortunately, that is not always the case. Since we are talking about a safety device, it would not be a bad idea to read some customer reviews about the model you are interested in.
Besides the information you get from the manufacturer, you can find a lot of details about the item's functionality in the real world. After that, you can decide if the investment is worth making or if you should search for another model.
FAQ About Toddler Swim Vests
1. At What Age Can Kids Use Swim Vests?
As a general rule of thumb, all children under the age of 13 are required to wear life jackets while on a vessel that is moving, unless they are in an enclosed cabin or below deck. However, the laws regulating this aspect vary by state.
It is not recommended taking babies on boats but many people find this to be too conservative, especially since there are families who live on boats. You should know that according to the US Coast Guard, the personal flotation devices that are available for newborns up to 18 pounds may not offer a suitable fit to perform as expected.
According to the same institution, if you are not able to test a PFD on your newborn in a swimming pool, you will not be able to tell if that particular model will float your child with the head out of the water. Unless you can be sure that the swim vest does what it is intended for, you should not expose your child to any risk in the water.
2. Are there any learn-to-swim vests available for children over 50 pounds?
Practicing swimming with a vest is great for those who are learning how to swim. They are also ideal for people swimming in lakes, rivers, and oceans because these areas are more dangerous than pools. A swim vest can protect you from rapid currents and waves and it is especially helpful when you become too tired. Today's market offers options for children over 50 pounds as well, so you should be able to find a Coast-Guard approved model for your toddler. We should mention, however, that most swim vests for toddlers are for children under 50 pounds, but there are some manufacturers who produce vests for kids over this weight. You will surely find a suitable model, although it might take a bit of searching for it.
3. Can I Use Puddle Jumpers On a Boat?
If we are talking about a Coast Guard-approved puddle jumper, you should know that it is a great help for children learning how to swim, but its use on a boat can be limited. A puddle jumper is intended to provide toddlers more confidence in the water.
Its design combines the security offered by floaties arms with a flotation pad that sits around the chest and it is attached to the flotation arms. There is a large strap that is fastened at the back with a secure clasp that is similar to those found on normal life jackets.
4. What Are The Different Types Of Paddle Jumpers?
Puddle jumpers are considered type III personal flotation devices, and they are approved by the Coast Guard. The construction of such a flotation device consists of two floaties arms that are attached with a wide band that sits around the child's chest. A large strap tightens at the back with a strong clasp.
This is the basic design and most models you find on the market will have the same build. Unlike other types of personal flotation devices, there are no multiple types of puddle jumpers. Basically, what you see is what you get. If your son or daughter likes it, and if it is Coast Guard-approved, there is no reason why you shouldn't get it.
Wrap Up
As parents, there is nothing more important than keeping our children safe. Even as they grow and begin to be more and more independent, it is very hard for us to let go of their hands. Still, we have to teach them independence and confidence. For example, the best toddler swim vest will allow you to keep some distance and watch your child have a great time on his or her own.
However, since we are talking about a personal flotation device that your child is going to wear, you should never pick the first model you come across. You need to consider a few important things that we have gathered here, to make it easier for you. Perhaps the toddler swim vest reviews we prepared will inspire you to get something your kid will really enjoy wearing that will also keep him or her safe while playing at the pool.
Bonus guide: life jacket for kayaking reviews