No matter how confident you are in your swimming skills, it's very important to have the best life jacket for kayaking. However, this jacket is not designed for kayakers only, but for people who are into paddling, canoeing, fishing, whitewater rafting, etc.
If you are experienced in any of these water sports, then you already know how unexpectedly you can land in the water. It is all fun and games until something serious happens, and that is exactly what this essential piece of safety gear prevents. If you're not sure which product to choose and what to look out for, read on!
See The Quick Comparison Chart
Should You Wear a Life Jacket For Kayaking?
You should. Even the strongest swimmers would use a PDF in case they are thrown into the water unexpectedly. PDF is an abbreviation for Personal Flotation Device, which means – you will remain buoyant thanks to this device.
What is more, those who are not strong swimmers will benefit even more from PDF, as this piece of safety equipment can save their lives.
In the end, PDF ensures extra buoyancy that will help get back into your kayak or get out of the rough water.
Best Life Jackets For Kayaking Comparison Chart
PRODUCT
DETAILS

Stohlquist Men's Trekker Life Jacket/Personal Floatation Device

Price: $$
Customer Rating: 4.5
Reflective: Yes
Buoyancy: 16 lbs.

View On Amazon

ONYX MoveVent Dynamic Paddle Sports Life Vest

Price: $
Customer Rating: 4.7
Reflective: Yes
Buoyancy: 16 lbs.

View On Amazon

NRS cVest Mesh Back Personal Floatation Device

Price: $$$
Customer Rating: 4.5
Reflective: Yes
Buoyancy: 16.5 lbs.

View On Amazon

Stohlquist Women's Flo Life Jacket/Personal Floatation Device

Price: $$$
Customer Rating: 4.5
Reflective: No
Buoyancy: 16 lbs.

View On Amazon

Astral V-Eight Life Jacket PFD for Fishing and Kayaking

Price: $$$
Customer Rating: 4.3
Reflective: No
Buoyancy: 16 lbs.

View On Amazon

Kokatat Outfit Tour PFD

Price: $$$$
Customer Rating: 4.7
Reflective: No
Buoyancy: 16-17 lbs.

View On Amazon

Eyson Slim Inflatable PFD Life Vest Adult Automatic/Manual

Price: $$
Customer Rating: 4.4
Reflective: Yes
Buoyancy: 150 N

View On Amazon
Best Life Jacket For Kayaking Reviews
1. Stohlquist Men's Trekker Life Jacket/Personal Floatation Device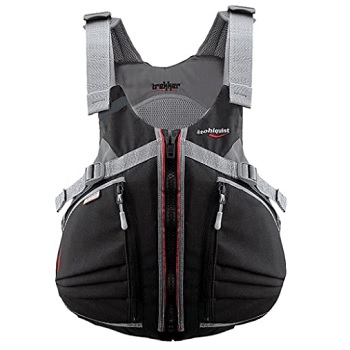 The Men's Trekker Life Jacket by Stohlquist is one of those products that tick all the boxes – performance in the water, comfort, and freedom. If you are into rafting, this abrasion-resistant life jacket will knock you off your feet.
Made of 500-denier Cordura nylon, this piece of equipment is ultra-tough. However, you can use it as protective gear no matter if you are coming in contact with rocks or just want to prevent injuries.
On the inside, 200-denier oxford lining makes the jacket comfortable to wear as it is soft. You can easily adjust the front panels so there are no obstructions when swimming, paddling, or performing any other water-related activity.
The Stohlquist Trekker is equipped with two big front pockets where you can store your belongings, while there is a storage tab on the upper back as well. Now that we mentioned the back, these pads are quite ventilated, including the sides of the jacket, and shoulder pads are easy to adjust, too, so you can be carefree when wearing this piece.
Pros
Cross-chest harness,
Type III PDF,
Lightweight,
It comes with a zipper on the front.
Cons
It is not waterproof,
The back panels may be positioned too high for some.
2. ONYX MoveVent Dynamic Paddle Sports Life Vest
A great choice for all the paddlers, kayakers, and other water sports enthusiasts – the ONYX MoveVent life vest is one of the products that stand out for exceptional quality. Created to provide comfort (comes with adjustable shoulder pads) and front and back ventilation, it gives you a chance to be fashionable and cool whilst on the water.
Padded with foam, made from 200-denier nylon, this vest ensures proper floatation but it is pleasant to wear as well, as it is very soft. Yet, this doesn't mean it is not resilient to the impact. On the contrary – it is very abrasion-resistant.
Thanks to the sculpted design, the ONYX vest ensures the perfect, secure fit, as it doesn't ride up. You can adjust the side belts to reach the level of tightness you expect and zip it in a blink of an eye.
There is a lot of storage space when it comes to this vest, including expandable zippered pockets and the back lash tab. ONYX equipped this vest with one of the greatest safety features – reflective material that will ensure the vest is visible from afar in case of an accident.
Pros
Type III PDF,
Lightweight,
It provides freedom of motion.
Cons
Some people find it too bulky.
3. NRS cVest Mesh Back Personal Floatation Device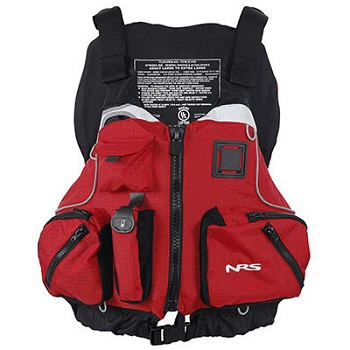 If you are looking for a vest that provides more than enough ample storage, make sure to check out the NRS cVest Mesh Back Personal Floatation Device. It comes with 6 integrated pockets so you can be carefree about having all of your accessories near at hand.
NRS took the comfort features seriously, which is why they made the front and shoulder area well-padded and added the mesh to the back area to ensure you are cool and happy.
This vest takes pride in being one of the most adjustable vests on the market. It gives you 8 options to choose from and ensure the right fit when being on or in the water. So, you have 4 adjustments on the side, 2 on the waist, and 2 on the shoulders, which is more than enough to achieve a snug fit.
The NRS cVest is a great choice for those who are into swimming, rowing, and paddling as it provides full mobility of the hands. Convenient, versatile, adjustable, and comfortable – there are a lot of useful features about this piece of marine gear.
Pros
SOLAS reflective tape on the front and the back,
Type III PFD,
Beacon and lanyard loops,
The material won't make your armpits red and soar.
Cons
May not be a good choice for rough waters.
4. Stohlquist Women's Flo Life Jacket/Personal Floatation Device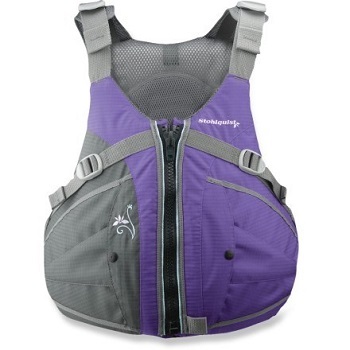 Ladies, you already know you need a life jacket that boasts a slightly different fit than men do. That is why you should check out the Stohlquist women's life jacket that comes with the 400×200-denier outer shell. The inner liners are made of 210-denier oxford nylon, which makes this jacket lightweight, soft, and comfortable.
Besides the fact it suits the female body way better than the rest of our picks, this jacket is equipped with all the features previous models come with – open sides, cross-chest harness, and mesh on the back.
The Stohlquist life jacket, however, comes with a couple of extra features as well. One of these is the neoprene padded waistband and the 1-1.5-inch webbing belt. The latter provides a low profile fit but also supports your back and the front.
Well-built, abrasion-resistant, this life buoyant life jacket will meet the expectations of ladies who are into water sports and ensure support and comfort, even in the toughest waters.
Pros
Built-in supportive foam cups,
Doesn't ride up,
Easy to clean with soap and water,
Type III PDF.
Cons
Not a good choice for females with big busts,
Would use more pockets for storage.
5. Astral V-Eight Life Jacket PFD for Fishing and Kayaking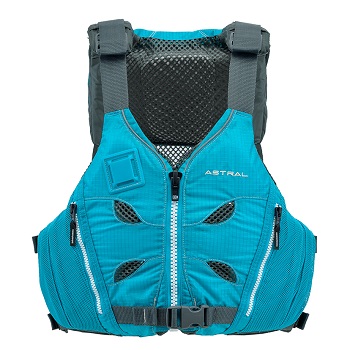 Designed for the use in rough waters or while performing water sports that include high activity levels like rafting and kayaking, the Astral V-Eight makes a great pick for adventurers and adrenaline junkies. It comes with unobtrusive shoulder straps that provide freedom of movement while in the water, while the open sides make it even more comfortable to enjoy your favorite sports.
To ensure a perfect fit, Astral decided to design a life vest that would offer numerous areas for adjustments. The V-Eight comes with 6 adjustment straps so you can achieve a snug, but not too snug seal.
The integrated air escape system also adds on comfort and pleasure while wearing your jacket, as it makes it breathable and well-vented. This means the V-Eight performs well during the summer months, although those multiple adjustments can help you use it even when the temperatures get a bit chilly.
Astral was very thoughtful of the security aspect of their product, which is why they integrated a quick-release waist belt and a tough zipper to this jacket. There are just enough pockets to store some of your essentials, although you may find the position of the existing ones a bit awkward.
Pros
EVA and PE foam inserts ensure the user stays afloat,
USCG Type III,
Free of toxic PVC.
Cons
6. Kokatat Outfit Tour PFD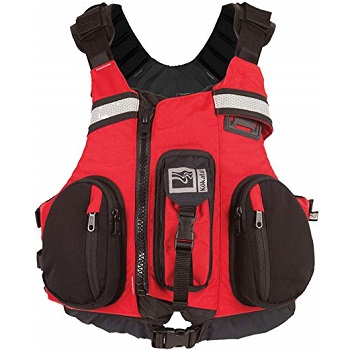 Comfortable and convenient to use when paddling, the Kokatat life jacket boasts high-quality craftsmanship and the ultimate support. You can enjoy swimming or paddling comfortably without having your armpits red and sore. Instead, the adjustable shoulder areas, deep cut neck and armpits will give you a wide range of movements and help you stay buoyant.
Made of durable 200-denier oxford inner and 500-denier nylon outer shell, the Kokatat life jacket can handle a lot of wear and tear, as well as rough waters. It features both front and rear SOLAS reflective tape that ensures you are visible from afar in case an emergency occurs.
You can store a whole lot of your accessories to the front and back pockets, while a vertical pocket is designed for pencil flares, GPS, and cell phones especially.
The Koktat life jacket might be the right one for you if your primary concern is your safety, as it performs great in case of emergencies, but it is also very comfortable and resilient.
Pros
Lightweight,
Type III PDF,
USCG approved.
Cons
Some of the customers wish it provided more lower-back support.
7. Eyson Slim Inflatable PFD Life Vest Adult Automatic/Manual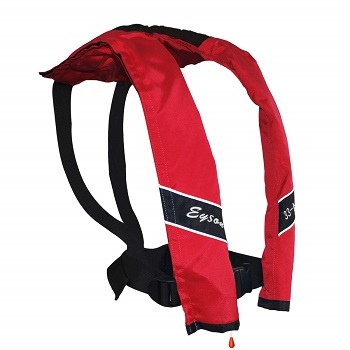 Some of you may be needing a life vest that will provide them with all-day comfort and support. The Eyeson slim vest holds this nickname for a reason – it is very slender that it simply can't be uncomfortable. Those who prefer no-bulk equipment will like this one, we guess.
Designed to prevent you from excessive sweating on hot summer days, the Eyeson life vest ensures optimal ventilation, but also inflation. Unlike other products from our list, this vest gets inflated as soon as it comes into contact with water, which means – automatically.
It takes no more than 3 to 5 seconds for the vest to inflate, so you can be confident in wearing it. What is more, the fact this is an automatic life vest instills security, as, in case of an accident, the wearer can be injured and, thus, unable to pull the cord and activate the mechanism.
Additionally, Eyeson integrated SOLAS reflectors to this model to ensure the ultimate safety if things go wrong whilst you are on the open sea.
The Eyeson life vest is available in multiple colors and sizes, so it is easy-peasy to find the best fit for any body type. It supports adults up to 330lbs.
Pros
Reusable and washable,
Low-profile,
Quick-release buckle.
Cons
Not USCG (United States Coast Guard) approved.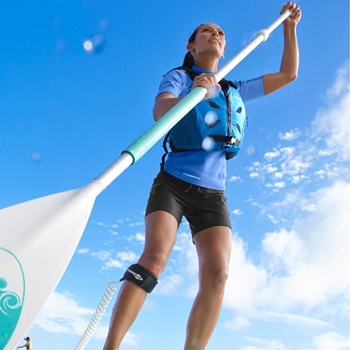 Types Of Life Jackets/PFDs
Not all PDFs are the same. You can find them in different sizes, styles, shapes, and colors. Yet, the most important thing to pay attention to is in which category your PDF falls into.
1. Type I PDF
A Type I PDF is highly versatile. You can wear it when being on the rough waters, especially the open and remote ones. Offshore life jacket, as you can find the Type I PDF under this name as well, boasts the most buoyancy.
In case the wearer falls into the water, this type of PDF will turn them to a face-up position. It is available in the child sizes as well – provides a minimum of 11 pounds of buoyancy and the adult size – 22 pounds of buoyancy minimum.
2. Type II PDF
A type II turns some of the wearers to a face-up position. However, it is not suitable for wearing on the open sea. You can use it in the waters where you have a chance of quick rescue, inland, and calm waters. Minimum buoyancy for adults is 15.5 pounds, for medium kids 11 pounds, while Type II provides at least 7 pounds buoyancy for the little ones (small kids and infants).
3. Type III PDF
Unlike the Type I and II, a Type III PDF doesn't turn the wearers to a face-up position. This type of PDF provides the best protection in calm and inland waters. If you fall into the water, make sure to tilt your head back. Fishing vests, vests for paddling, kayaking, and other sports, as well as float coats, fall into the category of flotation aids.
This type provides the same minimum buoyancy as the previous one. Some of the flotation aid PDF will inflate once the wearer enters the water.
4. Type IV PDF
Versatile, a Type IV PDF can be used with both calm and rough waters, but only where help is always present. This type is not meant to be worn but thrown into the water so the person in need reaches it.
5. Type V PDF
Designed for specified conditions, a Type V PDF includes board-sailing vests, deck suits, and work bests. Ideal for waterskiing, kayaking, and windsurfing, these devices inflate when in contact with water automatically. However, this type is a bit bulky and features small amounts of inherent buoyancy.
Standard Foam vs. Inflatable Kayaking Vests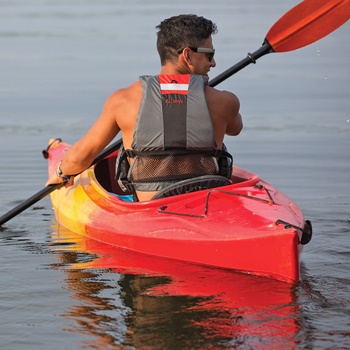 A whole bunch of manufacturers inserts foam to their PDFs in order to achieve the optimal flotation. On the other side, a few other manufacturers opt for inflatable PDFs (kayaking vests). The choice between these two is a matter of personal preference. If you don't know the difference between standard foam and inflatable kayaking vests, here is what you should know about each.
1. Standard Foam PDF
Most commonly used, these jackets and vests are padded with foam that's placed all around and shaped into panels. Some of the available models feature contoured panels that provide extra comfort to the wearer.
These PDFs are buoyant and you don't have to activate them manually. Instead, these ensure flotation as soon as the wearer falls into the water. This makes them more reliable as some people get panic attacks when fell into the water and wouldn't know how to activate their PDFs manually.
Foam PDFS are easy to maintain, but you should keep them out of the sun once they are dry. Another thing kayakers are into standard PDF is that these come with more storage space than the inflatable PDFs.
2. Inflatable PDF
Inflatable PDSs boast slim profile which makes them preferred by many. You can either activate it by pulling a draw tab or get yourself one that inflates automatically (when you get into the water).
Kayakers like the first option best, as there is a chance of accidentally activating the PDF once some water gets on it but without you falling into the water.
Inflatable PDFs provide more comfort, but you have to replace the CO2 cartridge and test it regularly to check it is functioning properly. Kids and wear swimmers should avoid this type.
Life Jackets For Kayaking Buying Guide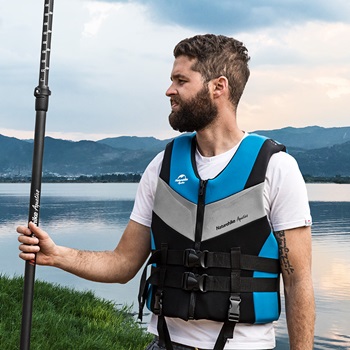 We guess you are narrowing your choice as you move further with our guide, but this section will help you get a good handle of what features are the most important ones when we are talking about PDFs for kayaking.
1. Material
Depending on the waters and surfaces you are going to come in contact with, you need a life vest of specific materials. Hopefully, you won't have to fight with the waves and rocks, but, in case you do, make sure to find a life vest that's well-made.
Materials that are known for being resilient are nylon and neoprene, although the latter is a bit weightier. Kayakers and paddlers usually go for nylon, mostly for this reason.
2. Buoyancy
The force used to keep a person above the water, especially their head while using a PDF is buoyancy. Water conditions, body fat ratio, weight, and a couple of additional factors contribute to the buoyancy level needed to keep the wearer above water.
The USCG recommends 7-12lbs buoyancy for adults to stay afloat. When it comes to Type III PDFs, opt for a minimum of 15.5lbs buoyancy.
3. Weight
If you would be wearing something that's tough, uncomfortable, and weighty while kayaking, you would get tired soon. The weight of your vest should make it possible to paddle freely, without burdening you. Different materials used determine the weight of a life vest, of which nylon is the most lightweight.
4. Comfort
Kayakers spend some of their days on the water, which is why they need a piece of equipment that will perform well, but also provide them with comfort. Padded shoulders, material, mesh on the back – these factors determine the comfort of a PDF.
You don't want to wear unpleasant materials that will cause a rash on your skin. A PDF shouldn't be too snug, but not too loose either. Just like with picking the right pair of shoes, you want to find a model that fits you well when you are on the water.
The range of movement matters a lot. Look for a PDF that gives your arms and shoulders free range of movements so you can paddle or swim comfortably.
5. Reflectivity
Although a life vest ensures you stay afloat, this is only a part of safety features you should look for. Of course, a PDF should support you and prevent you from drowning, but you never know what's going to happen, and when.
If you happen to fall out of the kayak when the weather is foggy or you stay in the water all until the night falls, you want to have a vest that is reflective. This way, you will ensure the coast guard finds you in time.
6. Pockets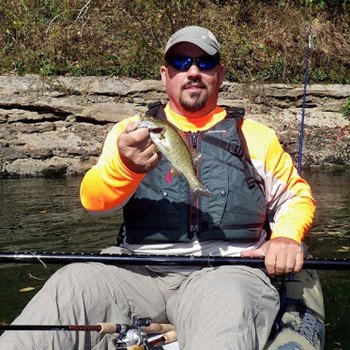 You will probably want to have some of your essentials near at hand when kayaking. That's why you need a PDF that comes with at least some storage space.
Some models include hydration bladders, others deep pockets you can store snacks, gadgets, and creams into. Others feature D-rings you can attach something to.
Although not the most important feature of a life vest or jacket, pockets always come handy when on the water.
7. Official PFD Classifications
The statistics say one of the reasons for drowning is wearing a faulty life vest. The most reliable life vests are approved by the US Coast Guard. On the other hand, it is important to check the PDF type of your life vest.
In one of the previous sections, we listed PDFs by category. Each type suits different water activities and water conditions. Keep this in mind when making a final choice on the life vest for kayaking. This is the only way to ensure you are completely safe in case you fall into the water.
8. Entry method
This is also a matter of preference, although most wearers prefer life vests that come with zippers. Some other models are placed over the head and then adjusted accordingly. However, if you are into the zipped models, make sure to find the one with durable and quality zippers that won't get jammed.
How To Maintain Your Kayaking PFD?
If you know how to maintain your PDF, you will use it for a couple of years at least. Unfortunately, some kayakers neglect the fact their devices require some care, otherwise – deterioration of the essential parts, rot, mildew, and a bunch of other nasty things can invade your kayaking PDF.
Each time you use your jacket or a vest, make sure to soak it in freshwater after the adventure is over. Don't expose it to direct sunlight when it is dry and take off the driers only when you are 100% sure it is dry.
Kayaking PDF jackets are usually well-padded, which may temp to you to sit on it after having a long day on the rocks. If you want to ensure your PDF is with you for a while, but also to ensure you are 100% safe when wearing it, don't sit on it at all.
In case you do, there is a chance many attachments, such as the clasps can break. Almost all of any PDF parts are irreplaceable, so you would have to buy a new one. This is why you should be careful and look after your piece of safety equipment.
Safety Tips For Kayaking PFDs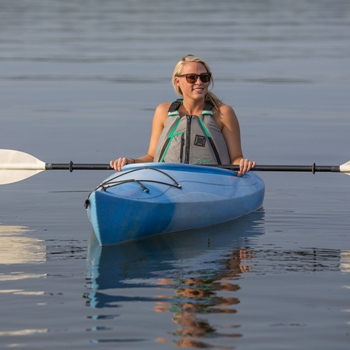 Being on the water is fun, but also dangerous. You should always put your safety first when kayaking, paddling, fishing, or swimming. Stick to the following safety tips if you want to ensure a smooth and enjoyable time on the water.
Learn how to put your life vests on. If you have kids with you, help them put their vests properly, and adjust accordingly. Don't worry, we got you covered if you don't know which PDF would suit your kid best. We know you want to ensure your child's safety when on the water, which is why you should find out more about top-rated toddler swim vests and top-rated infant life jackets if kids are part of your crew frequently.
As soon as the new season starts, test your old life vest's buoyancy by soaking it in a pool. You can also put it on and see yourself whether it would keep you afloat for a couple of hours.
If you notice your life jacket has begun to split, any torn parts, or other signs of wear and tear, don't use it anymore. Otherwise, you are putting yourself to risk.
The same applies to faded and weak materials. If you pinch the fabric and you see it shows signs of wear, throw it away.
Stains of life vests can cause deterioration of the fabric and growth of mold. Wash and dry your PDF well before storing it.
A life jacket is not the same as a boat fender, so don't use it for these purposes if you don't want to damage your PDF.
Opt for life vests in bright colors, if possible, especially for the kids.
Wear your PDF, and make the kids wear it also, at all times during your stay on the water/boat.
FAQ About Life Jackets For Kayaking
1. Are Life Jackets Required For Kayaking?
In a nutshell – yes! Everyone on a kayak is required to wear their PDFs in order to protect themselves fully. Some people believe a PDF would irritate the skin or restrict mobility, while this is not true when you have a life vest that meets the above-listed criteria.
2. What Kind Of Life Jacket For Kayaking?
Life vests are different for their sizes, fits, colors, etc, but also for their function. If you need a life jacket for kayaking, you want to find the appropriate piece of equipment. A PDF that is not designed for kayaking purposes wouldn't be adequate for wearing. Make sure your vest/jacket meets the USCG requirements and take good care of your jacket to ensure it protects you fully.
3. How Long Does a PDF Last?
Materials degrade over time – that's normal. Yet, life jackets/vests are supposed to last for 3 to 10 years, which varies between different manufacturers. If you take good care of your PDF, you will extend its lifespan, but for 10 years maximum. If you have an inflatable PDF, make sure to test it annually for any damages.
Wrap Up
Although life vests and jackets for kayaking are not overly popular because some people think they look bulky or feel heavy, the truth it – the best life jacket for kayaking can save your life. Now, is it that important to find a piece that suits you well besides the fact it is so important for your safety?
For some people, it is. Fortunately, the products we've reviewed are comfortable, safe, form-fitting, not bulky at all, and you can also choose between different colors and sizes, all until you find the best pick. Thus, get back to our life jackets for kayaking reviews once more and add this essential device to your kayaking/marine kit.
We want to ensure you get all the right, accurate information in our guides. If you liked this one, don't forget to take a look at our other marine guides on equipment, maintenance, batteries and motors, security, audio systems, and ensure you are backed up fully when being on the waters.
Bonus guide: best towable tubes