If you're planning a trip on your boat or near a lake or a pond with your canine friend, you should also invest in the best dog life jacket out there. Let us tell you right off the bat – dogs need life vests just as much as we do.
We discuss all the reasons that they have to wear life jackets in our article, along with showcasing some dog life jacket reviews of the options that have been praised for their features time and again. These are effective, convenient, and easy to put on, and above all, they make your adventure much safer.
See The Quick Comparison Chart
Do Dogs Have To Wear Life Jackets?
Yes. Even though you might think that dogs are genetically engineered to be able to swim, they can suffer from exhaustion just like humans. On top of that, there are some types of dog breeds that are worse swimmers compared to others.
1. Dog Breeds That Don't Swim Well
For example, breeds like spaniels and retrievers are known for swimming very well and without any help whatsoever. However, there are others that are less suited to spending time in the water, and these are breeds such as the Bulldog, the Pekingese, the Pug, the Dachshund, the Boxer, and the Basset Hound. There are many others, as well.
The reason these dogs can't swim is either because their heads are too big and heavy to be kept on top of the water naturally or because their legs are just too short to be effective in swimming. Needless to say, these dog breeds have to wear a life jacket each time they get around water, no matter how shallow you might think it is.
2. Dog Breeds That Swim Well
Another reason that contributes to swimming being such an exhausting activity for dogs is the weight that their wet fur adds to their body. As you know, wet fabrics and leathers are much heavier compared to dry ones. Therefore, dogs that have more fur will have a harder time swimming compared to short-haired breeds or those that hardly have any fur (such as Hairless Chihuahuas).
So, even dog breeds that are natural swimmers, such as English Setters, Irish Setters, Portuguese Water Dogs, Labrador Retrievers, or Newfoundlands can have a hard time swimming after a while. Their wet fur along with the exercise per se can make them tired after some time, so they can risk drowning if they don't wear a vest.
3. Dogs Can Get Stuck or Scared
It's always better to be safe than sorry, right? So thinking of several scenarios that involve your dog getting into trouble will allow you to understand why a life vest can be so important.
If you do kayak fishing with your dog and you do so in a lake, there are places where a dog can get one of his legs stuck. These are usually near the shore but since vegetation can make it difficult for you to see where your dog is, he might get exhausted by the time you reach him and start sinking in the water.
Some dogs get scared more easily compared to others, and if they see something weird or go into a panic for any other reason, they might not be able to swim properly. In fact, they might waste all of their energy desperately trying to get away from the thing that has frightened them without realizing that they're tiring themselves.
In all of these situations, a life vest is a life savior.
Best Dog Life Jackets Comparison Chart
PRODUCT
DETAILS

Outward Hound Granby Splash Dog Life Jacket

Price: $
Customer Rating: 4.5
Weight: 11.7 ounces
Top Handle: Yes, 2
Reflective: No
Sizes: XS-XL

View On Amazon

Vivaglory New Sports Style Ripstop Dog Life Jacket

Price: $$
Customer Rating: 4.7
Weight: 8 ounces
Top Handle: Yes, 1
Reflective: Yes
Sizes: XS-XL

View On Amazon

EzyDog Doggy Flotation Device Dog Life Vest Jacket (DFD)

Price: $$$
Customer Rating: 4.6
Weight: 12.8 ounces
Top Handle: Yes, 1
Reflective: Yes
Sizes: XS-XL

View On Amazon

HAOCOO Dog Life Jacket Vest Safety with Reflective Stripes

Price: $$
Customer Rating: 4.4
Weight: 15.2 ounces
Top Handle: Yes, 1
Reflective: Yes
Sizes: XXS-XXL

View On Amazon

PETCEE Dog Life Jacket Adjustable Belts and Rescue Handle

Price: $
Customer Rating: 4.1
Weight: 4.8 ounces
Top Handle: Yes, 2
Reflective: No
Sizes: XS-XL

View On Amazon

RUFFWEAR – Float Coat Dog Life Jacket for Swimming

Price: $$$$
Customer Rating: 4.8
Weight: 15.2 ounces
Top Handle: Yes, 1
Reflective: Yes
Sizes: XXS-XL

View On Amazon

Paws Aboard Dog Life Jacket Vest for Swimming and Boating

Price: $$$
Customer Rating: 4.4
Weight: 12.8 ounces
Top Handle: Yes, 1
Reflective: Yes
Sizes: XXS-XL

View On Amazon
Best Dog Life Jacket Reviews
1. Outward Hound Granby Splash Dog Life Jacket
This vest has pretty much any feature you might ever want from a product in its line. It comes with rescue handles, making it quite easy for you to pull your pooch out of the water. The number depends on the life vest size. For example, the medium one is outfitted with two handles while the small and extra small sizes boast just one.
In terms of durability, it definitely seems like you have nothing to worry about. The jacket is made of ripstop material that's capable of standing the test of time. However, it also doesn't get in the way of anything and it allows your canine friend to feel at ease.
To make sure that you're able to pick the right size for the dog breed that you're a parent of, the manufacturing brand has included a helpful sizing chart on their size and at various online marketplaces.
Last, but not least, this model comes in a variety of colors, all of which are visible in a wide array of conditions. The design makes it possible for you to keep an eye on your dog at all times.
Pros
Comes with a neck float that can keep your dog's head above the water
Top handle allows swift and easy rescue
The straps are adjustable
Bright colors and durable materials
Cons
2. Vivaglory New Sports Style Ripstop Dog Life Jacket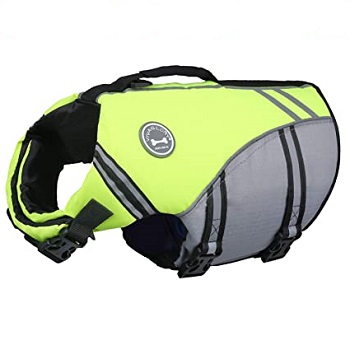 A great choice for water-loving, active dogs, the Vivaglory model boasts a sports-style design that makes it easy to put on and take off and also capable of fitting properly. The model comes with strategic neck floats that can keep your dog's head above the water even if he or she gets tired.
The life vest has gone through several tests and has passed the CA65 standard, which means that you can rest assured that its buoyancy is on par. It appears that this particular model is actually buoyant by up to 50% more compared to other vests in the same line.
The color choices are another thing writing home about. The vest comes in as many as eight colors, but all of them are bright, with three of them being even more so. Besides, the reflective details make it easy for you to spot your pooch even at night, which is definitely reassuring.
Pros
Comes with one rescue handle
Takes the cake when it comes to buoyancy
Choose from 4 different size options
Reflective markings
Includes neck flotation
Cons
It can be a little too long for breeds such as the English Bulldog
3. EzyDog Doggy Flotation Device Dog Life Vest Jacket (DFD)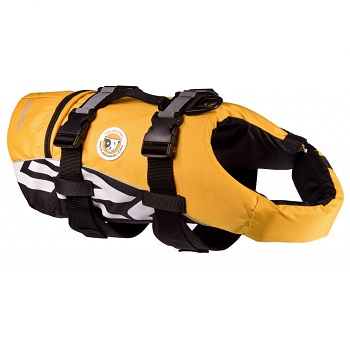 This mid-priced dog life jacket is another that you should consider, especially if you want to spend some time with your pooch and your family at the beach. It's very easy to put on and take off and it does come with flotation in all the right places, but it doesn't include any in the belly area.
Also, the straps and buckles are visible and could get stuck into things in the water, but if you use it when you go to the beach, that's not likely to happen. The belly straps included are adjustable and provide an ergonomic and relatively secure fit.
Furthermore, the vest comes with nylon D-rings that can be utilized to attach a leash. It's also worth noting that the jacket includes reflective detailing so that visibility isn't a problem even when it's pitch black. The handle at the top makes it a breeze for you to grab your pooch and get him/her out of the water.
Pros
Made of high-quality materials
Keeps your dog's torso and neck above the water
Available in as many as six sizes
You can attach a leash to it
Cons
The two belly straps could have been made of neoprene so as to increase flotation
4. HAOCOO Dog Life Jacket Vest Safety with Reflective Stripes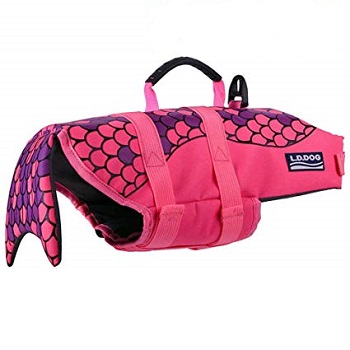 If you aren't feeling prepared to invest in a high-end model that also costs a fortune, this product should be right up your alley. As budget-friendly as it might be, it is particularly effective and it also takes the cake when it comes to buoyancy. Therefore, it can keep your furry friend safe at all times.
The nice thing about it is that it is made of a mix of materials such as high-grade polyester, nylon, mesh, and pearl cotton foam. All of these guarantee durability, so it's quite likely for the life vest to last for a dog's lifetime.
When it comes to usability, you'll be happy to know that the unit is very easy to put on and take off by you, but it can't be taken off by the pooch as easily. It comes with an adjustable belt, as well as quick-release buckles, so your pet will feel comfortable and remain safely fitted with the vest for the whole duration of the swim.
Pros
The front float keeps your dog's head above the water
Reflective strips make it possible for you to see your dog even at night time
Comes with a handle on the top for easy grabbing
Outfitted with a heavy-duty D-ring hook for attaching a leash
Cons
As with other models, several size issues were reported by a couple of customers
5. PETCEE Dog Life Jacket Adjustable Belts and Rescue Handle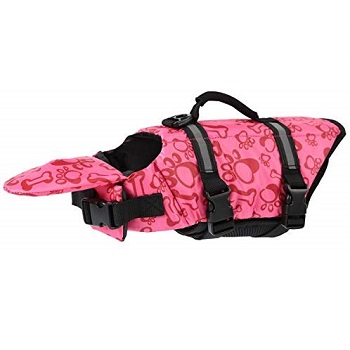 This PETCEE life jacket for dogs is designed to be durable and rugged, so it has a good chance of lasting for as long as possible. It's also quite comfortable. To make it fit properly, you will have to use three different straps. Two of them wrap around your pooch's belly, whereas one wraps around his or her chest.
Each of the straps that the unit is outfitted with is adjustable and comes with a quick-release buckle for easy fastening or for when you want to take the vest off your dog fast.
As for the design, there are several variations that you might want to have a look at. Sure, the vest comes in a traditional life vest design, but you can also pick one with a mermaid tail or an attached shark fin. The mermaid tail doesn't add to the security of the vest, so we'd advise you to go for the shark one, if at all possible.
Pros
Reflective trim makes it possible for you to see your dog even when it's pitch black
Available in five different sizes
A D-ring is located on the back of the life jacket for attaching a leash
Very affordable compared to other products in the same line
Cons
It can be a bit bulky for a small dog
6. RUFFWEAR – Float Coat Dog Life Jacket for Swimming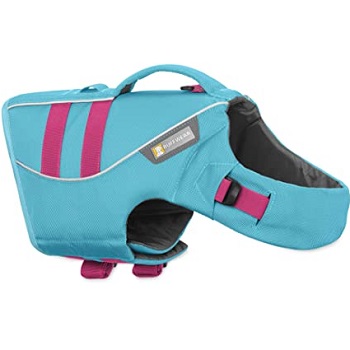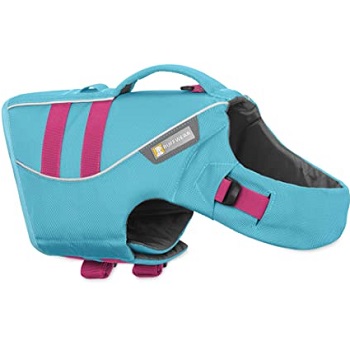 As one of the most popular options in this line, this dog life jacket is widely known for its reliability and quality. It does come at a slightly higher price point compared to others, but it's likely to last a more than decent amount of time and it includes all the right features.
The vest is made of abrasion-resistant and durable material and it comes with a top handle. Also, it features strategically-placed closed cell foam panels that keep your dog afloat and in his or her natural position. There's a telescoping neck closure that you can adjust and it can keep your pooch feeling comfortable.
What's cool about this model and sets it aside from the rest is that it comes with extra flotation beneath your dog's belly. Moreover, none of the straps or buckles are exposed, so they can't get stuck on weeds, pieces of wood, or anything else that might be in the water.
Pros
Reflective trim makes it possible for you to see your dog even at night
Comes in several sizes from XX-small to X-large
High-quality materials and a relatively good fit for most dogs
Its design makes it impossible for it to get stuck on things in the water
Cons
Costs significantly more compared to other dog life vests
7. Paws Aboard Dog Life Jacket Vest for Swimming and Boating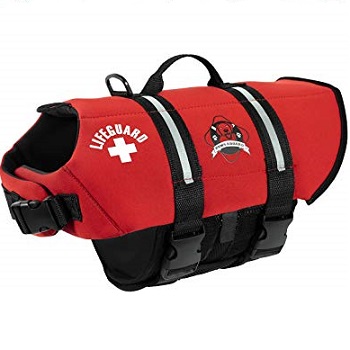 This is a model that's very well suited for larger dogs. The mesh that it boasts on the bottom makes it possible for the pooch to remain comfortable, and there's not going to be any chaffing involved.
It's also worth noting that the straps on this jacket are very flexible, a detail that seems to be quite appreciated by the customers. The vest is generally easy to put on and take off, and it provides extra comfort and safety. It's available in a wide range of sizes, with the large and extra-large ones being some of the critically acclaimed ones.
What's interesting about this unit is that it is available in just one color, but it is bright and visible. If you are worried about the vest being too heavy and cumbersome on your pooch when he or she gets out of the water, we'll put your mind at ease. This model's lightweight and made of neoprene.
Pros
Comes with a rescue handle at the top
Available in as many as five sizes
Brightly colored
Flexible, lightweight, and breathable
Cons
The sizing is a little off
What Are Dog Vests and How Do They Work?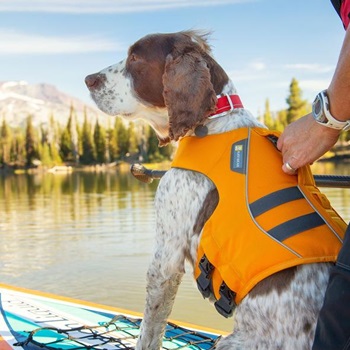 If you regularly engage in boating, you've probably invested in some good-quality marine equipment by now, whether that is a boat anchor or a top-rated towable tube.
If you have zero interest in getting a boat or fishing from a boat, you might be interested in spending time with your family next to a lake or another type of water. Should you have a small child in your family, you're likely to look into getting an infant life jacket. So why shouldn't you do the same for your trusted canine companion?
Regular vs. Dog Vests
A dog vest is like a regular life jacket, one made for humans. However, it is tailored to the physical attributes of your Fido. If you try to use a human-grade life jacket on your dog, it's quite likely that it's not going to work, unless you fasten it on his body really well.
Dog life jackets are made specifically for dogs' bodies, meaning that they fit as best as possible. They are outfitted with layers of tubes on the inside that make them buoyant. That's why dog life vests can keep the animal afloat instead of allowing him to sink.
In terms of design, there are several differences. While a human life jacket does not come with a top handle, almost all dog life jackets do, especially if they are for small breeds. This feature allows you to pick up your canine friend and get him out of the water.
Are Dog Life Vests Just For Boat Use?
No. Your dog's size matters quite a lot when it comes to picking a life vest, but you might want to know that you should invest in one even if you just take a trip to a lake near your home. Dogs can get tired and lose their power and swim resistance just like humans.
Thousands of dog deaths happen on a yearly basis just because dogs have fallen into swimming pools, ponds, or lakes or haven't been able to continue swimming.
Other Considerations
Getting a dog life jacket can be an excellent idea if you intend to spend some time outdoors near a lake. Dogs are known to be man's best friend, so they will want to accompany you, but if they will take a bath in the water, you want them to be safe at all times.
Sure, if you engage in a game of catch while on your boat, something might go wrong and your dog, in his eagerness to catch the ball or the toy, might jump overboard. If he is wearing a vest, you will not have to worry about him being unsafe in the water.
So, to answer this question, your dog should wear a vest in situations that don't involve you being on a boat. This can include anything from windsurfing or kayaking to water skiing or engaging in any type of water activity – even going to the beach to sunbathe.
How To Measure a Dog For A Life Jacket?
There are three things that you should take a good look at if you want the dog life jacket that you invest your cents in to properly fit your Fido. These measurements are paramount and will ensure that you pick the perfect model for the dog breed that you own.
1. Girth
You have to measure your dog's chest circumference as it is the most important part of his body. It is also the widest. Get a cloth tape measure and wrap it around your dog's chest, meaning somewhere right behind his front legs.
Try to keep your canine friend as still as possible, even though we know that some dogs might try to play or move in an attempt to get you to pay attention to them.
2. Weight
The bigger and heavier your dog, the more buoyancy he will need to stay afloat. Some dogs are naturally chunky such as Bulldogs, for example, so they need a life vest that's a lot more buoyant compared to the one that's made for a relatively slim and athletic dog such as an Irish Setter, for example.
3. Length
You always have to remember that the things that keep your dog afloat beside his legs, which do the swimming, are his lungs. Since the lungs are located in the dog's thorax, he isn't getting any buoyancy in his derriere. Therefore, while it is important for the vest to have floating capabilities in the first half of his body, this is also important for the rear.
Measuring your dog's body length can let you know what type of life jacket length you should look for.
Use a tape measure and stretch it on the length of your canine friend's back with its tip being positioned where his neck meets his back. Extend the tape until about two inches before the tail joins your canine friend's back.
Dog Life Jacket Buying Guide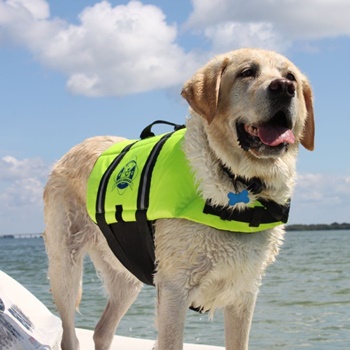 Finding the right type of dog life vest can be quite challenging nowadays. On the one hand, there are many products you should do some research on, and on the other, you need to make sure that you are buying the safest and most effective model possible.
Without further ado, here are some of the most important aspects that you ought to bear in mind when shopping for a good dog life jacket.
1. Visibility
As much as you might love colors like black, white, or blue, the fact is that these make the worst choices when it comes to your dog's life vest. White is more or less recommendable if you intend to take your pooch for a night time swim. Black doesn't work in such a situation, though.
Blue is the worst option because water is blue, and if you take your dog to the beach and the waves are pretty high, you might not see where he or she is.
Besides the color of the life jacket, though, you should consider getting one that comes with reflective piping or some sort of reflective feature. With such a product, you will have the opportunity to see your dog in the water even if it gets cloudy or you're going for a nighttime adventure.
2. Fit
The fit is important both because your Fido has to remain comfortable and have plenty of fun, but also because a too loose or a too-tight life vest can cause problems. One that's too tight might restrict your dog's circulation, making it uncomfortable for him to swim properly.
On the other hand, if the life jacket is too loose, it's not going to fit correctly and it's going to be unsafe. If it slips, it might come between your dog's leg movements, in which case he is not going to be able to swim correctly and more importantly, keep his head above the water.
3. Buoyancy
When it comes to floatability, most manufacturing brands rely on a combination of factors to make their life vests buoyant enough. You will come across some models that are made of nylon, a material that's well-known for floating on top of the water instead of going to the bottom.
Also, some dog life jackets have small foam layers and air chambers that can keep your canine buddy's body afloat. In this sense, we would advise investing in a unit that comes with such an air chamber in the belly area, too. This addition will undoubtedly help your pet to swim more effectively and with less effort on the whole.
4. Safety
You're going to say that all life jackets are made to be safe, but we'll argue and say that that's not true. After going through hundreds of products in this line, we came to the conclusion that the safest options are the ones whose buckles or closure systems aren't on the exterior.
This means that the straps have virtually no chances of getting stuck in an obstacle such as a log or anything else. This can be quite important if your dog tends to get overly excited about being in the water and wants to investigate every little corner on the lake. Curious dogs can easily get in trouble.
If you regularly fish from a boat but you do it in a lake, you definitely have to look for this feature in your dog's life jacket.
5. Durable Top Handle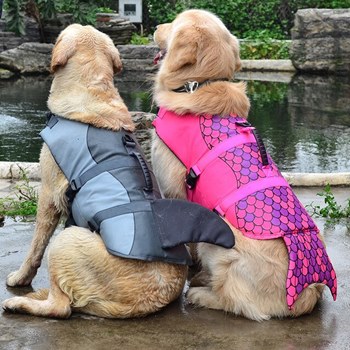 From what we have noticed, most dog life vests come with one top handle for a convenient lifting of your pooch on the boat. While this is all good and useful, it works only in case you are the pet parent of a small dog breed.
For large dog breeds, it is paramount that the life jacket comes with not one, but two top handles. Otherwise, the only one that the vest is outfitted with might break because of the dog's weight.
Keep in mind that the wet fur adds to the overall dog's body weight. Besides, it's far easier for you to take your friend out of the water when grabbing onto two handles instead of one.
6. Closure
Some dog life jackets come with velcro, others come with the standard buckle, but the truth is that the safest that we have found are outfitted with both of these.
It doesn't have to be complicated, because otherwise, you will have a hard time putting the vest on and taking it off. However, the closures have to do their job properly, so the more, the merrier. Ideally, you should be able to hide the buckles between your dog's body and the exterior of the vest.
7. Cost
Some dog life jackets can be as cheap as ten dollars whereas others can be as expensive as one hundred or more. There is no direct correlation between the money that you'll spend and the safety, but we will admit that the higher end ones come with better features.
If you're focused on durability and you want to make sure that your dog is safe at all times, investing in a higher quality alternative will offer you the peace of mind that nothing will go wrong while he's in the water.
8. Quality
If you are thinking of getting a dog life jacket online, you might not be able to assess the quality of the product just by looking at several pictures. Therefore, we advise you to take some time to go through several reviews of dog life vests. Other pet parents can let you know what problems they have encountered.
The better the materials, the higher the likelihood of the product to last for more than a decade. Materials like polyester, ripstop denier, and nylon are known for their durability.
9. Comfort
Last, but not least, your Fido has to be as comfortable as possible as he swims. The experience has to be really enjoyable for everyone involved — both yourself and your pooch. If the fit is just right and you have a long-haired dog breed, you don't really have to worry about that many things.
But dogs that have really short hair and a lot of skin (such as Sharpei, for instance), will find it uncomfortable to wear a life vest with margins that chafe. Other dogs might not have enough space in their neck area to accommodate a neck floating component over there. We're looking at you, Boxers!
The point that we're trying to make is that each dog is different in terms of physical attributes and it's your responsibility to find the perfect life jacket for your pooch's body.
Safety Tips For Dog Life Jackets
It goes without saying that a life jacket can keep your dog safe as he or she is in the water, but it doesn't all boil down to that. In the following section, we have showcased some tips on keeping your dog safe and sound even if you have taken the precaution of fitting him or her with a life vest.
1. Train Your Dog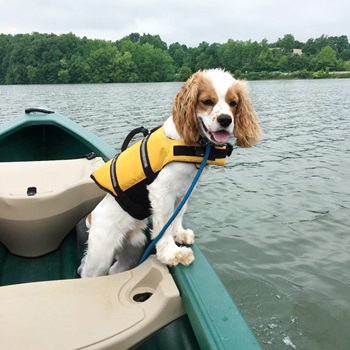 Wearing a life vest isn't really comfortable for dogs, and those that have a hard time wearing a harness will inevitably try to get the life jacket off, too. Before going out on your trip, we advise you to try to train your dog in a pool, where it's much safer.
Train your pooch to swim while wearing the life jacket. This is one of the most important things that you can do to effectively improve your canine friend's safety and make sure that he doesn't take it off while you aren't watching.
2. Make Sure It Fits
Picking the perfect life jacket for your canine companion is mandatory, especially when it comes to its size and weight. You should also consider the water behavior since springs and rivers call for a lot more buoyancy as they are more agitated compared to ponds and lakes.
The vest should fit snugly around your dog's torso but it shouldn't be too restricting, either. If it doesn't fit properly, it might either be too big, allowing your pet to take it off by him or herself, or it might be too tight, in which case the dog will feel very uncomfortable.
3. Type of Water Activity
If your dog will forever swim in a swimming pool and you know for sure that you are never going to take any trips with your family that involves lakes and ponds, you can opt for a laxer life jacket. What this means is that it doesn't have to come with the best buoyancy in the world, but it should still protect your pooch as best as possible.
Swimming in an open sea calls for a much thicker, rugged, and buoyant vest, so do keep in mind that they aren't all made the same.
4. Keep an Eye Your Dog
Constantly supervising your Fido is almost as difficult as keeping an eye on a 3-year-old. You never know when he or she is going to get out of sight. If you know that your dog is untrained and isn't going to listen to you (which usually happens with puppies), it might be a better idea to avoid taking him on the trip altogether. That might not sound like a lot of fun, but it's safer for your pet.
Never let your canine friend take a swim without a flotation device, especially when you aren't looking.
5. If Possible, Use a Leash
If you are kayaking from a boat, for example, you can allow your dog to swim in the water, but also use a leash at the same time. Keep in mind that any sharp turn can hurt your dog or can send him or her overboard, so be cautious.
In any case, a leash, even a very long or extendable one, can allow you to rest assured that your dog is always going to be close to you.
FAQs About Dog Life Jackets
How should a dog life jacket fit?
There is a simple answer to this question and it's — as best as possible. We've already put together a section on how you can put a dog life vest on your pooch, but here are some more tips.
You should wrap the neck panels around your Fido's neck while keeping the chin float-free. The chin strap might not be centered once you find the best fit, so it doesn't matter that much. Then wrap the belly band and secure everything with the buckles or Velcro (depending on the closure boasted by the unit).
A secure fit is when you've tightened all the straps of the vest and you can slip two fingers between your dog's body and the jacket per se. If the jacket that you have bought comes with this feature, roll any loose strap ends toward the buckle and then secure them to the straps with the Velcro portions.
Can a dog wear a human life jacket?
Not really. A human life jacket isn't made for a dog's body and the chances of it not fitting properly (whether that means being too loose or too tight) are very high. Even if your kid's jacket seems to fit your dog, it's quite likely that it will restrict the pooch's movements once he or she gets in the water.
Just think of it this way – what if the jacket slips and gets on your dog's legs? Swimming is going to be made very difficult, if not impossible, if the jacket restricts it. Invest in a good dog life jacket, especially since most models aren't even that expensive these days.
Do dog life jackets work?
Of course they do. A properly designed model can keep your dog's head above the water even when he's had enough swimming and he's tired. We hate to mention this, but if your dog gets injured in the water and gets unconscious, it is paramount that his or her head remains afloat, especially until you find him.
Dog life jackets make this possible and also make swimming easier and more enjoyable for everyone — you should consider getting one for yourself and the rest of your family, while you're at it.
Wrap Up
Always remember that the best dog life jacket is the one that can keep your pooch completely safe at all times, whether on the ground or in the water. It shouldn't be easy to take off by your dog, but you should be able to do so with as little effort as possible. A life vest can be a true life savior for a dog, especially after spending a whole day having fun in the water.
To make sure that you pick the perfect model for your Fido, invest some time in reading some dog life jacket reviews, measure his body as best as possible, and also focus on the factors that we've highlighted in our guide.
As a final note, keep in mind that even dogs that are natural swimmers can have a hard time staying afloat once in a while, especially if they are tired, get scared, or get one of their legs stuck into something.