Whether you are passionate about marine wildlife or you simply need the best marine binoculars to survey what's happening around your own watercraft, the fact is that finding the right model can be quite a tricky endeavor.
If you don't have the time to go through hundreds, if not thousands of marine binoculars reviews, perhaps you should have a look at our selection below. All of the binos that we have picked are well-loved for their excellent performance. We will help you with everything you need to know to make the right pick!
See The Quick Comparison Chart
Marine Binoculars vs. Regular Binoculars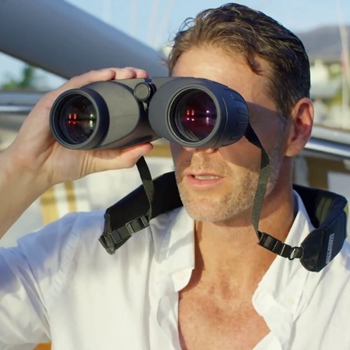 If you have ever invested in other types of boating gear before, you probably know that there are some essential features you should be looking for. You would not want to look for the same features in a top-rated marine solar panel as you would in a regular one, neither would you do the same with top-rated boat grills or with the best marine GPS chartplotters.
The same rule applies in the case of marine binoculars. They are not like regular binos because they take the cake in terms of some features, while other characteristics might make them unsuitable for terrestrial activities.
Here are some basic differences between marine binoculars and regular ones.
1. Magnification
Most people tend to think that the higher the magnification of a pair of binoculars, the better it is for them as they can see farther. The problem is that with more magnification comes the risk of you not being able to stabilize the image.
If your hands are shaky, you are not going to be able to use a 10x binocular while you are on the water. That is even truer in cases where your watercraft is constantly moving, so if you don't have a large boat.
This is the reason why most marine binoculars come with a 7x magnification. In most situations, this is more than enough, so you don't have to worry about not seeing your object of interest.
2. Image Stabilization
As mentioned previously, things tend to get a little wobbly or shaky on a boat. That is why you need a pair of binoculars that make it easy for you to take a good look at the picture without having a hard time telling what you are seeing.
Needless to say, optical devices made for terrestrial observation do not come with this feature, so you are not going to find it in regular binoculars.
3. Eyecup Design
When the sun is shining brightly in the sky, there is a lot of light reflecting in the water you are doing your boating in. You might have noticed that some of the binos that we have showcased in our selection come with special eyecups, which are capable of eliminating most, if not all of the light around your eyes.
This feature helps you better see what you're looking at. Terrestrial binoculars don't necessarily have to come with this feature (although it would be good, too) because there is not as much light reflection on the ground as it is on the water.
4. Water Protection
The majority of the marine binoculars available for sale out there are waterproof. They also have a rubber grip so that you can hold them properly. Water protection needs to be excellent.
If you drop your binos in the water, you might still be able to retrieve them fast if they are buoyant. Also, if they are waterproof, they are not going to get damaged.
By contrast, not all regular binoculars have to be waterproof. Sure, you will find this feature in those that can be used for hunting or backpacking simply because the elements might affect their performance or construction. But many of them will be water-resistant, not waterproof, and that is because they are not supposed to be dropped in the water or come in contact with a lot of it.
5. Compass and Rangefinder
Some units are equipped with a reticle rangefinder, and it can be essential if you want to look and see objects that are out in the distance while you are out on the water. As for the compass, it is pretty self-explanatory — it can help you get your bearings properly when you're in the middle of an ocean.
Types of Marine Binoculars
There are two main kinds of marine binoculars that you can choose from and they are fixed focus and center focus units. Here is what makes them different from one another.
1. Fixed Focus Binoculars
These binoculars are also known as self-focusing because they don't have to be fiddled with once you set them to your eyesight. This is a feature that is commonly found in optical devices made for boating, and that is because moving the parts as infrequently as possible doesn't affect their waterproofness.
Needless to say, the autofocus feature is quite handy for people who are not tech-savvy or who do not want to constantly have to re-focus their binos.
2. Center Focus Binos
Center-focus binoculars have to be focused on one object or another. For this purpose, you will have to use the center barrel that the unit is equipped with. In a sense, these binos are convenient because you can customize them for viewing long-distance and close-distance objects. But they are not the best when it comes to durability.
Best Marine Binoculars Comparison Chart
PRODUCT
DETAILS

Bushnell H2O Waterproof/Fogproof Roof Prism Binocular

Price:

$$

Customer Rating:

4.6

Magnification:

10×42

Weight:

1.56 lbs

Field of View:

305 @1000 yards

Prism:

Roof

Eye Relief:

17mm

View On Amazon

Steiner 575 Marine 7×50 Binoculars

Price:

$$$

Customer Rating:

4.6

Magnification:

7×50

Weight:

2.2 lbs

Field of View:

356 @1000 yards

Prism:

Prism

Eye Relief:

20mm

View On Amazon

Occer 12×25 Compact Waterproof Binoculars with Night Vision

Price:

$

Customer Rating:

4.3

Magnification:

12×25

Weight:

0.45 lb

Field of View:

273 @1000 yards

Prism:

Roof

Eye Relief:

15mm

View On Amazon

Aomekie Marine Night Vision 7×50 Military Binoculars Waterproof

Price:

$$

Customer Rating:

3.8

Magnification:

7×50

Weight:

2.2 lbs

Field of View:

132 @1000 yards

Prism:

Prism

Eye Relief:

22mm

View On Amazon

Stellax ZoomX Binoculars 10×42 Waterproof Lightweight Prism BAK4

Price:

$

Customer Rating:

4.7

Magnification:

10×42

Weight:

1.2 lbs

Field of View:

305 @1000 yards

Prism:

Roof

Eye Relief:

18mm

View On Amazon
Best Marine Binocular Reviews
1. Bushnell H2O Waterproof/Fogproof Roof Prism Binocular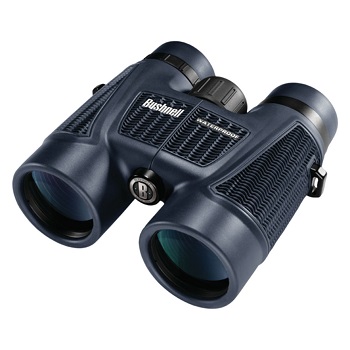 Bushnell is one of the leading brands in the industry of making high-quality binoculars, especially for outdoor activities. The H2O is one of their most popular models, and that shouldn't come as a surprise. What we'd like to note right off the bat is that this unit doesn't come with the standard magnification boasted by marine binoculars.
The 10x magnification and 42mm objective diameter make it a good choice for watching wildlife, for example, but this one is not going to offer you the same field of view as a 7x alternative. Even so, it does come with a myriad of user-friendly features from a sizable center focus knob to twist-up eyecups.
Since you're going to be using the bino in windy and potentially rainy situations, you should know that this one is waterproof, O-ring sealed, and also nitrogen-purged. Therefore, you can make the most of it even in inclement weather.
Pros
Excellent optics and HD clarity
Non-slip rubber armor and soft grip and firm grip and also absorb shock
17mm eye relief for people who wear glasses
Waterproof and rugged construction
Backed by a limited lifetime warranty
Cons
It's not the steadiest unit in this line due to the 10x magnification.
2. Steiner 575 Marine 7×50 Binoculars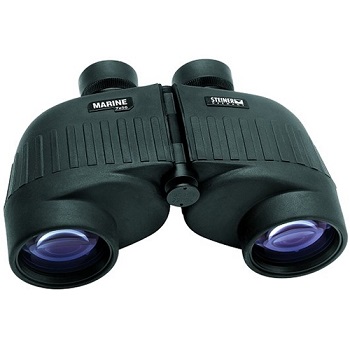 The 7x magnification boasted by the Steiner unit makes it perfect for boating activities. Combine that with a 50mm objective lens diameter and you'll get an amazing field of view, allowing you to get a clear picture of what's happening on a larger surface area.
Even though this one costs a pretty penny, especially when compared to some of the other products in this selection, it is fully capable of delivering sharp and brilliant 3D images even from 20 yards to infinity. Additionally, it relies on a flexible silicone lens to absorb any shock or impact.
Like some of the other units out there, this one comes with rubber armor and is built to be waterproof. This means that you don't have to worry about the weather jeopardizing its durability or structure. The grip is comfortable and it also boasts ergonomic pads and ridges.
In terms of quality, we'd say that this is our top favorite choice, especially from those available from Steiner.
Pros
Rugged construction guarantees durability and resistance to the elements
7x magnification renders it perfect for boating activities
Comes with a sports autofocus feature
1000-yard field of view
Backed by a limited lifetime warranty
Cons
Some customers have complained about the weight. Apparently the binos can be a bit heavy.
3. Occer 12×25 Compact Waterproof Binoculars with Night Vision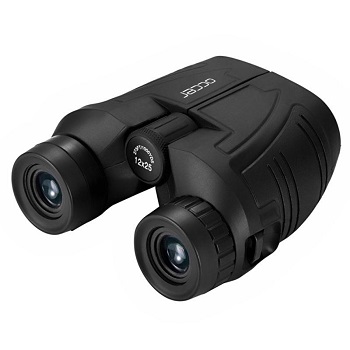 If you are unwilling to spend a fortune on a pair of binoculars for your boating endeavors, the Occer alternative should be right up your alley. Keep in mind that these binoculars aren't going to offer you the same performance as the Steiner binos that we have just described.
The binoculars have a 12x magnification, so you can watch far. The field of view is wide enough, though, and we'll put that on account of the 25mm objective lens. Whether you wear glasses or not, this model might make a good choice since it comes with eye relief. Even those who aren't eyeglasses wearers will benefit from it in the summer if they want to use the binos while wearing sunglasses.
Despite being very compact and portable, this pair of binoculars should be jotted down on your list, especially if you are looking to make the most of it. They can be used for a variety of activities.
Pros
Multi-coated optics guarantee crystal clear images
12x magnification, 25mm objective lens diameter, a 1000-yard field of view
Very compact and lightweight — fits in your hand
Non-slip rubber armor for a secure grip
Waterproof build allows you to use it in any type of weather
Cons
Despite being advertised as being capable of night vision, they aren't that good when it tends to get darker.
4. Aomekie Marine Night Vision 7×50 Military Binoculars Waterproof
This is another decent pair of binoculars that you should probably consider, especially if you are on a budget, but you want to get a 7x magnification alternative. Both the magnification and the 50mm objective lens diameter make this unit a good option for boating.
What's also neat about it is that it comes with a 22mm eyepiece. Plus, all of the optics used in its construction come with anti-reflective coating, so you will be able to look at crystal clear images. Even though the binos are advertised as being night vision, due to the feedback received by this product, we wouldn't recommend it for that.
Additionally, the focus system is very easy to use, even by those who aren't accustomed to employing one. What's interesting about the Aomekie model is that, even though it's so affordable, it is waterproof and fog proof. Plus, it's even accompanied by a bag.
Pros
7x magnification makes it a good choice for your boating endeavors
A rugged exterior and good grip ensure durability over time
Anti-reflective coating on the optical components
Capable of offering you a bright and sharp image, especially during the daytime
IPX7 waterproof
Cons
The rubber eyecup isn't something worth writing home about in terms of durability.
5. Stellax ZoomX Binoculars 10×42 Waterproof Lightweight Prism BAK4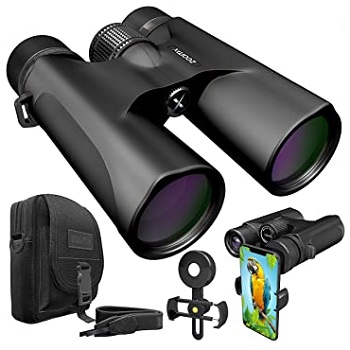 If your hands are steady and you're looking to watch wildlife as far as possible, the Stellax option should be a good choice for you. It comes with a 10x magnification and a 42mm objective lens diameter, so the field of view might not be something to look forward to.
However, binos can be used under a wide array of circumstances and for many activities from hunting to watching live sports. The neat thing about this unit is that it comes with fully multi-coated optical components, so the light transmission will definitely be on par.
Moreover, the binos weigh in at just 546 grams, which makes them very lightweight and compact. There is a smartphone adapter included with every purchase and it is compatible with a broad range of cell phones out there. You can take pictures with your phone of the things you'll see on the water.
Pros
The rubberized body makes it durable and convenient
BaK4 prism with ultra phase color correction for clear and bright images
Waterproof to IPX7 standards
The body of the binoculars is sealed and filled with nitrogen, so it's fog proof
Very easy to focus
Cons
Taking pictures from the smartphone attached to the binos is a bit awkward and might require an extra person to help.
6. WildVis 12×42 Binoculars Compact Waterproof Prism BAK4 FMC Lens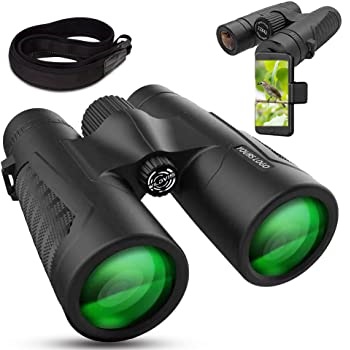 Should you be looking for a compact and lightweight option, this pair of binoculars by WildVis might be just what you need. The 1.25-pound weight makes the binos the perfect alternative for traveling, hunting, boating, and a variety of other outdoor activities. They have a plastic grip equipped with ridges so that you don't risk dropping them with ease.
What's also worth noting about these binos is that they come with a 12x magnification. So, unless you intend to use a tripod or your hands are super steady, we wouldn't recommend them. But if you do want to set them up in a fixed place on your boat, these are an excellent option.
The design of a rotating eyepiece boasted by this choice is great, too, and it also makes it possible for this pair to speak to the needs of folks who have never used binoculars in their life.
Pros
Sharp images on account of the fully multi-coated optical components
Very good 12x magnification and a 42mm objective lens diameter
Waterproof and fog proof, so you can use it even in inclement weather
Perfect for marine wildlife watching, traveling, explorations, and general boating
Backed by a one-year warranty
Cons
Focusing on the image might be a little challenging in the beginning.
7. Steiner Marine Commander Series Binoculars
If you want to get a pair of boating binoculars that lasts for a lifetime and that comes with all of the right features, this one by Steiner should be the one at the top of your list. The drawback, of course, is that it tends to cost a pretty penny, no matter the online marketplace you might check it out at.
However, the quality of the binos is undeniable. They feature a MAKROLON housing, meaning that they are both rubberized and rugged, but they're also reasonably lightweight. These binos are basically impervious to anything from the inclement weather to any impacts.
The 7x magnification is excellent for boating purposes, and so is the 50mm objective lens diameter. You can effectively submerge these binos under the water up to 33 feet and they aren't going to get damaged. They are that high-quality. Needless to say, they are both waterproof and fog proof, so you will be able to use them for a variety of activities and in many situations. They are probably going to last a lifetime.
Pros
Comes with an attached HD stabilized compass in a small frame for navigational ease
Lightweight and rugged chassis holds up to 11 Gs of impact
Bright and clear 3D images from 20 yards to infinity without you having to refocus
High-quality optical components
The eyecups eliminate side vision, so you can entirely focus on the image you're looking at
Cons
They call for a significant financial investment.
8. Hooway 7×50 Waterproof Fogproof Military Marine Binoculars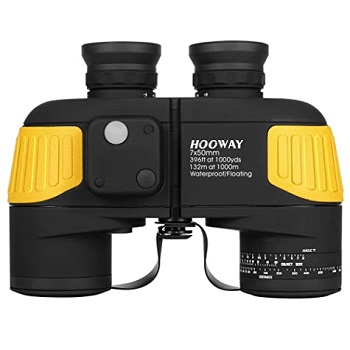 This is another good alternative that you should check out, especially if you are unwilling to break the bank for a pair of boating binoculars. The Hooway option comes with a 7x magnification, a 50mm objective lens diameter, and a 2mm eye relief. The eye relief pupil measures 6.8mm and the field of view is estimated at 396 feet at 1000 yards.
What's pretty cool about these binos is that they can put up with the abuse of the elements and impacts. The waterproof, nitrogen-purged design makes it possible for this unit to stand the test of time and resist inclement weather and still provide clear and bright images.
Moreover, the fully multi-coated optical components guarantee that you will always look at sharp pictures of whatever your subject of interest is. As for the non-slip rubber armor, it is definitely worth writing home about as it makes impacts less damaging.
Pros
Both an illuminated compass and an internal rangefinder are included in these binos
7x magnification and 50mm objective lens diameter make this a great choice for boating purposes
There is a tripod adapter fitting included in the design
Non-slip and ergonomic design
Comes with a carrying bag, a cleaning lens cloth, and two lens caps
Cons
The brand takes a while to get back in touch if there is any problem with the binoculars.
9. ESSLNB Marine Binoculars Compass Rangefinder 7×50 Waterproof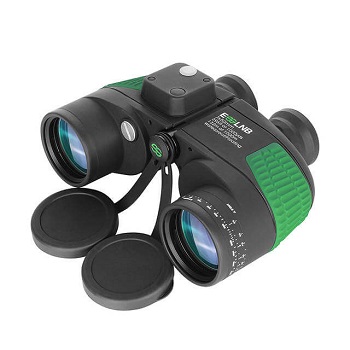 Being advertised as military marine binoculars, it goes without saying that these binos take the cake when it comes to reliability and durability. The 7x magnification recommends them for boating activities, and the 50mm objective lens diameter is large enough to allow plenty of light to penetrate the binoculars.
What's nice about these is that they are outfitted with an internal rangefinder scale, but also a built-in compass. You don't have to worry about having trouble with orientation and measurement.
The model is waterproof to IPX7 standards, so it can definitely hold up to the abuse of the elements or even you drop it into the water. It is also fog proof and dust-proof, so it is a great option for outdoor activities.
A unique feature that we have found on these binos is the fact that you can focus each ocular individually. So, for example, if you wear glasses and have different diopters in your eyes, you will be able to customize this model as per your sight.
Pros
Excellent rugged construction
BAK4 prisms and FMC green film anti-reflex coating ensure amazing light transmission
Suitable for a wide range of activities from navigation to hunting
Can be used in low light conditions
7x magnification and 50mm lens diameter
Cons
They are a little on the large side of things, so they might not make the best choice for backpacking.
Marine Binoculars Binoculars Buying Guide
As you might have noticed, there is a wide variety of binoculars currently available for sale, which can make the task of picking the right ones for your boating activities quite challenging. Luckily for you, we have decided to save you some effort. That is why we put together a straightforward guide on how to choose the right marine binoculars.
1. Magnification
The power of a pair of binoculars is basically defined by the magnification, although it is not the most important feature to look for in such an optical device. People tend to think that bigger is better, in this case, but the truth is that a 7x magnification does wonders for boating.
If you go for anything higher than that, you will experience problems with stabilizing the image. High-power binoculars are shaky, so you will need to mount the unit on a tripod to get it steady, for instance. There is a lot of moving and shaking going on when you are boating, so don't underestimate this aspect.
2. Type of Prism
There are two main kinds of prisms that are available in most binoculars. Porro prisms are a little steep, and the front lenses are separated. The majority of the models that you will stumble upon are outfitted with Porro prisms as they usually provide superior light transmission. Unfortunately, most of the units in this category tend to be heavy and they also don't take the cake when it comes to ergonomics.
The other type of prism used is called Roof. The binoculars with this kind of prism are basically straight. They are generally more compact and lightweight, so they can be used for outdoor activities that do not call for a lot of light — such as hiking or biking, for example.
Boaters are not that crazy about Roof prisms because they do not collect enough light or transmit it that well, especially when compared to their Porro counterparts.
3. Image Stabilization
This is an extremely useful feature to have, especially when you are boating. As we have noted already, things tend to get quite shaky when you are on the water, so you can't expect to be able to look at a crystal clear image when you are constantly moving about.
A pair of binoculars that come with image stabilization will immediately show you a crisp image of your subject of interest.
4. Eye Relief
What is the distance between the eyepiece and your own eyes? And why is it important? Well, this is perhaps one of the most important aspects to look at if you wear glasses or you want to use your binoculars while the sun is shining in the sky and you have a pair of sunglasses on.
Many of the models that we have come across come with rubber eyecups that actually cover the sides of your eyes. This means that you get to look at whatever interests you on the water and experience no light pollution.
You can also get binoculars with adjustable viewing, and these come with diopters that can eliminate the need for you to also wear glasses.
5. Exit Pupil
A larger exit pupil is synonymous with more light, so it will result in a brighter image on the whole. Because this is not a value that some manufacturing companies are going to disclose in their product descriptions, we suggest that you calculate it yourself.
The way you can do that is by dividing the objective lens diameter by the magnification factor. In general, it is a good idea to get a pair of binoculars that come with an exit pupil which measures at least 5mm.
6. Fogproof and Waterproof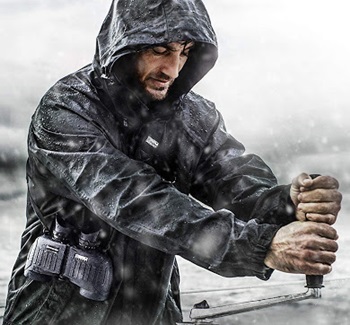 High-end binos are fog proof, meaning that the image remains crystal clear even when there are significant temperature changes in the outside environment compared to the one inside the binocular.
Manufacturing companies typically use two processes to fog proof binoculars, but we aren't going to go into too much detail. Binos can have either resistant coatings on the exterior and interior, or they can be nitrogen gas purged. This is a very nice feature to have if you do your boating in warm and cold weather alike.
As for the waterproof design, it goes without saying that it is necessary as the elements might affect the binos otherwise. Keep in mind that water-resistant is not the same as waterproof and that the latter is the best of the two.
7. Optical Components Quality
It is difficult to tell whether the binoculars you will invest your hard-earned cash income with high-quality optics or not. But we'll give you a tip. You can check just how the glass inside is coated. It can be advertised as being coated, multi-coated, fully coated, or fully multi-coated, with the latter being excellent and capable of the best light transmission.
Extra low dispersion glass can also decrease the levels of chromatic aberration where you visualize small rainbows at the edges of the image. BaK-4 glass is considered better than BK7, so this is another detail to look for.
8. Field of View
The FoV refers to how much you actually get to see when you look through the binoculars. It is typically measured at 1,000 yards and expressed in degrees. The field of view is quite important if you want to track the movements of a moving target. It might not be as important for boating binoculars, though, but it certainly comes in handy for birding models.
Wider field of view binos has a series of drawbacks that have to be considered, too. Generally, a wider field of view is associated with poorer image quality.
9. Objective Lens Diameter
This is perhaps the easiest to explain the feature you should bear in mind. The bigger the objective lens diameter, the more light will be able to penetrate the interior of the binocular.
As you know, when it is pitch dark outside, you rarely get to see anything through a decent pair of binos. But if they have large objective lenses, they will try to gather light from the environment so as to show you an image of your object of interest. Most marine binoculars come in a 7x50mm size, which means that the objective lens is 50mm. This is usually enough for this type of activity.
10. Extras
Some marine binoculars come with internal compasses or rangefinders, and these two can be two very neat additions. The compass effectively consists of digital bearings and compass overlays, and the latter will show in real-time as you look through your binos. You can tune the compass depending on the region you are in.
The rangefinder is displayed on the 'screen', and when it is combined with the compass, you can actually see how far the object of interest is in relation to your position.
11. Rugged Design and Grip
Marine binoculars have to be as durable as possible because there is always the risk of the boater dropping them into the water. If they are buoyant and they are waterproof, they will simply float on top of the water, allowing one enough time to grab a hold onto them.
Ideally, you should choose a model that comes with a ridged rubber grip. This will ensure that you hold it properly and at the same time if you do drop it on a hard surface, it is not going to get damaged.
12. Warranty and Cost
You can tell whether the unit you are about to invest your cents in is high-quality or not by looking at the warranty it is covered by. Some models are backed by lifetime warranties, which might be incredible, but it does happen. You are going to see that this does occur only with pretty expensive units made by extremely well-known brands.
As for how much a pair of marine binoculars costs, it depends on how much you are willing to spend. If you don't want to get a marine-specific model, you can invest in a budget-friendly hiking one, which will set you back anything between fifty to seventy bucks.
On the other hand, if you are willing to make an investment and get the best pair of marine binoculars out there, expect to pay anything from several hundred dollars to several thousand.
How to Use Marine Binoculars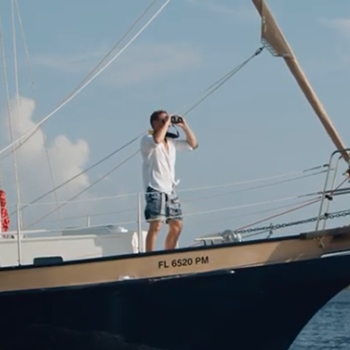 Using your marine binoculars depends on the type that you own. For example, if you have one that comes with variable zoom, you will find that there is usually a central knob in-between the two objective lenses, with the help of which you can customize the zoom.
Variable zoom optics do come with several downsides, however, and most boaters will agree that they don't offer the same accuracy as fixed zoom binos. If you wear glasses, try to adjust the eye relief as best as possible and as per your needs.
Other than that, it would be a good idea to invest in a good strap so that you can keep your binos around your neck. This will ensure that they don't get into any potential trouble and risk suffering damage. If they are always around your neck, they can't slip or drop from anywhere on your boat.
Even though most binos made for boating are waterproof and quite rugged, it is still a good idea to avoid exposing them to a variety of dangers. Protecting your investment will lead to you being able to use it for many years to come.
FAQs About Marine Binoculars
1. What Strength Binoculars Do I Need?
The strength or power of a pair of binoculars typically refers to their magnification. It is wise to avoid investing in high-power binos for the purpose of boating. However, these can prove their value under different circumstances, such as astronomy binoculars, for example. If you are a stargazer, you definitely need the biggest zoom you can get.
But with most boating binoculars, you aren't going to need more than a 7x or 8x magnification. This so-called strength means that you will see the object of interest as if you were seven times closer to it than you are.
2. How to Clean Marine Binoculars?
First of all, do not try to disassemble your binoculars, even if you intend to give them a good cleaning. If the manufacturing brand has included some cleaning instructions for binoculars or even a cleaning tool, then be sure to read those and use that. It is also paramount to utilize a cloth that's made for lenses. If it is too abrasive, it is going to scratch them.
Any fabrics that can be just slightly abrasive can have a significantly negative effect and damage the optics, and if they are expensive, you are going to ruin a perfectly great pair of binoculars.
If you do not know how to clean your binoculars, you can always get in touch with the manufacturing brand's customer service and ask them for a recommendation in terms of cleaning tools or solutions.
3. Are Marine Binoculars Good for Astronomy?
There is a clear answer to this question and it is a clear 'No'. Unfortunately, boating binoculars, as capable as they are of excellent performance, will not offer you what you are looking for if you want to look at the stars. The reason for this is that astronomy binoculars have to have the highest magnification possible.
In some respects, they should be comparable to telescopes. Otherwise, if they don't have that high a magnification, you really are not going to be able to look at much else other than the moon.
Wrap Up
While it might be true that getting the best marine binoculars does call for some time invested in the right research, at the end of the whole process, you will be able to select the perfect model for your endeavors. We would advise against opting for a model that can be used for outdoor terrestrial activities such as hiking or hunting, as these units don't usually come with the right features.
Last, but not least, read as many marine binoculars reviews as your time allows you to. Other boaters that have tested the same model that you might be considering can tell you both about its pros and about its cons.