You only need one reason to get the best boat grill: few things are as relaxing as eating a juicy steak with a cool, summer breeze in your hair and water all around you. Sadly, getting the right model can be quite challenging.
That's why we put together a selection of boat grill reviews of several of the products that are loved by boaters across the world. These models are convenient, rugged, and dependable, and will offer you years of headache-free service.
PRODUCT
DETAILS

Cuisinart CGG-180T Petit Gourmet Portable Tabletop Gas Grill Red

Price: $$
Customer Rating: 4.3
Weight: 13.5 lbs
Size: 12.2 x 18 x 12 inches
Material: Aluminum & others
Fuel: Gas

View On Amazon

Weber 121020 Go-Anywhere Charcoal Grill Black

Price: $
Customer Rating: 4.6
Weight: 14.53 lbs
Size: 14.5 x 21 x 12.25 inches
Material: Steel & others
Fuel: Charcoal

View On Amazon

Char-Broil Grill2Go X200 Portable TRU-Infrared Liquid Propane Grill

Price: $$
Customer Rating: 4.1
Weight: 20 lbs
Size: 23.7 x 15 x 13.6 inches
Material: Cast aluminum & stainless steel
Fuel: Propane Gas

View On Amazon

Magma Marine Kettle Gas Grill Stainless Steel Adjustable Control Valve

Price: $$$$
Customer Rating: 4.5
Weight: 9.2 lbs
Size: 15.6 x 15.3 x 6.5 inches
Material: 18/9 polished stainless steel
Fuel: Gas

View On Amazon

Cuisinart CCG-100 GrateLifter Portable Charcoal Grill

Price: $$
Customer Rating: 3.9
Weight: 27 lbs
Size: 17.7 x 18.5 x 15.4 inches
Material: Porcelain enamel & others
Fuel: Charcoal

View On Amazon

Camco 57305 Olympian 5500 Stainless Steel Portable Boat Grill

Price: $$$
Customer Rating: 4.2
Weight: 26.1 lbs
Size: 14.2 x 25.5 x 17.5 inches
Material: Stainless steel
Fuel: Propane

View On Amazon

Masterbuilt Smoke Hollow Propane Grill Tabletop (Newer Version)

Price: $$
Customer Rating: 4.2
Weight: 20.9 lbs
Size: 17.2 x 27.4 x 12.1 inches
Material: Stainless steel
Fuel: Propane

View On Amazon

Kuuma Stow and Go Propane Mountable Grill Great for Boating

Price: $$$
Customer Rating: 4.3
Weight: 16 lbs
Size: 28 x 13 x 13 inches
Material: Stainless steel
Fuel: Propane

View On Amazon
Best Boat Grill Reviews
1. Cuisinart CGG-180T Petit Gourmet Portable Tabletop Gas Grill Red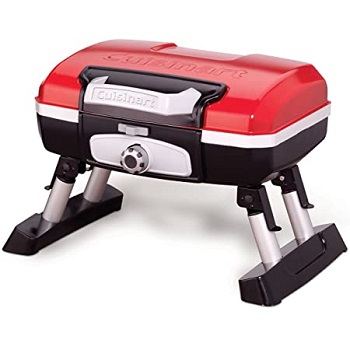 Although it's one of the smallest options in this line, you will find that this gas grill is also one of the most convenient units out there. It's easy to use by anyone, whether they have used a boat grill before or not, and it cooks as many as eight steaks, eight burgers, four pounds of fish, and six to ten chicken breasts.
As for the performance of this model, you don't have to worry about anything. It features a powerful 5,500 BTU stainless steel burner, and it also comes with a porcelain-enameled grate, which is known for heating up food evenly.
The feet are aluminum, which means that you'll effectively be carrying the weight of the main unit when moving it from one spot to the next. You can stabilize the grill in just several seconds. Besides, the lid has an integrated lock, so safety is ensured, too.
Pros
Comes with a 145-square-inch grilling area
Legs are foldable and made of aluminum
The briefcase-style carrying handle makes this unit easy to carry
Weighs in at just 13.5 pounds
Sizable grilling surface in spite of its compact size
Cons
Since this is an older model, if you will want to repair it in the future, you might find that parts are no longer available.
2. Weber 121020 Go-Anywhere Charcoal Grill Black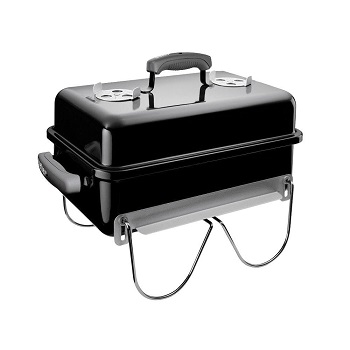 If you like the taste of charcoal-grilled specialties, you're likely to enjoy using this alternative. It can hold up as many as six burgers made with the brand's proprietary burger press. Like some of the other models we have showcased here, this one is also lightweight and compact, so you can carry it easily and conveniently.
Since the lid and base are both porcelain-enameled, they can keep heat inside the grill no muss, no fuss. They aren't going to peel or rust in the long run, either, and you know that durability is always a concern with grills.
Additionally, you might want to know that the lid locks, so you can safely control the grilling process. The dampers also let you control the temperature inside the grill. As for the cooking grate, it's made of durable material and is plated with steel. Therefore, it retains heat quite well and it's also more or less easy to clean.
Pros
The primary cooking area measures 160 square inches
Can be used to feed two people
Convenient carrying handles allow you to grill and go
Plated steel legs for enhanced durability
Weighs in at about 14 pounds
Cons
It makes some noise, which might bother some boaters or their family
It's not that easy to clean based on some of the consumer reports we have come across
3. Char-Broil Grill2Go X200 Portable TRU-Infrared Liquid Propane Grill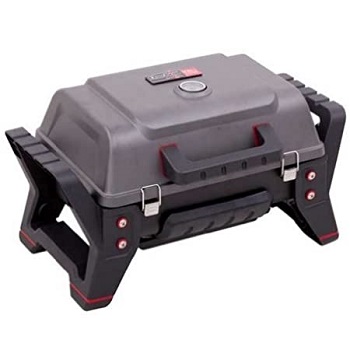 If you want to take your grilling on the go, this is another model that you should jot down on your list. It has most of the features you might ever want from a dependable boat grill from a rugged die-cast aluminum construction to a lid-mounted temperature gauge.
What's interesting about it is that it also comes with a TRU-infrared cooking system, so flare-ups aren't something you will have to worry about. The push-button ignition makes it easy to use. In terms of durability, you will be happy to know that this model comes with sturdy construction and portability-specific features.
This allows you to use it under any circumstances and in many places. Nobody said that you should only use it on your boat — take it with you when you're tailgating or camping or when you want to spend a day with your family at the beach. We say this one is worth looking into.
Pros
High-impact frame with legs and side carrying handles make it highly portable
200 square inches of cooking space
Stainless steel grates
Works with 1lb propane tanks, connected on the side of the grill
The TRU-infrared cooking system makes it safe to use
Cons
Some users recommend getting the Bayou control valve to better customize the grilling process.
4. Magma Marine Kettle Gas Grill Stainless Steel Adjustable Control Valve
As basic as it might look, the Magma marine option is one of the most effective ones we have found. It's capable of excellent performance and that's due to the quality of the craftsmanship employed in its construction. It's made of 100% polished stainless steel and that makes it very easy to clean.
The hinged lid is a cool feature as it makes it impossible for the wind to interfere with the grilling process. Furthermore, since the Magma product is outfitted with a windproof turbo venturi and control valve, it makes it impossible for blowouts to happen.
To control the cooking temperature and make sure that no mishaps occur, the grill relies on a double process — radiant and convection cooking with its burner and its high-tech radiant plate. As is the case with other models in the same line, the fuel canister is not included with this purchase, but neither is the mount.
Pros
Works with standard 1-lb propane canisters or can be adapted to CNG systems
Made with high-quality stainless steel parts
Easy to clean and easy to grease
It comes to temperature very fast
It's known for keeping an even temperature across the plate
Cons
The lid can drip grease because it's better than the bottom.
5. Cuisinart CCG-100 GrateLifter Portable Charcoal Grill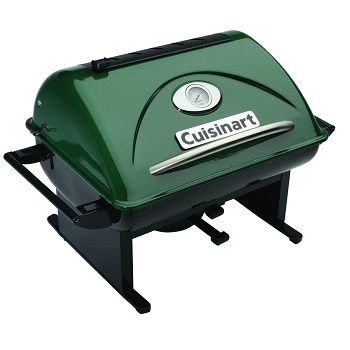 If portability is the most important aspect you are looking to get from a boat grill, perhaps you should check out the features of the CCG-100 model by Cuisinart. It's got a unique lift system that allows access to the charcoal bed without you having to touch the cooking grate.
Besides, the 240-square-inch cooking surface makes it more than sizable enough to feed your entire group of friends. The porcelain enamel cover is known for standing the test of time, but so is the sturdy base.
What's also worth noting about this unit is that it has been designed with accurate temperature management so that the airflow system stays on par. The convenient lid-mounted temperature gauge makes it easy for anyone, regardless of their cooking skills and experience, to have complete control over the process.
Last, but not least, this unit comes with a collection bin for the ash, which makes cleaning even easier.
Pros
Enamel-coated steel grill lid keeps all the elements out and maintains the temperature
Heat-resistant stainless steel lid handle
Dual ventilating system
Rugged one-piece welded grill base
240-square-inch cooking surface
GrateLifter system for excellent portability
Cons
Because of its ceramic construction, the lid can be a bit too heavy.
6. Camco 57305 Olympian 5500 Stainless Steel Portable Boat Grill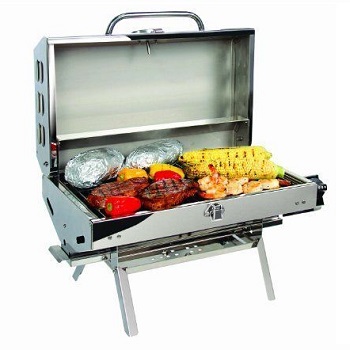 If you'd like to take your grilling to a whole new level and you have nothing against investing in a better quality grill that lasts for as long as possible, this one should be right up your alley. The Camco 57305 is definitely capable of excellent performance, with its 12,000 BTU per hour.
This unit is actually made to work with an RV's low-pressure system, but it can also be utilized with disposable 1-pound, 5-pound, or 20-pound cylinders. The 180-square-inches of cooking surface tells you what you should know about this model — that it can feed your whole family even while you're out on the water.
Another aspect that we'd like to note about this unit is that it comes with a quick-connect valve and a quick connect hose included and that it's also outfitted with an integral safety shut-off valve. The latter prevents accidental fuel discharge.
Pros
180-square-inch cooking surface
Piezoelectric spark starter lasts for up to 20,000 starts
Can be used with disposable tanks and low-pressure systems
Made of rugged and easy-to-maintain stainless steel
Folding feet for easy setup
Backed by a one-year warranty
Cons
The smoker plate doesn't take the cake when it comes to durability, so you might have to replace it within a year or so.
7. Masterbuilt Smoke Hollow Propane Grill Tabletop (Newer Version)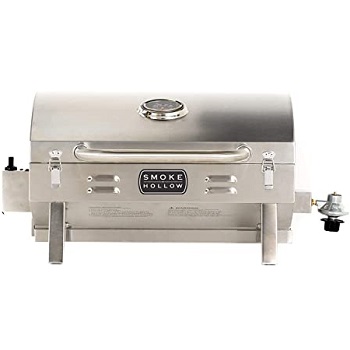 This propane grill can be used in many situations, whether you'd like to go camping, tailgating or have a nice and fun meal while you are out on the water. It features a cooking surface that measures as many as 288 square inches, so it should be large enough to feed your entire group of friends.
On top of everything, you might want to know that the Masterbuilt model is outfitted with a 10,000 BTU stainless steel U-shaped burner, which basically ensures maximum heat distribution. As for portability, it's one less thing to worry about since this one comes with a locking lid, as well as folding legs.
Durability is a feature that you will get to benefit if you decide to invest in this grill. The warming rack is chrome-coated and the grill has an overall stainless steel construction. Installing and using this model is a breeze, especially since it is equipped with a push-button ignition that lights up the burner fast and easily.
Pros
Compact design, folding legs, and locking lid make it portable
Works with disposable 16-ounce cylinders
305 square inches of total cooking area
Can be used for boating, camping, picnics, tailgating or backyard grilling
Weighs in at almost 21 pounds
Cons
Based on the reviews it has gathered, it takes a bit to get used to.
8. Kuuma Stow and Go Propane Mountable Grill Great for Boating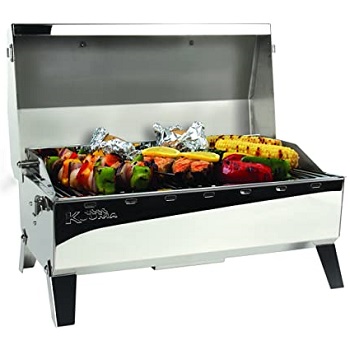 The Kuuma alternative definitely speaks to the needs of those that want to save as much space on their boat as possible. It can be mounted outside your watercraft, which means that you aren't going to have to deal with a lot of cleaning following the grilling process.
Being designed to be used with standard fuel bottles or larger refillable tanks, this one is convenient, easy to use, and also reliable. It's made of 100% stainless steel, so durability is one less thing to worry about. There is no assembly needed on your part, so you can use it right out of the box.
There is one caveat, however, and it's that you aren't going to get the mounting bracket included in the purchase. This means that you should buy it separately, along with the rest of the accessories. Even though it is slightly smaller than some of the other products out there, this one gets the job done and it is also reasonably lightweight.
Pros
Cooks great and is a great size for a boat
Works with standard or refillable fuel bottles or tanks
Made of durable materials
Comes with a removable grease tray for convenient cleaning
Cons
The finish can dull and the back of the lid can get stained after a while.
What Is a Boat Grill?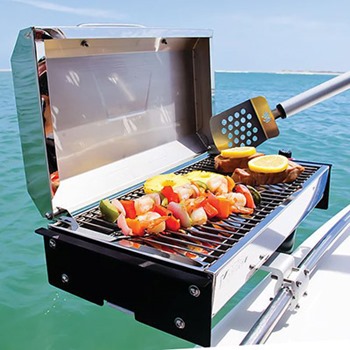 If you have ever searched for boating equipment, you probably know that it is a little different than the gear made for terrestrial activities. You can't compare the construction of boat seats, best marine solar panels, or even top-rated boat carpets to their regular counterparts. The first is always going to be a lot rugged, and that's the exact case with boat grills, too.
Should you have taken the time to have a look at our selection, you might have noticed that some of the grills that we have showcased here can be installed on the outside of the boat.
Therefore, another aspect that makes the difference between a regular grill and one that should be used in marine conditions is that it helps you save space on your watercraft. Besides, with this design, you don't have to worry about getting grease on your chairs or anything else on your boat.
Benefits of Having a Boat Grill
Grilling on board can be a lot of fun and it can combine a hobby with one of your favorite productive pastimes, such as fishing. Here are some of the advantages that you will get to enjoy if you decide to invest in a good-quality marine grill.
1. Freedom
With the exception of those grills that have to be installed on the side of your boat and you can't uninstall them quickly and easily, later on, most boat grills are portable. In fact, some of them can be used for tailgating and others make perfect options for RVers.
This versatility comes from the design of these units, in that they take the take when it comes to portability. So long as the materials are durable and the model is truly well-built, there shouldn't be anything stopping you from using it in many other situations, not just for boating.
2. Ease of Use
Because working with a grill has to be done safely, the units in this line are outfitted with a variety of safety features. Locking lids are very common, especially in the portable grills that have to be kept in the boat.
The majority of those that you will stumble upon has a user-friendly design, which means that anyone can use them, regardless of their technical skills. We still wouldn't advise letting children handle the grill, but the fact is that their straightforward build allows them to be used by anyone.
3. Easy to Maintain
Because saltwater, specifically, can inflict a lot of damage onto metal parts, most of the grills that are advertised for boating activities will be made of stainless steel parts. On top of that, many of them will be easy to clean and maintain, so durability is one less thing to worry about.
Prolonging your grill's life can be done conveniently and effectively, so long as you take a bit of care of it. You can use a heavy-duty brush to remove any leftover food parts and if your grill comes with a grease trap, you should take it off and clean it thoroughly. Plus, giving your grill a neat wipe-down at the end of the day is the best way of preventing rust and corrosion in the long run.
Types of Boat Grills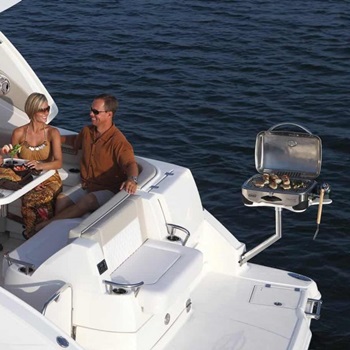 The fuel used is the factor that makes the difference between one boat grill and the next. Some rely on propane, others on charcoal, and there are many nowadays that use electricity to do their job. We will discuss all of these in the sections below. As you can expect, each of them has both advantages and disadvantages.
1. Propane Boat Grills vs. Charcoal Boat Grills
Propane is the number one choice of most boaters out there, and for a good reason, too. It is one of the most affordable fuels that are currently available, and the fact that it is also readily available is a pro in itself. It can be found in small and large bottles alike, so you can pick the one that best suits your needs.
Small bottles are convenient particularly because they can be stored easily. Propane-powered alternatives come in a variety of sizes, styles, and prices, and they can cost anything from a few hundred to thousands.
Charcoal boat grills rely on the charcoal to do their job properly. The only benefit you will get if you decide to go down this road is that unique BBQ, charcoal-broiled taste. Other than that, there aren't many reasons to consider a charcoal grill these days. It heats up slowly, it calls for the use of an accelerant, and it can be quite dangerous since the risk of flares can't be denied.
You almost always have to use a fan with a charcoal boat grill, which means that some of those sparks might get on other things in your boat and potentially light them up. As inconvenient as they might sound, charcoal options still have their fans. The safest ones should be installed outside the boat, meaning on a handrail or on a rod holder.
2. Electric Boat Grills
If you have electricity on board and it's capable of sustaining appliances that consume more than 2,000 watts, this would be a great choice. But keep in mind that you are likely to use other electronic devices, too, such as outlets, a charger for your phone, maybe a mini-fridge, and other such things that can make your boating more enjoyable.
The main benefit of opting for an electric boat grill would be that it heats up quickly and it doesn't produce any open flames or embers. On the other hand, they do not address the needs of those that own small boats, with power that's not capable enough to handle the demands of such a grill. They do work with large yachts that have kitchens, though.
Boat Grill Buying Guide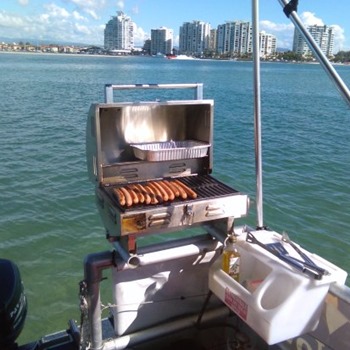 As you might have noticed, the variety of marine grills currently available for sale can make it a little difficult for you to pick the perfect one for your needs and preferences. To save you some time and trouble, we have created a straightforward guide that should take you through all of the important factors that you ought to consider in such a product.
1. Material
A boat grill will be exposed to the elements throughout its life, and that includes heavy wind and saltwater. Both of these can inflict significant damage on the product, and if you don't want one that fails to meet your expectations after a short amount of time, you will have to look for a well-made one.
The best option when it comes to the materials that a boat grill can be made with would have to be stainless steel. If you use the appropriate cleaning products, you can clean it with ease, and you can rest assured that the housing, grates, and everything else, are not going to rust or corrode over time.
Stainless steel varies too, unfortunately. The amount of nickel it contains can ensure better or poorer rust-resistance. The more nickel in the stainless steel, the better it is. 18/10 would be the best to choose from the three options now available — 18/10, 18/8, and 18/0 (where the last contains no nickel and the first contains the most).
2. Grilling Area
The grilling area isn't synonymous with the size of the grill per se. It refers to the dimensions of the actual area that you will use for cooking.
In most models that we have come across, it can be anything between 400 to 1200 square inches. It's quite smaller than what you'd get with a real-size grill, but you can't expect a lot from a compact alternative like a marine grill.
3. Burner
There are usually one to two burners on a marine grill, and that's because otherwise, it would have to be bigger. Full-size barbecues have as many as four or even six burners, but a boat grill is a more lightweight and compact version. A 2-burner grill is more than adequate for your needs and those of a boating partner, for example.
However, if you are looking to cook both veggies and steaks for yourself and your whole family, you might have to look for a model that comes with several more burners.
4. Warming Rack
If you also want to toast several hamburger buns or you just want to re-heat a dish you've already prepared, a warming rack can be a feature to look for in your future marine grill.
On the other hand, if you don't think this will be a necessary extra, and you think that you'll eat your food right after grilling it, you might not find this to be a deal-breaker.
5. BTUs
BTU stands for British Thermal Unit. This value is utilized to measure the heat output that the grill can produce. The higher the value, the more heat is produced. 20,000 BTUs should be more than enough for any boater, no matter their grilling necessities. Sometimes, a higher BTU value can lead to faster charring and burning, so do keep that in mind.
6. Ease of Setup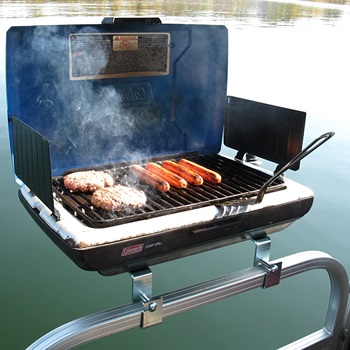 There are roughly two kinds of marine grills out there. Some sit on a surface inside your boat, but others can be installed on the side of your ship. Those that are attached right to the boat are more convenient because they help you save space, but you do have to make sure that your boat construction is able to support the extra weight.
In any case, make sure that the unit comes with its own mounting kit. If not, at least see whether there is any commercial one advertised by the manufacturing company and that's perfectly compatible with the grill you are looking to invest in.
7. Size and Weight
It goes without saying that the dimensions of the grill matter a lot because they have to match the amount of space you have available for it on your boat. If you don't have a yacht with a real kitchen, you need to be really careful about picking a grill, especially if your boat space is limited.
As for the weight, it is also important for a number of reasons. If you want it to be portable, you will have to carry it from one spot to another. Even if you don't want to use it under other circumstances and for other activities, you'll still have to disassemble and carry it at the end of the season.
Make sure that your watercraft is capable of supporting the additional weight of the marine grill. If there's too much weight on your boat, there's always the risk of it sinking into the water. For boats that are very small, you might have to forego getting a grill altogether.
8. Convection Grilling
Indirect grilling is what happens when the lid of the boat grill is closed and there is no possibility for the hot air to circulate. If you aren't looking to just make some burgers and you're also looking forward to cooking some nice steaks, you should consider a product that comes with this feature.
To ensure appropriate convection grilling, the lid has to close properly, so look for the quality of the craftsmanship.
9. Warranty
Getting a good warranty is essential if you are looking for a high-quality product that lasts. Expensive items have parts that might have to be replaced at one point, and there are warranty policies that might cover just this.
If the brand is reputable, it will almost always offer a decent warranty. For your safety and convenience, we would advise against investing in a grill made by a brand that you've never heard of before or just a product that hasn't even received enough consumer reports.
10. Use
The grill has to be easy to use, but you do have to consider its location and whether it is appropriate for boating. If you get a grill that doesn't come with any safety features at all and that's not even advertised for marine activities, you might find it dangerous to utilize.
Ideally, the product should be installed in a fixed place, but we do understand if you want to invest in a portable alternative that you can use in other situations, too. Just make sure that it comes with a cover or some other type of safety characteristic that can protect you from flares and getting yourself burnt or the nearby areas of your boat.
Maintenance & Safety Tips for Boat Grills
Safety can be extremely important when you are out on the water. Keep in mind that some countries will not allow you to have a grill installed on your watercraft, but that also depends on the size of your vessel and whether or not it is anchored. Here are some useful pieces of advice that you should consider.
1. Safety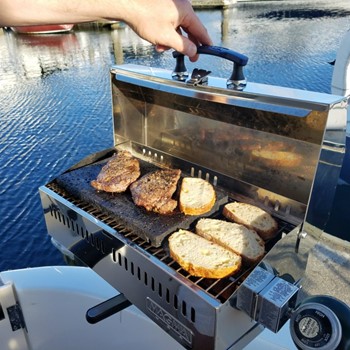 Make sure that all of the connections are safe before even starting the grill. This includes electric and propane-powered options. Check the hoses, the tubes, the valves, and the power outlet and/or cables before starting to use your grill.
Avoid leaving the grill unattended at all costs. If you are done with cooking, shut it off. Leave it to cool down before storing it because you never know when the remaining heat might light something on fire.
As for how you can light up the grill, there are some special things you are supposed to do that task with — such as charcoal lighter fluid. Do not use kerosene or gasoline for the purpose. Last, but not least, do not throw any of the food remnants, ashes, or charcoal into the water. Instead, dispose of it when you reach the shore.
2. Maintenance
Cleaning your grill after each grilling session is the best advice that we can give you. Even though you might feel a little lazy after such good food and spending time with friends or on the water by yourself, you do have to consider that skipping this step will make things harder for you afterward.
Regular cleaning with a hard brush and even special cleaning solutions is necessary. However, at the end of the season, you should take your boat grill apart and clean every component individually. Check all the burners and the gas line to make sure that no cracks are present.
FAQs About Boat Grills
1. How to Clean a Boat Grill?
For this task, you will need several tools and materials, such as hot water, a metal scraper, an oven cleaner, a garden hose, a dry cloth, some soap, cold water, as well as a scouring pad. Begin by cleaning the grill grates with the metal scraper. If it's very dirty, you will have to use an oven cleaner and leave it for several hours. Then use the metal scraper again to clean it and use water to rinse everything.
The interior of the grill can be cleaned with soap and hot water. You can also use a scouring pad to get rid of any gunk that might exist on the inside. Check the gas lines for any signs of corrosion and if you do see any, cover them with a thin layer of soapy water.
The exterior of the grill can be cleaned differently depending on the material that the grills are made of. While stainless steel grills don't tend to rust, you will have to use some mild abrasives to get rid of liquid spills and food waste that might exist on the grills' surface. Rinse everything at the end of the process and dry with a clean cloth.
Enamel or painted grills can be cleaned with a soft-bristled brush and soapy water. Just make sure to sand and prime the parts that are at risk of corroding.
2. How to Use a Boat Grill?
Grilling on your boat isn't all that different from grilling in your backyard or wherever else. Stick to the safety tips that we have highlighted above and make sure that you take some time to read the manual before using the grill for the first time. Make sure that the unit is securely mounted before anything else.
If you are afraid of flares and other such mishaps, you might want to consider wearing grill-safe clothes, particularly when using a model that sits inside your boat. The ones that are installed on one side of the boat are a little less dangerous to work with. Last, but not least, use the right grilling utensils and make sure that they are long-handled so that you don't come close to the fire.
3. How to Install a Boat Grill?
There isn't a straight answer to this question, unfortunately, because as you can expect, there is a lot of variability from one model to the next. The ones that are more complicated to install are those that have to be mounted on the boat, meaning you will have to use a screwdriver, screws and anything else that might be available in the mounting kit.
Make sure that you read the instructions before tackling the process both because you wouldn't want to damage your boat and because you don't want to do the same with the grill.
4. Where to Put a Grill on Your Boat?
You should always use a grill in the safest possible location on your watercraft. We recommend models that can be set up on one edge of the boat specifically because they are safer to use. Ideally, you should look at how flammable the things around the grill could be.
Also consider that things like furniture, especially upholstered boat seats, for instance, can easily get damaged because of the neighboring heat. Therefore, it would be perfect if you could place it in a location where nothing else surrounds it.
5. How to Make a Mount for a Boat Grill?
You can get a little creative if you have to, especially if you don't want to get one of those fancy and potentially expensive marine grills currently available. If you get a regular model, check out the Internet for a variety of tutorials on creating your own mount.
From what we have gathered, you could remove a traditional grill's folding legs and swap the nut on the bolts for a wing nut and then stow the legs to use them in other situations. You might have to drill two or three holes into the grill and even use a grinder.
Wrap Up
As you might have noticed, getting one of the best boat grills out there can be a true challenge these days. Whatever the model that you will end up choosing, make sure that it is perfectly safe to use and that you have installed it properly. Keep kids and pets away from it as best as possible because they can always get in trouble. The last thing you might want is to treat a bad burn in the middle of the ocean.
As a final note, we recommend that you take some time and go through as many boat grill reviews as you can. Most often, brands can present just the best side of their products, but real boaters can tell if there is any issue you might have to deal with if you opt for one model or the next.