It's so easy to get your boat damaged when passing other vessels and tying to the docks, especially if you don't have the best boat fender already installed. This piece of marine equipment can help you protect your boat from harmful impacts but also make it appear a bit bulkier, and thus, more attractive.
If you have never used these before but you want to ensure the exterior of your boat remains sleek for many years to come, check out our reviews. These also include the best boat fender cover – an additional piece of equipment that protects the fenders and adds another layer of protection to your boat.
See The Quick Comparison Chart
What Actually Are Boat Fenders and How Do They Work?
Boat fenders act like a safeguard to your vessel. You can call them a barrier or a cushion – either way, this piece of marine equipment acts like a tampon zone between your boat and other boats, as well as the pier and dock.
If you wouldn't be using fenders, your boat would get easily damaged due to numerous impacts it faces when you are on the water. Thus, boat fenders absorb shocks that would make even the newest hulls look like they are at least a decade old.
So, now that you know why it is essential to protect your boat with fenders, let's jump to another important section – types of boat fenders.
Types and Uses of Boat Fenders
1. Cylindrical/Long/Walking Fenders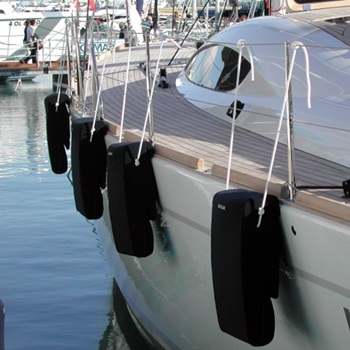 The most common type of boat fenders – cylindrical, long, or walking fenders are installed either horizontally or vertically. Depending on your vessel's size, fenders will hang from cleats, lifelines, or railing.
Subcategories of this type of fender include center-cored long fenders and two-eyed fenders. Both types work great and you choose them by preference.
Cylindrical fenders work best with protecting your boat during docking. If you mount them horizontally, it will be much easier to attach them to the dock as you will have two attaching points that secure the tie.
2. Round/Ball Fenders
Ball fenders are named like this due to their shape. Round, filled with air, made of sturdy materials (usually it is plastic), these boat fenders are robust and reliable.
Due to their shape, these fenders absorb impacts effortlessly. Using them is a breeze too. Just throw it overboard and it will protect your boat from damage. This type works best when moving through tight spaces, surpassing other sailboats, or when you are going in or out of locks.
Don't get confused if you find round/ball fenders under the name of standby fenders. Their strongest point is that they are versatile. You can use them to protect your boat but to mark your anchor location as well.
3. Specialty Fenders
Specialty boat fenders have limited usage. For instance, these can protect rub rails or gunwales with boats that have low freeboards. One of the subcategories of specialty fenders – fender cushions prevent algae and mildew piling on your boat.
You can mount transom fenders if you want to protect the stern or the swim platform of your boat. Generally, specialty fenders are more affordable than round and cylinder boat fenders but still add solid protection to your vessel.
Best Boat Fenders Comparison Chart
PRODUCT
DETAILS

Polyform G Series Boat Fenders

Price:

$$

Customer Rating:

4.7

Weight:

20 pounds

Size:

3.5 x 12.8 inches

Boat Size:

Under 10 ft.

View On Amazon

Extreme Max 3006.7204 Boat Fender Value 2-Pack

Price:

$

Customer Rating:

4.6

Weight:

2 pounds

Size:

6.5 x 22 inches

Boat Size:

17 ft. to 22 ft.

View On Amazon

Polyform A-Series Buoy

Price:

$$$$

Customer Rating:

4.7

Weight:

60 pounds

Size:

11.5 x 0.6 inches

Boat Size:

Up to 20 ft.

View On Amazon

VIVOHOME Vinyl Ribbed Marine Boat Fender for Shield Protection

Price:

$$

Customer Rating:

4.6

Weight:

10.1 pounds

Size:

6.5 x 24 inches

Boat Size:

8 ft. to 2 ft.

View On Amazon

X-Haibei Pair of Boat Fenders Ball Round Anchor Buoy

Price:

$$

Customer Rating:

4.4

Weight:

40 pounds

Size:

9.8 x 2.2 inches

Boat Size:

Small boat / yacht / boat dock / yacht dock

View On Amazon

Taylor Made Products 952520 Inflatable Vinyl Boat Fender

Price:

$

Customer Rating:

4.3

Weight:

2 pounds

Size:

5.5 x 20 inches

Boat Size:

15 ft. to 20 ft.

View On Amazon
Best Boat Fender Reviews
1. Polyform G Series Boat Fenders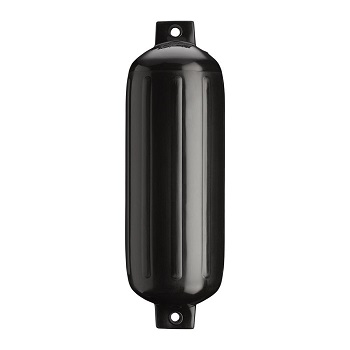 The Polyform boat fender falls into the category of high-end products in this category. Although you might notice this unit adds some weight to your vessel, it is very handy when you need to tie it up to docks and holds are like no other so you don't have to worry about your boat fender going flat.
As one of the top-notch products on the market, the Polyform boat fender can withstand a lot of wear and tear and it will hold air impeccably even after years of use. The heavy rubber construction is the key to its air holding capacity while this material doesn't damage vessels, which comes as a bonus to the overall quality of this boat fender.
Another feature you might appreciate is that you can adjust the pressure so the fender is more compatible with the size of your boat. Specifically designed for marine applications, the Polyform boat fender will contribute to having a pleasant stay on the water and will protect your vessel for many years to come.
Pros
The color won't fade or rub off over time,
Suitable for most vessels,
Puncture-proof bumper.
Cons
Some customers might mind foul chemical odors this boat fender gives off when unpacked, but it will fade away after a couple of days.
2. Extreme Max 3006.7204 Boat Fender Value 2-Pack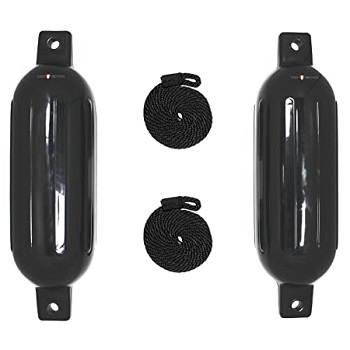 If you are looking for a heavy-duty unit, make sure to check out the Extreme Max boat fender. This unit consists of 2 bumpers and 2 fender lines made of durable materials that make it super-reliable.
It has proved as one of the best marine equipment products as it provides a great level of protection to your boat when it is windy outside or when the waves are strong. Eyelets make this unit even sturdier and resistant to impacts and ensure its long lifespan.
The Extreme Max boat fender is equipped with a rubber needle valve you should use to adjust the inflation level. As it is already a bit oversized, the chances of damaging your vessel when it gets knocked against the dock are much lesser than with smaller units.
Pros
Ultraviolet stabilized,
Suitable for use in different marine conditions,
2-year warranty.
Cons
It doesn't hold air the way you would expect it.
3. Polyform A-Series Buoy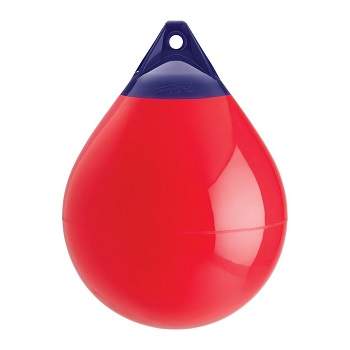 Not all boat fenders have to be of the same shape. Polyform has a round unit that is a breeze to inflate. This makes the A-serious buoy user-friendly, especially if you have never used similar products before. All you have to do is to blow it properly and screw it with a flat head screwdriver.
The very construction of this buoy is very durable and resistant to impacts. Being exposed to the sun won't spoil the color overly and you have a wide range of attractive colors option to choose from. It is suitable for vessels up to 20 feet and comes with a strengthened rope-hold.
All in one, the Polyform A-series buoy is a type of out-of-the-ordinary unit that can provide a high level of protection to your vessel and that is very practical and easy to use.
Pros
Beginner-friendly,
Can help you with pulling your anchor,
The vinyl valve system makes it easy to set the pressure.
Cons
The color of this buoy will fade after a while,
Inflation adapter not included.
4. VIVOHOME Vinyl Ribbed Marine Boat Fender for Shield Protection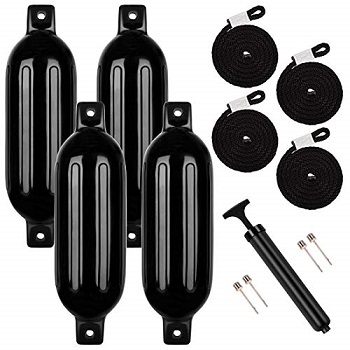 VIVOHOME has a fender kit that offers superb service, ease of use, and durability. These fenders are pretty sleek and sturdy so you can be confident about them protecting your vessel. Equipped with braced eyelets, these can be installed either horizontally or vertically.
The vertical ribs make the VIVOHOME fenders resistant to wear and tear so make sure to have these in mind if you need something to withstand heavy use. You get 4 packs of bumpers and 4 inflating needles, pump, and a rope, which is basically everything you need to set the fenders up.
Inflating these is pretty straightforward and effortless and you can adjust the pressure to your liking. Even if you would using boat fenders the first time, these fenders would ensure you a positive experience on the water and a great level of protection to your boat.
Pros
Act as a safeguard against hard surfaces and intense collisions,
Best for use with boats, sailboats, yachts, row boats,
Made of marine-grade PVC that is resistant to UV rays.
Cons
Lose air slightly faster than some other products on the list.
5. X-Haibei Pair of Boat Fenders Ball Round Anchor Buoy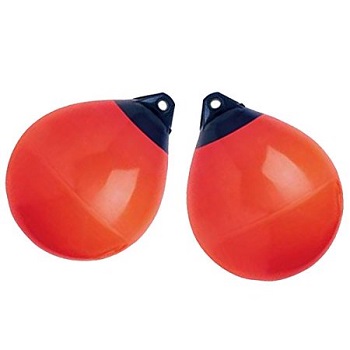 X-Hiabei has a great, multi-purpose, marine-grade product you can use as boat bumpers and markers. These units are best for use with power vessels and can take you a bit further than some other, similar products as they don't lose the air that quickly.
You won't have to spend any extra bucks on extra needle valves, as you would get them in the pack with the fenders. The recommendable inflation is 2PSI and it would be best not to overinflate these fenders.
Suitable for most types of vessels, including yachts, small boats, navigation buoys, mooring buoys, etc, no doubt these boat fenders would fit your watercraft as well. Although these are bulkier to store, this is a minor drawback when comparing it to the overall value X-Hiabei provides.
Pros
Gilt-edge construction ensures the durability of this product,
1-year warranty.
You can even use these as punching bags.
Cons
The color will start fading relatively quickly.
6. Taylor Made Products 952520 Inflatable Vinyl Boat Fender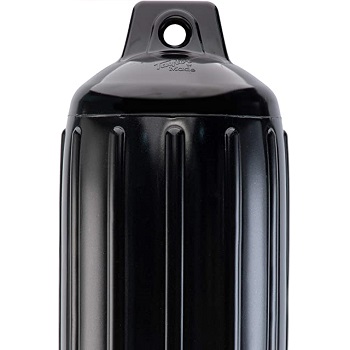 Looking for a high-class fender for your small boat? The Taylor Made vinyl boat fender is one of the most durable products in this section. Vinyl is one of the materials that boasts amazing protective properties and it won't cause any damage to your boat.
It features a glossy finish so it looks pretty sleek, but offers much more than pleasant design. This boat fender comes with double molded ends that ensure its endurance. It is resistant to direct sunlight and salt water, which we can thank for that.
Lightweight, the Taylor Made product should be inflated at 2 psi if you want it to provide the utmost protection to your vessel. Although it is already inflated when shipped to you, you should be careful about inflating it afterward.
Pros
For boats 15 to 20 feet,
Available in different colors,
Lifetime guarantee.
Cons
There are no major cons to this unit, but be careful when it is shipped to you and check whether it is properly inflated before using it.
PRODUCT
DETAILS
Polyform Navy 10258438 fenderfits Cover

Price:

$

Customer Rating:

4.2

Dimensions:

12 x 9 inches

Material:

High bulk acrylic yard

View On Amazon

Taylor Made Products Premium Fender Cover

Price:

$

Customer Rating:

4.6

Dimensions:

6.5 x 23/5.5 x 20/6 x 15 inches

Material:

100% Premium Polyester

View On Amazon

Polyform EFC-A Boat Fender Covers

Price:

$$$

Customer Rating:

4.6

Dimensions:

11 x 15 inches

Material:

Polyester yarn

View On Amazon
Best Boat Fender Cover Reviews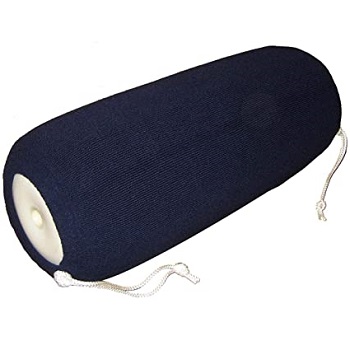 The Polyform finderfits boat fender covers feature unique workmanship and high-quality material construction. You can rarely find boat fender covers made of a bulk acrylic yard that is resistant to sunlight the way these are.
Not only the color of this unit won't fade over time but it looks pretty sleek when combined with white boat exterior. One more reason why this cover is so high-quality is that it is hand-finished.
Although these seem too soft, you can rest assured the Polyform boat fender cover will protect your vessel from damage when the wind is constantly blowing or when the waves go crazy. You can wash them easily from salt and reuse numerous times.
Pros
Thick and soft,
Provide solid protection,
A rich color that doesn't fade.
Cons
You would have to wash them more frequently if you are sailing on the sea.
2. Taylor Made Products Premium Fender Cover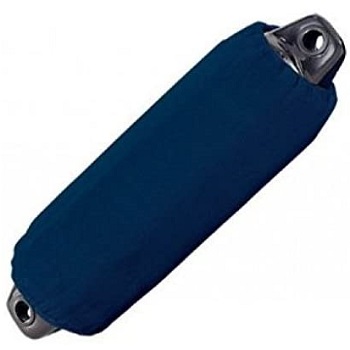 The Taylor Made fender cover is going to last you a good few seasons. This 100% premium polyester fabric looks great, doesn't lose color over time, and you can even choose between 2 colors so the cover fits your boat exterior better.
When it comes to sizing, the Taylor Made fender cover is supposed to fit most fenders but you should still check their sizing chart before making the final decision.
Maintaining these covers is a breeze. Just wash them in cold water and mild detergent and you will ensure their longer lifespan. However, most importantly – the Taylor Made covers will ensure your fenders last longer as well.
Pros
Resistant to mildew, UV rays, and abrasion,
Protect your fenders and your boat from the harsh marine environment,
Won't go stretchy over time.
Cons
Materials like concrete can rip them off.
3. Polyform EFC-A Boat Fender Covers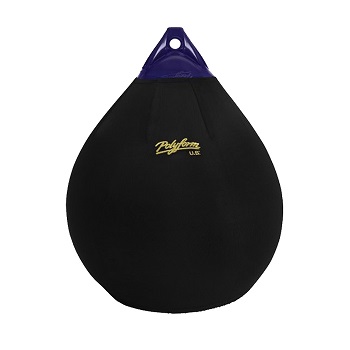 Quality-made, easy to use, and protective – the Polyform boat fender cover might be a product worth your attention. It is resistant to numerous factors, such as saltwater, UV rays, and abrasion. It doesn't change color even after years of being exposed to the sun.
The fact the Polyform boat fender cover is made of high-class polyester justifies its quality. Polyester is one of those lightweight materials that stays light even when you soak it into water.
You can wash this cover to ensure its longer lifespan. It takes a couple of minutes only to install it. The process is rather straightforward and, once you install it, it will be easy-peasy to take it off when you think it should be cleaned.
Pros
Available in different sizes so you can find the one that fits your boat fenders easily,
Doesn't damage the boat surface,
Limited 3-year warranty.
Cons
Be careful with ordering, as you want to double-check your boat fenders' size, otherwise – this unit won't fit.
Boat Fender Buying Guide
When buying new boat fenders, or when buying them for the first time, you want to be careful about different features each type provides. Here comes the list of the things you should have in mind when buying this piece of marine equipment.
1. Material
Boat fenders should protect your boat from outer impacts. Yet, as these act as an absorbent, they are first to face the shock. If the fenders you are using are not made of durable and resistant materials, these won't protect your boat in the long run. In the worst case, low-quality fenders will even damage your vessel additionally.
High-quality rubber is the best material when it comes to fenders, as it doesn't fade over time and is resistant to wind, shock waves, and other environmental impacts.
2. Weight
Not all fenders feature the same weight. If you would get a fender that's too heavy for the type of your boat, you might experience slight wiggling when on the water. This applies to lightweight vessels in the first place, as larger and more massive boats can take heavier fenders. Yet, always check on the specs of the unit you have in mind to determine whether these would be too much for your watercraft.
3. Storage
It is always good to have soma spare fenders on your boat. Yet, depending on the type of fenders you are using, you might have a hard time storing them on your vessel. Most of the time, sailors store their fenders under the seats. Yet, taking them out can be a bit tricky as you can damage them in the process.
Be thoughtful of the space on your boat when buying fenders. Round fenders take more space in general, but you should still have 2 of these at least near at hand.
4. Cleaning
Would you ever guess boat fenders can get messy as hell? Any piece of marine equipment that sits outdoors is more prone to getting dirty, especially those pieces that come in contact with the water.
You should take proper care of your fenders and take algae and mildew off as soon as you get off the boat. Again, rubber is the type of material that doesn't require too much of your effort to invest in cleaning.
Boat fender covers can protect your fenders, but these require some cleaning as well. Polyester and acrylic yard are a breeze to clean.
5. Accessories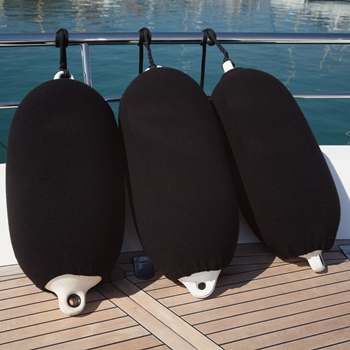 We've already mentioned one type of boat fender accessories – boat fender covers. Additional useful accessories include storage racks, pumps, pump adapters, and height adjusters.
No matter if your fenders come deflated or pre-inflated, you will need a pump to readjust them once they fatten. Usually, a regular pump would do but special valves require special pumps. Some manufacturers are thoughtful of this requirement and provide a pump within the package.
If you have a pair of old fenders and used a regular pump with them, it doesn't mean this pump would suit the new fenders too, so you might need a pump adapter.
You want to position your fenders correctly, which may include tying several knots (depending on the size of your vessel). If you would be tying multiple knots, you will also need a height adjuster. Only a few manufacturers include this device with their fenders.
6. Color
Boat fenders come in different colors. Yet, the exposure to salt water and sun rays can make their color fade. Once this happens, your fenders won't look as sleek as they used to. The same applies to fender covers. That's why t would be best to find products that are resistant to UV rays as they will retain their original appearance for longer.
Features To Consider When Choosing Boat Fender Covers
1. Size
When looking for most of the pieces of marine equipment, including a boat anchor, trolling motor, etc, you should be wary of your boat's size. We recommend opting for a fender that is larger in size than your vessel's length indicates. This applies to the boat being in choppy waters in the first place.
A rule of thumb when buying boat fenders is to choose a fender that is double the size of your boat. In other words, it takes 2 inches of a fender for every foot of your boat when you are buying round fenders. With cylindrical fenders, go for a 1:1 ratio.
However, although this is a standard, we recommend going for a slightly larger fender. Choosing a smaller-in-size fender would create too much pressure of the boat's size to it and the fender would get flattened quickly. Thus, it wouldn't provide any protection to your boat. Yet, if you would get fenders that are too large, you would have a hard time mounting them.
2. Number of Fenders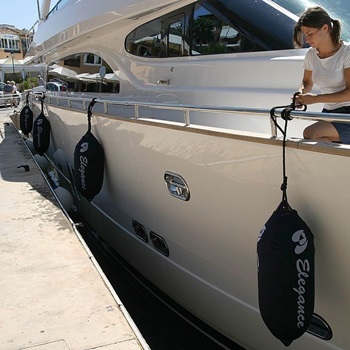 No matter how many fenders you have – it will never be enough. The number of fenders is, again, closely related to the size of your vessel. Your space is limited but it would be best to try to cover as much of your boat as possible.
If you have a 32-feet vessel, it would be wise to have at least 2 fenders per side. Also, a couple of spare fenders ( 2 minimum) would come handy if the ones you are using flatten during your stay on the water. With larger boats than 32-feet, you will need 4 fenders per side, as well as replacement units.
Also, it would be great to have fenders of different types if you want to ensure your boat is protected at the fullest. Use at least 2 fenders of a different type that will help you when you need backup when you are approaching the dock or when the wind is howling.
3. Fender Position
If you want boat fenders to protect your vessel the right way, you have to place them properly. Generally, set your fenders so they are slightly above the water surface (one to two inches). This way, the water won't push them out of the way when you would be coming at the dock.
The lower you tie the fenders – the better. It would be best to tie them by using something solid, like a metal handle.
How To Tie Boat Fenders?
Use a clove hitch to fasten fenders to your vessel's rail.
Once it seems like the fenders are adjusted properly, add some extra half-hitches to secure the bond.
Take the working end and pull it over the front of the rail, then round it up.
As you do so, make sure the standing end is properly connected to the fender. It should cross the original line and wrap around the rail.
Tie the working end on the front of the rail and tighten it.
Now the fender is adjusted, tie one to two half-stitches to prevent it from slipping.
Safety Tips
It would be best to use polypropylene rope when tying the knots as this type is more flexible than nylon.
Always have a couple of spare fenders on the boat if you plan on staying longer on the water.
Keep your fenders clean so they can last longer. This will prevent the fenders from flattening when you are sailing.
FAQ About Boat Fenders
1. Do All Boat Fenders Come With Ropes?
No, they don't. Just like some fenders come inflated, others deflated, some fenders come with ropes and some don't. Keep this in mind when buying fenders, as buying a rope would be an extra cost.
2. What Size and How Many Boat Fenders Do I Need?
If you are buying cylindrical fenders, you will need 1 foot of fender per 1 foot of your boat. With round fenders, you will need 2 feet of fender per 1 foot of the vessel.
We would advise you getting at least 3 fenders for your 10-feet boat. Some fenders come in pairs, so you can get two pairs as well. Although fenders take some space on-board, the more you have – the safer you will be when on the water.
3. How To Maintain Boat Fenders?
Boat fenders require low-maintenance. Use water and mild detergent or soap to clean off salt, algae, and mildew deposits. Boat fender covers can also ensure a longer lifespan of your boat fenders.
Wrap Up
Could you find the best boat fender and best boat fender cover among our reviews? These amazing pieces are a part of protective gear you should have in mind if you want to take proper care of your vessel.
Depending on the surroundings and your boat, you can choose different types of boat fenders, although it would be best to have at least two of each category. Now that you are more confident about getting the right units, we will recommend you to check our other marine equipment guides that will bring you total peace of mind when you are on the water.
Bonus guides: boat cover reviews – anchor rope reviews