You've used your boat throughout the whole summer – but now, with winter peeking around the corner, you'll soon realize that you can no longer enjoy your boat like you used to. It's either too cold, or the water has frozen to a point where you can no longer even move your boat. At this point, the best idea would be to call it quits and simply store your boat.
That being said, there is a proper way to store your boat. You may choose to leave it the way it is and prop it into the garage – but if you don't do it properly, you might end up damaging it in the long run. This article shall prove to be your guide on how to make your boat nice and comfy over winter.
Indoor vs. Outdoor Storage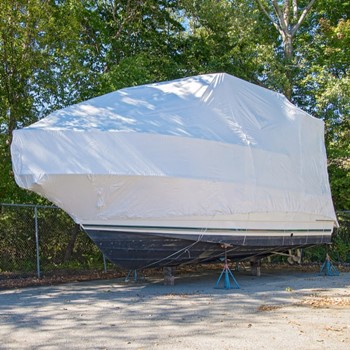 We know… At this point, you may be thinking: why do I need to store my boat indoors? Can't I just leave it outdoors at the docks? I'm paying for the place, after all. Well, you can – but this doesn't mean that you should. There are numerous reasons why you may not want to leave your boat outdoors, among which are included:
Sinking: If you do not visit your boat regularly (which tends to happen often during winter), it might become a victim of small underwater fitting failure. Normally, you could catch and fix this problem quicker – but if you don't see your boat, it could sink and sink every day, until it's "bye-bye, boat."
Blisters: It may be more inexpensive to store your boat in water but think about it: when the boat remains continuously in the water, it will not have a chance to dry out properly. This makes it prone to developing blisters around the hull, which can shorten the life of your boat.
Storm Damage: Winter is tough, regardless of where you live. You may have violent snowstorms, rainfalls, and even high winds – something that can be quite harsh on your boat. The more you leave it in this kind of weather, the more you will also shorten the lifespan of your boat.
Theft: If you store your boat in a gated facility, the chances for thieves to break in are very low. Otherwise, the chances are that they won't steal the boat altogether. However, if they know you aren't likely to come in anytime soon, they'll have no issues breaking in to steal your electronics.
In the end, it might be cheaper to store the boat in the water – but if you want the boat to have a long lifespan, you might want to store it indoors. If you can't store it in a closed, protected space, you may at least want to take it out of the water.
Where to Store Your Boat
When you store a boat, you must give it some careful attention over where you want to keep it stored. Indeed, this will depend mostly on your possibilities – but here are the places that professional boaters prefer when it comes to storing their boats.
1. Boat Hauling
The preferred option for most people is to simply haul their boats at home. However, in the case that you don't live right next to the marina, you may need to hire a boat hauling company.
2. Outdoor Boat Storage
One more popular and inexpensive way of storing the boat during winter is to buy (or rent) an empty lot – placing the boat there when the season ends. True enough, the boat will still be subjected to the elements – but at least it won't feel them in their full glory. There won't be the risk of sinking or blistering either. Plus, if you cover the boat, you should take care of most of these issues.
3. Water Storage
Worst-case scenario, if you have no other way of storing your boat on land, you may keep it in the port. However, make sure that the harbor has de-icing features, preventing any ice damage from occurring to the hull. You might also want to go for a harbor with top security – one where the guards will at least notify you if your boat suddenly starts sinking.
4. Boat Lift
If you have your own pier, then you might want to try a boat lift. This way, you can leave the boat exactly where it has been sitting the whole summer – only this time, it's perched up on a lift. This should keep your boat away from the wrath of the icy water.
5. Indoor
Indoor storage is likely one of the best ways to store your boat – which is why it is also so popular. It may be a building, a container at the docks – even your own garage at home. Indoor storage represents the best method to keep your boat safe from the elements – and it will also keep prying hands from trying to steal stuff from your boat.
How to Winterize Your Inbound Motor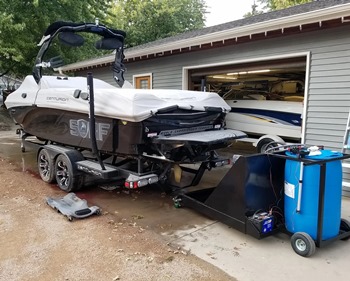 With an inbound motor, winterizing is essential – particularly if you want your boat to see the next summer. Here are the steps necessary:
1. Fill the Tank
When you winterize your inbound motor, you might want to make sure that your tank is full of gas first. Why, you may ask? It is because this lowers the chances of getting air in your tank. Air is not good for the tank, because it causes condensation – which leads to water damage. Water is not good to have in the tank, because it ruins your engine.
2. Add Fuel Stabilizer
For your boat to get through winter, you might want to get a fuel additive (stabilizer). This will prevent any buildups from occurring even as your boat is sitting for long periods. Run the motor to mix things up nicely.
3. Add Antifreeze
Your motor is now prepped – so, at this point, you might want to continue with adding some antifreeze. This will prevent any potential condensation or water around the motor from freezing. Add the antifreeze to the engine board and the sterndrives. There are various winterize DIY kits that can help make the process much easier.
4. Spray Fogging Oil
After you are done with the antifreeze, with the engine still warm, you may want to add spray fogging oil into the engine. You may want to check the reader's manual for the boat and the winterizing kit that you purchased very carefully – because the steps may vary.
Still, one thing that will not change is the amount of fogging oil that you need: you must spray it generously. A higher horsepower engine may sputter, whereas a lower one may stall – but there should not be any issues with that. At some point, you should even see some white smoke – so, when the antifreeze bucket has dried out, you should turn the engine off and re-secure the hose.
As an alternative to the method above, you may also go around and remove each spark plug. With the spark plugs now removed, you may proceed to spray the fogging oil straight into the combustion chamber of the engine.
5. Change the Oil and the Oil Filter
Many boaters tend to leave this for the de-winterizing task, but you should do it during the winterizing stage instead. If the oils and the filters are contaminated right now, it could damage your boat throughout the winter.
How to Winterize Your Outboard Motor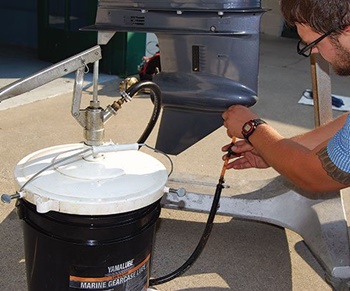 While you may get away with not storing your outboard motor, you should not leave it to the wrath of Mother Nature. A small outboard motor must be winterized, and then taken inside your storage shed or your garage. If possible, hang it above the ground.
Bear in mind that before you leave the motor there, there are a few more steps that you should follow.
Add fuel stabilizer. This will prevent the fuel from becoming waterlogged and it will make it much easier for you to start the engine come spring.
Most outboard motors feature a winterize mode. Simply go there and click on the "winterize engine" button.
Allow the engine to winterize itself. It will automatically double the oil, run for about 90 seconds, and then shut itself off.
Make sure that the propeller does not have any devices wrapped around it.
It's as simple as that to winterize the outboard engine of your boat. This way, even if you do not use the boat, it will be properly kept throughout winter.
Final Thoughts
Storing your boat should not be difficult. You just need to make sure that it's in peak shape, fixed and clean so that the imperfections won't damage it through the winter. Inspect everything, and once you are sure maintenance has been done properly, you may haul it in its place of storage.